1935
Blake, Tom
Hawaiian Surfboard
Paradise of the Pacific Press, Honolulu, Hawaii 1935
Hard cover with various dustjackets, 95 pages (text), black and white photographs.
Review
Dela Vega (2004) notes four 'editions':
The initial printing was hard cover with a dust jacket, followed by an imprinted cloth cover, which was probably the original without the dust jacket.
The were two later editions in tapa cloth dust jackets.
Lynch and Gault-Williams (2001) imply that the tapa cloth cover editions, highly prized by contemporary collectors, were apparently an attempt by Blake to value-add to his stock of unsold copies, page ?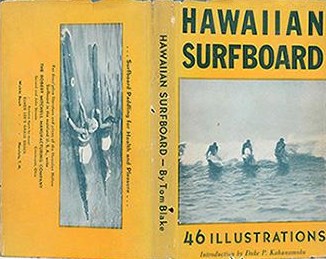 Dust Jacket


First tapa cloth edition contributed, with thanks, by Henry Marfleet, Ashford, Kent, UK. April 2000.

Reprinted in 1983 as Hawaiian Surfriders 1935
Mountain and Sea Publishing, Box 126 Redondo Beach California 90277.
See below.

Note:
Van Dalen, Deobold B:
The anatomy of professional literature; a bibliography of books in health, physical education, recreation, safety, camping, and the allied fields from 1930 to 1950.
Pittsburgh, 1950.
http://hdl.handle.net/2027/wu.89097565881

Page 83.
Swimming and Watersports:
Blake: Hawaiian Surfboard (1935) $1.85
Drummond: Art of Wave Riding (1931) $1.00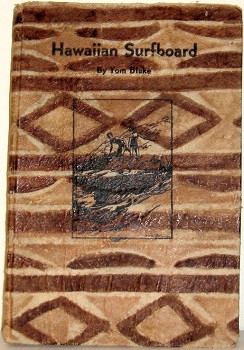 First tapa cloth edition.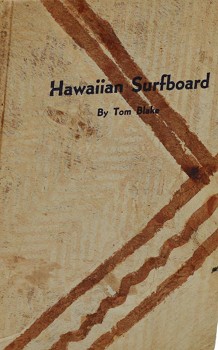 Second tapa cloth edition.