surfresearch.com.au
---
---
surfresearch.com.au
pauline curby, 2001 : the myth of william gocher

---
Pauline Curby : The Myth of William Gocher
Extract from ... Seven Miles from Sydney - A History of Manly
page 151 .

---
Curby, Pauline : Seven Miles from Sydney - A History of Manly
Manly Council, 1 Belgrave Street, Manly, NSW 2095.
Printed by Headland Press, Brookvale, Sydney. 2001
Page 151.

---
'HERO' OF THE SURF
In January 1907 a most unlikely 'hero' emerged from the pages of the Daily Telegraph in the form of William Gocher, a middle-aged 'newspaper man' (97).
Gocher was, as we have seen, an active supporter of initiatives to make bathing safe in his adopted home.
He was involved in the local progress association, and had unsuccessfully stood for political office on a number of occasions (98).
His attempt to enter local politics in Manly in February 1903 resulted in a crushing defeat when he stood in Wentworth Ward against public servant Owen Carroll (99).
According to the Daily Telegraph, although most of the residents of Manly were unaware of his 'triumph', he had challenged the restrictions on daylight bathing and initiated the 'first decisive move in the direction of free and open dipping on Manly's glorious beach in Australia's brilliant sunshine'.
Apparently, on some unspecified date (100) Gocher swam outside of the prescribed daylight hours and unsuccessfully challenged the police to prosecute him, thus making a mockery of the restrictions on daylight bathing.
This, it was claimed, led to the legalisation of all-day bathing (101).

This Daily Telegraph article and one Gocher wrote some years later are the only primary sources for what has become one of Sydney's urban myths; no account of surfing or beach culture is complete without it (102).
In Gocher's account he placed himself beside Truth proprietor John Norton (who claimed to have coined the word 'wowser') as a champion of freedom against stuffy morality.
Manly Council was depicted as the villain in the piece in both articles, but more so in Gocher's later article, as the story developed (103).
Both articles claimed that the Council, police and 'Manly moralists' objected to surfing per se, and that blameless bathers were being harassed despite wearing neck-to-knee costumes.
The fact that complaints were only ever made when 'indecency' was involved was conveniently ignored.
There was no hint either that the problem of beach safety was a major concern for the Council, as it was for the other beachside councils of Sydney, or that the timing or the change of by-law coincided with the expiration of the baths' leases.
Gocher seems to have been down on his luck and about to leave Manly.
Then, in 1907, a few days after the Daily Telegraph article appeared, his friend, solicitor Frank Donovan, launched an appeal so that a presentation could be made to him (104).
Donovan's action in 'passing round the hat' won Gocher an engraved watch, a purse of sovereigns and a place in history (105).

It is not known what effect Donovan's collection had on the mayor's launch of a public subscription for the Sly brothers, conducted at the same time (106).
While the acknowledgment of Gocher was generous, it was incongruous.
His modest achievements could not seriously be compared with the truly heroic actions of Happy Eyre who worked for a minimal salary, or of the Slys, a family of battling fishermen who had been residents of the village since the 1860s.

The week after the Daily Telegraph article on Gocher, the first of many references to his 'role' in the lifting of restrictions on bathing appeared. Arthur Rosenthall, in an article for the Sydney Mail, attributed to Gocher's 'persistent and never-tiring agitation' the public's right to enter 'without molestation ...the waters of the Pacific that wash the shores of Manly Beach' (107).
Editorial comment in this special surfing edition took up the refrain: 'What Mr Gocher, whose services to the sport are being publicly recognised, did as an individual the Sydney Mail has done as a newspaper' (108).
This was a reference to the fact that this newspaper's feature on surfing the previous year had been, it was claimed, the 'first newspaper recognition of the growing popularity of surf bathing' (109).

The myth-making that began in 1907 has continued.
There was considerable interest in the story in the early 1950s, but some surprise was expressed at how difficult it was to ascertain 'what really happened' (110).
It was even suggested that a statue of Gocher should be erected in Manly.
Although an appeal was launched nothing seems to have come of it, and in 1952 a block of Housing Commission flats was named after him instead.
In 1980 a plaque was placed at South Steyne to mark the spot where Gocher is said to have swum in defiance of Council by-laws. He was incorrectly credited With being a former editor of the Manly Daily and had become, with the passage of the years, the 'first bather entering the surf at Manly '.
---
Notes
97.
Daily Telegraph, 7 January 1907.
His friend, Frank Donovan described him this way.
Daily Telegraph, 26 September 1907, in WCB1, page 17.
(Wellings Local Studies Collection, Manly Library)

98.
Gocher actively campaigned for political office on a number of occasions at this time. He stood unsuccessfully for the Senate in 1901 and was also unsuccessful in state elections in 1901 and 1904. On the last occasion he was an independent candidate for the state seat of Middle Harbour and gained only 33 votes.
See the slender entry on him in Australian Dictionary of Biography, page 35;
Champion, S. & G. :
Bathing, Drowning and Life Saving in Manly, Warringah and Pittwater to 1915,
Book House, Glebe, 2000. Page 68.

99.
Manly Municipal Council Minutes, 9 February 1903, page 202.

100.
Later accounts usually fix the incident as early in the swimming season 1902.

101.
Daily Telegraph, 7 January 1907.

102.
See for example a factional account, complete with dialogue, in
C. Bede Maxwell, Surf : Australians Against the Sea,
Angus and Robertson, Sydney, 1949. Pages 14 – 16;
R. Quinn, 'Kelly and the Shark and other Memories of Manly',
in the Bulletin, 29 September, 1943, page 4.

103.
Key details differ in the two accounts. See
Manly Daily, 17 November 1910, in
Manly, Warringah and Pittwater Historical Society archives.

104.
The article concluded that
'it is pleasant and interesting to know that a movement is being made to fittingly acknowledge the service, journalistic and otherwise, of Mr. W.H. Gocher in winning for Manly in particular, and for tens of thousands of visitors in general, the pleasure, privilege and advantage of surface bathing at any hour of our glorious sunshine.'
Daily Telegraph, 7 January 1907, 12 January 1907.

105.
Sydney Morning Herald, 13 February 1907, page 9.

106.
No reference has been found to a formal presentation to them, although there was an 'on the spot' collection on January 1907 after a spectacular rescue.
Champion, S. & G., :
Bathing, Drowning and Life Saving in Manly, Warringah and Pittwater to 1915,
Book House, Glebe, 2000. Page 82.

107.
Sydney Mail, 16 January 1907, page 158;
Sydney Mail, 22 February 1905, page 478.

108.
Sydney Mail, 16 January 1907, page 9.

109.
Sydney Mail, 16 January 1907, page 9.

110.
Sun Herald, 18 November 1951 in WCB8, page 85
(Wellings Local Studies Collection, Manly Library)
Manly Daily, 28 July 1966, page 38.

---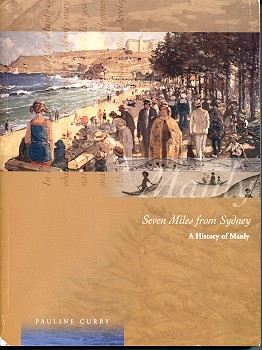 ---

surfresearch.com.au
---
---
Geoff Cater (2002-2013) : www.surfresearch.com.au : Pauline Curby : The Myth of Willian Gocher.
http://www.surfresearch.com.au/2001_Curby_Gocher_Myth_p151.html