Hot Buttered Surfboards
Mitchell Road, Brookvale NSW
1972
Col Smith, Andrew McKinnon and Terry Fitzgerald
Tracks, August 1972.
1973
Flyer Progression: Roundtail 6ft 10" June, Fat Pin 7ft 7" March, Pin 7ft June, Semi (Pin) 7ft September 1973.
Tried, tested and proven by Terry Fitzgerald.
Tracks, September, 1973.
1974
One Step Ahead- Brewer, Hawk, Chapman, Cooney, Fitzgerald.
Design: Vees, concaves, platforms by Butch Cooney and Terry Fitzgerald.
Tracks, April 1974.
1976
and Frank Williams and Steve Artis;
1977
and Rod Ball;
1979
and Stuart Campbell, Russell Lewis, Grant Miller, Ron Woodward and Steve Artis; #92
Wayne Dean
Greg Webber
1980
Derek Hynd Model
1981
Michael Pitt: The Hornet, a flyer square tail with a large centre fin and two small rail fins.
Reprised 1970 Tri-fin design.
Albert Whiteman: Knormal Kneeboards


1983


John Harris, Steve O'Donell
Hot Buttered Tahiti, shapes by Patrick Juventin; including boards for David 'Poto' Vatea,Tahiti's first pro, 2nd in the 1989 and 1994 Pipe Masters
1986
Phil Murray, Brandon McDonald, Iain "Ratso" Buchanan
1990
Larry Levin
2010
Spawn Fish: Designed and Tested at North Narrabeen, Australia, Made in China, 2010.

www.hotbuttered.com.au/...History
www.hotbuttered.com.au/galleries7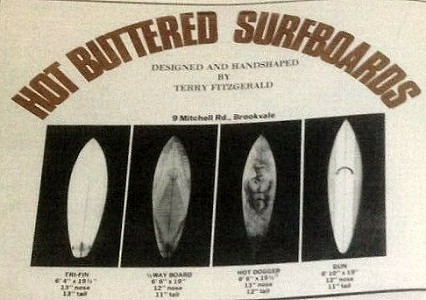 Tracks, May 1972, page 30.

Designed and Hand Shaped
by Terry Fitzgerald, 1976.
Decal image courtesy Mick Mock, Surf Auction,
November 2011, #201B.
Click decal for catalogue entry #104.