surfresearch.com.au

---
---
surfresearch.com.au


twin fin history

---
A Brief History of the Twin Fin
---
circa 1943
The earliest documented twin fin surfboard is probably a model built by Tom Blake, possibly in Hawaii, circa 1943.
See cropped image, below.
The uncredited photograph is currently the only known evidence.
---
Tom Blake Twin fins,circa 1943.
Timber
4 x 12 b @ 2 inches (Approximation)
Hollow timber board.
Note fin camber.
The feet are Tom Blake's.

Uncredited photograph,
Australian Surfers Journal
Vol 3 No 1 Summer 2000 page 10.
---
1948
Probably unaware of Blake's examle, Bob Simmons in California developed a multi fin design in 1948.
He only manufactured a small number of his long based Twin fin model but, like most of his innovations, the long term impact was considerable.
The design was certainly influenced by his design research, based on Linsay Lord's Naval Architecture of Planing Hulls (1946).
It is also slightly possible that Simmons had noted Twin fins on some prone boards in this period.
---
Simmons' Twin Fin, 1948
Wood and fibreglass
6 x 12 b @ 2 inches (approximation)
Bob Simmons' Laminate Board, USA.

Dick Metz Collection, Dana Point, California.
Blackburn, page 73
---
1950's
During the 1950's prone boards appeared in a plethora of designs and constuction methods.
See the Paipo catalogue for examples dating from the 1930's.
A large proportion were finless, those that did attach a fin used a longbased keel type fin.
Bellyboarders at some stage incorpated twin fins on their wide tailed boards, similar to the plywood example, right.
With the introduction of foam blanks these design were reproduced in the new medium.
See Barry Bennett example, below.
A short lived, but well documented, experiment by California's Dale Velsey was the Butterfly fin.
Essentially two fins joined at the base it was futuristic in template and concept.

---
Butterfly Fin, 1955
Laminated Timber
8 x 7 b @ 4 inches (Approximation)
Velsy-Jacobs Surfboards USA



Photograph : Bob Meistrell
Longboard Magazine
Vol 12 No 1 March -April 2004 page 33.
---
The high aspect fin template used by Velsey would not become common use until 1970.
Apparently the production difficulties were not offset by improved performance.
In 1978 the design was revived as a molded model for use in a standard fin box.
The design was also (slightly) reflected in the Horan/Lexan Star Fin, 1980.

Fin experimentation on surfboards1950 to 1966 was extensive.
A variety of designs, some extreme, proliferated, however singularity and a standard 0'' to 6''placement remained a design constant.
---
1960
With the introduction of foam blanks, bellyboard riders had their plywood designs were reproduced in the new medium.
Generally the fins retained the long base keel profile and, consistant with surfboard fins of the era, foiling was minimal.
Placement was close to the tail with the fins vertical to the bottom and parrallel to the stringer.
---
1962 - 1964
In the US, George Greenough built his first Velo Spoon in balsawood in 1962.
---


Photograph :George Greenough. Crockett : Switch-foot, page 175.
---
He reported that the board was originally ...

"a twin fin, but as time went on, I moved the fins closer together, and it
kept working better and better. Eventually, it turned into a single fin!"

- George Greenough,
The Australian Surfer's Journal
Volume 2 No 2 Autumn 1999 pages 84, 86 and 87.
---
1963
"When Curren visited me at Surfboards Hawaii in Haleiwa during 1963,
he had a 9'4" full gun, an 8'4" semi-gun 3" thick, and a 4'6" twin-fin kneeboard.
All these boards were ahead of their time."
---
Twin Keel Fins, 1964
Pigmented chop strand mat
4 1/2 x 9 1/2 b @ 1 inches

# 50 Barry Bennett Surfboards Belly board
,
---
circa 1967
Bear Mirandon of Surfboards La Jolla used Simmons' Twin fin design and matched them with a slpit tail design.
There was a precedent of this design in some early prone boards, see Blackburn.

---

---
Surfboard La Jolla Twin-Pin, 1967
Length 8'9" - Nose 17" Width 22" Tail 17"
Shaped by La Jolla reef maven Bear Mirandon, the double-pin
tailed twin-fin was an update of a Bob Simmons concept.
This board led directly to the Fish kneeboard design
of Steve Lis, which is still very much in use today.
Photograph by Bjorn de Boer
Image and caption
Longboard Magazine,Volume 2 Number 2, August - September 1994 page 69
---
1967 - 1968
In the USA, the dual fins had a strong following amoungst kneeboarders, notably Steve Lis and Rex Huffman.
Lis was credited with the development of The Fish, a design with long base twin fins and a split 'Fish' tail, circa 1967.
From the La Jolla area, Steve Lis was influenced of the design by Bear Mirandon at Surfboards La Jolla
---
1970
Following the return of American surfers (some earlier than others) from the 1970 World Contest in Victoria, Australia, several designers began development of what became the Twin Fin I.

Early models were produced at Bing Surfboards by designer Mike Eaton (later noted for his Bonzer design) in conjunction with 1970 World Champion Rolf Aurness and David Nuuihwa.

Concurrently at Hobie Surfboards, Twin Fin 1 models were also built, notably by Corky Carroll and Terry Martin, the top in-house shaper.

---
Rolf Aurness and his Bing Twin Fin,
circa 1970.

Image from
www.Classic Bing Surfboards
with thanks.
Note tipped in Guidance System fin boxes.
See below.

Photograph: Unaccredited
Surfer Magazine
Volume 11 Number 5
November 1970 Page 23.
---
The image above was originally printed in an article largely focusing on the Twin fin design
Interview: "Rolf Arness: Opening New Doors"
Surfer Magazine Volume 11 Number 5 November 1970 Pages 20 to 23.

The issue also included an article by multiple US champion, Corky Carroll
Corky Carroll: "Twin Fins"
Surfer Magazine Volume 11, Number 5 November 1970 Page 59.
The article includes a photogragraph by Brad Barrett of Carroll and a Twin fin very similar to the board ridden by Corky in John Severson's Pacific Vibrations, 1972.

The following article by Cory Carroll was posted online at his web site...
http://www.corkycarroll.com/ as part of a series on surfboard evolution.
There is a wealth of detail in this brief account , of particular note ...
1. The awareness of Australian surfers, Ted Spencer and Wayne Lynch, stars of Paul Witzig's Evolution, 1970.
2. First design credited to Mike Eaton for Rolf Aurness at Bing Surfboards, mid - 1970.
3. The toeing-in of the fins appeared in the earliest models.
4. The rapid development and commercialisation of the design.
5. The equally rapid demise of the design.
6. The influence on further fin design, notably the Tri-fin, (#211).

---
SURFBOARD EVOLUTION....PART SEVEN - 11-17-04.
By Corky Carroll ( http://www.corkycarroll.com/ )
We left off last week in the spring of 1970, and the aftermath of the World Championships in Australia. There were sort of two different directions in surfboard design going on at the same time.
One was speed shapes. (#56) These were like smaller versions of big wave boards. The problems with these were that it took bigger or at least really fast and lined up waves to make them work very well. A bunch of guys sitting around on little teardrop like boards in typical small California surf was sort of silly. But there were many doing that. The other was very short and wide boards (#45) like the ones Ted Spenser (Spencer) and Wayne Lynch were working on in Australia. These were just the opposite, interesting in small surf but hopeless in anything with size and power.
I was sort of stuck in the middle but was leaning toward the shorter and wider direction. I made one board with three fin boxes. But it was what we called a swallowtail, two points with a cut away in the center. The rail fins went on the outside tails and the center fin was forward in the center. Opposite of what we now use as a ' Thruster.' Also the fins I used where all pretty big. It didn't turn well. Actually it really didn't turn at all, It just went straight. Seemed like a good idea though.
Then one day Rolf Aurness showed up with a short and wide little board with two fins that an extremely good surfboard designer named Mike Eaton had made him (see above). It had a wide squaretail and the fins where on the outside rails. I tried it and could see immediately that this design could work. The problem was, in my opinion, that it was almost square and the fins were aimed toward the center, in a bit too much. Within an hour of riding that board I was in the shaping room with Terry Martin, one of Hobie's top shapers at the time, making my own version of this new design. It had a bit more shape to it and I only aimed the fins in a tiny bit.
A day later I rode it and was completely amazed at the capabilities of the 'twin fin.' These things could do incredible turns and still maintain speed. This was the first board that I was able to carve a 360 degree turn on. Two days later I had an ad together for SURFER magazine and had a twin fin model on the market, the 'Spacestick.' Did I mention that we were still a bit in the cosmic era? Everything was 'spacey' and 'far out.' Well, these boards were pretty spacey and far out so I had no choice but to call them 'Spacesticks.' Looking back I guess I could be embarrassed about this, but I'm not.
In Hawaii the next winter we found out that the twin fins were not all that great in big surf. Then we started working on designs using three fins (#211); one big fin in the middle and two little fins on the rails.
---
1970
Guidance System Twin fin I
Unknown constuction
5 x 7 b @ n/a inches (Approximation)
Note the symetric foil.

Photo: Don Balch
LONGBOARD Magazine
Vol 4 No 5. 1996
November/December page 70
---
The design was directly imported to Australia in 1970 by visiting Santa Cruz shaper Tom Hoye to Bennett Surfboards.

Image right:
Tom Hoye and Twin Fin, Bennett Surfboards, 1970
Photograph Tracks Magazine.January 1971 Number 4, page 30.
Tom Hoye's Bennett Twin Fin
Dimensions 5'8'' x 21'' x 12'' tail
3 1/2'' thick 5-5 1/2'' fins
Soft low rails all around with slight 'V' at the tail and a slight concave in the nose.
The rocker is consistent throughout the board.
It's designed to stay on a consistent high plane - it's a little wider than the previous board for better flotation.
Basically it's a small wave board - 5' and under - built for long skatey turns and the positive feel of the twin fins.
Also Nat-History, page 106.
Note similar fin box set up to Aurness' Bing model , above.
The January 1971 issue also other boards by:
Jimmy Beardsley's Keyo Twinfinner
5' 3'' x 22''. 121/2'' chamfered back. 12'' of 'V'. 5 1/2'' fins. 3 1/4'' thick.
Robbie Holt's Hutchinson Twin.
5'4'' x 21''. 12'' back, slight 'V', 6 1/4 deep fins and Robbie doesn't know how thick.
Concurrently, Terry Fitzgerald and Greg Hodges "built two five-sixes" from design details culled from negotiations between Shane Surfboards and Corky Carroll at Hobie Surfboards, post Johanna World Contest, 1970.
Reference : (M.3). - what does this mean?

The design had a strong following in Sydney, particularly at Narrabeen, where
models by McCoy Surfboards dominated.
See also #71 and #106.

Usually sub 6 ft x 20" with 10" diamond pod. Glue line stringer.
Fin size, shape and placement varied.

Although the design quickly disappeared from mainstream production in Australia, a number of surfers found the design complimented their style or local conditions.
Over the next six years a small number of Twin-fins were produced as custom boards.
---
the twin fin thing
"the breakthrough that surfing has demanded for the last couple of years."
Tracks December 1970, Number 3.
Mark Warren on the cover.



Mark Warren and McCoy Twin fin, Single Fin Egg in the background.
Tracks December 1970, Number 3 page 14.
---
1971
By early 1971, the Twin fin design was offered by most Australian and Californian manufacturers.

Surfing World Volume 15 Number 1 summer 1971.

Surfer magazine Volume 12 Number 1 March 1971 featured Twin fin advertisements by:
Hansen Surfboards, Bing Surfboards, Gordon and Smith Surfboards and Hobie Surfboards (Positive Force IV Series).
The design by Con Surfboards featured a raised deck area that maximized volume but kept the rails and nose thin.

Surfer magazine Volume 12 Number 2 May 1971 featured Twin fin advertisements by Gordon and Smith Surfboards and Hobie Surfboards.
In a indication of future developments, as well as single and twin fin models fitted with finboxes, Surfboards Australia offered a wide tailed board with a centre and two side finboxes.
The design was probably intended to give the rider a choice of fin setup rather than a trifin arrangement.

International Surfing March 1971 included an advertisement for Honeycomb Surfboards titled Are you ready for theTwin Fin?, It's ready for you in Honeycomb.

---
1972
In the US, the design would continued to be used by a small core of adherents, primarily focused on the La Jolla area.
Very short designs were ridden by David Nuuihwa, infamously at the 1972 US Championships at Huntington Beach.

---



Steve Lis and Fish kneeboard, circa 1972.
Photograph : Warren Bolster
Surfer November 1978.
Volume 19 Number 4, Page 68.

Note - the date is an estimation, and I suspect that the surfer is possibly Rex Huffman..

---
Steve Lis and Fish kneeboard, circa 1974.
Photograph : Jeff Devine
Surfer June 1978.
Volume 19 Number 2, Page 45.
---
1974
The design was adopted by standup surfers, a longer version with with a more standard fin template, was designated The Rocket Fish, circa 1974, the name at least credited to Clyde Beatty.
There is much dispute amoungst US commentators as to the originators of the design.

The wide fish tail was later supplanted by the more popular Swallow tail.
---





Clyde Beatty and Rocket Fish,
Malibu, 1974.
Photograph : ?
Surfer July 1976 Volume17
Number 2 Page 61.
---
From 1974, in conjunction with Billy Tolhurst and influenced by Reno Abellira's early Fish designs, I began experimenting with twin fins.
Local (Coffs Harbor) interest was negligible in these designs until the contest success and media recognition of Mark Richards' Twin fin, circa 1978.

- from Ronnie Goddard interview,

Scott Dillon's Legends Surf Museum

, Coffs Harbor, June 29th 2005.


The use of twin fins on prone boards, common in the 1960's, continued into the 1970's, for example the mass produced Bellybogger, circa 1974.

---
1976
In an attempt to widen his competitive range, Reno Abellira built and rode rode a 5 ft 3" x 20" model in the 1976 Coke contest, Sydney.
---
Reno Abellira and twin fin,
2SM / Coke Surfabout,
Narrabeen, 1976.
Surfing World Magazine
Volume 24 Number 4 ? page 42
---
Familiar with Australian versions of the Twin Fin I and inspired by Reno, Mark Richards built his own version .

---
Mark Richards' first Twin fin II,
based on Reno Abelira's Fish, Coke Contest 1976
Photograph: Andrew Canning
---
1977
MR subsequently refined it at a month long shaping seminar with Dick Brewer in Hawaii 1976-1977.
See Mark Richards : Personal Twin fin History, 1978.
---
Mark Richards and 6ft 4'' Twin
Off The Wall, 1977.
Photograph : Lance Trout
Surfing Magazine February 1980.
Volume 16 Number 2, page 90.
---
Mark Richards and 6ft 4'' Twin
Off The Wall, 1977.
Photograph : Lance Trout
Surfing Magazine June-July 1978.
Volume 14 Number 3, page 47
---
The design was tested in Hawaii the following winter and contest success in the Bells 1978 and Stubbies 1979 contests and the 1979 World tiltle proved its high performance capabilities, particularly in small waves. Available from all Australian manufacturers, it was the dominant small wave board design 1978 – 1981.
---
During 1977 George Greenough, Michael Cundith and Chris Brock develope the Tri-plane Hull at Sky Surfboards, Byron Bay.
An extension of the Hull design, first used in Greenough's Spoon circa 1965, it incorporates dual concaves.
While Greenough's
kneeboard designs mostly retain his favoured single fin, Cundith and Brock use Twin fins for their stand-up versions.
As well as experimenting with bottom design, Cundith and Brock also modified the fins with the use of slots to increase their flex characteristics.
---
Michael Cundith Slotted Twin Fin , 1977.
Sky Surfboards, Byron Bay.
Photograph : Don Blach.
Surfer Magazine, June 1978.
Volume 19 Number 2 page 64.
---
Image right :
Steve Brom and Rocket Fish, circa 1977.
Photograph : Brian Gillogly
Surfer Magazine, Volume 18 Number 2, page 57. July 1977.
Note :
Fins toed and tipped.
Long base/short height profile.
Estimated length 5 ft 10''.
Twin pin nose on vertical board.
---
Carl Hayward, Rocket Fish cutback, Huntington, 1978.
Photograph : Dr.Peter Brouillet.
Surfing magazine, December 1978.
Volume 14, Number 6, page 66.
---
The design also had a strong following on the south shore of Ohau, notably Larry Bertlemann and 'Buttons', and
was to be extensively used in the USA.
Mark Richards models were made under licence by Gordon and Smith Surfboards.
House shapers were Hank Warner, Robin Prodanovich, Terry S. Goldsmith and E. Duck.
These were available with Star System fin boxes, a uncommon feature in Australian boards.
Advertisement : Surfing Magazine June 1981.Volume 17 Number 6, page 93.

---
Mark Richards Twin fin, (est. 6 ft 3'')
Gordon and Smith Surfboards (USA)
Surfing Magazine June 1981.
Volume 17 Number 6, page 93.
---
Star Systems Twin fin,
Mark Richards Model
Gordon and Smith Surfboards (USA)
Surfing Magazine May 1979.
Volume 15 Number 5, page 9.
---
In Australia, the design was shaped by Mark Platter, Ken Freeland and Tony Cerff at Maddog Surfboards.
Mark Richards Surfboards (single fin designs) were first manufactured by Morning Star Surfboards, Mona Vale.
The fin to flyer channels rarely appear on later/copied examples.
The ribbon decals were early designs, gradually replaced by a MR/Lightning Bolt, a MR script and a MR/Lizard graphic.
Apparently the famous MR/Superman logo only appeared on Mark Richards' personal boards during this early period.
---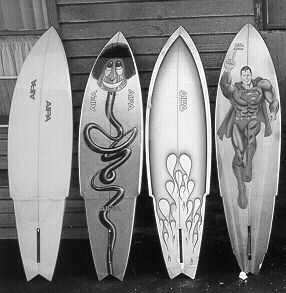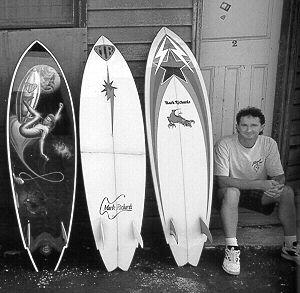 Photograph by Peter Boskovic
Printed in The Australian Surfers Journal Vol 1 # 3 Winter 1998 page 44
Note : Original Apia Surfboards 'Flame' Stinger, Twin fins with various decals.
All boards much photographed.
---
Twin fin Catalogue Entries
---
1970
McCoy, Twin fin I 5 ft 7"
1970
Walsh,
Twin fin I 5 ft 4"
1970
Hansen-Cronulla
Twin fin 1. 5ft 11''
1970
Farrelly
Twin Fin #1
1971
Pat Morgan
Twin fin I 6 ft 7''
1978
Mark Richards, Twin fin II 5 ft 10"
1978
Mark Richards
Twin Fin 2 6 ft ?
K.P.
Bryne Bros. Surfboards
Twin Fin II 1978
Shaped by Laurie Byrne.
Hawaiian Pro Designs,
Twin fin II. 6 ft 1" 1979
Larry Bertelmann Model
Mark Richards Twin fin, 1979
double flyer swallow tail, 5ft 4''
Shaped by Mark Platter




---
Twin fin Catalogue Entries : See Fin Catalogue

---
Other Twin Fins II (old Scale)
Mark Richards' first Twin fin II, based on Reno Abelira's Fish, Coke Contest 1976
Photograph: Andrew Canning
#55 Pipedreams Flyer Roundtail Twin Fin II 1979 6 ft 2''
---

surfresearch.com.au
---
---
Geoff Cater (2011-2017) : Twin Fin History.
http://www.surfresearch.com.au/0000h_Twin_Fin.html