pods for primates : a catatogue of surfboards in australia since 1900
---
---
surfresearch.com.au

film : evolution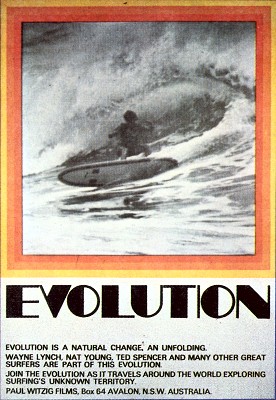 ---
Evolution
1970 Directed/Camera Paul Witzig
Extra footage by George Greenough
No Commentary - with sub-titles.
Soundtrack by Taman Shud and Tully (and Ravell)
Poster: Wayne Lynch cutback Australian Tiles Sydney 1968 - not shown in film
---

Surfers/Locations/Surfboards :
Part 1 - mostly Puerto Rico.
Introduction of cast with sub-titles

Part 2 Autumn in Victoria - Bells/Southside/Lorne (double exposure)/Greenough (?) water footage.
Wayne Lynch #1: Wayne Lynch Involvement model by John Arnold Surfboards 'Poster' Double ender,
Yellow with deck patch,clear bottom with 2" black pinlines/square decals 8 ft?
This board offered as a reproduction in 2001 by Wayne Lynch,
see http://www.evolutionsurf.com/
Butch Cooney: Blue, white deck Square tail
Ted Spencer #1: Shane Surfboards ? Red deck, yellow bottom, pintail
George Greenough: Velo

Part 3 Sydney: Manly(?)/Whale Beach Wedge
Wayne Lynch #2: John Arnold Surfboards Double ender Blue, Yellow deck
Nat Young #1: Green bottom with large nose decal
Ted Spencer #2: clear

Part 4 France : xxx?/ Hendaye/Guethary/Hossegor (double exposure)
Wayne Lynch #3 : Blue with wide white pinlines, clear deck with large/small decals
Wayne Lynch #4 : white with red deck panels
Nat Young #2 Yellow Weber Ski/Tracker, 8 ft
Nat Young #3 clear with three glueline Round tail 7 ft : 'The Young Weber' -painted*
Ted Spencer #3 clear/three glueline Round tail 7 ft *
*Three clear/three stringer boards made at Michael Barrland Surfboards, France.

Part 5 Morrocco/Portugal
Wayne Lynch #5 clear three glueline Round tail 7 ft *
Nat Young #3
Ted Spencer #3

Part 6 France : La Barre
Wayne Lynch #6 ? Double ender , white with red deck ? could be #4
Nat Young #3
Ted Spencer #3

Part 7 Puerto Rico : Domes/Rincon-World Titles Heats, Tandem, Final
Wayne Lynch #5
Nat Young #3 : 4th.
Ted Spencer #3
Midget Farrelly : Midget Farrelly Surfboards Red with :Blue wing, Yellow deck Pintail 7ft 4"? - 2nd.
Skip Frye: Gordon and Smith Surfboards Yellow-green nose patch Squaretail.+7ft?
Ben Apia: Greg Noll Surfboards? Red, white deck +8ft
Unknown : riding what looks like a blue 5 ft kneeboard
Russell Hughes:Yellow Squaretail by Bob McTavish 7 ft 6" -3rd.
Keith Paull: The Foil by Bing Surfboards, Red, white deck 7ft 6"?
David Nuuihwa: Red,White/Blue deck Pintail with early Ying-Yang logo -down rails?
Reno Abellira: Brewer Minigun Blue, red bottom sub 7 ft? -down rails - 6th?
Joey Cabell: clear Pintail 8tf? -down rails
Fred Hemmings: Greg Noll Surfboards Red, Yellow deck 9ft 6"? - 1st.
Mike Dolye : Hansen Surfboards Blue white deck pintail +8ft? -5th?

Part 8. Cactus, South Australia All lefts (double exposure)
Wayne Lynch #7 John Arnold Surfboards Clear egg 7 ft ? with large nose decal on bottom
Ted Spencer #4 Shane Surfboards clear egg sub 7ft ?

Part 9. 1969 Australian Titles Margret River, Western Australia
Nat Young #4 Green Weber gun, + 8 ft 6" with low soft rails- broken - 1st.
Nat Young #5 Clear? Keyo Surfboards 6 ft 10" Small wave board
Wayne Lynch #8 John Arnold Surfboards Green deck, Yellow bottom - 1st Junior.
Ted Spencer: #4?
Peter Drouyn: Gordon Woods Surfboards Orange, white deck
David Treloar: Nipper Williams Surfboards Blue, yellow bottom +7 ft?
Richard Harvey: Ron Wade Surfboards.
---

COMMENTS
1. No commentary format similar to George Greenough's The Innermost Limits of Pure Fun,1969and repeated in next Paul Witzig's next film, Sea of Joy. Later used by Alby Falzon in The Morning of the Earth, 1972.
2. First footage of North Africa.
3. Parts 2, 4 and 8 include highly annoying double exposure footage
4. Part 8 uses Ravell's Bolero as soundtrack, 20 years before Torvill and Dean (Olympic Ice skaters) and Blake Ewards in 10.
5. The surfing of Wayne Lynch is outstanding throughout.
---
FILM DETAILS
---
---
---