| | |
| --- | --- |
| 1970 Walsh Twin fin I 5 ft 4" | #71 |

MANUFACTURE
MANUFACTURER: Walsh Surfboards, Elanora, Sydney NSW
SHAPER: Jim Walsh
DESIGN: Twin fin I
DESIGNER: : Mike Eaton / Rolf Arness / Corky Carroll / David Nuuihwa, all USA
SPECIFICATIONS
CONSTRUCTION
Foam blank with blue glueline stringer, Volan glassed with scalloped 2/3 deck patch, scalloped nose patch, fin patch.
DIMENSIONS
| | | | | | | |
| --- | --- | --- | --- | --- | --- | --- |
| Length: | 5 | feet | 4 | inches | | |
| Width: | 20 | inches | | Wide Point: | +ve 4 1/2" | inches |
| Nose : | 16 | inches | | Tail: | 16" | inches |
| Thickness: | 3 | inches | | Pod: | 9 1/2" | inches |
| Weight | | kilos | | Volume: | | litres |
| Nose/L: | | inches | | Tail/L: | | inches |
| Other: | | inches | | | | |
FEATURES
Nose: semi pin
Tail: chamfered square tail
Deck: S deck, thickness at rear third
Bottom: flat
Rails: 50/50 in nose, soft low in centre, hard at pod
Rocker: flat with nose lift
FINS
Twin - red mat, 5 3/4" x 4" base,
Tipped, Toed, note standard foil - not asymmetric
DECOR
DECALS
Deck: Black ' Walsh' in cresent
Bottom:
MARKINGS
Deck: 'Rich 112' pencil on pod
Bottom:
COLOUR
Deck: clear
Bottom:
NOTES
BOARD HISTORY
Puchased Salvation Army Store,Tempe Sydney, 1998. Minor dings.
I have no record of this manufacturer, however it displays all the characteristics of a professionally built board of the era.
COMMENTS
Rick Gliddon reported :
Jim Walsh used to be a woodwork teacher at Narrabeen Boy's High & used to shape knee boards in his garage.
He used to shape boards for us & glass them, the whole bit, till the government clamped down on him about 'hobby businesses'.
In fact, Simon Anderson's first few boards were shaped by Jim.
The twin fin you have displayed (# 71) is one of the ones Jim designed & shaped & glassed in his garage at Elanora, where he still lives.
Over the years Jim shaped a lot of 'Walsh' boards & knee boards.
We used to spent lots of time discussing rail & bottom shapes as well as fin design.
Glenn is still a surf nazi & will gladly spend hours discussing his theories of board design.
He is still the only guy, besides the pros who would get a new board every few months, much to the delight & frustration of Simon, who shapes them for him.
-Thanks to Rick Gliddon.
DESIGN HISTORY
The US design (Corky Carroll, Mike Eaton , Rolf Aurness and David Nuuhiwa) was directly imported by Tom Hoyle to Bennett Surfboards, Brookvale in late 1970.
Concurrently, Terry Fitzgerald and Greg Hodges "built two five-sixes" from design details culled from negotiations between Shane Surfboards and Corky Carroll, post Johanna World Contest, 1970 (M.3).
The design quickly dominated 50% of the Sydney market, notably McCoy Surfboards.
Usually sub 6 ft x 20" with 10" diamond pod. Glue line stringer.
Fin size, shape and placement varied.
REFERENCES
Other Twin fin I's :
# 106 Pat Morgan
#134 Farrelly 6 ft 1"
#161 Hansen 6 ft 1''
Noted July 2005 : 5 ft 6'' McCoy Twin Fin, 1971 : Fin Specifications - 5 1/4'' x 3 1/2'' base x 6'' span @ 5''.
Toed in but not tipped out. Symmetric foil.
Twin fin II's :
# 40
Books:
1.Nat's History 0f Surfing page 106.
Magazines.
Articles:
1. Tracks Magazine Number 2 Summer 1970?
Twin fin articles featuring Tom Hoye at Bennett Surfboards and Terry Fitgerald at Shane Surfboards. Photographs from these articles reproduced in Nat Young's History of Surfing, page 106. See 1 above. Inexplicably these articles did not appear in The Best of Tracks (Volume 1) design section.
2. Mick Mock : "The Summer Millionaire (Shane Steadman)"
in Deep magazine, Vol 4 #4 Winter 1999 pages 50 - 61
- includes photographs
3. Phil Jarrett : "The Sultan of Speed" (Retrospective 1960 - 1999)
in The Australian Surfers Journal Vol 1 # 2 Autumn 1999 page 28 - 45.
Twin fin I page 42
4. Surfing World Magazine Vol 14 # 6
- cover shot of Terry Fitzgerald (Shane Surfboards), Mark Warren (McCoy Surfboards) and tails/fins.
Film:
1. John Severson : Pacific Vibrations USA 1971
- footage of Corky Carroll, Twin fin I/Hobie Surfboards
2. Bob Evans : Family Free 1971
- Col Smith and Mark Warren ride Twin fin I/McCoy Surfboards
CONDITION: 8.


---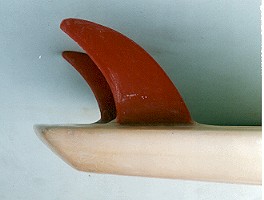 Fins and Chamfered pod in cross section

surfresearch.com.au