| | |
| --- | --- |
| 1979 Mark Richards Twin fin II 5 ft 4" | #302 |

MANUFACTURE
MANUFACTURER: Maddog Surfboards, Industrial Estate, Byron Bay
SHAPER: Mark Platter
DESIGN: Mark Richards' Twin fin 2, Double flyer
DESIGNER: Mark Richards
SPECIFICATIONS
CONSTRUCTION: Foam blank, 1/8" redwood stringer, spray, r/h plug
DIMENSIONS
| | | | | | | |
| --- | --- | --- | --- | --- | --- | --- |
| Length: | 5 | feet | 4 1/2 | inches | | |
| Width: | 19 | inches | | Wide Point: | 0 | inches |
| Nose : | 14 1/2 | inches | | Tail: | 14 1/2 | inches |
| Thickness: | | inches | | Pod: | 6 | inches |
| Nose/L: | | inches | | Tail/L: | | inches |
| Weight: | | kilograms | | Volume: | | litres |
| Swallow: | 2 | inches | deep | Flyers @: | 7 and 3 1/2 | inches |
FEATURES
Nose: Pin
Tail: swallow tail, double flyers, image below.
Deck: flat
Bottom: slight Vee in nose, deeper at fins, channel from fin base to rail
Rails: Tucked
Rocker:
FINS
6" x 5 1/2" base @ 11 inches
Brewer, inside flat/outside foiled,
toed and tipped/cambered
White laminate,
DECOR
DECALS
Deck
1.Lizard - red graphic,Designed by Mark Richards' black text. Sweet spot. Image right.
2.'Shaped by Mark Platter' black script, tail.
Image below
Bottom
'Mark Richards' script and ribbon graphic, dark blue/red. Sweet spot. Image below.
MARKINGS
Deck: MP , pencil at rear sweet spot.
Bottom:
COLOUR
Deck
Blue rail spray with detail to flyers, image below.
Yellow fractured nose patch, black pinlines
Bottom: clear



NOTES
BOARD HISTORY
Extensive dings to nose (repaired and sprayed), deck (to decal), bottom and tail.
Many poory repaired.
Silhouette of stickers removed from bvottom.
Repairs to swallow/flyer tips and leg rope damage.
Photographs and dimensions, 24 May 2004.
Surf's Up at Gerringong,
3/1 Noble Street Gerringong NSW 2534. Phone 02 4234 0208.
Thanks to Scott and Angela Anderson.
DESIGN HISTORY
Mark Richards was familiar with the Twin Fin I, see #71 and #106 , (circa 1970 by Mike Eaton / Rolf Arness / Corky Carroll / David Nuuihwa -all USA) and imported to Australia by Tom Hoye (USA) where design had a strong following in Sydney, particularly at Narrabeen) by McCoy Surfboards.
Although the design quickly disappeared in Australia, a small following continued in the USA (Steve Lis ) with the development of the Fish.
This was to influence Reno Abellira, (Hawaii) who rode a 5 ft 3" x 20" model in the 1976 Coke contest, Sydney.
Inspired, Mark Richards built his own version and subsequently refined it at a month long shaping seminar with Dick Brewer in Hawaii 1976-1977.
The design was tested in Hawaii the following winter and contest success in the Bells 1978 and Stubbies 1979 contests and the 1979 World tiltle proved its high performance capabilities, particularly in small waves. Available from all Australian manufacturers, it was the dominant small wave board design 1978 – 1981.
The design also had a strong following on the south shore of Ohau, notably Larry Bertlemann and 'Buttons', and was to be extensively used in the USA - Mark Richards models were made under licence by Gordon and Smith Surfboards.These apparently were available with fin boxes, a uncommon feature in Australian boards .
The design was also shaped by Mark Platter, Ken Freeland and Tony Cerff at Maddog Surfboards.
Mark Richards Surfboards (single fin designs) were first manufactured by Morning Star Surfboards, Mona Vale.
The fin to flyer channels rarely appear on later/copied examples.
The ribbon decals were early designs, gradually replaced by a MR/Lightning Bolt, a MR script and a MR/Lizard graphic.
Apparently the famous MR/Superman logo only appeared on Mark Richards' personal boards during this early period.
COMMENTS

REFERENCES
Other Boards
#165
Book
Knox: Mark Richards pages 61 to...
Film
Free Ride1977 Bill Delany , Water footage by Dan Merkel.
Surfers : Shaun Tomson, Mark Richards and Rabbit Batholomew
*The definite film of this period, note that most of Mark Richards' surfing is not on a Twin fin II .
CONDITION: 8
---


---
---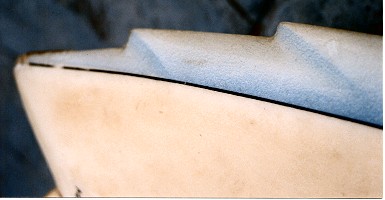 Double flyers.
Other Twin Fins II (old Scale)
Mark Richards' first Twin fin II, based on Reno Abelira's Fish, Coke Contest 1976
Photograph: Andrew Canning
#39 Bryne Bros. Surfboards Twin Fin II 1978
Shaped by laurie Byrne.
#119 Hawaiian 1979 Hawaiian Pro Designs, Twin fin II. 6 ft 1" Larry Bertelmann Model
#55 Pipedreams Flyer Roundtail Twin Fin II 1979 6 ft 2''
---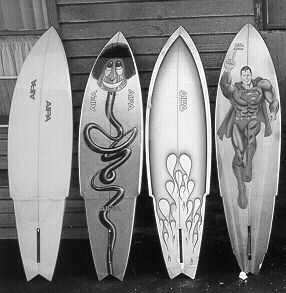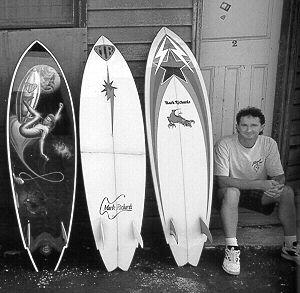 Photograph by Peter Boskovic
Printed in The Australian Surfers Journal Vol 1 # 3 Winter 1998 page 44
Note : Original Apia Surfboards 'Flame' Stinger, Twin fins with various decals.
All boards much photographed.

surfresearch.com.au