surfresearch.com.au
---
---
surfresearch.com.au

history : the legrope

---
The Legrope : 1974 - 1976
---
1974
The Legrope is a surfboard accessory, however its widespread adoption from 1974 to 1977 had a huge impact on surfboard design, principally by removing commercial barriers to lightweight construction.
Furthermore, it had a direct impact on surfing performance ...
1. Progressive manoeuvres and a more aggressive technique could be adopted without paying the penalty of a swim to the beach.
2. Wave counts per hour increased with the elimination of swimming time and the TOAD syndrome. (Take Off And Die)
3. Board destroying rock breaks were ridden without a financial/board repair penalty.
4. Despite an intial resistance to use in large surf, it could be argued that over time surfers were became more confident in larger waves with the assistance of the legrope.

It's contribution to the upsurge of surfing performance in this period (as typified by Rabbit Batholomew's Breaking Down the Door article, circa 1976) was not noted by the major contributors (unlike their board designs) and is rarely acknowledged by journalists and historians.

Eventually the legrope became recognised as a safety device, both for the rider and for other surfers in the water




Brad Mayes, board and legrope, Bondi, 1974.


Tracks #46 July 1974, page 10.



circa 1970 - Originally a hand leash fixed to the nose (Control Products USA), it was rapidly adopted as a rope and strap (commonly a sock or handkerchief ) tied to a hole in the fin.
By 1974 commercial models of rope/latex tubing and velcro strap were widely available, however manufacturers were slow to fit legrope plugs to new boards until legrope use was accepted in professional contests.
In the mid 1980's rope/latex tubing was replaced by moulded urethane.

Breakway, August 1974: Legropes-3 alternatives.



---
Tracks #40 January 1974
Cover:

Hawaii Contest issue


Contests:
Duke Contest- 1st Clyde Aikau
Pipeline Masters- 1st Gerry Lopez
Articles: Morocco, Japan, South Africa, England, Asia
Bob Evans: Into the Unknown Part 2 (Worldwide surfari, Africa)
Nat Young
Tony Edwards:

Captain Goodvibes




Advertisements:


Honey Surf Wax, Palu Surf Wax (Merrin)
Morning Star, Valentine, Hot Buttered, Kevin Platt, Pipeliner Surfboards,
---
Tracks #41 February 1974
Cover:
Articles: Surfing in Queensland,
Shortage of surfboard materials
Indian Ocean mysto surf spot
Tony Edwards:

Captain Goodvibes

.


Advertisements:


South Coast Surfboards
---
Tracks #42 March 1974:
Cover:

Truckin' Issue


Articles: Travel, Hang-gliders;
Contests: Hang Ten, 1st Jeff Hakman
Design: Robert Connelly's hulls; Simon Anderson's pintails, kneeboards
Tony Edwards:

Captain Goodvibes


Advertisements:
Henri, Gordon and Smith Surfboards
---
Surfing World Volume 17 Number 4 1974?


Interview:

Terry Fitzgerald


English surfing
Kurnell Point
The Wedge at Newport, photography by Alan Rich.
Photos from Readers: Kevin Platt 1st point Noosa and Col Smith at Greenmount Point


Advertising


Film: A Sea for Yourself
Bob Cooper Surfboards, Coffs Harbour.
---
Tracks #43 April 1974
Cover:

Cyclone Grinders


Interviews:

Mark Warren

and

Mark Richards


Articles: Peter Drouyn
Film: Salt Water Wine
Design: Vees, concaves, platforms - Butch Cooney, Terry Fitzgerald
Tony Edwards:

Captain Goodvibes


Advertisements:
David Chidgey, Kevin Platt, McCoy Surfboards (new factory Avoca),
---
Tracks #44 May 1974
Cover: Double Win for Peterson
Contests: 2SM Coke Surfabout and Bells Beach, both won by Michael Peterson
Interview:

Gerry Lopez

and

Jeff Hakman


Film: Red Hot Blue
Design: Bells Guns- Peter Drouyn, Paul Neilson, Richard Harvey, Ted Spencer, Nat Young, Andrew McKinnon
Advertisements:
Fred Pyke Surfboards, Hot Buttered Surfboards, Nalu Surfboards, Golden Breed, O'Neill.
---
Tracks #45 June 1974
Cover: Australian Titles to Peterson.
Interview: Michael Peterson, (I could say ... but I won't say)
Contests: Australian Titles, Burleigh, 1st Michael Peterson (4 pages)
Articles: Nat and Gough at the Opera House
Richard Harvey: Leg ropes (humour?)
Advertisements:
Gordon and Smith Surfboards

---
Tracks #46 July 1974
Cover story: Storm Issue
Interview: Brad Mayes
Movies: Drouyn and Friends, Rolling Home, Red Hot Blue.
Advertisements:
Surfcords by Surf Aids, Byron Bay.
Palma Surf Mats, Crystal Voyager, Golden Breed, Neilson Bros., O'Neill (Gerry Lopez),



Page 26

Page 27
---
Breakway, September 1974
Interview with Midget Farrelly
South Australian Surfriding association.
Film Review:

On any morning.


Bali

---
1974
Morey – Doyle a soft foam board designed by Tom Morey and Mike Doyle (both USA) incorporating Greenough flex principles and circumventing fibreglass boards beach restrictions.
Question: Did the first model come with a wrist leash?

---
1974
Morey Boogie Flexible foam bellyboard invented by Tom Morey as an offshoot of his experimentation leading to the Morey-Doyle flexible surfboard.
Based on the Hawaiian paipo and incorporating flex and 'vacuum track rails' (Greenough / Brock hull design).
The soft construction circumvented bodysurfing area restrictions.
Originally offered as a buyer assembled mail order product.
Extensively imitated.
---
1974
Bonzer Original design by Campbell Bros. (USA) in 1973, features tri fin setup with long base keel side fins combined with single to double concaves bottom.
Usually a square or swallow tail.
Australian models by Peter Townend at Gordon and Smith Surfboards and Terry Richardson at Skipp Surfboards.
Bonzer bottom revived in 1995.
---
Breakway, March 1974
Harry Hodge and Paul Brooks:

T

he Bonzer Design



---
Breakway, April 1974
Full back cover on Rip Curl with a shot of their old bakehouse premises and the start of the build of the new headquarters.
---
Tracks #45 June 1974
Michael Petersen interview, following wins at Bells, Coke and the Australian Titles.
Design: Dick's Birthday Boards
Advertisement


Drouyn and Friends.
---
Surfing World August 1974
Volume 19 Number 5
Interview:

Barry Kanaiaupuni

by Bruce Channon
Contests:
2SM Coca Cola Pro, won by Michael Petersen.
Australian Nationals - includes Mark Warren, Simon Anderson, Peter Townend, MP, Mark Richards, Peter McCabe, Steve Jones, Butch Cooney and, winner, Michael Petersen.
Peter Townend: Standing Room Only - Hawaiian Winter 1973-4974
---
Tracks #48 September 1974
Interview:

Stephen Cooney




Demise of Amateur World Titles?




Heroin




Legropes

(Comment)
Profile:

Lou Reed


Film: release of

Drouyn

.


Design: Foils


Captain Goodvides


Advertisements:
SurfAids- Delux Surf Cord
Windansea Leg Ropes
Hodgeman Surf mats
Gordon and Smith Surfboards
Wade Surf Centre
McGriggor Surfboards- "Spoon and Slab Kneeboards a Speciality of the House."
O'Neill Wetsuits

---
Breakway, October 1974
Glenys Atkins:

Design- Mats


Bainbridge on

Speed on a Wave

- actual placing of a speedo on a Trigger Bros. board-got readings of 30-35 mph.
---
Tracks #49 - October 1974
Cover story and interview: The Definitive Nat Young
Articles: Sharks, The Inside Story of the Surf Movie Business, Snow McAlister erconstucts solid timber board,
Music Profile: Stevie Wright
Contests: Newcastle


Captain Goodvibes



---
Breakway, September 1974
Interview:

Midget Farrelly


Surfing in Bali
Film:

On Any Morning.
---
Surfing World November 1974
Volume 20 Number 2
Laurie McGuiness: Dee Why Point Tubes and Other Things That Happen There
Interview:

Robert Conneeley

by Graham Cassidy
Bernie Baker, photographs:

Hawaiian Winter 1974.


Greg Woodward:

Country Winter



---
1974
Tinkler Tail moulded rubber and plastic add on tail with internal spring mechanism to adjust tail flex or camber, by Mike Tinkler (New Zealand?).
Not popular due to weight, cost and construction difficulties.
Surfworld, Torquay example by Wayne Lynch, Swallow tail, circa 1978 - loaned by Russell Graham.

Design history.
"Bob Tinkler started work on perfecting flex in stand up surfboards in 1967 after living and surfing with George Greenough and Bob McTavish in Queens land Australia, And the first custom Tinkler Tail was built in a conventional surfboard design, was the concept of a customizable Tinklertail.
Invented by Bob Tinkler In San Diego 1969 1970 that consisted of a hollow molded surfboard with a bottom tail section embedded in the form, which acted as a resilient adjustable deflection panel.
That assumes variable curves that respond to each individual surfer, based on the water pressure on the tail end of the board.
...
With USA pat. 5425321. Sail, And Surfboards PPA. International, Pat. Pending.
Bob Tinkler: Shaper, Designer, inventor, in sail and surfboards design
All copyrights reserved.
Contact: www. SurfSyndicate.com or emails to SurfSyndicate@msn.com"
http://www.swaylocks.com/resources/detail_page.cgi?ID=1455

---
Shaun Tomson Quiver, Hawaii, 1975.
Photograph : Dan Merkel
Surfing Magazine March 1984
Volume 20 Number 3 page 111.
---
Tracks #52 January 1975
Cover story:

Waimea - winter in Hawaii


Interview:

Rabbit Batholomew


P.T. in large Hawaiian surf
Contests: Duke.
Design: Concave bottoms


Goodvibes (versus The Phantom)




Advertisements:


Best of Tracks
Native Surfboards (Brookvale)
Free n' Easy surfmats
O'Neill wetsuits and surfmats
Klemm-Bell Surfboards
Harmony Surfboards
---
Tracks #53 - February 1975


Cover:

All Aussie Issue




Contests: Pa Bendall Contest, Sunshine Coast, 1st Michael Peterson ($2000) on Fang tail, Keith Paull freakout,


Interview:

Guy Ormerod

and

Chip Greenfield.




Pacific Cruising,




Newcastl

e




Byron Bay.


Tony Edwards:

Captain Goodvibes


Advertising:
Michael Peterson Surfboards
Goodvibes T-shirts ($15 each)
Dion blanks
Best of Tracks.



Right: Points Allocation for Bells Beach Contest, Easter 1975.
Note points for Hang-five, Hang-ten, and Stretch-five.




---
Tracks #54 - March 1975
Interview:

Keith Paull

, 4 pages.


Star signs of leading surfers

.


Film reviews: Tales From The Tube, Hot Lips & Inner Tubes.
Design: by Rick Neilsen
Tony Edwards:

Captain Goodvibes



---
Tracks #55 - April 1975
Interview:

Wayne Lynch

(4 pages).
Contests- Queensland state titles - 1st Michael Peterson, 2nd Peter Drouyn, 3rd Wayne Bartholomew , 4th Peter Townend
Bells- 1st Michael Peterson, 2nd Shaun Tomson, 3rd Mark Warren, 4th Jeff Hakman, 5th Mark Richards , 6th Wayne Lynch, 7th Peter Townend, 8th Midget Farrelly.
Shaun Tomson:

South Africa


Tony Wright:

Seven Years on the Road.


New Zealand
Design- Terry Fitzgerald - seven boards.
Tony Edwards:

Captain Goodvibes


Advertisements:
Hot Buttered Surfboards,
---
Tracks #56 - May 1975
Contests: Coke Surfabout (16-page liftout), 1st Wayne Lynch, 2nd Mark Richards.
Terry Fitzgerald and Doug Warbrick:

Pro Surfing


Jack McCoy:

Classic Burleigh


John Grissim:

Bali


John Witzig:

Vietnam War Retrospective


Tony Edwards:

Captain Goodvibes


Design: Kneeboards, Chris Beacham (by John Witzig)
Advertisments:
Rip Curl,

---
Tracks #59 August 1975.
Covr: Dick, Doris, Grub and Rabbit; Lou Reed Axed; Surfer Harassed by Police; Aah' Women
Design: Butch Cooney: Rails
Interview: Maurice Cole
Music: Tamam Shud Interview
Jack McCoy: Skateboard Review
Peter Barron ,
Colour centrefold: Crystal Cylinders Poster

---
Tracks #60 September 1975.
5th Birthday Issue. (?)
Cover: The Michael Peterson Interview, 4-pages.
Dennis (the Menace) McDonald- Surf film promoter
Design: Bottoms by Simon Anderson.
Tony Edwards: Captain Goodvibes


Adventures of Nemo & El Gato.


Tahiti, sharks, books, skateboards and surf films.
Advertising:
Peter Drouyn Surfboards, Surfers Paradise.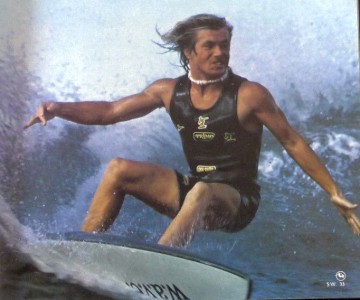 ---
Surfing World Volume 21 Number 6 September 1975

In Search Of The Zahir (Summercloud Bay)

Shaun Tomson Interview

Australian Championships (The Australian Titles)

Polynesian Islands

Southern Competition

Australian Universities Surfing Champs

Coalcliff

A New Objective Judging System
The Lightning Bolt Contest



---
Tracks #61 - October 1975
Cover story:

The UFO Issue

(Terry Fitzgerald, shapes by Erle Pedersen)
Contests: Newcastle, won by Michael Peterson.
Advertisements:
G and S Surfboards (shops at Liverpool, Bondi, Hurstville, Bulli and Parramatta)
Centre poster: Crystal Cylinders
---
1975
Stinger
Original design by Ben Apia (Hawaii) featuring flyers 2/3rds back from the nose (see 422) combined with a stepped bottom (see Hydroplane).
Popular design in 1976 as surfed by Mark Richards and Larry Bertelman (Hawaii).
Widely copied, but most models did not incorporate the initial design's stepped bottom.
---

---
1975
Roto-moulded Plastic boards, 6 ft 4" rounded pin surfboard design by Simon Anderson (Power Board?) and Slab kneeboard by Peter Crawford.
Production possibly by Shane Surfboards.
---
Breakway, December 1975
First ever rankings by the Australian Professional Surfers Association.
Jarrett Waterhouse:

S

kurfing



---
Mark Richards, Backdoor Pipeline,
December 1975.

Photograph : Dan Merkel
Surfing
March 1984
Volume 20 Number 3 page 111.
---
1976
Ski Tail distinctive tail shape based on exaggerated flyer principle, by Rod Ball at Clear Sea Surfboards and Terry Fitzgerald at Hot Buttered Surfboards.
---
Title:
Surf board and leg rope report / Department of Culture, Sport and Recreation, Sport and Recreation Service.
Publisher: [Sydney] : The Dept., 1975.
Description: [49 p.] ; 33 cm.
Contents:
A report upon the effects of surfboard leg ropes, the sharpness and dimension of surf board fins, rails, noses and tails.
Notes:
Cover title.
Spiral binding.
Includes bibliographical references.
Subjects:
Surfboards--Accidents.
Surfing--Australia--Accidents and injuries.
Other Authors:
Sport and Recreation Service of New South Wales.
Bib ID:
647205
Collect from:
Main Reading Room (Australian Collection)
Call Number:
Npf + 797.1720994 S961
Status:
Available
NATIONAL LIBRARY OF AUSTRALIA, Canberra, ACT 2600, AUSTRALIA,
---
Tracks


January 1976, page 7.


And Where Were You, Michael Peterson?


Michael Peterson received his invitation to the Smirnoff the day after it started.
Contest Director, Fred Hemmings, sent it at the same time he sent everyone else's.
Only he sent everyone else's airmail, and somehow Michael's went seamail.

Michael relaxed on his dunny roof in Queensland and thought about the whole thing while in over in the Islands, the crew speculated on when, and if, he would arrive.
Owl Chapman phoned Australia on Christmas Eve and asked "Where's Peterson man?"

As we go to press, Michael is still in Queensland and with the pro contest circuit entering its final stages, it seems unlikely he will make it.
Michael was unavailable for comment but, according to friends, he is pissed off with the unfair treatment he's received from Hemmings and other contest officials who seem reluctant (scared?) to let him compete.
Well, what's the story Fred?









---
1976 Best Of Tracks Number 2
Interviews:

Michael Peterson, Keith Paull, Rabbit Bartholomew, Ted Spencer, Nat Young, Wayne Lynch, Chip Greenfield, Guy Omerod, Rory Russel, Terry Fitzgerald.


Design: 6 pages
Contests: Smirnoff (Hawaii,) and Hang Ten Pro (Hawaii), Surfabout '75, Bells Beach.

---
Tracks

#68 May 1976


Cover:

Jeff Hakman wins

Bells Beach Contest




Bells Beach

Surf Fashions




A History of Reefer Madness


Rusty Miller:

Byron Bay


Interviews-

Bobby Owens

(Hawaii),

Maurie Fleming

, Paul Neilsen.
Tony Edwards: Captain Goodvibes
Bells Designs:
Ian Cairns- three Tom Parrish shaped Lightning Bolts
Reno Abellira- four boards including his 5'7" twin fin fish
Mark Warren- three Geoff McCoy shapes
Peter Townend- 7'6" single fin gun (19.25" x 12.25" nose and 10.5" tail
Bobby Owens
Design- Ping-pong ball blanks, by Dick Van Straalen

Advertising
Levi's

King Cord

, with King Kong modelling the jeans.
The Best of Tracks Volume 2 .
The Tracker Drag Shute, parachute legrope.
Golden Breed Surf Movie Guide-

The Traveling Surfing Picture Show

, with

Super Sessions, A Sea for Yourself, Going Surfin', Forgotten Island of Santosha, Island Magic, Tales from the Tube, 5 Summer Stories,The Cosmic Children, Hot Lips and Inner Tubes,

and

Zephyr

by (Yuri Farrant).



---
.

Advertisement, Left:
The Tracker Drag Shute
[parachute legrope]
New product review by Craig Leggat.


Tracks

#68, May 1976, page 31.



Right:

Drag Shute printed

package

.

.
.


Images kindly forwarded by Ray Henderson,

January 20016.
---
Left:


Drag Shute

package

.





Right:

Tracker Drag Shute

.

.


Images kindly forwarded by Ray Henderson,

January 20016.
---
1976
Fish continuation of Steve Lis (USA), design adapted by Reno Abelleira (Hawaii) as a small wave design specifically for the pro contest circuit.
Further developed by Mark Richards for the Twin fin 2.
See a brief history of the twin fin
---



Reno Abellira and twin fin,
2SM / Coke Surfabout,
Narrabeen, 1976.

Surfing World
Volume 24 Number 4 ? page 42

Reno Abellira and boards,
2SM / Coke Surfabout, 1976.

Surfing World
Volume 24 Number 4 ? page 32

---
Terry Richarson, Wreck Bay, 1976.
Photograph by Peter Crawford.
1st place in Tracks Photo Competition.
Tracks Number 70, July 1976, page 20.



---
1976
Channel Bottom design by Jim Pollard based on Groove Ridge Theory by Jim Richardson and Art Shafer (both USA) circa 1975.
Originally (4 or 6) shallow and narrow concave lines in the bottom of a board followed the rail outline and ran almost the full length of the board.
Later designs exited at flyers and by 1980's had standardised as straight ridges parralell to the stringer.
Contest success by Col Smith (Newcastle).
---
1977 Alan Oke Memorial Contest,
Phillip Island Victoria

" Blacks Reef is the local, kamikazi spot with the reef only slightly below the surface. Pulling in the swell, this shallowness provides insane vertical takeoff and a nice wall to boot. Bonus excitement for the small group of spectators siting on the knobbly little headland.
Kanga Cairns senses that the waves suit his full-on, no-holds-barred approach and insists that if he doesn't wear a legrope, no-one else should either.
Terry Fitz and Kanga, being the only two naturauls in the final, are getting the lion's share of the inside waves. Terry Richo and Colin Smith are both eating it horribly, trying to negotiate the shallow ledge. Wayne Lynch finds the tube a few times with incredible timing. Rory Rusell knows what the judges are after , so he goes for the tube switchfoot, time after time, and makes it.
Then minutes from the the finishing hooter, Fitz looks in a winning position, that is 'til he decides to bodysurf after a fall rather than grab his board. This decision probably cost him the final. On the wave behind, Cairns drops in vertically, disappears into the tube for seconds and reappears, soul arching to victory. "

Peter Crawford : The Alan Oke Memorial Contest (1977)
Surfing World Magazine Volume 25 Number 3 July 1977 pages 59 - 61
Results
1st Ian Cairns
2nd Terry Fitzgerald
3rd Rory Russell
4th Wayne Lynch
5th Terry Richardson
6th Col Smith (New)
7th Wayne Batholomew
8th Michael Petersen
9th Steve Jones
10th Michael Ho
The officials' decision not to allow legropes in the final was not appreciated by some competitors, and following this contest, legropes became standard contest equipment.
This was the last Australian professional contest to ban legropes.
---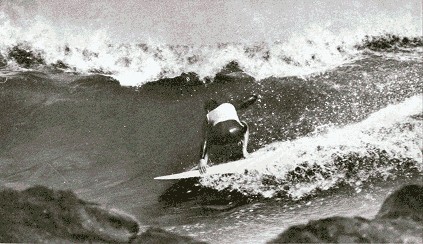 Wayne Lynch - switchfoot reef dance without legrope.
Alan Oke Conest Final, Blacks Reef, Phillip Island, Victoria.1977
Photograph : Peter Crawford
Surfing World Magazine, Volume 25 Number 3 July 1977, page 62.

---
SURFER Magazine Vol 17 No 2 July 1976
Inside - Out Tube Views
Special feature is Malibu.
It covers the early history right through to 1976 with a comprehensive time line and history, photos and a gallery of surfboards from the eras past to present.
Featuring a Malibu Fin Appendix a brilliant photo of Rick Griffin.
Cover feature: Photos from the tube, includes centre fold.
---
Tracks #72 Sept 1976
6th Birthday Issue What we haven't covered this month didn't happen.
Terry Fitzgerald, photography by MartinTullemans: A Little Bit of Heaven in a Disaster Area.
Phil Jarrett: Gong Surfing, article on surfing in Wollongong.
Peter Townend: Gunston and Hang Ten contests
David Knox: The dark side of South Africa
Gary Johnson: Somewhere South of Teaquepaque, surfing in Mexico.
Boardshorts review.
Environment: Ron Ware on Survival; Zen Macrobiotics by Paul Holmes; Killer Weed Melmoth Grant writes on why dope is illegal; Hunter S. Thomson, The Dean of GonzoJournalism.
Music: 'RockJots' by Adrian Rawlings; Bo Diddley at Manly Vale.
Film review: Tubular Swells; Highway One interview with filmmaker Steve Otton.
Tony Edwards: Captain Goodvibes
Plus Gozzup, Bitsa, Letters
Advertising: Rider. Real honest tobacco.


---
SURFER MAGAZINE Vol 17 No 4 November 1976
The Family Aikau Campbell bros. Bonzers
AUSTRALIA CONTINUED ...A BEN APIA CENTREFOLD.. HAWAII ....TOWN AND COUNTRY A MAALAEA FEATURE .AN ARTICLE ON BONZER SURFBOARDS BY THE CAMPBELL BROS
---
---
---
surfresearch.com.au
---
Geoff Cater (2000-2019) : The Legrope 1974-1977
http://www.surfresearch.com.au/1974_The_Legrope.html