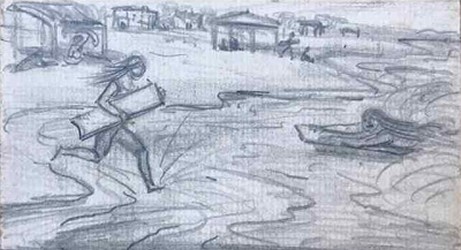 Illustration:
Surf Riders, Forte dei Marmi, 1906.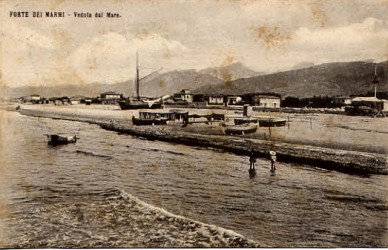 Postcard:
Forte dei Marmi Beach-front, c1910.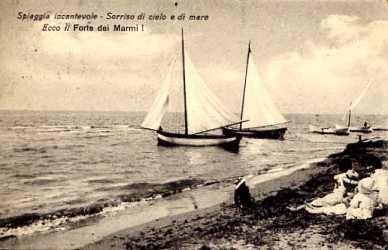 Postcard: Small Sailboats
, Forte dei Marmi, c1910.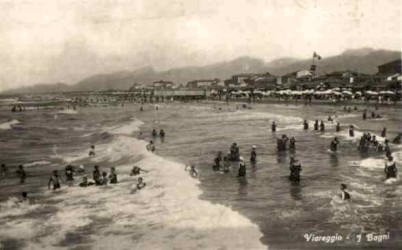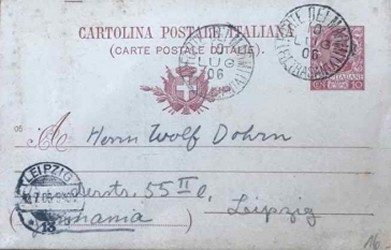 Forte dei Marmi,Tuscany, to Leipzig, Germany,1906.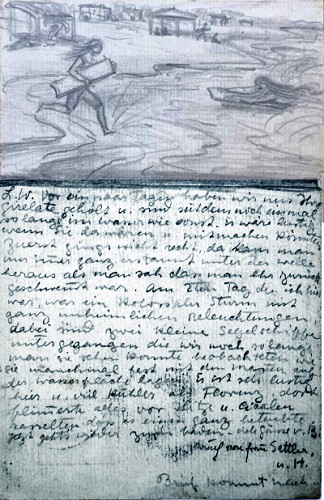 Prone Surfboard Riding, Italy, hand-drawn postcard, July 10, 1906.
Hand drawn postcard/lettercard, posted from Forte dei Marmi, Tuscany, Italy, in July 1906 to to Leipzig, Germany.
Charlie Spurr purchased the item from Germany posted scans to Facebook and re-posted by Rod Rodger's on mypaipoboards.org
I was alerted to the re-posting by Bob Green, who contacted Olaf de Vries from Holland and Arthur Pauli from Germany to attempt a translation after the difficult task of deciphering the hand-written text.
Rod Rogers also suggested the text could be in Old German and that the addressee was a gentleman doing university studies in Germany and that the writer was probably female (need to check my notes but I think something to do with language word tense), and also written in somewhat formal, respectful form.

In the foreground of the illustration one bather is shown riding prone on a small surfboard in the shore-break while another runs into the surf holding a similar board, with a convex tail.
It appears that both board-riders are female, which would be consistent with Rod Rodger's suggestion that the writer-illustrator is also female and the greetings also from Frau Sattler, presumably a travelling companion, or chaperone.
Another surfer holding a board and approaching the water can be seen further down the beach, along with several sunbathers under temporary shelters along the shoreline, fronting more substantial buildings in the background.

The surfboard-riding appears to be confirmed by the opening sentences, with the implication that some type of board, a Girelate, is used; Olaf de Vries notes that a Girelate is like a shape of a Fish or object that has a shape or outline of a Fish, not a surfboard but an actual fish without a tail.
Also, the writer found the activity more difficult than it looked, at first it didn't work well, and there as an element of danger when startled beneath the wave.

It appears probable that the writer was a reasonably confident swimmer, was possibly touring the Mediterranean by ship, and that the recent extreme weather, resulting in the sinking of two small sailing ships, may have produced some local swell.
Furthermore, that the boards were most likely available for use or hire by tourists from local hotels or beach concession stands.

Forte dei Marmi was a summer tourist resort from the end of the 18th century, favoured by wealthy families from the north of Italy for the sea-air and to sand-bathe, and by 1900 its attractions had became known to other European tourists.
Early postcards of the beach-front have some resemblance to the illustration of 1906; one depicting two small sailing vessels, possibly similar the two little sailing ships sank in an enormous storm as witnessed by the writer.
A postcard (below) of the Grand Hotel at Forte dei Marmi shows sunbathers, deckchairs and temporary sun shelters along the shoreline.


Postcard: Grand Hotel, Forte dei Marmi, c1910.

Importantly, small breaking waves are evident in the background of a photograph of three guests on the beach at Forte dei Marmi in front of the Byron Hotel around 1930, one wearing a two-piece Jantzen swimsuit.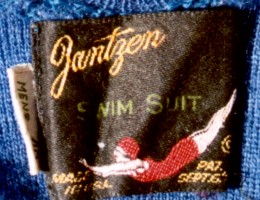 Photograph: Guests, Byron Hotel, Forte dei Marmi, c1930.


Similar surf conditions, and beach-front amenities, are shown (right) in an early postcard from

Viareggio

, a few miles south of Forte dei Marmi, a major coastal tourist resort in Tuscany known as

the Pearl of the Tyrrhenian Sea.



The format is unlike most postcards of the period and it may be a lettercard, a folded card with a prepaid imprinted stamp, first introduced in Belgium in 1882.
With twice the space of a postcard, the message is written on the inside then folded and sealed around the edges, and opened by the recipient tearing away the perforated selvages.

The current transcription of the German script and an English translation reads:
L.W.
Vor ein paar Tagen haben wir uns Ihre
Girelate geholt u. sind seitdem noch einmal so lange im Wasser wie sonst. Es wäre lustig wenn Sie da wären u. mitmachen könnten.
Zuerst gings nicht recht, da kam man nur immer ganz erstaunt unter der Welle
heraus als man sah dass man eher zurück
geschwemmt war.

L.W.
A few days ago we went to get your Girelate and since then are in the water for as long as usually again.
It would be funny if you would be here and could take part.
At first it didn't work well, one always came out beneath the wave wondering as one saw that one was rather washed back.

Am 2ten Tag den ich hier war, war ein kolossaler Sturm mit ganz unheimlichen Beleuchtungen, dabei sind zwei kleine Segelschiffe untergegangen die wir noch so lange man sie sehen konnte beobachteten wie sie manchmal fast mit dem Masten auf Wasserfläche lagen.

On the 2nd day I was here, there was an enormous storm with pretty eerie [or uncanny] illuminations, thereby two little sailing ships sank which we as long as one could see them watched how they sometimes almost laid down on the water with their masts.

Es ist sehr lustig hier u. viel kühler als Florenz, dort flimmerte alles vor Hitze u. Cicaden rasselten, dass es einen ganz betäubte.
Jetzt geht's wieder zumbaden.
viele Grüsse v. B.
auch von Frau Sattler,
u. H.
Brief kommt nach...

It is very funny here and much cooler than in Florence, everything there glimmered because of the heat and cicadas rattled, which made one pretty numb.
Now back to swimming again.
Many greetings v.B.
Also from Mrs. Sattler,
u.H.
Letter arrives afterwards…





Thanks to Charlie Spurr,

Rod Rodgers,

Bob Green, Olaf de Vries and Arthur Pauli.