surfresearch.com.au
---
---
surfresearch.com.au

history : MR

---
mark richards
1977 - 1981
---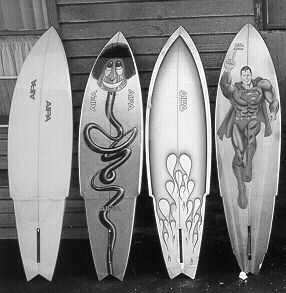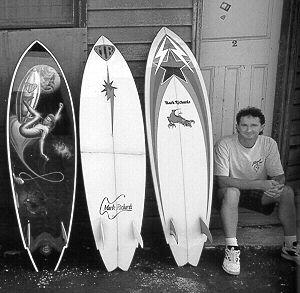 ---
Backdoor, April 1977
Contests - Stubbies, Michael Peterson and Mark Richards final.
- Bells preview.
Peter Townsend in Hollywood to make Big Wednesday.
Interview - Jackson Browne.
Design - Geoff McCoy
---
Surf[Aust],

1977 Vol.1 No 6.
Vintage Surf[Aust] mag,September 1977 Vol.1 No5.

---
1977
Twin Fin II adaptation of 1976 Fish design by Mark Richards and Dick Brewer (Hawaii).
6 ft x 20" flyer swallow tail with vee bottom and twin Brewer wide base fins.
Particularly suited for small waves it dominated 50% of the market by 1980.
See Mark Richards : Get the Real Thing - A Personal Twin Fin Design History
Surfer Volume 19 Number 4, November 1978. Page 65.
---

---
Surf




Volume 1 Number 4 June-July 1977




Cover: Reno Abellira riding twin fin fish at Burleigh Heads.




Cathedral Rock




EFCO Stubbies Surfing Classic, with MP, Ian Cairns , Shaun Tomson , Paul Neilson , Mark Richards and stringer, Bruce Raymond, and "young Sydney hotshot," Tom Carroll.




Centre fold: Michael Peterson




1977 Rip Curl & Mordy Bells Beach Easter Open, Simon Anderson 1st, with Hawaiians Bobby Owens and Rory Russell, Wayne Lynch as advisor to Cheyne Horan, Michael Peterson with Aragorn single fin, Mark Warren, Brian Cregan, Shaun Tomson, Try Fitzgerald, Col Smith, Chris Byrne

.




Alan Oke Memorial Contest at Express Point Phillip Island





Advertising




Midget Farrelly Surfboards with superb gloss colours and resin pin lines

.




Salt Water Surfboards, with Gary Hughes surfing Hawaii

.
---
1977
George Greenough, Michael Cundith and Chris Brock develop the Tri-plane Hull at Sky Surfboards, Byron Bay.
An extension of the Hull design, first used in Greenough's Spoon circa 1965, it incorporates dual concaves.
It would be a direct influence on Al Merrick at Channel Island Surfboards, Santa Barbara, and ridden by Tom Curren.
While Greenough kneeboard designs mostly retain his favoured single fin, Cundith and Brock use Twin fins for their stand-up versions.
As well as experimenting with bottom design, Cundith and Brock also modified the fins with the use of slots to increase their flex characteristics.
---
Chris Brock and Triplane Hull, 1977.


Sky Surfboard

s, Byron Bay.




Photograph : Don Blach.


Surfer

Magazine, June 1978.




Volume 19 Number 2 page 60.
---
Michael Cundith Slotted Twin Fin , 1977.


Sky Surfboard

s, Byron Bay.




Photograph : Don Blach.


Surfer

Magazine, June 1978.




Volume 19 Number 2 page 64.
---
Surf [Aust] September 1977 Volume 1 Number 5

Grapevine, page 8
Probably the first Australian to dig in on the North Shore for this winter was none other than the wounded gull himself, Mark Richards.
Apart from the obvious reason of wanting to settle in early and adjust his surfing and thinking to the tune of things on the North Shore, the Gull wants to pick up where he left off last season with shaping lessons from the one and only Dick Brewer.
Mark said that after shaping about 10 boards with Brewer he really felt he had improved substantially.
Brewer, he says, taught his mind to keep pace with his hands, so that now he is shaping a board in about four to five hours, whereas, before, it was taking anything up to 10 hours to shape a board.

Mark felt that he was

pretty fortunate in getting to meet Brewer as he only

expressed a desire to have him shape a board, when a friend said he'd take him and introduce him to Brewer.
After some design rapping, Brewer asked Mark if he was interested in learning to shape, the Gull of course seized the opportunity.
You might ask, what's in a name.
Well, for a Dick Brewer hand shaped custom blank only, you pay $US100, and for a gun (nine longer) you could pay up to $200.

---



Left:


Brewer and

R

ichards, trading theories, 1977.


Surf [Aust]

September 1977

Volume 1 Number 5 page 8.




Right:


Steve Butterworth and Channel bottom, 1977.

Surf [Aust]
September 1977
Volume 1 Number 5







---
Aquanetics Surf and Dive Shop
1374 Thousand Oaks Blvd.
Thousand Oaks, California.
Shapes by Michael Sagus (Australia) and Dennis McDonald (California).

The 1977 advertisement also features Hand Woven Macrame Surf Leashes.



---
Surf [Aust], November

1977 Vol.1 No 6.
---
1977
Modern Malibu resurgence of plus 9 ft traditional Malibu template but with modern construction (light weight, note leg rope use) and design features (particularly rails) by Hebie Fletcher in California-Hawaii and Bob McTavish, Bob Cooper and others in Australia.
Becomes an industry standard for small wave use, greying of the market with an infusion of 1960's nostalgia.

---
Random thoughts by Bob McTavish and others

Photos by Peter Green




When we put the small board together we had a principle in mind — to combine the speed area in the turning area.




This meant you could keep the power through your turn, resulting in today's arcing power surfing.




OK.




That's fine when there's enough room to carve - size wise head high or over, surface smooth.




But what about the all-too-common small days, sloppy days, just plain junk days?




And those perfect peeling point mini-days?




Re-enter the big board.




With its many square-feet of soft planing area it glides over dead spots, connects the power pockets and develops phenomenal speed from small weak waves.




That's the starting point.





"No matter what people say about the short board being faster, I'll never believe it, because with the longer board, you just end up further down the beach."




-

Phil Edwards, all-time master surfer.



The other day at the point I dropped in on a guy on a small board.

I didn't think he had a chance.




The wave was about six feet I trimmed my big board for all it was worth, then added a stretch five.




It really threw over and I was right in there for a couple of seconds.




Then the guy on the small board appeared below me.




We both got bombed.




I felt lousy.




He came up hooting!!




Is the big board faster?





It's a case of float or fly.




When you need the float, the big board is fasten when there's the power to fly, the small board is faster.





Lance Carson i

s back" - a message scrawled on a Santa Monica building.




Who? you ask.




Lance was king of malibu

(sic)

in the early sixties.




What's malibu?




Ultimate delight in trim surf.




Says Lance of small boards - "I never got on one, never wi

ll."



- Surf [Aust] November 1977 Volume 1 Number 6

Also see Bob McTavish : It's much more fun than it looks...and it looks like fun.
Bob McTavish on reprising the longboard/Malibu design for the late 1970's...
Surfer Magazine Vol 18 # 4 November 1977 pages 102 - 103.

---
1977
The Mini Mal- a smaller (7 to 8 ft) version of Modern Mal above by Bob McTavish approximating first short board designs of 1967-9.
By the end of the 1980's has become an industry standard with the application of Thruster fins.
---

---
1977
Free Ride by Bill Delany with ground breaking water footage by Dan Merkel, is released.
Featuring the surfing of Mark Richards, Rabbit Batholomew and South African, Shaun Tomson
The definite film of this period.
Off the Wall becomes a major focus of Hawiian photographers.
Documents Tomson's 'turning inside the tube' technique.
Shaun Tomson, Off The Wall, 1977.
Photograph : Dan Merkel
Surfing Magazine February 1980.
Volume 16 Number 2, page 75.
---
---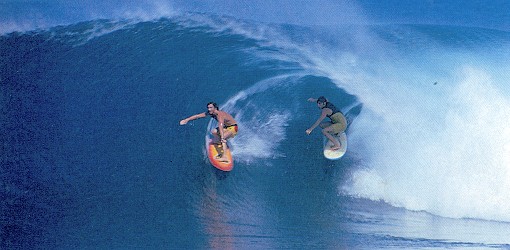 Mark Richards and Twin Fin - Shaun Tomson and Single Fin
Off The Wall, December 1977.
Photograph :Lance Trout
Surfing Magazine March 1984
Volume 20 Number 3 page 123.
---
1978
MR resizes Twin fin design down to 6ft after several 6 ft 4'' models. -"The green and blue board" .

Mark Richards and 6 ft Twin fin, 1978.
Photograph : AitionnSurfing World magazine, April 1979.
Volume 27 Number 6 page 44
---
1978
Asymmetric intentional asymmetric template and tail designs for increased performance in one defined direction, notably by Bob McTavish.
See Bob McTavish : Ace in the Hole - The Asymmetric Story.
Seanotes Magazine August/September 1978 pages 38 - 39.
Also note Hook tail circa 1963.
Further adaptation by Angulo (Hawaii) for sailboards in the mid 1980's.

---
1978
No Nose narrowed nose and widened tail single fin as a response to twin fin 2 success in small waves, by Geoff McCoy. See Pig 1958.
---
Sea Notes
December-January 1977-1978
Cover article:
Ian Cairns
by John Witzig.
Newcastle- Not devoid of its positive aspects
, featuring Mark Richards,Steve Butterworth and Peter McCabe and Nobbys, Cowrie Hole and Merewether.
Terry Fitzgerald:
The Evolving Revolution
(design).
David Hookes by Phil Jarratt.
Advertising
Saffron Boardshorts at $7.99 a pair (some designs airbrushed by hand)
.
The Kream
Gull Surfboards
Pure Surf
boards
Pipeline Legropes
The Surf Company (van Straalen) Surfboards
---
1979
Simon Anderson and knee-boarder Peter Crawford introduce moulded plastic boards.



New Look Plastic Surfboards


Despite the failure of earlier mass-produced surfboards; two new models recently appeared on the Australian market. Both are made by the same process, but they are produced and marketed by different companies.
"The Slab," a kneeboard designed by Peter Crawford, is made by the Windsurfer company, while a Simon Anderson-designed board is sold under the Power label.
The boards are made of a rigid plastic exterior filled with low-density foam.
Performance reports have been good for both models.
Peter Crawford was seen ripping Dee Why Point on a prototype slab, and several Narrabeen locals put the Power model through its paces.
The boards are selling at around $130 (Australian), $60 cheaper than most custom boards -something of a bargain, since they appear to be relatively indestructible.
The extent to which surfers are willing to sacrifice their individuality to simple economics, however, has yet to be determined.

- At Random Surfing Magazine: Volume 15 Number 3, May 1979, page 35.

---


The Best Of Tracks
Number 3, (December?) 1979



Guy Omerod: Ariel
Rip Curl Wetsuits




---
1980
Lazer Zap further development of the No Nose concept by Geoff McCoy based upon his work for Cheyne Horan.

Later models incorporated Ben Lexan Keel/Star fin.
Surfworld #
http://www.cheynehoran.com.au/starfin.html
---

---
1980
Clinker Bottom Phil Byrne at Byrne Surfboards.
A Twin fin 2 design with deep vee bottom and channels in front of fins to extend wave range.
A 'stiffening' of this design as opposed to Geoff McCoy's 'loosening' of the single finned Lazer Zap, above.
---

surfresearch.com.au
---
---
REFERENCES FOR THIS SECTION
BOOKS
1992 Stell, Marion K. : Pam Burridge
Collins Angus & Robertson Publishers (Australia) Pty. Limited
A division of Harper Collins Publishers (Australia) Pty. Limited
25 Ryde Road, Pymble NSW 2073, Australia
1997 Warshaw, Matt : Surfriders – In Search of the Perfect Wave
Tehabi Books, Inc. Collins Publishers, 10 East 53rd Street, New York, NY 10022
1978 Warwick, Wayne A Guide to Surfriding in New Zealand Second Edition
Viking Sevenseas Ltd Wellington, New Zealand
1979 Young, Nat ; Photographs by McCausland, Bill: Nat Young's Book of Surfing
A.H. & A.W. Reed Pty. Ltd. 53 Myroora Rd, Terry Hills, Sydney.
1983 Young, Nat with McGregor, Craig : The History 0f Surfing
Palm Beach Press,40 Palm Beach Road, Palm Beach NSW 2108
---

FILM
1985 A History of Australian Surfing Nat Young.

---

MAGAZINES
1971 Modern World July Shane Steadman/Terry Fiztgerald (possibly) : 'Surfboard Design' pages 30 to 36.

---
WEB SITES
---

surfresearch.com.au
---
---
Geoff Cater (2000-2019) : History : MR, 1977.
http://www.surfresearch.com.au/1978_MR.html