| | |
| --- | --- |
| 1980 Sky, Mini Mal by Bob McTavish 7ft 2" | #23 |

MANUFACTURE
MANUFACTURER: Sky Surfboards 69 Shirley Street Byron Bay 2481 ph. (066) 85 6037
SHAPER: Bob McTavish
DESIGN: Mini Mal
DESIGNER: Bob McTavish
SPECIFICATIONS
CONSTRUCTION: Foam blank, 1/4" redwood stringer, pigment laminate,spray, fin box, r/h plug
DIMENSIONS
| | | | | | | |
| --- | --- | --- | --- | --- | --- | --- |
| Length: | 7 | ft | 2 | inches | | |
| Width: | 20 | inches | | Wide Point: | +ve 1 | inches |
| Nose : | 16 | inches | | Tail: | 14 | inches |
| Thickness: | 2 3/4 | inches | | Pod: | 0 | inches |
| Nose Lift: | | inches | | Tail Lift: | | inches |
| Weight | | kilos | | Volume: | | litres |
| Other, Flyer/s: | | inches | | | | |
FEATURES
Nose: round
Tail: round
Deck: slight rolled
Bottom: flat, slight Vee
Rails: "low round, like a golf ball"
Rocker: medium
FINS
1.White and Yellow laminate single fin.
2.Fin Box with molded Multifins JB2 8 1/2" x 6" (base).
3.Two boxes added to complete Thruster/Tri fin format.
Fitted with various fin combinations
.
DECOR
DECALS
Deck
1.Red ribbon 'Sky' at sweet spot down stringer.
2.'Shaped by Bob McTavish' black box at tail
Bottom: Yellow ribbon 'Sky' at sweet spot down stringer
MARKINGS
Deck: None
Bottom:
COLOUR
Deck
Sprayed red and green rail panels, yellow centre panel, white laminated rail lap and black pinlines
Bottom: white laminate



---



NOTES
HISTORY
Custom order by phone/dealer.Purchased 5th February 1980 from Sunshine Surfing, Pittwater Road Manly $260.oo. Susequent repairs and modifications:
1.Fin replacement with fin box.Various single fins used.
2.Major tail reconstruction.
3.Bottom sanded (loss of decal) and relaminated with white pigment/6 oz. glass. Side fin boxes added. Various single/tri/Thruster fins used.
4.Foot strap plugs added.
5. Plugs (4) filled in and yellow spray added.
COMMENTS
REFERENCES
OTHER BOARDS BY BOB MCTAVISH
See Bob McTavish

Surfer magazine Vol 18 # 4 November 1977 pages 102 - 103.
Bob McTavish : It's much more fun than it looks...and it looks like fun.
..Bob McTavish on reprising the longboard/Malibu design for the late 1970's.

Tracks magazine July 1977/8? page 4 Advertisement : McTavish Joins Sky

CONDITION: 6.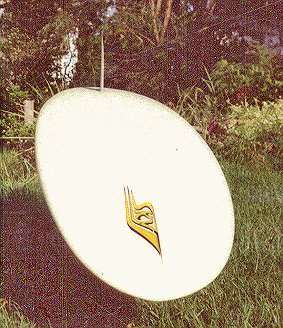 Bottom with original decal and fin
---

---


surfresearch.com.au