surfresearch.com.au
---
---
surfresearch.com.au
newspapers : 1917

---
Newspapers : 1917
---
---
Introduction.
See: Newspaper Menu : Introduction.
It could be expected that there would be fewer of newspaper reports from 1917 due to Australia's commitment to the war in Europe.
---
---
The Sydney Morning Herald
Saturday 20 January 1917, page 14.


SURF BATHING.
DEPUTATION TO MINISTER.



A deputation representing municipal and shire councils contiguous to surfing beaches waited upon Mr. J. D. Fitzgerald, Minister for Local Government and Health, yesterday, with the object of seeking his assistance in preventing certain objectionable practices carried on by numbers of surfers.
The deputation, which was introduced by Dr. Arthur, M.L.A., comprised the Mayor (Alderman Keirle), six aldermen, and the Town Clerk (Mr. Hogan) of the Manly Council; Alderman Fenton (Mayor) and Mr Percival (Town Clerk) of the Randwick Council; and Councillor Hill and Mr. Macfarlane (Shire Clerk) of the Sutherland Shire Council.

Alderman Keirle said that what was wanted was power to prevent bathers from disrobing on the beaches.
At the present time the practice was carried on to a large extent not-withstanding the fact that the Manly Council had erected bathing sheds at a cost of 10,000 (pounds) for the persons who frequented the beaches when disrobing.
Power was also required to prevent people from utilising the whole of the beach, as was the practice at present.
If they bathed in a lessor area it would conduce to better supervision.

Several of the aldermen referred to what was termed "sun baking" on the beaches, and said that men and women were often seen lying about the beaches.
They suggested that steps be taken to prevent men and women from "sun bathing" together.

The Minister, in reply, said he acknowledged the good work done by the councils in catering not onlv for the surfers who lived in the district but also for the people from Sydney, and even from the country.
Under the Local Government ordinances the councils were given power to separate the sexes while "sun-baking" by setting apart a portion of the beaches tor each sex, and he agreed that that should be done.
The police had authority to deal with people who disrobed improperly on the beaches.
He saw no objection to people going to the beaches with a bathing gown over their swimming costumes, and replacing the former when they had finished surfing.
As a surfer, he thought the use of surfing boards should be prevented.
He would further consider the matters complained of, and if he found that the existing ordinances were not sufficient to deal with them, he would have alterations made.
Trove
1917 'SURF BATHING.', The Sydney Morning Herald (NSW : 1842 - 1954), 20 January, p. 14, viewed 12 June, 2012, http://nla.gov.au/nla.news-article15705882

---
Singleton Argus
Tuesday 23 January 1917, page 1.


Gleanings


...
For the greater part of Sunday there was no surf bathing at Newcastle beach, owing to the presence of several sharks, which could be seen swimming about within a short, distance of the shore.
The monsters were seen by thousands of persons from the beach.
At about half-past one o'clock Mr R. M'Cracken, of Parnell-place, decided to try to catch one.
He baited a hook with the carcase of a dog which, had been floating in the surf, and four surfers took it out to the sandbank, and then scurried for safety.
The largest of the sharks rushed the bait almost immediately, and swallowed it, but the monster fought furiously, and, unfortunately, got away by biting the line- a half-inch Manila rope.

Trove
1917 'GLEANINGS.', Singleton Argus (NSW : 1880 - 1954) , 23 January, p. 1, viewed 12 June, 2012, http://nla.gov.au/nla.news-article80452224

---
New-York Tribune.
New York, February 18, 1917, page 48.
Palm Beach's winter
waves sing a song of
gay summer fashion.
Picutures c. International Film Service
Chronicling America
New-York tribune. (New York [N.Y.]) 1866-1924, February 18, 1917, Image 48
Image and text provided by Library of Congress, Washington, DC
Persistent link: http://chroniclingamerica.loc.gov/lccn/sn83030214/1917-02-18/ed-1/seq-48/

---
Honolulu star-bulletin. (Honolulu [Oahu, Hawaii) 1912-current, February 19, 1917, 2:30 Edition, Image 1


FLOATS AS ENTERED . ; (
IN TODAY'S PAGEAfiTI
Floats As Entered ,
In the order srranced for starting
Fort. Armstrong . earlv . this after
noon, the floats are as follows: .. .
A Walkikl Wave Surf -riders and
Carnival King Outrigger Club.
-his Is entered by the Outrijcr
Club, and pictures a huje wave, ths
kind that Jack London called a "kana
ka waver" with a familiar scene "Ca
the Beach at Walkikf Duke Kaha
namoku, the Carnival King.. witV a
number ot ether Hui Nald youths. Is
seen riding the very crest of the wave.
Following, Sea-Birds from Samoa ta

Honolulu star-bulletin. (Honolulu [Oahu, Hawaii) 1912-current, February 19, 1917, 2:30 Edition, Image 1
Image and text provided by University of Hawaii at Manoa; Honolulu, HI
Persistent link: http://chroniclingamerica.loc.gov/lccn/sn82014682/1917-02-19/ed-1/seq-1/

---
Sunday Times
Sydney, 18 March 1917, page 27.
BILLEE OF MANLY

Surfers and swimmers of Manly are quite familiar with the sight of a laughing-faced girl, radiant with health and the joy of living breasting each curling breaker, swooping in on her

surf

board,

or diving off the high 40ft. tower in the baths
They all know her as Billee, and claim her as Manly's own ; but to her inner circle of friends she is known as Miss Ismar Amor.
This young Australian is tall and fair, and every line of her supple, lithe figure is trained to grace and beauty.
Better than all this she is only nineteen, and has health that a giant might envy.
She has lived in Manly, with her family, for the last seven years, during which time she has developed her remarkable skill in the

surf

and on the diving

board.
When she was 13 she won an Interstate junior swim, in fresh water, in record time.
In February, 1916, she beat the world's championship for 50 yards.
Miss Ruby Wayson Stacker, a Honolulu girl who formerly held it, had created something of a sensation with a record of 50 yards in 31 second ; Miss Amor did this distance in 30 seconds.
It is now her ambition to visit Honolulu and beat Miss Stacker on her own heath.
About three years ago Billee found an old

surf

board

abandoned on the beach.

She took this trophy into the waves, and after suffering countless duckings, and scraping her shins until they were scarcely recognisable, she succeeded in mastering the difficulties of

surf

board

riding.

She has become so expert at this kind of sport that stern authorities allow her to practice it even in the most crowded areas on the beach, having first satisfied their insatiable sense of law and order by watching her stop dead and swerve the

board

round when only an inch or two from an unsuspecting possible victim.

Her latest adventure into the realms of thrills and aquatic sport is aqua-planing

This is a dangerous sport in climates where grey nurses and wobbegongs are unknown ; but in these waters it is positively unsafe.

Miss Amor reluctantly admits this when she refers to a stern parent who resolutely forbids his nineteen year-old daughter to indulge in it.

You feel quite sure from the tone of her voice, and the toss of her head, that she feels at the moment that in years to come, when Billee is herself a parent, she will not molly-coddle her children in this ridiculous fashion.




"BILLEE" OF MANLY

---
The Sun
Sydney, Sunday 1 July 1917, page 5.
On the Surf board
Kahanamoku's Pupil Rides the Breakers

Miss Isabel Letham, you are told, is a swimming expert.


That does not suggest much, of a thrill, does it?

But what if you were to see her shooting the Freshwater breakers on a board after the manner of Kahanamoku, the Hawaiian prince of

surf

shooters!

From him she had her first lesson in this fascinating sport, and when she had been twice on the

board

(which, by the way, weighed 75lb.) she was requested by the committee of a Dee Why carnival to give an exhibition with the dusky exponent of the art.

She had qualms concerning her proficiency, but on the day she and the Hawaiian appeared, and she created quite a sensation by riding in on a wave at the head of the

board,

while her tutor stood statuesque at the tail of it.

"It is a gorgeous sensation,", she agrees.

"Yes, you steer with your feet.

Of course you have to be fairly good in the

surf

before attempting anything on the

board,

and even then you run risks in the learning.

I love anything with a risk in it, though," she says and goes a deeper shade of pink beneath the tan.


She is very rosy, with a skin that must have been fair before eight

surfing

summers flung their bronze veils across it.



"When I was practising first at Freshwater, I was always covered in bruises, caught in taking the

board

out to the required depth.
One day when I was alone and quite a novice, the

board

rose up on its tail and gave me such a bang on thr ear that if I hadn't exerted all my will-power I should have dropped-like-a stone into the channel and been done for.
But I took a grip of myself, got ashore, and waited for the

board

to be washed up!
Mine weighs 56lb.
"You carry it on your shoulder, and when you learn the knack of it you can hump it for hours without worrying about it."

She drifts into a conversation in which Hawaii .features.

"I thought everybody there could shoot on the

boards,"

she says; "but Kahanamoku told me that there was only one girl exponent, and she was a half-caste.

They have carnivals at night thero, with all sorts of competitions.
In one they have to take a lamp out with them, climb on the

board,

light the lamp, and shoot in on the breakers, holding tho lamp up alight."

She is wistful and enthusiastic together, so that you have no doubt of the vision in which she sees herself.

A Lady of the Lamp grown sporty.

Even though tho winter Is here, Miss Letham and her

surfing

board

have not deserted the Freshwater Beach.

"Mm, yes," says the swimmer meditatively, "it's cold going down the beach even at midday, but once I'm out in the breakers I forget all about the cold, and I soon tingle up."

You want to know how many successful shoots constitute a good afternoon's sport, and she tells you that if she succeeds in getting three or five good ones she is quite satisfied, and has enjoyed herself tremendously.

Miss Letham has one grief.
Whisper it gently!

She hates skirts!



Such a nuisance they are, and how can a woman enjoy herself with the swish, swish of them as an accompaniment to her sport?

"I hope to get a motor-bike.soon, she confides; "a 6-h.p. heavy one, and then I'm going to have knee-breeches and gaiters.

I'd like to go to a motor school and learn all the mechanism so I could fix it up myself.

.I'd love to be flat under a car or something, poking about and getting all messy!"

You nod approval; and inquire if she has other sports to her credit
Tennis, basketball, shooting, and cricket are ticked off, and:basket-ball is defended as less tame than it is reputed to be.

Miss Letham's shooting has entailed coastal trips for gillbirds, and there is a prospective expedition with foxes for quarry, that makes her color come pinkly again.

It is to be in the Blue Mountain distrlct, though the snow Is still on tho ground!

From watching life-savers on the beaches she has gleaned sufilcient knowledge of resuscitation methods to bo of use .in case of accidents.
In going over the hill towards Manly some time ago she noticed a crowd on the Freshwater Beach.

Someone told her a little boy was being carried out.

The girl swimmer dropped her parcels and fled down to the beach, dashed into the

surf,

and brought the youngster's body out.
She was too late, however, for he had been in the water ten minutes already, and although she worked oil him until the doctor came, two hours later, the sea had done its work too well."That was a horrible experience," says she.

You wonder if she has over been in difficulties herself.
"Well, yes," is the answer; "but when people know you're a swimmer they think it impossible for anything to happen to you, and if you did need assistance no one would believe you.

Yes, I'm afraid of sharks.

The other day I thought I'd like a longer swim than usual, arid when I was some distance out, I became aware of a shark. asleep on a breaker.

He didn't notice me, thank goodness, and you couldn't see my heels for dust!"

The interview closes, the tall, athletic-looking girl rises, and you find yourself goggling at what she carries in her hand.

It is a knitting-bag!



Trove
1917 'On the Surf Board', The Sun (Sydney, NSW : 1910 - 1954), 1 July, p. 5. , viewed 17 Apr 2016,
http://nla.gov.au/nla.news-article221399967

---
The Tacoma Times
Washington, August 3, 1917, page 4.


"SPORT-FISH" JOCKEYING NEW OCEAN FUN
PEGGY BURKE, WESTERN GIRL IS CHAMPION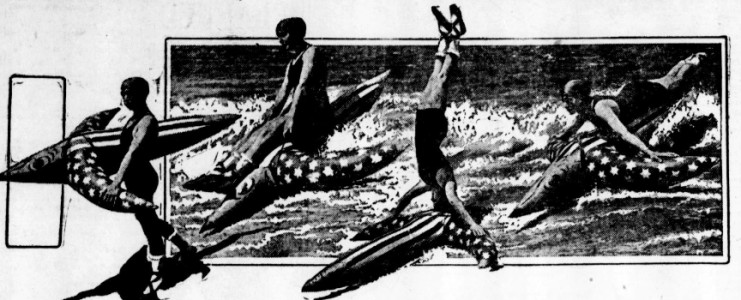 Composite photograph of Miss Peggy Burke, "Jockey of the Sea."


It Illustrates some of the stunts she performs on the sport-fish.
Miss Burke, who is only 17, has outclassed all opponents, both men and women, at this thrilling new water sport.



The Tacoma times. (Tacoma, Wash.) 1903-1949, August 03, 1917, Image 4
Image and text provided by Washington State Library; Olympia, WA
Persistent link: http://chroniclingamerica.loc.gov/lccn/sn88085187/1917-08-03/ed-1/seq-4/
---
Honolulu Star-Bulletin.
September 10, 1917, page 2.

Twenty-First Celebration
OF REGATTA DAY TO BE HELD
Saturday, Sept. 15th, 1916
IN HONOLULU HARBOR
Commencing at 9:30 a. m.

Six Paddle Canoe.
Trophy.
Senior Six-Oared Sliding-Seat Barge.
Prizes Individual gold medals.
Ladies' Six-Oared Sliding-Seat Barge.
Prize Trophy.
Freshman Six-Oared Sliding-Seat Barge.
Prizes Individual bronze medals.
Four-Oared Steamer Boat Race.
First prize, 525: second. IIS.
Intermediate Six-Oared Sliding Seat.
Trophy.
Senior Scull Sliding-Seat.
Prize Individual gold medal.
Surfboard Paddle Race, limited to 9 ft. surfboards.
Medals for 1st, 2nd and 3rd.
Junior Six-Oared Sliding-Seat Barge.
Individual silver medals.
Senior Pair-Oared Sliding-Seat.
Individual gold medals.
Junior Scull (Sliding Seat).
Prize Individual silver medal.
Four Paddle Canoe. Trophy.
Junior Pair-Oared (Sliding-Seat).
Prize Individual silver medals.
Six-Oared Sliding-Seat Barge for Boys under 18.
Prize xx trophy
Races open to all.
No entry fees.
All rowing races to be governed by the racing rules of the Hawaiian Rowing Association.
Each entry shall include the name of the boat, or, if it has none, the name of the person who enters it
There must be at least three boats started before a second prize will be awarded.
Entries will close at 5 p. m. Tuesday. Sept. 11, 1917. with H. Giles, at Lewers & Cooke, King street, excepting canoe and surfboard races which will be post entries.
All canoes entered must be Hawaiian canoes.
For further particulars apply to Regatta Committee.

Chronicling America
Honolulu star-bulletin. (Honolulu [Oahu, Hawaii) 1912-current, September 10, 1917, 2:30 Edition, Image 2
Image and text provided by University of Hawaii at Manoa; Honolulu, HI
Persistent link: http://chroniclingamerica.loc.gov/lccn/sn82014682/1917-09-10/ed-1/seq-2/

---
Honolulu Star-Bulletin.
September 17, 1917, page 8.


Myrtle Boat Club Negotiates Victory Following Long Wait


...
Barge Named After Duke
Before the Myrtles entered the
races Saturday with their new barge,
it was christened Duke P. Kahana
moku. Members of the club desired
to name it -Skinner," after Attorney
Charley Davis, who had contributed
the largest sum towards its purchase.
But Mr. Davis protested, and because
the club granted blm the privilege of
naming the boat for his generosity,
they allowed his protest, and the boat
was named after the world's cham
pion swimmer.
Mrs. William Ladd Rosa broke the
bottle of white wine in the chris
tening, and. shortly after the boat was
lifted Into the water for a great vic
tory. The boat has not lost a race
yet
Luther Hough Is the little coxswain
who steered the winning barges for
the Myrtle club on Saturday. Hough
first began to steer Myrtle boats over
10 years ago and since that time has
not increased much in size. For a
time others took his place in Myrtle
barges and that was when they began
to lose. His direction of the Myrtle
crews on the course has wan them
many races and his .work on Satur
day undoubtedly played an important
part in winning the victory.
Regatta Was Lengthy
Although there were several good
reasons for delay in running off the
races, there was a great deal of un
necessary delay. There was some con
fusion at the start and it took so
much time to get the races off that
the great majority of the crowd had
drifted away when the last race was
off. It was almost 4 o'clock when the
regatta came to an nd. However,
this was as much the fault of the com
petitors as of any one else.
The monotony of waiting for the
next race was broken by the appear
ance of Frances Cowells, David Ka
hfcitamoku and Claire Calllgan on surf
boards In the harbor. They spent con
siderable time aqua-planing. They
showed much skill as they were towed
rapidly over the surface of the water
on surfboards by a high-powered naval
uunch.
With the conclusion of the annual
regatta celebration, rowing will give
way to football. While the boathouses
continue to remain open throughout
tho winter months, crew work will not
begin again until next summer.
The Results
..
Senior Scull, Sliding Seat Myrtles
(Duke P. Kahauamoku), first time
3:00 3-6: Myrtles (Arthur Walpa Par
kcr), second; Healanis (Harry Mel
im), third, did not finish..
Surfboard Paddle Race Edric
Cooke, first time 4:27 2-5; "Dad" Cen
ter, second, and Percy Nottage, third.
all Outrigger Canoe Club entries. Hui
Nalu did not compete.
Junior Six-Oared Sliding Seat Barge
Myrtles, first, time 12:25; Healanis,
second.
Senior Pair Slid irg Seat Healanis,
(William Hollinger and Robert Kana-
kanui) first time 1:45; Myrtles (Duke
Kahanamoku and Arthur Waipa Par
ker), second, and Myrtles (Anderson
and Oss), third. .

Honolulu star-bulletin. (Honolulu [Oahu, Hawaii) 1912-current, September 17, 1917, 3:30 Edition, Image 8
Image and text provided by University of Hawaii at Manoa; Honolulu, HI
Persistent link: http://chroniclingamerica.loc.gov/lccn/sn82014682/1917-09-17/ed-2/seq-8/

---
The Hawaiian gazette. (Honolulu [Oahu, Hawaii]) 1865-1918, September 18, 1917, Image 7

BY TWO SURF RIDERS
Florentine Leo, a Mexican, and em
iloyed aa steward aboard the steamer
ratsonia, had a narrow escape from
drowning at Walkiki, yeaterday after
noon.
While swimming off tha Moana Hotel
I'ier, l.eo. was seized with cramps, and
waa rescued by means of a surfboard
Hv ' Dude ' ' Miller and David Kahanamoku. .-.,..
First aid was administered, and the patient was taken to Queen's Hospital, where, after a time, lie recovered, consciousness.
Mli I Ut and Kabanamoku were aurf -ing,
when they heard Leo' frantic
tries for help and went to the rescue of
the drowning man.


The Hawaiian gazette. (Honolulu [Oahu, Hawaii]) 1865-1918, September 18, 1917, Image 7
Image and text provided by University of Hawaii at Manoa; Honolulu, HI
Persistent link: http://chroniclingamerica.loc.gov/lccn/sn83025121/1917-09-18/ed-1/seq-7/

---
Honolulu Star-Bulletin., October 5, 1917, page 8.

APPOINTED BEACH PATROL
David Kahanamoku, brother of
Duke, was chosen yesterday by the
harbor board as captain of, the lite
patrol to be established on Waikiki
beach. He will commence hi6 duties
at once.
The new patrol captain is also a
swimmer cf note and his name met
the unanimous approval of the board.
He. has been employed for some time
by the Outrieger club for its patrol.
The rules as adopted by the board
require that the patrolman shall ; oe
on duty eight hours each day includ
ing Sundays and holidays. It is the
last named days that provide special
need for the life guards as the crowds
are always greatest then.

BIG REGATTA
AiSVUING
MEETPLANNED
Outrigger Club's Broad Scheme
for Event Which Opens at
Waikiki Next Month
What promises to be one of the lar
gest and most typically Hawaiian
sporting events of the year has been
planned by the Outrigger Club for
chosen days between November 4 and
December t of this year. It will in
clude a club swimming meet at Wai
kiki, a canoe and surf board regatta,
and contests in surfing.
Five curs presented to the Outrig
ger Club at different tfmes will be
competed for. They are: One pre
sented by J. D. Canfield to the best
malihinl surf board rider of the club;
two presented by Frank Clark for the
best surfers In big canoes and the
best surfers in little canoes; one for
the best junior paddle canoe crew
presented by the club on July 4, 1911;
one presented by Frank Spcaight of
Ixmdon to the club on June 25, 1910,
to be won three times in a race in
canoes from the Moana to Brown's
pier; and two presented by Frank
Clark in 1910 for the best surf riders
in the club.
The Clark cup for the best man
surf rider of the club was won by S.
T. Short in 1910 since when it has
not been competed for. Miss Jose
phine Pratt, one of Hawaii's greatest
surf riders, won the cup for women
in the same year.
The Regatta
'This regatta is for the purpose of
bringing out and developing our mem
bers so that they will become experts
in the line of sports for which the
club has been organized," says "Dad"
Center, captain of the Outrigger Club.
"The swimming meet is to develop ma
terial for the big meet In February.
'To raise . funds to carry out this
regatta plan the club will give a dance
on October 27 when the moon in full
and another on December 1, when a
chowder dinner will be given to wind
up the celebration. Tee proceeds of
the entertainment will be added to
the. 310. already raised to go toward
the, expenses of the meet.
' TWer "hay urged all members of
the. cHxb. to -4 prepare for the coming
meet and regatta, for we feel that
the event will be a notable one. There
is much material in the club and en
thusiasm, also. To direct these along
the lines proposed will undoubtedly
do much for our typically Hawaiian
sports," says Capt. Center.
The opening event of tne long regat
ta will be assailing race for Hawaii
an anbes over a triangular course,
on flWvember 4. There will be a surf
paddling rontcst for men (boards
limited to nine feet); for boys,
(boards limited to eight feet); for la
dies' (boards limited ' to nine feet);
and for girls under 16 . (boards limited
to eight feet). Goldi silver, and
bronze medals will be awarded to the
winners of these events.
There will be a canoe race for
boys and for men for the Speaight
cup, and surf board riding contest for
men, for boys, for women, and for
girls, for places on theCIark cups.
The Canfleld cup will be competed for
in a malihinl surf riding contest.
Medals will be offered for a mali
hinl surf board paddling contest and
for a canoe surfing contest for men
and boys for places on the Clark cuts.
ine canoes are to carry six men.'
The events of the swimming meet
t- vv-iu, ivvjaiUi MU'jarOi
440-yard, 200-yard breast stroke, 10
yard back stroke, swims and a long
swim from Castle's point to the div
ing stand, for the senior memkiTs of
the club.
For the junior members of the club
there will be 50-j-ard, 100-yard. 100
yard breast stroke, and 100-yard back
stroke swims.
For the ladies there will be 50-yard,
100-yaxd. 220-yard, 100-yard breast
stroke, and 50-yard back stroke swims.
For girls under 13 there will be 50
yard and 100-yard races.
For boys under 12 there will be 23
yard and 50-yard swims.
'For women novices there will be a
50-yard race and for men novices 30
and 220-yard swims.

Chronicling America
Honolulu star-bulletin. (Honolulu [Oahu, Hawaii) 1912-current, October 05, 1917, 2:30 Edition, Image 8
Image and text provided by University of Hawaii at Manoa; Honolulu, HI
Persistent link: http://chroniclingamerica.loc.gov/lccn/sn82014682/1917-10-05/ed-1/seq-8/

---
Roanoke Rapids Herald
North Carolina, October 12, 1917, page 3.


Surf Coasting.



The sport of surf coasting reached this country from Hawaii and promises in a few years to become a popular sport.
In California it was much practiced this past summer, while a few surf boards might be seen on the New York beaches.
American manufacturers have put on the market a special surf board which is a considerable improvement over lite plunk used by the Hawaiian, having an air chamber at one end.
All we lack now is the Hawaiian skill in riding the big breakers standing tip.
- Exchange.

Chronicling America
Roanoke Rapids herald. volume (Roanoke Rapids, N.C.) 1914-1948, October 12, 1917, Image 3
Image and text provided by University of North Carolina at Chapel Hill Library, Chapel Hill, NC
Persistent link: http://chroniclingamerica.loc.gov/lccn/sn91068748/1917-10-12/ed-1/seq-3/

---
Honolulu Star-bulletin.
Honolulu, November 8, 1917, 3:30 Edition, page 8
.

TEN EVENTS SCHEDULED SATURDAY
AT OUTRIGGER
Two Surf-Board Numbers Billed - Duke Kahanamoku - Will
Again Be Seen in Action in 220-Yard Race for. Men
DUKE KAHANAMOKU will again: be seen in action on Saturday in the second round in the Outrigger Canoe club swimming regatta.
This
U tfm the Duke 'will show in the. 220-yard : race and? ; will - compete
rint vmest "Kid" Cooke. H. Hitchcock. C. " Walker and G. Harris.
nut nf the ten events scheduled
board numbers, four are swimming races, two for men, -two for ladies and
two f6r boys. Sixty entries have been received. V : -.-a ..
n,. nntinnv- in that the second round' at the regatta will be
than the firsL
-.nAcwiii.hn Rtaced at Valkiki off
CAKOE CLUB KEET
for Saturday afternoon two are surf
which was held last Saturday. The
the Outrigger Canoe' club house.
On Sunday, November 11, eigh
events will be staged, including ca
noe riding for men, canoe surfing for
der 12 years -swim of 50 yards, boys
board riding for. malihinls, surf-board
riding for women, body surfing, surf
board riding for boys and .surf -board
riding for. men.' : v'"-" V-...'-::'. -:
On Saturday, November 24, seven
events will be on the card; including
a men's 100-yard swim,, boys' 100-yard
swim, 1 girls' 50-yard swim, boys im
der 12 yearsi swim of 50 yards; boys
back stroke 100-yard, ladies' 220-yard
swim, and; men's .40-yard swim.
Final Round v-;--'
On Saturday, December 1, the final
day of the meet, the big race ove
the mile and a half course from Castle
Point will be staged. Duke Kahanamo-
ku and Ludy Langer will be the chief
comnetitors; i The other events will
be: Boys' rac paddling on a surf
board: canoe race - for men, ladies'
100-yard swim, men's -breast stroke
2C0-yards paddling canoes for boys,
paddlfng on surf -board for ladles and
paddling on surf -boards, for men.-
The regatta will come to a close
with jl big cbowder and dance on Sat
urday evening. December 1, in the
clubhouse. ' '
Events and Entries
The list of events , with . entries for
this coming Saturday Is as follows:
Men's -swim, novice, 220 yards H.
S. Wilkinson, H. Podntore, C. Sims, G.
Harris. S. Waldron. H. Smith, S.
Stacker, Edric Cook. . . ; ;'
Ladies' swim,; novice, - 50 yards
Misses. E. Lyser, 1L Martin, , L. Drew,
D. Martin, A. Mooney.
, BpysV swim, under 15; 50 yards-
Ernest Cook; A. E. - Minyille, . Jr., P.
Chapin, F. Mooney, A. Alexander. ,
Men's cwim, 50 . yards R. Watt, D.
Hitchcock, ' II. : Harvey, G. - Harris, F.
Bowers, C. LHmbert,vJ;;S.. Mackenzie,
G. N. Rothwell, Diikc Kahanamoku.:
Ladies' swim, back stroke, 50 yards
Misses II: Martin, M. . Chapin, J.
Hopkins,' L. Drew, D. Martin, E. Tarle-
ton... . i , ;.vi-? L'v:t
Boys'swim,' under 15, breast; strbke
Ernest Cook,! A.: ;E.v r Minville, Jr.
P. Chapin F. Mooney, A. Alexander,
Men's swim, back stroke, 100 yards
C. Walker, R. Sanderson, - A. Tul
Jocn, H. Hanrey, JL Smith, G. Harris,
G.' Lambert, F. Bowers, ' Duke Kahan
amoku. 'Jy. :,;;:-, ' ';' :i" ,; -;-;;,. ,
' Paddling on 'surf -board," malihinis
P. W. Rushford, '-A. .. Alexander, t C.
Sims. . ' " -if i " '
Paddling cn surf-board for girls un
der 16 Misses II. Martin,' E. Lyser,
A. Mooney, E. Tarleton, T.Lindeman.'
Men's swim, 220-yards C. Walker,
D. Hitchcock, G. Harris, Duke Ka
hanamoku; Ed Cook.
Chronicling America
Honolulu star-bulletin. (Honolulu [Oahu, Hawaii) 1912-current, November 08, 1917, 3:30 Edition, Image 8
Image and text provided by University of Hawaii at Manoa; Honolulu, HI
Persistent link:
http://chroniclingamerica.loc.gov/lccn/sn82014682/1917-11-08/ed-1/seq-8/
---
The Midlands Advertiser
Moora, WA, 30 November 1917, page 2.



WITH THE AUSTRALIAN IMPERIAL FORCE.
By Gunner Bert Bevan
III.



Durban on the whole is rather pleasing to the eye, and possesses several decent buildings, among which is the town hall, one of the finest I have seen.
The trams are electric, "double deckers," and during slack periods all soldiers were carried free.
Ocean Beach is the watering place most frequented.
The beach is tip top, with a most inviting surf, but the baths didn't induce many to patronise them.
Some call Ocean Beach Durban's St. Kilda, and there exists great similarity.
Seats with hoods are provided in hundreds along the Esplanade, while every variety of amusement designed to extract coin
from pockets exist there, but I must say, for frauds and mediocre shows Durban stands alone.

Trove
1917 'WITH THE AUSTRALIAN IMPERIAL FORCE.', The Midlands Advertiser (Moora, WA : 1907 - 1930), 30 November, p. 2. , viewed 12 Apr 2016, http://nla.gov.au/nla.news-article156958826

---
---
---

surfresearch.com.au
---
---
Geoff Cater (1997-2016) : Newspapers, 1917.
http://www.surfresearch.com.au/1917_Newspapers.html