pods for primates: a catatogue of surfboards in australia since 1900
---
---
surfresearch.com.au

bobby mills : retrospective, 1972
---
Bobby Mills : The Good Old Days
---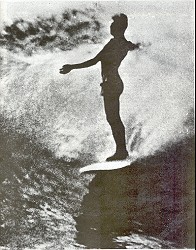 ---
from previous page
That is what surfing is all about -10 years ago on the gift 6" boards (sic, ?).
All the first generation boys can remember how it all started and the feeling we used to get from it.
Nat used to be the king of Collaroy, and look at him now - WOW! -can that guy surf. I still have a 9ft 6in board I love riding out at TORQUAY POINT when it is sloppy, and I get more satisfaction than on my 7ft board.
Midget opened Australia's surfing bit into the world by winning the 1964 WORLD TITLES and has just about paved the way ever since.
He is a beautiful person and always will be.
Talking about MANLY and what about the good old days I used to have there.
'The BOWER' that was my favourite place, but I will always remember Glen Ritchie and Robbie Lane, the BOWER BOYS as they were then called -they used to ride that place to a standstill on their long boards. It still is lots of fun crashing thru sections 'toes over' on the old boards.
What has happened to those real big days we used to have consistently about 5 years ago when, all the boys used to get out there at 20 feet and really get destroyed.
I remember sitting in the Manly Pacific Hotel with all the boys one day when we had given it a big miss because it just had to be 25 foot and terrifying. To my dismay I suddenly realized that two tiny figures out there were two board riders, attempting to paddle out toward THE BOWER. No one could believe it and on racing around to Cabbage Tree Head we made out Jeff and Billy Hannan paddling like crazy to scramble over this gigantic set that was more than 20 feet. Billy, seemingly casually turns his board around half way up the wall and pushes into the last wave.
He takes the drop and sweeps into a big, arching turn, right into the black bowels of a Frenchman's Reef bowl - utterly destroyed. Now that takes a lot of guts. Next thing more guys are heading out. I have been out at The BOWER around 20 feet and even though I was dying inside, I did manage to get into one or two.
Billy Hannan lost a brand new McTavish gun one day out there and it was six months before the board was found washed ashore up near Cairns, almost two thousands miles away.
No one forgets the old Manly crew like Bob Pike, Graeme Bennett, Flacky, Peter Cornish, Warwick Smith, Nipper Williams and of course mad Morrie Lee. Morrie just lives for big days and he used to drag me out everywhere he went. Once we went surfing at DOBROYD BOMBORA opposite to Sydney Heads and the biggest breaking wave inside the harbour mouth. It was a giant sucking 15 foot left and I just went to the toilet. Morrie was taking off another 200 feet inside of where I was and sometimes making it - when he didn't, well that swim is something else.
One place I wouldn't go out at was the Third Bombie at Long Reef, called the GERMAN
BANK. Not for this boy, but Morrie doesn't hesitate neither does 'Doc' Spence and one or two other crazy men - a trip into thirty feet of crushing white walls - no thank you.
What about Scott Dillon conquering the Bare Island Bombora and the pioneers of big waves like Dave Jackman, first short board on the Queenscliff Bombora. Where have all these guys gone? Oh I can't forget mad Evo who rode them all - he was a good senior men's winner too. Then you have the young guys like Kevin "TH E HEAD" Brennan, at sixteen years of age winning the N.S.W. Junior and Senior Titles on the same day. Robert Conneely a grouse surfer. John and Bill Monje, what a pair of wave rippers those guys were, especially John at "BIG BELLS" The guy that made us all cry was BOBBY BROWN and if ever there will be a surfing saint, well BOBBY got my vote.
Surfing, in my opinion, has become advanced enough already.
Twin fins, tri-fins and the rest are all hocus-pokus; give me a plain old well designed single finner and you know what it's all about - and I hope the sport doesn't get any more commercial than what it is to-day.
Only seven or eight years ago you could travel away to Crescent, Angourie, Byron or Noosa and have it all to yourself almost. Those days were great, and when they went so did the social brotherhood of surfing. When I\/lanly Pacific Club and Queenscliff and Mid Steyne Board Clubs (sic, existed) it was great how we used to all get together and a turn put on by those boys was something to remember.

---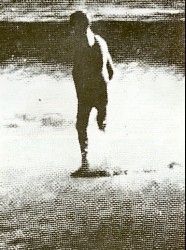 ---
Bobby Mills.: The Good Old Days...
Surfing World,
Volume 16 Number 4 (circa July 1972) pages 30 to 36 and 78'
---
Top Phil Ewards and Baby, Makaha circa 1959
Bottom Phil Ewards and Baby, circa 1959Both images, uncredited, accompanied the original article, reproduced as full page. ???
---
Notes1. Bobby Mills is a surfer, originally at Manly, later moved to Torquay Victoria, circa 1970.
2. The article is a retrospective of Mills' early surfing experiences,
3. There are several spelling errors and some text is grammatically confusing.
---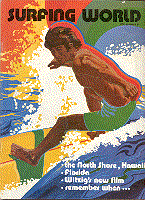 ---

surfresearch.com.au
---
---