pods for primates: a catatogue of surfboards in australia since 1900
---
---
surfresearch.com.au

bob evans : retrospective, 1972
---
Bob Evans : Rembember the time when...
---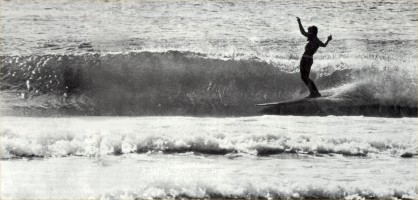 ---
Toward the end of 1956, to coincide with the Olympic Games, the S.L.S.A. invited a team of surfers from Hawaii and a team from the U.S.A. to visit Australia. Ampol agreed to sponsor the visit, and for the first time a group of surfers from the northern hemisphere converged upon Australia.
The S.L.S.A. had arranged for the presentation of the Australian Championships at Torquay Beach, Victoria, and with all the International Teams competing, the Nationals were to be known as the SURF OLYMPICS.
Victoria in the summer time can be very hot or, alternatively, extremely cold and the water temperature does not rise very much over 55 degrees until January or February.
The Australian surfers were reasonably prepared for the icy blast, but the tropics orientated Hawaiian Team packed up completely. They sat around miserably wrapped in blankets, ill at ease, uncommunicative, not surfing, and generally not much value. The Californians, however uncomfortable they may have been, did turn on sufficiently well enough in the water to impress upon those interested that the funny little surfboards they were riding were a complete new dimension, and though we did not fully understand them, there was a strange electricity building amongst the Australian long-board men who saw them used.
I do not think we really saw the full potential of these boards until the touring team returned to Sydney, where the weather, and a good run of southerly storm surfs, inspired the tourists to get into the warmer water and have fun.
Tom Zahn, Mike Bright, Peter Balding, Tim Gard, Tad Devine, and in particular Greg Noll, astonished the daily crowds that gathered to watch the colorful Yanks working out.
By chance the liner carrying home of the Americans to Australia also carried two Australian surfboarders returning from a world trip. They were Scott Dillon and Barry "McGoo" McGuigan and their non-surfing mate Bruce Laird. Obsessed by the possibilities of what they had seen of the short board in action overseas, the boys persuaded one of the Yanks ('Flippy' Hoffman ?) to leave his board in their care at Bondi while he journeyed to Victoria for the big surf carnival. This board, the first of its kind to be used regularly south-side, was stored at Ross Kelly's house and was ridden to a standstill, till its owner returned to claim it.
I recall being particularly sensitive about the way we local stars were being shown up in the surf at Manly. George Downing four years earlier had given me the opportunity to acquire a couple ot short boards trom Hawaii, but rather thinking that we were way ahead of the Hawaiians in development I foolishly refused the chance to put Australian surfboard development on a par with the U.S.A. Barry Lumsdaine and I would hang around the beach at Manly waiting for one of the Yanks to get tired of surfing, so that we could borrow his board and get a chance to find out what we had been missing on our new redundant 16 footers. Lumsdaine picked up the short board technique very quickly and "Nipper" Williams, who had been using a beat-up old Malibu for six months, also was showing form. "Nipper's" board was about 8' 6" and had been brought back by a travelling Australian businessman for his 11 year old son six months earlier. Everyone else thought it was a joke -except "Nipper" and several thousand Californians.
The Hawaiian Team went home as soon as they could get away - the islanders get homesick very easily and long to get back to their tropic (sic, tropical) refuge, In the meantime, we young surfers persecuted the Americans until three of them agreed to sell their boards, Gordon Woods bought a 9' 6" Malibu type, Bob Pike acquired a 9' 6" semi-gun from Ted Schroeder and I paid Tim Guard $46 for a beautiful, hot curl board built by George Downing.
(Note that this probably was not an original finless Hot Curl, circa 1937 but a later finned model based on the Hot Curl template.)
From early 1957 there was a new stirring of interest among the board boys, Roger Duck (Roger 'Duck' Keiran?) acquired a license to bring in balsa and began to make some pretty rough boards, which sold like hot cakes.
Gordon Woods fabricated a hollow version of the Malibu, which also sold very well, particularly south of the harbor, The souths ide boys got pretty good on these little hollows, but northsiders stuck to our balsa boards like grim death. I remember Herbie Hawkes from Tamarama presenting me with a new nick-name, "BALSA BOB," "Bluey" Mayes, who was the top board man southside and one of the best men in Australia, eventually succumbed to the possibilities of the lighter and more intriguing balsa, and when Gordon Woods acquired a reliable stock of the Ecuador soft wood, he switched and so did most everyone else.
We developed our techniques along a steady path but nothing much really happened until the 14th December, 1957, On that day Bud Browne arrived from the United States and that night Queenscliff Surf Club screened the first surf adventure movie to be seen in this country -"THE BIG SURF,"
The reaction was unbelievable. Surfers stood and yelled, they fell on the floor, jumped up and down -in short they were stoked out of their tiny brains, None of us had ever seen such color and surf spectacle so beautifully portrayed as we did that night -board surf and body surf, big and small; it was all there in front of our eyes. The technique of the surfers was revolutionary and immediately everyone was aware that our sport had suddenly opened up for us. We tumbled over each other in our enthusiasm to learn all the things we had seen - the development race was one. Surfboard manufacturers who
had been part time backyard operators, were suddenly full time production units. Woods, Wallace, Ward & Dillon, Bennett, Casey, McDonagh, Clymer, Ferris, all these and some others less notable.
Weight being the most outstanding characteristic of balsa, it soon became a fad. Surfers were vying with each other to see who could select the spongiest flitch of female balsa and end up with the flimsiest, featherweight board. With the introduction of the first pig-board, which we developed from a photograph from the original unit made by Hap Jacobs, I recall Bluey and I had identical boards made. This was going from the sublime to the ridiculous - it wasn't long before we had deep knee wells, multitudes of dings, and stress signs everywhere through the glass.
It was amazing the way surfing was beginning to affect the younger surfers. The movie "Gidget" was released at the psychological moment and what had been an awakening interest overnight became a raging psychedelic giant, heightened shortly afterwards by the visit of surfman, magazine owner and movie maker John Severson and by his film "BIG WEDNESDA Y ," which accelerated fadisms along the coast. Bleached hair, scruffy appearance, boggies, wildly painted surfboards, duffle coats, huarache sandals, bottle top flicking, loud mouths -all the manifestations of ocean based 'out of control' gangs. In fact, the clean, healthy enthusiast of the sport of surfing was being utilised by every crass vandal as a waggon on which to hang his pimply star.
Strangely enough, though surfside youth took a huge leap backwards in terms of social recognition, in terms of surfing technique and surfboard refinement and development, the lead forward was equally magnificent. The reason was the gigantic explosion of interest - surfing movies, surfing music, the stomp, sneakers, a new and significant breed of the younger generation.
At the end of 1960 twenty-one Australian surfers paid their own fares to Hawaii in a mass attempt to turn day dreams into reality. For some surfers the reality was
a shattering experience -one of the most consistent years of big surf more than tested guts and enthusiasm as day after day of 18 foot boomers poured through.
However, the riders that found Hawaii to their liking returned home and further enriched the scene with their stories and their experience. A year later, at 16 years of age, Bernard "The Midget" Farrelly brought acclaim to himself and Australian surfing by winning the Makaha "International Championships" and making headlines in every major Australian newspaper. Next year the headlines read differently as young Australians in a do or die effort to reach the "big wave" mecca stowed away and were apprehended (Bob McTavish and ). Out of the associated publicity emerged a word which was publicly accepted as the noun relative to the species -"SURFIE."
But surfboarding had already made its mark amongst its followers, and no amount of bad publicity could shake their faith in what was solid and unchangeable - surfing, the excitement, the freedom of expression and physical well being, and the chance to appreciate the forces of nature, cheek to cheek. WIth the ocean, this was the influence that kept the shoulders back and the heads high.
Criticism and restrictions had a side effect that brought out untold new values; and this was the need to travel to get away from the crowd, to find new unrestricted areas. Fortunately, they were there waiting to be discovered. Crescent Head, Scotts Head, Byron Bay, Ulladulla, Pink Rocks, Seal Rocks, Angourie, Pt. Plummer, etc. etc. -the list of newly popularized areas runs into hundreds. This took the top performers to country areas where young locals, avid to become part of the scene, grabbed the opportunity to liven up their spare time. Shortly afterward it became abundantly clear that towns even hundreds of miles inland were feeling the effect of the surfing explosion. Names became household words: "Midget" Farrelly, Bobby Brown, Wayne Burton, "Nipper" Williams, Bob Pike, Dave Jackman, Robert Conneely, Mick McMahon, Gary Birdsall, Kevin Platt, Nat Young, young Kevin Brennan, Wayne "Worm" Cowper, "Ugh" Andreas, "Bozo" Griffiths, "Lovedog" McManus, Bob McTavish, Russell Hughes, Mick Mobbitt, "Bombie" Beecham, "Gopher" Sumpter, "McGoo" McGuigan, Peter Troy and dozens of others. Whether good or bad surfers, nice guys or nasty guys the point was that they had achieved a strange faceless recognition. And the names were not the pioneers or the already established images; these were the "new" ones, the product of the explosion. Surfboards were thought of in terms of style. They were pig boards, sausage boards, coolites, elephant guns, pintails, malibus island boards, point surfboards, summer shapes, wedges, javelins, big guns, hot curls, fingerfins, etc. etc.
Everything fell into a slot in line with your attitude toward behavior, clothing and surfing ability, and there was something for everybody on the beach. Surfing contests were called "rallies" and were more of a picnic day than they were a tournament. Trophies were smalt time, but accepted goodnaturedly.
There were, of course, dissenters on the scene, and these emerged from the morass of their own creation, and sometimes went as far as carrying their obnoxious image into open conflict with the fair-haired, free-wheeling, good time charlies called "surfies," These were "The Rockers." Right throughout Australia and in fact throughout the world.
"The times they were a-changing." Everywhere the "oldies" turned there seemed to be surfers, or at least people who resembled surfers, having a good old time. Since mostly we had these good times in a pretty uninhibited way, the surfer or "surfie," as he was maliciously known, became number one target for every kind of abuse. The psychologists wrote millions of words deliberating the reasons for all this lack of restraint and laid the blame for the wild new mob on so many doorsteps they may have confused the truth forever more.
Evolution, assisted somewhat knowingly by the image makers, "the waste makers," the "chamber of commerce," "the religions," "the universities," "inflation" and several wars had shaped a new generation which was almost a little too powerful for its own welfare. The surfers were just one of its uncountable manifestations.
Gradually, a tiny nucleus of indignation and concern grew amongst the surfers and then suddenly there stood, rather shakily, the Australian Surfriders Association.
The A.S.A. was originally the brainchild of a group of young surfers from Sydney's northside, but soon they were joined by those interested from south of the harbor and painfully, but with determination, it gathered strength. Early in the summer of 1963 the Australian . International Championships were presented at Bondi Beach, before a crowd of 20,000 people. The sponsors were W. D. & H. O. Wills, The Sunday Telegraph newspaper, Ampol, and Surfing World Magazine, and the event was handled by the A.S.A. The winner was 15 year old "Nat" Young of Collaroy who scored a trip to Hawaii for his efforts. Ampol, sensing the respect surfers had for their sport and recognising the need for proper guidance, offered the A.S.A.their assistance, which was accepted. During the year other states also formed surfing associations and in January 1964 the N .S. W. body decided to take on the massive task of presenting (with Ampol backing) the First World Championships.

---
Looking back the last ten years Ifrom 1972 puts a different perspective on the whole deal because in many ways history is repeating itself - Australia was the instigator in setting up a World Surfing Association and has twice organized and presented the World Champs. To-day the big contests have lost much of their appeal and gradually surfing is returning to I the basic position in which it first started - even a little of the spirit of community fun is coming around again - could it possibly be that as surfing in this country now has a history that the sport is maturing to the degree where the prime object is genuinely one of appreciation for what we are doing - is the old obnoxious personality cult really dead - thousands of people who love surfing for the happiness
that it brings into your life certainly hope so - and it has been a long wait.
Looking at the young kids, and I really mean the ten to fifteen years old group, therein lies the real mood of the thing these kids seem to really enjoy being together and doing it with a sense of fun and a thread of recognition for the old days, and even though it has been bad news for the board building business, the interest that a kid displays by building his own board, using his intellect and ability is a big encouragement.
Lots of things that are good have come out of ten years of development and plenty that has been bad too.
Surfing has been and still is a trend setter, mainly because surfers are such a large and recognizable group and also because their involvement is so intense and again because of the spectacular nature of surfriding. The original bushy bushy blond, baggies, duffle coat, and ho-dad syndrome brought surfing a lot of attention that it could have done without, and because there was a cultest (sic, cultist) feeling to the whole thing about that time, it seems that many of the aspects of
teen-age evolution and revolution stuck - along with and developed out of the surfing image.
But as the sport matured some sense prevailed and the bad apples gradually began to fall by the wayside, and strangely but truly the big name syndrome floaters began to float right out of harm's way - the old saying prevails "out of sight - out of mind."
There is a lot of principle coming back into the scene to-day and if it wasn't for those last ten years of blood and sand there would be no direction to head but down - as it is, the direction is definitely up
By EVa (sic, EVO)

---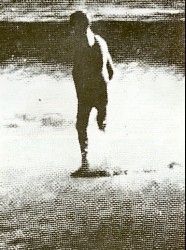 ---
Bob Evans.: Remember the time when ...
from...Surfing World, Volume 16 Number 4 (circa July 1972) pages 30 to 35
---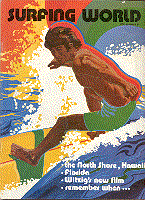 ---

Part one of a two part article, the second...
Bobby Mills : The Good Old Days

---
Images : Top Midget Farrelly, Cresent Head circa 1962
Photograph : Bob Evans, page 33
Bottom Phil Ewards and Baby, circa 1959
Both images, uncredited, accompanied the original article, reproduced as full page. ???
---
Notes
1. Bob Evans was a surfer, photogrpher, magazine editor, film maker, contest organiser and an tireless supporter of Australian surfing.
2. The article is a retrospective of Bob Evans' early surfing experiences, notable for details about the arrival of the Malibu board in 1956 .
3. There are several spelling errors and some text is grammatically confusing.
---

surfresearch.com.au
---
---