surfresearch.com.au
---
---
surfresearch.com.au

bob mctavish : honolua bay sessions, dec 1967

---
McTavish, Bob: A plastic drinking straw...
Surf International
Volume 1 Number 3, February-March 1968, page 11.
Photograph: John Witzig.

---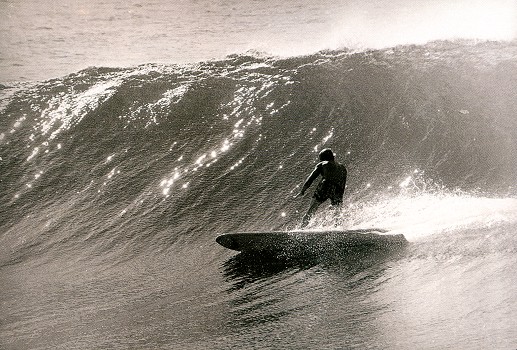 ---
A plastic drinking straw in sterile paper protective wrapper?
A 75c hamburger?
A carton of pasteurized homogenized castrated imitation milk?
Sure!
Left hand drive $50 Buick.
Fall out shelter-America.
Palm trees (plastic?) freeway highway byway anyway, there's very good surf in Hawaii.
There's December Sunset with Hynson(,) Grigg, Diffenderfer, Dowing.
Big motha Wiamea.
Aipa Doyle Miller and Jackie good-vibes.
The Duke with Jock - hot Jock.
Beee-ootiful Haliewa, 60 guys out, or in, or somewhere.
And there's Barry and Garry land.
And there's an $11 flight to Kaanapali, Maui, another kind of America.
America?
It must be Plastic drinking straws are a bust.

Maui ...reeking of "the real islands". Green, high mountains, green deep valleys, pineapples, slow, rainy, hot, sunny.

Lahaina's the town.
Old whaling port, and it really says so.
Docks, harbour, reefs, shanties, bars, dens, pits, plenty of slow smiles.
A few tourists - mainly nights.
Beee-ootiful town calls beautiful people - young people from U.S. east and west coasts are making
changes there, making their peace there, making their love there.
Spiritual centre.
Christ centre.
Lahaina-mother Maui's third eye.

Everyone surfs - or knows what surfing's doing.
Several small board shops - Thurston's, Buddy Boy's and Brewer's.
Maybe Willie's.
Strawberry Fields kind of.
Boards are great.
Small shops have the freedom to be great.
They can change fast.
These shops are one place where its really happening.
R. B, Richard Brewer.
The wheel of U.S. board design - pintail man.
Does his thing once or twice or thrice a week at Buddy Boy's.
R. B. Dick is feeling things now - Vees, tuned fins, lack of length.
Why?
Herein lies a story.

Up the coast a bit is Honolua Bay.
Wow!!
It's just a little cool-green of course, thick, trees very trippy.
Buddy Boy's Bay.

Slow bouncy drive, cruise to a halt.
Silence till a set comes through.
Mmm.
Wall's good.
Its come up a few feet!
Aaaagh!
Did you see that curl?
That's a tube right there.
Lets get into those Mothers!
Paddle off the ramp through brown rainwater for 100 yards, moving past the inside dribblies now.

Looking up - another set hitting outside - Wow.
That's bigger than it looked in there - must be six feet.
Faster paddling.
Move past the bowl.
Aaaagh!!
That's a cathedral!
Six feet high - moving fast, throwing hard and perfect - out - arching curving down. .. keerrack!! whoomfff.
Water's so clear!
Green flat rock.
Glassy bay.
This take- off looks tight.
Deep water onto a ledge - in front of a cliff with a just cave.
Just cave?
Bring good karma with you ...no pukas, bad karma?
...Well ...Honolua breaks boards as well as perfectly.

Set.
Visible a half-mile out, swinging on those outside reefs.
Runs wide. .. then in!
Wow.
This thing is stacking up!
Might just move out a little more!
Take the second one I guess.
First one looks mighty good!
About 6 feet.
Aah ... let it go.
Ulp!
That's got to be eight feet!!
Wooo!!
Bowling slightly even here on the take-off!
Now. ..easy. .. two paddles. ..lift-off!
Deerop!! ... down into that curve. ..bring it up on edge.
..GET IT ON!!
Thhrrust!
Move it out!
Up.
Under.
Curl.
Coming over!
Right over! (that noise)
Inside! (that feel)
A GIANT GREEN CATHEDRAL AND I AM THERE.
Positive-Negative Pow!! Infinity.
Curl just going further ahead of me, but it's right!
This situation is flawless.
Now only water visible sky gone - can't see out but who needs to because time is gone.
Seconds?
Minutes?
A lifetime.
Crystals.
Soundsmells.
Tastefeels.
Forever.
Now.
The door is open.
The wave laughs, board breathes, sun smiles, Cruise out into ... peace ...

Good Honolua is a tube from take off to calm centre.
This day Nat and I had our deep Vees going.
Ted S. had his 8'9" pintail in one piece till it was two pieces.
Buddy Boy was visiting Him on most rides - in spite of his overlong machine.
George did It quite often. .. Paule made It.
Six hours at six to eight feet.
Only a few there.
Coupla cameras, coupla shapers--one was R. B. Dick was digging the whole thing.
Those Vees - pulling turns in the most tight spots, gaining speed in those turns, thrusting out of them.
Making waves, making them tighter.
Pintails were beautiful - in the fall line.
Magical Mystery Tours.
But the U.S. - going round, up, thru- thrusting!!
YOU got the speed.
YOU went where you wanted - when you wanted.
Said R. B. when asked - "They work."

Dick Brewer went to his groovy tin shed and made a beautiful pintail - 'V' bottom.

Just a basic change of design - no "yippee-we did it first" because who is "we"?
We are all brothers 'V' is one change - many many more coming up from many many people - so names don't matter.
Minimum drag and high rise tails, flex tails, interchangeable flex tails, false bottoms, keels rather than skegs, bat ray bottoms - it's all happen\ing.
So dig it, brother.
---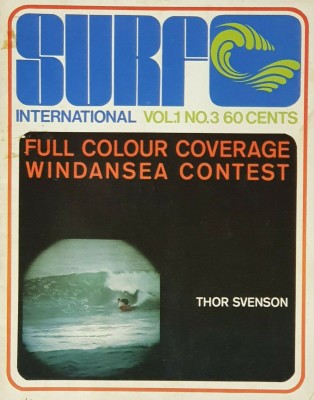 ---
NOTES
1. The article is an account of Nat Young and Bob McTavish's testing of the Short Board/Vee-Bottom theory in Hawaii, November-December 1967.
This has been extensively recorded in film (Paul Witzig : Hot Generation and Eric Blum The Fantastic Plastic Machine), books, magazines, web pages and surfing mythology.
The events of December 1967 have been deified, disputed, despised and dismissed as the 'Short Board Revolution',

2. The boards taken to Hawaii in the winter of 1967 by Bob McTavish, Nat Young, Ted Spencer, Peter Drouyn and other Australian surfers were in fact 'Gunned' versions of the designs developed for Australian surf.
Between February and November 1967 intensive competition between Sydney manufacturers and their stable of surfer/shapers (primarily Midget Farrelly (Surfboards), Palm Beach and Bob McTavish at Keyo Surfboards, Brookvale) saw length reduce from 9 ft to 7ft.

3. The little wide-back machines (Vee Bottom Stubby) were only a brief stage of design development.
The gunned versions tested by McTavish and Nat Young in Hawaii in December 1967 met with mixed results.
McTavish took Nat Young's invitation to the 1967 Duke Kahanamoku Contest at Sunset Beach.
His performance earned the title from one observer as "The Spin Out King" - see below.
---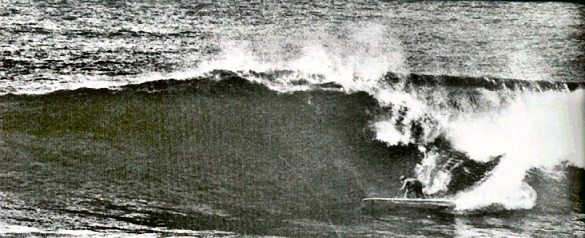 Bob McTavish : Duke Kahanamoku Contest, Sunset Beach, December1967.
Surfer, Volume 43 Number 5, April 2002, page 60.
Surfer Archives.
---
4. A significant board was Ted Spencer's Little Red, shaped by Ted Spencer and Bob McTavish at Keyo Surfboards, mid 1967
A rounded pintail at 8ft 4" x 23" , Ted Spencer rode the board to first place in the Windansea Contest, Palm Beach, Sydney October 1967.
The board was surfed at Honolua Bay by McTavish (image below) and he notes in his article...

Ted S. had his 8'9" pintail in one piece till it was two pieces.

This is not completely accurate, see below.
Variations of Little Red were to be the dominant design in Australia for the next twelve months.
---
Bob McTavish and Little Red,
Honolua Bay, Maui, December 1967.
Surf International,
Volume 1 Number 12, 1969.
Photograph: John Witzig.



---
5. The dates of Surf International magazines are not specified in the publication details.
Some commentators have dated this issue as November 1967, yet as this article refers to events known to take place in December.
Given a lag of approximately six weeks in publication (in Hong Kong), I have dated this issue as February - March 1968.

5. By the time this issue hit the news stands, Bob McTavish had quickly revised his design concepts and was developing a heavily forward foiled Tracker model.
In Australia, by mid 1968 the wide Vee Bottom had been largely replaced by three designs -
Forward foiled Pin tails or small square tailed Trackers and Egg-type Double-ender round tails.

6. The only noted Australian surfer who continued to use the wide tail concept during 1968 was Nat Young, who was preparing material for Eric Blum's The Fantastic Plastic Machine.
The film would promote the Vee Bottom design to American audiences, for Australian designers it was past history.
US manufacturers would contine to produce the model to1969.

7. Wide tailed templates would not re-emerge till 1978 with the No-Nose, typified by Cheyne Horan/Geoff McCoy's Lazer Zap.

8. Vee became a standard feature in bottom design, but has never been as deep as in these designs.

9. The accompanying image was a tight crop of Bob McTavish at Honolua Bay by John Witzig,
Large version above fromJarratt: Jeff Hakman, (1999?), page 62.

10. The article does not have a formal title - the first line is quoted.

---
Ted Spencer's Little Red,
Shaped by Ted Spencer and Bob McTavish at Keyo Surfboards, mid 1967
8ft 4" x 23" stringered rounded pintail, red Greenough fin.
Clear deck, red gel coat on bottom.
First place in the Windansea Contest, Palm Beach, Sydney October 1967.

Errata
The board details were previously described on this page as:
Ted Spencer's 'Little Red', 8ft 9" x 22" stringerless rounded pintail. Possibly Shane Surfboards.
and noted...
The board itself, however, broke in two at the Honolua Bay sessions.

These details were taken from multiple viewings of Paul Witzig's Hot Generation and Bob McTavish's account of the Honolua Bay sessions,
"A plastic drinking straw...." Surf International Volume 1 Number 3, February-March 1968, page 11.

In November 2003 Ted Spencer emailed...
For what it's worth, so called Little Red board was 8'4" in length single stringer 23" wide and was shaped by Bob McTavish and I at Keyo Surfboards in Brookvale Australia.
It didn't break badly in Hawaii and I took it back to OZ.
Regards, Ted.

Many thanks to Ted Spencer for this invaluable contribution.
---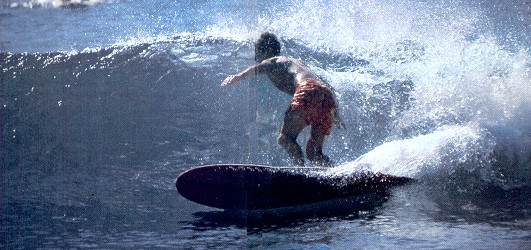 Ted Spencer, Little Red, Lahina, Maui, December 1967.
Photograph by John Witzig
Nat: History (1983), pages 98 - 99.
---

surfresearch.com.au
---
---
Geoff Cater (2000-2014) : Bob McTavish : Honolua Bay, December 1967.
http://www.surfresearch.com.au/1968_McT_PlasticDrinkingStraw_Surf_Int_v1n3_Feb0.html