pods for primates : a catalogue of surfboards in australia since 1900
---
---
surfresearch.com.au
the catalogue #172
---
| | |
| --- | --- |
| 1930 Solid Wood Belly Board 4ft 5 1/2" | #172 |
---

---

MANUFACTURE
MANUFACTURER: Unknown
SHAPER: Unknown
DESIGN: Paipo/Belly Board/Lamaroo
DESIGNER: Unknown
---

SPECIFICATIONS
CONSTRUCTION
Redwood ? board, natural timber. Probably stained, possibly varnished.
DIMENSIONS
| | | | | | | |
| --- | --- | --- | --- | --- | --- | --- |
| Length : | 4 | ft | 5 1/2 | inches | | |
| Width : | 15 1/4 | inches | | Nose @ : | 6 | inches |
| Width : | 8 1/2 | inches | | Tail @ : | 4 | inches |
| Thickness : | 3/4 | inches | | Pod : | n/a | inches |
| Nose Lift : | | inches | | Tail Lift : | | inches |
| Weight : | | kilos | | Volume : | | litres |
| Other, Flyer/s : | | inches | | | | |
FEATURES
Nose: round
Tail: round
Deck: flat
Bottom: flat
Rails: rounded square
Rocker: flat

---
FIN/S: none

---
DECOR
DECALS:
Deck: none
Bottom:
MARKINGS
Deck: none
Bottom:
COLOUR
Deck: natural timber. Probably stained, possibly varnished.
Bottom:

---
NOTES
BOARD HISTORY
Dimensions and photographs Sydney Surf Auction, Mona Vale Hotel, Sydney, 19 October 2002
Catalogue No. 162 Notes by Mick Mock
Insert Comments here.
DESIGN HISTORY
Circa 400, the Paipo developed as small wooden prone board, used thoughout the Pacific Islands primarily as juvenile sport. In Tahiti and Hawaii the boards were ridden prone, kneeling and, occassionally, standing.
Other Pacific Islands were restricted to prone riding only.

The origin of these boards is speculative, but broken sections from discarded canoes, outrigger floats or paddles (the blades) are possible sources.
Dimensions ranged from 3 feet x 12 inches (the smallest example in the Bishop Museum, Honolulu.
Catalogue Number :C.5966) to 6 feet x 9 inch boards in Aotearoa (New Zealand).

---
Paipo Board and Paddler
Detail from ...
Cook at Kealakekua Bay
Engraving from a sketch made in 1778.
(Bishop Museum)
Finney and Houston, page 12.
---
With the development of an adult surfing culture, prone boards became essential in acquiring basic surf skills. In the 20th century, the Paipo has been re-invented several times... The most successful (in sales, performance and safety) is Tom Morey's Booggie Board, 1971.

---
Paipo and Surfer, Wakiki circa 1900
Lueras, page 55
(Bishop Museum)

Prone boards and juvenile surfers
Joe and Jack Quigg, 1932
Severson page 20 (Cropped)
---
Solid timber handboards/bellyboards were in use on Sydney's beaches before the visit of Duke Kahanamoku in 1914 - see History/Duke/Detailed Analysis.
The enthusiasm generated by this visit saw Sydney surfers persue the developement of the standing board and prone craft were dominated by the Surf-o-plane, circa 1933.

These boards were in Victorian use as early as 1915, by a Mr. Jackson and Mr. Goldie at Point Lonsdale, after a visit to Hawaii.
They were either imported or homemade adaptations and in 1915 they encouraged a local girl, Grace Smith Wootton, to take up the sport.

Plans of solid timber prone boards were pulished in Popular Mechanics magazine July 1934 and Popular Science magazine August 1935.
These illustrated that such boards were already in use in the USA and publication in such magazines probably saw these plans distrubuted world wide.

The design was popular in the southern states of Australia and in New Zealand, South Africa and UK. Although many were probably home made, this and several New Zealand examples were probably factory made - note regular shape, nose lift and paint decor.

---
REFERENCES
Other Boards
Surfworld Museum, Torquay Victoria. : Lamaroo # 26
ANMN #00005796 1934-1940 Bellyboard 3'9" x 26" See Notes on ANMM Collection
Also see Paipo Catalogue
Books
Wells pages 157 - 159
Edmunson pages157 - 167, note Figures 51 and 52.

CONDITION: 8.5

---

---

---

---
Prout brand solid wood belly board, New Zealand 1940's 5ft
Longboard Surfshop (NZ) On-line Auction catalogue, 1999.
---

Boy with bellyboard, UK circa 1960
Edmunson ; page 162
Text reports dimensions as 4 ft x 12'' x 3/8''
Waterproof resin-bonded or marine plywood.
Commercially available,
cost up to 30 shillings ($3.00)


Grace Smith Wooton and Win Harrison
Point Lonsdale Victoria, circa 1916.
Wells page 157
The board was made by a local carpenter,
cost 12 shillings ($1.20),
with her initials carved in one end.
---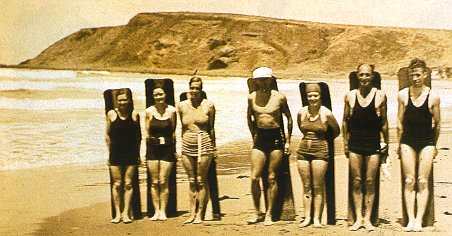 Lamaroos at Phillip Island, Victoria 1935.
Note that two boards to the left appear to be laminated sections.
from Two Hundred Years, No. 47 page 1124
---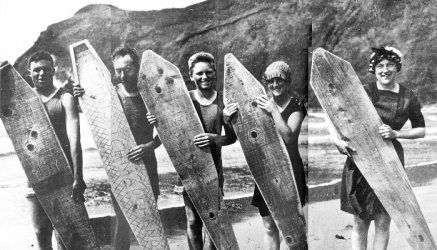 Prone Timber Boards and Surfers,
West Coast, USA circa 1905
Photograph : Mike Jipp / Lincon City Surf Shop Collection
Kampion : The Way of the Surfer, 2003
pages 18 - 19.
---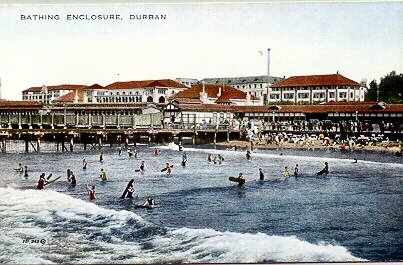 Timber prone boards, Durban, South Africa circa 1950.
Postcard
---

surfresearch.com.au
---
---

Builders from the Register of Australian and New Zealand Vessels by Mori Flapan
http://www.boatregister.net/TasmanianBuilders.htm

Risby Bros
Years Active: 1848-1894
Where Built: Hobart, Tas
Number of Vessels: 2
Material: Wood
Type of vessels: Cargo schooner, cargo ketch
Names of vessels: Spy, Nellie

---
People of Hobart: Mid to late 1860s
http://members.tadaust.org.au/bobcutter/hobartres.html#R
RISBY Joseph E. timber merchant¸ 2 Elizabeth Street
---
Glenorchy History Group
http://www.tco.asn.au/oac/community_groups.cgi/community_groups.cgi?groupID=5364&oacID=68
Sawmills, whaleboat building and racing.
Contact
The Glenorchy History Group Inc
Garry John Fisher (Secretary or Public Officer)
134 Howard Road Goodwood Tasmania 7010
Postal Address:
134 Howard Road Goodwood Tasmania 7010
Municipality:
Glenorchy City Council
Ph: (03) 6272-1998

Email:
p.butler@internode.on.net
---
Maritime Museum of Tasmania
http://www.maritimetas.org/
---
Sporting Island -- A History of Sport and Recreation in Tasmania
http://www.bicentenary.tas.gov.au/events/event.php?id=237
The book, Sporting Island, by David Young highlights important events, activities and people who have influenced and contributed to the development of sport and recreation and helped shape the Tasmanian community in which we live. The book will provide a background to Tasmania's sporting and recreation heritage and enable Tasmanians to understand their sporting and recreational cultural.

---
David Montgomery Chiropractic Clinic
413a Sydney Road
Balgowlah NSW 2093
02 9949 2315
---