pods for primates : a catatogue of surfboards in australia since 1900
---
---
surfresearch.com.au
gilmore : queenscliff slsc
Louise Gilmore : Queenscliff SLSC, 1999.

---

Extracts from:
Gilmore, Louise: Queenscliff SLSC - 75 Years of Vigilance and Service.
1924 -1999.
Queenscliff Surf Life Saving Club Inc.
Queenscliff NSW, 1999.
---
Introduction.
---
Page 2
Formation of Queenscliff Surf life Saving Club
"On Tuesday, 15 January, 1924. W.O: Simmonds called a public meeting at Warton's ...
Page 3
... Tea Rooms on the corner of Pine Street and North Steyne.
Thirty people attended, subscribed £80 and the Queenscliff Surf Life Saving Club was born.
The first President was Warringah Councillor, S.E. Ellsworth, Simmonds was Secretary and p.J. Maher became Treasurer. There was a six-man committee whose members were A. Childers, O. Lingham, J. Broadfoot, A.C. Dawson, B. Barnett and D. Guildford.
The club was active from the first. On 13 February, formal rules were adopted and on the 25th, red and royal blue were chosen as club colours.
...
In that first year, the club became affiliated with the Surf Life-saving Association and began patrols on Sundays from 9am-5pm.
It started training new members on Sunday, 17 February, using a surf reel borrowed fron( neighbourly North Steyne.
Seven members obtained their Bronze Medallions that season.
The First Club House
In its first year, the fledgling club negotiated some land from Warringah Shire Council at the foot of the headland.
Syd Lupton designed a club house.
Warringah Council donated £150 and Manly Council was persuaded to contribute £200.
Club members spent all their spare time for the next eight weeks preparing the foundations with tools borrowed from Manly Council.
The wooden building cost £481 (the average wage for a man in NSW was £4/13/6).
When it was completed, members worked again to fit out the interior and paint and oil the timbers. Finances were so tight that they could not afford the £15 deposit for electricity to be connected. Eventually, it was donated by W. Shirley.
The official opening was held at the beginning of the next season.
It was clear that members had'heen hard at work during the winter organising sponsorships from local businesses, which featured in the programme.
Page 4
Under Way
Member, Phil Smith, was commended in the annual report for rescuing a woman one week day when there was no patrol. He was praised particularly in view of the fact that he had "only the assistance of a woman to handle the line".
The club was represented at all carnivals during that season, beginning on 13 ...
Page 5
... December, 1924, at North Steyne.
They even notched up a win -S. Pike in the Junior Surf Race, at the South Coast Carnival at Thirroul. The first club championship was held on Sunday, 12 April, 1925.
The management committee met every two weeks and organised the raising of money from both councils, as well as concert and sports days.
Finally, Dunkerley Hat Mills came to the rescue, with money for a surf boat, on the understanding that it would be named "Akubra".
Tenders were called and the best price of £73 included mast, sail (the current veteran's crew would appreciate that) and cedar planking.
"Akubra" was officially launched in September, 1925, with Arthur Apps, aged only 17, as the first sweep and coach of crews.
Dunkerley also helped with the purchase of "Akubra II", in 1927.
---
Akubra,
circa 1925.
Page 5.
---
Page 13
"Akubra II" was sold for £22/10/- and new sponsors, Standard Telephones and Cables (A/asia) Ltd, donated a new boat, "Miss STC", worth £124.
It was christened on 3 March, 1935, by Mrs T.A. Boatwright, wife of the club President.
Page 24
The sixties dawned with little warning of the urheavals to come, not only at Queenscliff, but throughout the surf life saving movement and in society as a whole.
Things were looking good.
The club had 21 cadets.
"Miss STC VI" was launched, on 30 October, 1960.
Its predecessor, "Miss STC V", was donated to Jersey Lifeguard Club, in the Channel Isles.
Manly Council provided a shark alarm worth £80 and, at last, the rock pool had been upgraded.
...
In 1962/3 the club received a bonus of two brand new surf boats.
STC maintained its long support of the club by donating "Miss STC VII".
Also, Queenscliff won a fully equipped surf boat, donated by BP in a patrol competition, which was judged on life saving technique, gear, dress, behaviour and selection of surfing area.
This was named "BP Beacon".
Page 25
Successive annual reports complained about the same old faces both in competition and social events, while recognising that these loyal older members were vital to the club's survival.
All surf clubs were having difficulty attracting younger members.
Many of today's "old hands" were juniors at this time.
Ray Williams recalled, "We weren't any different to North Sterne.
Everyone had half a dozen junior members.
We had to ask all the active reserves to do patrols."
Grant Spradbrow recalled, "George Somerville was President.
Ray Bathgate was an older member, who had joined before the war.
They bought the Army discipline into the club.
I remember they used to march us juniors around the old hall.
If you missed patrols, the discipline was horrendous.
At one stage, I had about 10 penalty patrols to make up.
We had to front up to monthly meetings of the committee and they'd dole out the penalties.
I accepted it, but a lot of other guys didn't."
Disipline did not only come from the second world war.
It is clear that it had been enforced from the club's very early days.
This was probably because some of the first members were veterans of World War 1.
"The discipline was pretty stiff," said Myles Dewell, who joined the club in 1940.
"Juniors could go to the courtyard and hang their towels 'and costumes out to dry - they were cotton costumes - but they didn't sit out there.
That's where the seniors sat: Everybody had their place in the pecking order."
"They had rail seating and everybody had a hook on the wall.
I'd only just joined the club and I put my towel on somebody else's hook.
I thought I was going to get thrown out, not just of the club, but out of Manly."
Don Donkin added, "The coat hooks ran right around the wall, with a little metal slot you could put a card into.
When you obtained your Bronze, you saw the Secretary and he would allocate you a hook.
If you were new, you'd get one near the door, where the wind and rain would come in.
As you got older as a member, you got a hook further down the room.
The real senior members had their hooks near the showers.
"It was a hangover from World War II.
Seven out of ten of the club members had been to the war and come back and they had a camaraderie, which was hard to break into.
You kept your mouth shut and did as you were told.
If boat training was at six, you turned up at six or there was someone else to take your place."
Trevor Horton remembered those days.
"When they let you become an honorary junior, they didn't just let you loose.
These guys were all back from the Army and we were only kids.
They used to appoint a guy to look after you.
I had 'JoJo' Flint.
He taught me how to read the surf and how to swim.
I was under his wing."
Page 26
The 1960s
This level of discipline served the club well until the 1960s.
"They still had discipline within schools in those days," Ray Williams pointed out.
"They still had the cane.
I missed a patrol when I was on the committee and they gave me 26 winter patrols.
I had to clean the club every Sunday morning all through winter.
It was all right -I got the broom out, swept and hosed it down."
Ken Risbey gave another slant on the problem.
"In the sixties, Malibu surf boards came out and the kids formed board clubs, instead of having to go into a surf club and do eight years of patrols.
That was the beginning of the drop in membership.
There was a lot more to do and we just couldn't keep up with it."
Like most conservative organisations, surf clubs were slow to change.
The discipline, which many saw as having won the war and secured the beaches, was no longer accepted by a younger generation.
Many were "flower children" who were I rejecting all forms of authority from parents, teachers and governments.
...
Page 27
"The surf association did not roll with the times in the sixties," Col White explained.
"They were still living in the dark ages, when you had to buckle down.
There has to be discipline, but there were still people in the clubs who were saying 'you have to do this'.
It's a fine line.
New, shorter boards were coming in.
The board riding fraternity drifted away and that was the surf clubs' very future.
The membership at Queenscliff was probably 30 to 40 people, who were doing all the patrols.
In those days we were doing patrols on Saturday afternoon from 2-5 and Sunday from 9-5.
There were not very many kids coming on.
We were relying on the old guard.
Thank goodness, they were still there - members like Ken Baker, John Poole, Barry Leach, Graeme Forsyth, Ritchie Hunter and Peter Reedy, to name a few.
Very, very lean years.
By the mid-sixties, the board scene was heavily involved with marijuana, so they got a very bad name."
Animosity between clubbies and surfies was raised in the 1967/8 annual report which said, "the Club is not only a place to leave your surfboard".
Grant Spradbrow added, "At one stage, we wouldn't rent the hall to the local board riders.
That's how negative it was.
Then Peter Daley said, 'Let's not rent it, let's lend it to them'."
That was the beginning of a new, tolerant approach and a recognition that not only is there room for both surfies and clubbies on the beach, but that surfers, at times, can be a great resource for overworked patrols.
Today's club Captain, Andrew Harrison, has close connections with board riders.
"We're fine now.
A lot of the board riders are 35-year-olds.
Their kids are joining the club.
I'm a member of the local board riding club, so are my cousins.
Surfers realise that we've got to do a job.
We've all got to share the beach.
There's no use having a punch-up every weekend.
As a life guard, you look after them.
One day you might not have anyone swimming, so you put the flags somewhere that gives them the better wave.
When you have a mongrel of day, with rips everywhere, the board riders realise that, 'OK, the guy does the right thing'.
Board riders are one of your better resources.
They'll see someone floundering and they'll help them."
Mark Anderson, Boat Vice-Captain, added, "Especially if the flags are down and there's no-one around, the board riders are the ones who will do it."
Some areas of modernisation were less threatening.
In 1963, the club switched from wool to the new terylene march-past costumes.
Page 30
"Miss STC lX", the ninth boat sponsored by the company in 35 years, was built by club member and local boat builder, Roger Ninham and won more races in this one season, than any of its predecessors had done.
In the 1970/71 season, from 24 starts, it was placed first or second on 20 occasions.
The crew, Warren Molloy (sweep), John Poole, Roger Ninham, David Baldwin and Robert Burgess, won both the State TItle and the Australian Championship.
Page 31
Shelley Beach Jet Rescue Service
The Shelley Beach Power Rescue Group was formed from members of the three clubs on the beach, but early on, was hampered by lack of communication between the clubs and the boat.
The boat, called "Miss Electrical Industries", proved useful in 1970, when a number, of parachutists landed in the sea, during the Sun Herald Surf Spectacular.
In 1973/4, the SLSA handed the boat over to the three clubs.
In the 1975/6 annual report, under a new heading, "Affiliation'', there was a report from the Jet Rescue Unit.
On 9 April, 1978, Pioneer Concrete donated "Pioneer II".
The report noted that its predecessor, "Pioneer I", had been involved in 147 rescues, 48 in the current season.
The new boat arrived in the nick of time.
"Pioneer I" caught fire and sank off Queenscliff on 30 April.
Dave Piper recalled a rescue from the jet boat.
"George Somerville was the President. Noel Ferry did a rescue -pulled a guy out of the water in the break off the rocks, between Queenscliff and Freshwater.
It was a huge surf. It was very dangerous on the day."
"The jet boats were a lot of fun in a big surf -very efficient and easy to handle.
But they were too big.
You had to get five or six people to turn them around.
You had to put them on a trailer.
The expense was sensational.
We'd take them out in a fairly big sea, then go back and change the engine mounts.
Radios were in their infancy and they often didn't work."
On 8 January, 1978, cadet, Steven Marshall, saw a swimmer in difficulty in huge seas off the point.
He used the radio to call "Pioneer I" and in a few minutes, the swimmer was safe.
The three clubs battled to keep the big boats operational.
"They kept us all broke," Grant said.
"A jet boat was like a Formula One car.
It cost a fortune."
Peter Daley added, "It was too big to do rescues close to the shore.
If it came through the breakers, it got caught on the beach.
You had trouble launching it again."
By 1980, the boat was beset by mechanical problems.
In 1981, it was having sponsorship problems, because of the cost of maintaining and replacing the boat.
Even when the service finally got a cheaper Hydrofoiled outboard, powered boat, it had difficulty getting SLSA approval to operate on the beach.
In the 1983/4 season, responsibility for the management of the Shelley Beach Jet Rescue Boat was handed over to the Manly Warringah Branch, where it became part of mobile services and rescue co-ordination and reports to Queenscliff club ceased.
Page 32
The club fell foul of nature when "Miss STC VIII" was damaged "by a freak storm at Little Manly where it had been left after training".
It was holed in four places.
In the 1973/4 annual report, Secretary, Roger Clare-Nazer, wrote that the sleek "Miss STC lX" had "its bottom taken out in an unfortunate accident (while on loan) and whilst this was repaired it has not reached its past glories".
By this time, Alan Chapman had moved to Noosa where, the report said, "tall tails can be told about 'The Bucking Blade of oregon'."
This cryptic comment remained unexplained, until Alan received his Distinguished Service Award in 1987, when it became a little clearer.
"In spite of almost wiping out a new boat as a result of a collision with the Pool, it is said that Alan was responsible for the emergence of Queenscliff as a premier boat club."
"Chipper" Spradbrow said, "There were a few likeable sweeps.
Alan Chapman was one.
He was President for a number of years.
He was a real worker.
He was one of the guys who started to get the club moving."
It took Ray Williams to get to the bottom of the story.
"Alan Chapman was first boatie to put a boat into Queenscliff pool.
They were filming a cigarette commercial and he was catching waves in while they filmed it.
They kept saying, 'come closer'.
Then, he was in the pool, with the bottom out of the boat.
They did a story on him in Man Magazine called, 'The Pommy Champion on the Bucking Blade of Oregon'."
Page 41
In 1985, Queenscliff took delivery of "WD40 IX", a boat built by Bob Miles in the new style of ply/cedar veneer, coated with fibreglass.
Kiersten Hoy, the-first female Junior Captain, christened the Harbord Bowling Club IRB, which was won by the Queenscliff bowls teams.
It was a prize jointly presented by the bowling club and Carlton United Brewery.
Among its promotions in 1986, Queenscliff members re-enacted William Gocher's first daylight surf on Manly Beach, for Colonial Day.
Several members played the roles of arresting policemen.
The next year, President, Bob McGeachie, swam from a boat to Quarantine Beach, into the arms of the police and the year after, the new President, Tony Foster, played an escaped convict, who was placed in the stocks.
A large part of the attraction for club members, was said to be the opportunity to manhandle the President.
Page 54.
The bombora (a wave which breaks over a submerged reef) is a major feature of the beach.
It was mentioned for the first time in the 1929/30 annual report, which noted, "a particularly fine save was effected by the boat crew, in charge of the boat captain, Arthur Apps, when the North Steyne club's boat was capsized by a treacherous sea on the 'Bombora' about a mile from the beach, just at the close of the surfing season."
"The bombora is about three to four metres deep, so when a big swell comes up, these waves come up and break," Col White explained.
"It doesn't roll right through to the beach. It rolls into deeper water and peters out.
They come up capping to three or four metres high and very fierce."
Ken Risbey added, "If the bommie's running, it's of no real great concern because nobody except the board riders crack it."
In 1965, Tony Ritchie swept a crew which "cracked the Bombie", a feat not achieved since the days of Jimmy Bray in the 1940s.
"Its position depends on where the wind is coming from," Don Donkin said.
"It's closest to here when there's a nor-easter.
But it's shallow enough to have caused a near-fatality with a collier running from Sydney to Newcastle.
There was an anti- aircraft practice on at North Head in the early 1950s.
They used to close off a zone for four hours -12 thousand yards seawards.
Instead of going all the way around it, this collier motored in towards the beach to wait till it finished. It was dead low tide, he was full and he actually grounded on the bombora, cracked the hull.
The police launch raced out and put a pump on board.
It didn't sink.
A nor-easter puts up big waves and a southerly makes it impossible, it rolls straight in,"
Ken Risbey has had a close and personal encounter with the bommie.
"We decided we'd have a go at cracking the bombora in the surf boat, one Saturday afrernoon.
It was a misty, cold day.
We took a dustbin lid as a bailer -we didn't have a pump.
We got out, I don't know how we did it.
We turned around and decided to have a go.
We fell off the first one, went back out again and got the second one.
The boat just went up and down and the pressure of water was hissing.
It was a fantastic sensation.
We were three-quarters full of water and we bailed out and away we went again.
We cracked a wave again.
It was so powerful, the pressure of the water under the quarter bar snapped it like a match.
In fact there there was so much pressure, it took the quarter bar clear off.
That affected the stability and the boat started to crush.
We got out, but we were full of water.
We did so much structural damage to the boat, it only lasted another year or two.
It was only the second time then that the bombora had been cracked by a boat.
The first time was by Rastus Evans of North Sterne, before the war."
Over the years since then, the challenge of the bommie has been taken up by many Queenscliff crews, some with success.
Mark Anderson said, "When it's big...some of the young blokes like to get out there and try to kill themselves -see who can get the biggest waves.
It's dangerous because of the size and speed it breaks at."
Andrew Harrison's tried it. "You have to push down if you hit the bottom of the reef. There's the thrill and excitement of conquering the big waves, generally on low tide on a big swell. It might come through for a week."
Page 79.
---
---
Surf Boats
Surf boats have been an important part of Queenscliff club since the first boat, "Akubra", was donated by Dunkerley Hat Mills in 1925.
Later, Standard Telephones and Cables sponsored many boats.
Today, the major boat sponsor is Carlton and United Breweries.
Ken Risbey remembered "STC II".
"The old boat was built in 1935 and I was still rowing it in 1943/44.
They finally scrapped it in 1947/48.
We had two boats and you lined up to row in 'STC II'."
The old boats were very different from today's models.
Don Donkin said, "They used to build floor boards, so that it was level.
When you turned the boat over, you'd lose the floor boards.
They'd go floating away.
I was Boat Captain and we had the boat in the change room on trestles, for about two months.
I had the day off from the Army.
I came down with a couple of tools and l was doing a bit of work.
A carpenter from the Council said, 'Why do you need floorboards?'
I thought, 'Yeah, why do you?'
So we cut the floor boards up and put stringers along the bottom, straight onto the ...
Page 80.
... ribs, so you actually walked on these stringers.
I think we were the first surfboat ever to go into a race without floor boards.
In those days you had to have a thick brass strip that went the length of the keel.
It was so heavy, one man couldn't pick it up.
If you went boat training, you had to be back on the beach by six or six-thirty, or they'd all go home and you couldn't put the boat away."

---
Melborne Bitter,
circa 1994.
Page 80.
---
Ken added, "You needed 20 men to pick the boat up -now you need six or less."
Injuries are a possibility too.
"Johnnie Sullivan broke my leg in a boat," Ken recalled.
"We were just off the southern flag and there was a big sea and a rip running into the comer.
We were drifting into the crowd.
We picked our break and went.
It was a bit ...
Page 81.
... of a mistake.
When the wave hits you, you go up in the air and tense your feet in the stretcher so that you don't slip out.
He didn't.
Up in the air he went and came down on my leg.
I said to the Boat Captain, 'I think I've broken my leg.'
He said, 'your leg!'
We had to go to sea because we were drifting into the crowd.
They lay me underneath the seats.
He said, 'You've got a choice, we can creep in and try to get back into the beach without cracking a wave, or we can go for the biggest wave and hope for the best.'
I thought, 'Whichever way it goes, I'm gone.
If the boat goes over, I can't get out.'
I said, 'Take the biggest.'
All I could see was this wave coming down -and he cracked it to the beach.
I was five months in plaster."
Col White said, "There are few serious injuries, but I believe it won't be long before safety helmets are part of the gear.
It can be scary and the next day only your eyebrows don't ache."
Ken and Don have often crewed surf boats together.
"A good crew never looks back.
You can't see what's happening.
You watch the sweep's face and if he looks petrified, you know you've got a problem.
It's exhilarating.
To catch a good wave and hold it is really, really, really great.
To hold a wave in one of today's boats, is harder than it was in the old boats.
They were so big, they'd sit back in the wave.
These are right out in front.
They're quite difficult.
"Before you take the boat out, you've swum and you've surfed and you sit and have a bit of a look and see what's going on," Don explained.
"I've been down there, with four of us holding the boat and Jimmy Bray's been back here standing on the wall, picking the break.
Suddenly he'd jump down and run to the beach.
We'd get ready and he'd say, 'Go, now!'
If the session had four waves, he'd let three go and then try to get over the last, because if you catch the first one, there's three to hit you."
Joan Somerville has watched many hair-raising boat incidents. "It's always count the heads, when the boat goes over."
"We used to wear life jackets -big kapok things originally and cork later on, but they were dangerous," Ken said.
"They'd chafe and when the boat turned over, you couldn't dive under the water.
You couldn't get away from the boat, because you were bobbing around with it.
"When the boat flips, you dive to the bottom and let the boat settle down.
Come up and hope to hell you weren't coming up under an oar.
Then count heads.
Once there was one missing. It wasn't a big sea and there was a bank on the southern flag. Everybody was having a look.
Don't worry about the boat.
We couldn't find him, so we turned the boat over and there he was, inside.
He said, 'Where the hell have you blokes been?'
He was right.
There was an air pocket inside."
Don added, "We were training here one night and it got dark.
It makes it very difficult to come in.
The sweep's got to get down and look back to see if he can see the white foam.
We turned the boat over and the line came out of the bow box.
It brushed against Jackie Jones' leg and he yelled, 'Shark!'
It's very difficult for five guys to sit balanced on an upturned surfboat, but we did.
"My grandson, Luke Donkin, is a member of the junior C crew.
That makes him the fourth generation of our family to join Queenscliff."
"We've always had very good boat crews at Queenscliff," said Peter Daley.
"We've been well supported by sponsors to have good boats.
We have five surf boats.
Any other club would love to have the oldest one, let alone the four in front of it."
Andrew and Mark agreed that the first time in a surf boat is a scary experience.
"I'm into sweeping now, so I'm training a lot of guys," Mark said.
"It's like catching a wave with four of your best mates.
If everyone does everything right, you're going to be fine, but if one person makes a mistake, you might get into trouble and have to work your way out of different situations.
It makes you rely on people.
You won't beat ...
Page 82.
... the teamwork in a surf boat.
It's very disciplined.
I've spent a lot of time in the harbour, perfecting technique.
"The way surf boats are designed, they'll go over any wave, depending on how fast they're going.
On a big day, you sit and wait.
When the little bits of white wash come, the boat will just pop over them, then when you see a gap in the surf, you call the boys to row and as long as you've got the boat speed up and hit them square on, you're usually right to get out.
It's in competition that you might get in a bit of trouble.
The boat weighs about 200 kilos without anyone in it and if you get it full of water to the gunnels, it's about three and a half tonnes."
"You try not to punch through waves that are about to break, because you'll get a boat full of water and obviously it's a lot harder to row," Andrew explained.
"You wait, so that the wave will break and you just take one stroke and hold your position.
When you see that gap, you go like blazes."
Page 85
Boards and Skis
In 1938/9, for the first time, six rescues were performed with surfboards and one with
a ski.
Stuart Somerville remembered the early surfboards.
"In the 1930s, they'd go to Hayman and Ellis and get a plank of redwood, 12 feet long, three feet wide and three inches thick.
They'd mark it out with chalk, cut it round with an adze and put some stain on it.
That was a surfboard.
They were very good.
The hollow boards started to come in about 1939.
"Plywood surf skis were made in the late 1930s, by a character named Robson.
Fellows owned them and they used to occasionally pull somebody out of the water on them.
Then there were big sixteen to eighteen footers.
Hollow boards were used for racing.
Bob Evans was the head of the board era.
He made the first films on surfing in Australia."
Stuart, in his club Captain's report in 1951, noted for the first time, that board riding was becoming popular.
"Board riding is quite pleasant and very useful in the event of rescue work."
However, he warned, "too many are content to sit on their 'planks' all day".
A very early hint of difference in ethos between surfies and clubbies.
The first club Championship for Surf Boards was conducted in the 1947/48 season and the following season, Surf Ski Championships were held.
In 1949/50 the committee position of Board and Ski Captain was introduced and as the 1953/4 annual report stated, "This season saw an increasing number of members becoming keen Board and Ski riders.
The club is already established as a prominent Board and Ski Club on the North Side."
However, during the 1960s, competitive interest waned and it was not until the early 1970s, thanks to the enthusiasm of Dave Piper and the emergence of outstanding cadets in this area, that the club saw the development of a strong board and ski team.
Kim Gilbert was well placed at many carnivals and Scott Somerville achieved a bronze medal in the State Cadet Malibu Board event.
At the same time, Craig Susans was making his mark in the ski area.
...
Page 86
Queenscliff Board & Ski, 1953.
---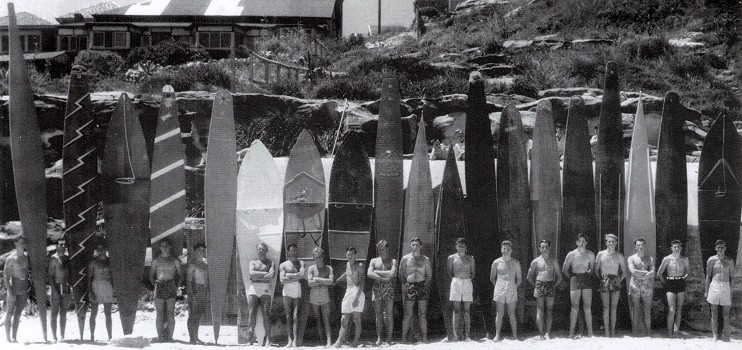 ---
1. B. Evans
2. A. Williams
3. G. Morrison
4. T. Webster
5. T. Mills
6. S. Brooks
7. R. Bathgate
8. J. Fry
9. A Webster
10. W.Taylor
11. G. Somerville
12. L. Kidman
13. R. Hanson
14. Webster
15. J. Illingworth
16. A. Robertson
17. l. Lawrence
18. R. Brand
19. R. Harney
Page 87
Peter Daley remembered the introduction of racing malibus to the club.
"In my first'year as Vice-President, we had no competition boards.
Col White wanted two and he got hounded down by the committee, because we had no-one to paddle them, so he ordered four.
We ended up with four people to paddle them.
Now we have a lot.
Sponsors pay a proportion and the club puts in a proportion.
At the end of the year, we can sell them and get better equipment."
"The boards and skis teach the kids how to handle surf, how to pick the rips, how to get a free ride out and a free ride home," Dave Piper said.
"They use them to do the rescues."
Page 96
Equipment
Times have changed on the beach.
"In the old days, we used to set up three reels," Grant Spradbrow recalled.
"A shark bell was mandatory over on the rocks.
Every surf boat had a reel, line and belt in the bow."
"These days, reel line and belt are used in competitions and in ceremonial march- past," Col White said.
"They went out of use in !escues and the rescue boats came in."
"Even though they saved a lot of people, they were quite dangerous near rocks or where there was a lot of weed," Peter Daley said.
"You had to be a pretty good swimmer to pull 300 metres of line.
That's a fair bit of weight."
Surfboards were in evidence early, but belonged to individual members.
"Our club Secretary was a policeman, 'Lofty' Sharp," Don Donkin said.
"He had a surf board.
He told the juniors, 'You can use my surf board, so long as you put it back.'
Occasionally we'd take it out, but you had to be with somebody, because you couldn't carry it on your own.
It was too heavy.
A solid piece of timber."
"Noel Ferry built a ski from marine ply with a hundred and someiliing brass screws.
Our sweep, Jimmy Bray, was a bit of an entrepreneur.
He'd gone to the Mitchell Library and got all the books on fibreglass.
He decided to make fibregtass dinghies, because there was no maintenance on them.
He took a mould off the old surfboat and made a fibreglass one."
Eventually, surfboards were recognised as legitimate lifesaving equipment, because they were, quite simply; better.
"They came in during the 1980s," Col White said.
"A board is four times as fast as a swimmer.
Torpedo tubes are a harness with about three metres of rope and a long foam tube, which is flexible and you can wrap it around the patient."
The next innovation was Inflatible Rescue Boats -IRBs or rubber duckies.
"They were poor quality at first," Col said.
"They had accidents, because they didn't have prop guards.
When they got prop guards, the motors weren't big enough, so they had to get 25hp motors."
Ken Risbey remembered, "People said, 'What good would that be?
A little rubber' ducky with an outboard motor.
It'll never work'."
Peter Daley said, "We had a very old IRB -14 years old -so we sold that and the motors.
We've now got two virtually brand-new IRBs with three brand-new motors.
These days, the majoriry of rescues are with IRBs."
Col added, "Currently, Leo Zaccone is our IRB Supervisor and with John Saxby, looks after our instructional and first aid equipment, including four Ambu- Mannikins.
They are worth a considerable amount of money.
We have eight or ten boards, for rescues and for Bronze work.
Surf skis are basically racing craft.
Competition stuff.
It's very difficult to get a second person on a surf ski."
Page 98
Col White remembered that the worst of the rescues seemed to happen when he was alone on the beach as an Inspector.
"I used my own malibu board to do rescues and was told by the Council that I shouldn't use it.
I was expected to use the reel, line and belt.
But when you were one-out, you had to leave it up to the public or surf club members who happened to be around, to haul you back to the beach."
...
Don Donkin said, "The biggest rescue I've been in was of more than 20 people -ii:, church group on a picnic in the late 1950s.
It was a quiet Sunday.
A fairly pleasant ...
Page 99
... day.
They all raced in and dived into the water together, all in the rip.
They went out together.
We had about six on patrol and a couple of old boards.
Barry 'Boots' Seymour paddled a board out and had them all holding the board.
He was a bit of a character and they were all right.
I went out in one belt and someone else in another.
We'd get two and they'd pull us in.
It took us an hour to get the 20 in.
Finally, they were off the point.
The last four were hanging on to the board and they slowly pulled us and the board and the people in."
Page 107
Transport
For its first few years, Queenscliff didn't have any way of getting its boat and gear to distant carnivals.
Col White said, "In the old, old days, they rowed the boat, as far up as Newport.
The rowers would take off at 8am, to be up there at midday, and you hoped they didn't get seasick or pull in to the pub somewhere.
Or, they put it on the back of somebody's truck.
That was still going on in the sixties."
Joan Somerville recalled, "The women supported the carnivals.
We went along on the back of open trucks.
I can remember going to Garie Beach.
A bit scary round the comers.
You'd hang onto the reel.
Sometimes we'd go to carnivals on public transport and carry the march-past costumes in a big bag."
The Sydney firm of carriers, E.M. Nield, provided the first formal transport. It lent the club one of its trucks, which enabled members to get to surf carnivals, complete with boat and gear.
This support began in the 1929/30 season and continued for a grand total of 21 years, excluding wartime.
Page 114
The last word went to Ray Williams.
"The shark warning came in handy when you were in the surfboat and you wanted to bring it in close to the boat shed, so you didn't have to carry it too far.
The flags were usually set up right in front of the boat shed.
You'd give the shark signal by putting all the oars up.
That would get everyone out of the water and you'd have a clear run to the beach."

---

Gilmore, Louise:
Queenscliff SLSC - 75 Years of Vigilance and Service.
1924 -1999.
Queenscliff Surf Life Saving Club Inc.
Queenscliff NSW, 1999.
---

surfresearch.com.au
---
---
Geoff Cater (2008) : Louise Gilmore : Queenscliff SLSC, 1999.
http://www.surfresearch.com.au/1999_Gilmore_Queenscliff_SLSC.html
---