When the twin fin was introduced to the surfing market, jaws dropped, sceptics laughed.
That was, until M.R. proved conclusively its ability to perform.
It became a standard forum for high performance surf designs on the Australian and world market.
A winner!
Then out of sheer need and obviously a great deal of thought, S.A. developed and showed the ability of a 3 finned board.
His brilliant effort on the contest circuit set a whole new trend throughout the world once again.

In fact the impact was so impressive that suddenly we found people talking about the 4, 5, 6, 7, 8 etc. finned surfboard.
All original!
Well, no matter how many fins you want on your board, allow me to introduce you to a shape of fin that will improve performance once again.
Ladies and gentlemen, grommets and surf nazis, this fin shape I refer to is the H.V. (High Velocity) FIN.
Before you can begin to appreciate this concept, you firstly must realise that, contrary to most people's beliefs, water does not travel down a fin.
It in fact travels across, front to back, not bottom to tip, which is the fallacy we've tended to design fins around.
If you can't come to grips with that, you certainly won't be able to handle the rest of the information.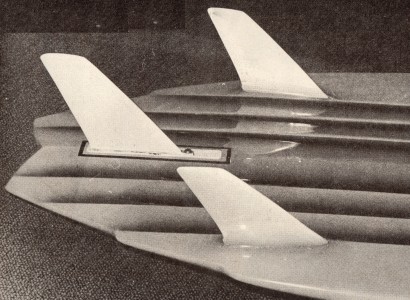 The H.V.
(Tranquility)