pods for primates: a catatogue of surfboards in australia since 1900
---
---
surfresearch.com.au

bob cooper : colour, 1980
Cooper on :
COLOUR
Conveying Surfing's Feeling
Through the Spectrum.
---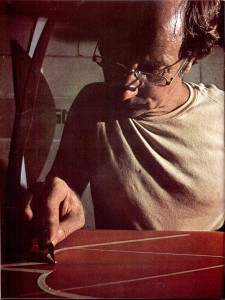 1. COOPER PERSUING HIS PINLINING PASSION
---
Probably because of my personalisation of my own equipment and having a sort of basic
art background, the rhythm and the colour of surfing, the people and everything else in it, I feel, could be tied in with the actual surfboard design and colour. The overall effect of this would be a unity reflecting the personality or aims of the individual.
I guess what really pressed my button on this idea was the fact that when I was learning to surf the only book on surfing was "Surfing in Southern California" by Doc Varle. You'd see the huge redwood boards all lined up, like the "San Onofre Club posing", the "Paddle Board Club posing", with these huge boards behind them like an immense picket fence. And the boards were personalised. They were all homemade, because there was no commercial manufacturing, guys would take their time and sign their work of art. Like a painting they'd put a specific insignia on it, or a picture of a beautiful girl, or something similar. This meant the thing that they'd probably taken months to glue up and carve out was made even more personal.

They got their idea from the early Hawaiians who of course did the same thing except they actually had a name for their board, that's how personal it was. George Downing had one called "Pepe", he's still got it, the name "Pepe" is inlaid in mother of pearl on the nose of it.

On one of my flrst trips to the Islands we went into Wally Froseith's basement and there hanging on the roof underneath this house were all these old ~ boards and he had names for i every one of them. I always remember one named "Sampan Row" and I asked him where that originated and he said: "Well, the biggest surf that you get is Outside Castles (Waikiki) and it's so big out there that the sampans, when they come out of Honolulu, are just passing outside the break". So that's the name Sampan Row, it was a big board reserved strictly for ridin "big big Outside Castles. I just thought that was great and I loved the way the words kinda roll off your tongue.It appears to me what happened was, when guys were making their own boards, the time involved with this project brought them a lot closer to the product, to the point where there was actually a relationship established.

It would take so long to carve out a redwood or a balsawood board that the prolonged involvement with this object would give you a feel or a name for it. By working at it on a day to day basis a sort of a relationship would be established to the point where it became almost an indentity.

This personalisation disappeared because we buy' em commercially now, made by other people. It's a product, which gives it a bit more of an inanimate feel and yet everybody knows that after surfmg a board for a period of time, there is something that becomes established between you and the board.

Everybody has or has had a good board that they really liked. Suddenly, when it's stolen from them, it's a definite loss, it becomes a possession of some unknown personality. There's a tremendous sense of loss and not just for the value of the board, it's for the time involvement - the invested good times that you've spent with this friend and the good times that this friend has provided for you.

THE NOSE DECAL,
ALWAYS A MAJOR
VECHICLE OF
IDENTIFICATION

---





---

2. THE DUKE WITH NAME
AND SURFING CLUB
EMBLEM, circa 1930.

---



3. CHRIS BYRNE WITH COMPANY
LOGO, circa 1979. - Substitute
---
Somewhere in the South Bay area of California, Hemlosa, Huntington or Redondo, in somebody's garage in somebody's corner is the original pig board.
Now the story on the pig board is that Velzy shaped a kneeboard, (or a belly-board we called it in
those days) for some guy. He gave it to the glasser and the glasser at that stage was kind of experimenting with putting names on boards, trying to give them a little bit of 'colour' because everything was that same balsawood colour. He painted a picture of a pig standing on a board on it and then he gave it to his brother to glass (they had a partnership going). The brother glassed the fin on the wrong end because when the pig was painted it was going in the wrong
direction. When the brother saw the pig he said "Okay, the pig is facing the direction the board will travel" so he put the fin on the other end.
So because of the mistake of an artist, the original pig board was born. Bobby Patterson borrowed
this board from a friend because he thought he could stand up on it and as soon as he rode the thing he just went haywire. It's only recently, since boards have gone short again, that the old pig principle,
which is the principle of the widest point behind centre has kind of faded out. But the artistic tie-in is there with development history.
I remember also when I was just learning, that you inevitably borrow everybody's board because you can't afford one yourself. Because they're everybody elses', you never get that feeling about them, it would just be that some boards are better than others. But when you get your first board, the one that actually belongs to you and that Igives you the power to say "No you can't borrow it, I want to go
out now", there's something, special about that board.
---
THE TWO PIONEERS OF THE AIR BRUSH MURAL ON AUSTRALIAN SURFBOARDS
---
---
4. MARTYN WORTHINGTON WHO WITH TERRY FITZGERALD CREATED A WHOLE NEW IMAGE FOR SURFBOARD DECORATION HERE. (Left)
5. THE WORK OF GOLD COAST BASED SHANE EGAN, TRANSLATOR OF FANTASY AND IDEALISM. - Substitute (Right)
---
When I was young I borrowed $20 from my father to buy this board and immediately sprayed it with copper paint and painted a tiki on the nose of it. I'd been practising these tikis for quite a while in school and I had them down really perfect. (I think that somehow or other affected my school grades too.) So when the time came I put the tiki on the nose of the board in black paint and it came out really good. The next thing I did to give it a nice shine was to put resin on top, because the copper (paint) had made it dull. Two days later, the effect of the resin on the copper paint tarnished the whole thing so that it was this metallic green colour that you get when copper has been left in the elements for quite a while. With my beautiful tiki on the nose, frankly, I liked the effect of it although it was very different from what I flrst anticipated it would look like.
While coloured surfboards have been around, even before fibreglass, as guys used to paint their old redwoods and things with marine paint, it always takes a somebody of major stature to give approval to a new trend because it's also pretty much an indication of where the owner's at. Certainly the colour that Mark Richards evokes in his wetsuits and his surfboard decor sets him apart from the ordinary surfer. Even while he's standing on the beach, to witness this tremendous display of colour before it even goes into the water is to establish an identification that's easy to reacquaint as soon
as it drops into a wave out there somewhere in the ocean.
---
---
6. MARK RICHARDS WITH HIS SUPERMAN 'MR' LOGO - Substitute (Left)
7. LARRY BERLTEMAN WITH HIS GEOMETRIC DESIGN OF LAST SEASON (Right)
---
Attention and notoriety is obviously what you need if you're going to become a professional surfer - you're going to want people to take notice of you. Fame and fortune do not come with anonymity, you have to be seen and idolised. If people are going to ask you to endorse their products it's because of your ability to influence the thinking of others. Somehow or another that genius the professional surfer has also must be transferred to the consumer through a product association, even if it's not a
personal association: "Mark eats Grumblies for breakfast and so do I". Even though Mark has
never seen you and you've never seen him, you both do the same thing, therefore there is a strong identification between Mark and yourself.
When Australia got permission] to become a "World Power in Surfing", initially through the international wins of Midget Farrelly and Nat Young, the attitudes also changed in regard to the fact that they could now become leaders and did not have to remain followers. This pervaded the surfmg industry as well.
All board decals, when I fIrst came here in 1959-60, were direct rip-offs of long established labels. The departures from this copy cat tradition started to occur after the wins of these two people, and they've continued.
---
---




---

8. THE INSTANTLY RECOGNISED McCOY LOGO ...






....WAS DERIVED FROM THE
KEYO LOGO
HIGHLY POPULAR
IN THE 60'S "NEW ERA".





THE KEYO LOGO WAS ITSELF DERIVED FROM
THE CALIFORNIAN
HOBIE LOGO.
- Substitutes
---
As Australia grew to become a world surfmg power, which it seemed to arrive at five or six years ago, so did the individuality of it's boardriders and designers. The idea that "We don't have to follow anybody anymore, we've shown that we know as much as they do, we can now do our own thing" is also manifest in the colours and in the decor of the surfboards from this country.
On my last visit to California, which admittedly was years ago, I was not impressed with their, I guess colours, or decoration -the creative signature of Californian surfboards was very subordinate, which also seemed to reflect their position in the world suring scene. Whereas Midget Farrelly, in the old Brookvale shop, was virtually screaming the superiority of Australian boards and surfmg and surfers in the colours and in the combinations and in the finish of the boards that he was making at that time. His impression on the market at that stage was so immense that direct planshape, colour combination rip-offs were acceptable as the only way that you could possibly compete.
This same shout of confidence is reflected in the Terry Fitzgerald/Martin Worthington combinations. Although the airbrush on surfboard idea was not unique to Fitzy, he brought the idea back I think, the end detail that was delivered by the combination in the motifs and in the murals and in the involved artwork, was defmitely unique at that time. It's only now being duplicated in various other parts of the
world. I remember er that tremendous feeling I had when I saw a broken and battered Hot Buttered that had obviously come off second best with the rocks at Kirra, sitting in the used and destroyed board racks of Goodtimes (Surfboards) in a Kirra. On the bottom of this thing was this gorgeous mural with huge dents and scrapes and shatter marks and dirty wax all over it. I thought to myself what a tremendous crime that this piece of artwork was now going to be resigned to the junkyard somewhere, hopelessly unrepairable. It had the signature of good art, you knew that it was an original, that someone had taken a lot of time with rhythm, the composition and the flow. It was all there. And it was very disappointing, the feeling I had in the pit of my stomach when I saw it there just destined for the junkpile.
Surfboard art, I guess, really has to be throwaway art because of the nature of canvas - foam and fibregiass eventually. deteriorates, and there's nothing you can do about it.

---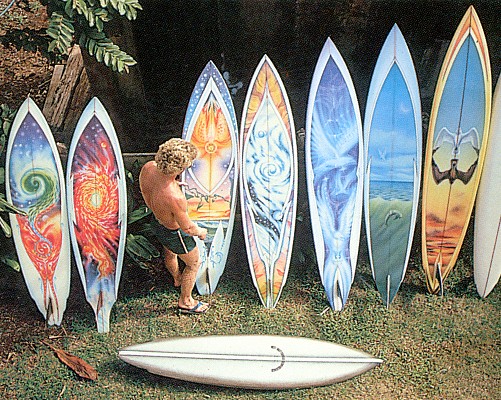 ---
9. COLOUR JUNKIE TERRY FITZGERALD ALWAYS DRAWING THE NEON LINE.
THE RAINBOW HAS PROVIDED INSPIRATION FOR A UNIQUE HOT BUTTERED IMAGE.
- Substitute
---
Every kid who's ever paid to have the masterwork, of a Worthington or a Wolf or an Egan or someone else's abilities on the bottom of his board, I'm quite certain when he picked it up from the boardshop that he felt he would keep this forever, that nobody would ever harm it and that he'd treat it like the precious jewel that it was. Perhaps the thought was that in the future it would hang on his living room wall or become an heirloom for his children. But somehow or other, all that fIrst pick up day showroom magic disappears, the board becomes redundant and all the time and the special genius that went into that mural is passed on and eventually resides in garages and junk heaps and used board racks up and down the coast.
In working out designs to put on surfboards, you have to keep in mind the objective of the board and figure out somehow or other how to enhance that objective through line or colour or combination.
It's difficult to get past the basic foil or ramifications of those same curves because every line of a board is a flowing line. There is, to my mind, nothing static in either planshapes, bottom curves or rail line. The variation of course is airbrush. Here you can put the creation of the world on it because you're not enhancing the board, you're creating a whole different visual excitement trip. The board becomes a means of expression, you're not really enhancing the boards existing lines, you're not further developing the board, you're creating a whole different visual excitement trip. The board becomes a vehicle of conveyance of mood and idea - Speed and colour or colours that denote speed: bright colours, sharp colours, deep water fIsh flashing at speed through depths, the curve of porpoises' backs, sea birds, jet planes, rocket fIsh, flames, heat, all the things that denote speed and performance.
A design factor of great importance to both the look and image of a manufacturer's product is his trademark or logo. One combination that has stood the test of time is California's Hobie Alter and his flying H. However, I don't think any logo has been more successful than the Lightning Bolt which is of course a speed car symbol. It's one that everybody identifies with strongly. That ideally is what most manufacturers are looking for now. But I think that the difference is that although there are plenty of symbols around, the test is, can you make that partIcular symbol mean something? Which of course
Gerry Lopez has done quite often.

---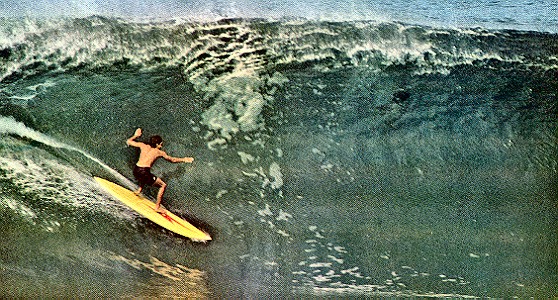 ---
10. GERRY LOPEZ WITH THE BOLT
- PROBABLY THE MOST SUCCESSFUL SURFING LOGO - Substitute
---
Board decoration seems to be pretty much limited to full colours, half colours, pinlines, airbrush, and within the airbrush category you can get full tip to tail murals or just the spot, a couple of dolphins leaping on the nose or something like that.
The pinlines are my personal favourites, probably because I don't have the patience to do airbrush. It takes a very special dedication to put that much time and effort into the creations that go into really really good airbrush and to just see them walk out the door, I personally couldn't do that. But I guess the people who do these things need the money and also need the avenue of expression. At least their work is being appreciated and they're being allowed to do what they enjoy doing.
The inventor of pinlines is unknown to me, but I think the idea came from the radical customisation of hot rods era in the late 4Os and early 50s with pinline specialists in America like Von Dutch who was probably the empitomy of decor masters - flames and scallops and all this sort of thing on hot rods. Somebody must have picked up the idea that the cutline that you get when you lay up the bottom
and top of a surfboards glass, might best be served by turning it into a decoration of sorts. And so pinlines began with the idea of covering up that cutline so that it looked a little better, and from there the idea just exploded - two pinlines are better than one, two pinlines of a different colour
is even more exciting, and there it went.

---
11. SIMON ANDERSON AND BROTHER MARK DESIGNED THE UNIQUE WIDE
BORDER RAIL LOOK,
BACK AT ENERGY'S INCEPTION
FIVE YEARS AGO.

THE DESIGN AND
THE TRIANGLE SUN LOGO
HAS BECOME SYNONYMOUS
WITH THE ENERGY PRODUCT
AND IS STILL POPULAR IN 1980.

- Substitute
---
In doing a pinline and colour panel work, you always start out with an idea, and it's usually a strong idea of what you want to put on the board as far as the colour and line layout goes, but as soon as you start putting the tape down, the vision gets very very foggy because the tape then becomes another set of lines. You find that you're working in the negative, when you've laid everything out with the tape you're seeing the negative of what you're going to put on. Then when the colour is applied it's always a big wonderful surprise when you pull the tape off and see what the final result is. For me, that makes it always it exciting because you never really know, even though you have a fairly strong concept of what's going to come off, you never really know until you do pull those lines off and trim them up. I'd then walk away from it and see what else it needs to involve me further, to make it really work. Often a stronger line here or another panel there will give it that completeness that you don't know until you finish it.
For colour combinations and colours on colours, such as colour lines on a colour, background, it helps to know the person who the board's going to. To people who are of a conservative nature you wouldn't give bright clashing colours, colours that excite. You'd give them colours that are sedate, that speak of organisation and composure, that accent the image that they project. Unless of course they give you, a directly opposite order. I always think of what. the guy wears, what he drives, how he speaks and then his surfing style too. You don't build a turning, super hotdogging board for a guy who likes to make long running drives. You would also make long running designs of a fairly simply nature for this would seem more like the person. Whereas a hotdogger, a guy who's really out there to
bend it, would of course get brighter colours, a more broken up design, hotter panel combinations. If you can tie the colours in with the guys surfing personality then once again you're enhancing his abilities visually. And if you've enhanced it designwise, you've come a lot closer to satisfying at least the image that this person projects, which I'm sure is also the image that he's aware of.
A happy customer is the end satisfaction, a guy who's pleased all the way around with the product that, he's purchased. Tbe idea being to satisfy all the levels of personal need which of course are physical and mental. I'm not prepared to say which is the most important of the two. I personally find the mental is much more important than the physical because that's where the satisfaction feeling rests, in the mind, not in the body.

---
| | |
| --- | --- |
| 12. COOPER PULLS THE TAPE. | 13. COOPER PULLS THE TAPE #2. |
---
---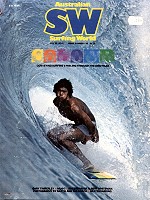 ---
Bob Cooper : Colour
Surfing World Magazine,
Volume 29 Number 2 (circa May 1980) pages 28 to 49
---
Notes
1. Bob Cooper is an expatriate Californian surfer with extensive surf knowledge.
2. A brief history, design options and comments on the psychological impact of surfboard decor.

---
Images

Note : The original article is richly illustrated with many photograghs and detailed captions.
Also there are several images that illustrate one design (eg MR, Simon).
Therefore...
- Many are large surfing shots and they have been largely substituted with board portait images that are applicable for other entries in the site.
- The captions have been entered in roughly to illustrate the text, but for the multi-images these have been combined and edited.
- Some captions have been deleted.
IMAGE CREDITS
1. COOPER PERSUING HIS PINLINING PASSION
Surfing World Magazine, Volume 29 Number 2 (circa May 1980) page 28
Photograph by Aintionn

2. THE DUKE WITH NAME AND SURFING CLUB EMBLEM.
Surfing World Magazine, Volume 29 Number 2 (circa May 1980) page 30
Uncredited

3. CHRIS BYRNE WITH COMPANY LOGO - Substitute
Surfing World Magazine, Volume 29 Number 4 page 79
Photograph by Aintionn
Original photograph and caption :
PHIL BYRNE WITH COMPANY LOGO AND SPONSOR

4. MARTYN WORTHINGTON WHO WITH TERRY FITZGERALD CREATED A WHOLE NEW IMAGE FOR SURFBOARD DECORATION HERE.
Surfing World Magazine, Volume 29 Number 2 (circa May 1980) page 35

5. THE WORK OF GOLD COAST BASED SHANE EGAN, TRANSLATOR OF FANTASY AND IDEALISM. - Substitute
Surfing World Magazine, Volume 26 Number 1 page 77
Photograph by Bruce Channon

6. MARK RICHARDS WITH HIS SUPERMAN 'MR' LOGO - Substitute
Mark Richards, Merewether Beach, NSW circa 1979
Surfing World Magazine, Volume 28 Number 3 page 64
Photograph by Aintionn


7. LARRY BERLTEMAN WITH HIS GEOMETRIC DESIGN OF LAST SEASON
Surfing World Magazine, Volume 29 Number 2 (circa May 1980) page 46
Photograph by Warren Bolster

8. THE INSTANTLY RECOGNISED McCOY LOGO ...- Substituted
surfresearch entries
Original photograph and caption :
MARTY LEE, SHOWING McCOY DERIVATION AT MAROUBRA. PHOTOGRAPHY TONY NOLAN.

9. COLOUR JUNKIE TERRY FITZGERALD ALWAYS DRAWING THE NEON LINE.
THE RAINBOW HAS PROVIDED INSPIRATION FOR A UNIQUE HOT BUTTERED IMAGE. -Substitute
Not Sure

10. GERRY LOPEZ WITH THE BOLT - PROBABLY THE MOST SUCCESSFUL SURFING LOGO
- Substitute
Gerry Lopez, Pipeline circa 1973
Photograph by Lerner
Surfer Magazine Vol 14 # 3 September 1973 page 48

11. SIMON ANDERSON AND BROTHER MARK DESIGNED ... - Sustituted
Simon Anderson and Hawaiian Quiver, Winter 1977.
Surfing World Magazine, Volume 30 Number 1 page 28
Photograph by Aintionn

12. COOPER PULLS THE TAPE
Surfing World Magazine, Volume 29 Number 2 (circa May 1980) page 49.
Photograph by Aintionn

13. COOPER PULLS THE TAPE #2
Surfing World Magazine, Issue 240 (circa May 1995?) page 82
Photograph by Aintionn
This photograph taken circa 1979 in the same shoot as Image 1, but was not published until 1995.
---

surfresearch.com.au
---
---