In fact, at the finish, the two world champions- Young and Felipe Pomar of Peru- were deadlocked based on points accumulated by five judges on their five best rides of the day.
In an unprecedented situation, it was necessary tor the judges to carry their scoring through four extra waves—nine rides in all—to establish a point of separation between the rivals.
Pomar received $1,000 for second place.
He was followed by Jim Blears of Hawaii. $700.
Peter Drouyn of Australia, $500, Gerry Lopez of Hawaii, $300: and Mike Halley of Hawaii, $100.

"The sport of professional surfing grew ten years in two days." commented Ronald Sorrell, commissioner of the IPSA and Honolulu stockbroker.
Fred Hammings Jr,, 1968 world champion and contest director, lamented: "This is the most exciting contest I've ever seen.
What am I doing on the beach?"
Eduardo Arena, president of the World Surfing Federation, who had flown from Lima, Peru, to serve as chief judge, said the contest offered the best conditions and competition of any in his memory.

Page 65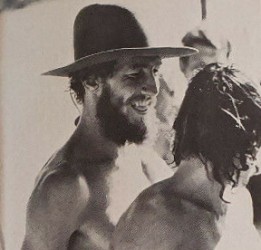 Nat Young ... winning again.