Page B

Keone was also at the mercy of the waves.
...
Nat didn't have the waves he wanted, perhaps another board, would have seen him through better.
Perhaps he had the one he liked, but couldn't get it doing what he wanted.
It was Rolf who was able to show what he had going, and it was Rolf who should have won.
From the very beginning he did well.
Only once in his semi did he nearly miss when he took a fourth.
It was in his last semi, that I could manage on three waves to come third to Rolf's first.
We all used different boards, though speed was the key to all our riding.
Had a movie been taken of the final, I'm sure we could see some way-out riding.
High-speed, rail-skittering surfing on fast, peeling waves.
The waves were good for the final, in fact they seemed to be touching on their best.
Perhaps a shade under one of the semis, when the waves as big as eight and ten feet began to punch through.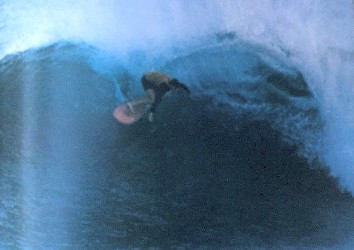 [Rolf Arness]