pods for primates : a catatogue of surfboards in australia since 1900
---
---
surfresearch.com.au
bev morgan : u.s. championships, 1964
---
Bev Morgan : U.S. Championships, 1964.

---
Morgan, Bev:
U.S. Championships, Huntington.
Surfer
Volume 5 Number 6
January 1965. [1964]

Copy courtesy of the Graham Sorensen Collection.

---
Introduction.
The contest report ot he U.S Championships at Huntington Beach was written by Bev Morgan, with several illustrations by Rick Griffin.
Mosyt of the photagraphs are probably by Morgan, two are accredited to Brower.
Typical of the era, the contest directors instituted their own rules and regulations, Morgan concluding that "the sport of surfing will have better contests when the standard U.S.S.A. program is used in all major contests." -page 31.
In a major development, the City of Huntington Beach required that all the contestants wear helmets, a requirement that appears to be confined to contests here.
The contest included paddling and dory races, not without some difficulties; in the Surf Club Relay "All teams disqualified for one or more rules infractions."

The men's Open Champion, Jim Craig, was profiled on pages 34 and 37.
Noted for riding a board shorter than most surfers of the time, Craig's subsequent competitive career, unlike his fellow finalists, appears non-existent
Australian Rodney Sumpter, won the Boy's event, was third in the Pier Paddling, and a member of the winning Hobie team in the Paddling Team Relay.
The Hobie team included Corky Carroll (first in the Pier Paddling), Hobie Alter, and Phil Edwards, who's Phil Edwards Model Surfboard, said to be the first of many, introduced in this issue.

Articles
Paul Gebauer: Control Your Wipe-Out, Surfer Tips #14, page 19.
Fred Hemmings Interview, pages 10-13 and 92-93.
Fred van Dyke: Explosive Sunset Beach, photographs by John Severson, pages 42-53.
Ron Perrott: North With Cabell, with photographs by Ron Perrott and Alby Falzon, pages 57-61.
Cabell's trip to Angourie after the 1964 World Contest , the colour layout shot (pages 54-55) was later offered as a Surfer magazine poster.
Doug Walton: The Hazards of Surfing, a case for surfing helments as used at Huntington Beach, pages 63-65.
Reader Photos, pages 66-75.
Contests, page 79.
East Coast Surf Scene, pages 80-87.
---
Page 29
HUNTINGTON BEACH
U.S. SURFING CHAMPIONSHIPS
SURFER goes to Huntington with Griffin and Morgan for a unique coverage of the awesome spectacle.
The '64 Huntington Beach Surfing Contest (now called United States Championships) will be long remembered for its treacherous conditions.
The waves were bIg, the current strong, and the contestants in many of the events had to shoot the pier with everything against them.
Every ride on the southeast side of the pier was a cliff-hanger.
The spectators were kept on the edge of their seats for the entire two days.
In the pre-dawn darkness of Saturday, September 26, several hundred contestants and spectators gathered on the beach for the start of the contest.
A heavy overcast delayed the start as the judges could not see the contestants in the darkness.
There was enough light, however, for the contestants to see what was in store for them.
A strong, consistent, south swell was slamming in.
Huntington is a straight, sand beach that runs for miles broken only by the pier.
In small and medium surf, shifting sand bars form makeable breaks at many places along this beach.
When a powerful south swell comes in, one of the few places that is rideable is next to the pier.
To the southeast of the pier large waves push great quantities of water in toward the beach.
If the waves are consistent, such as they were during the contest, the water cannot flow back out through the surf.
This creates a turbulent river that
Page 30
rushes along shore between the breakers and the beach.
The pier resists the wave action, and this offers the water a point to flow back out to sea.
This rip current that flows strongly out under the pier digs a deep trough iri the sand.
The surfers at Huntington had to take advantage of the outgoing current and deep water (where waves seldom break) to get out.
The contest was run simultaneously on both sides of the pier.
The Junior preliminaries and semi-finals, the Women's Open, and the Tandem events were held on the northwest side of the pier.
It was very difficult to get back outside after a ride if the contestants went left, so most of the contestants were going right into the rip and paddling back out.
The Senior Men's, Men's Open, and Junior Finals were held on the southeast side of the pier.
Most of the rides there were lefts directly into the pier.
The larger waves were not backing off at the pier, but were crashing right through it.
This combined with the strong side current made pier shooting very dangerous.
The majority of contestants in the preliminaries choose to straighten out before they came near the pier and prone out the initial blast as the wave came over, then go right away from the pier.
A few surfers that tried to straighten out and get away from the pier were helplessly swept into the pilings by the side current.
The City of Huntington Beach required that all the contestants wear helmets, which were issued before each heat.
Many of the contestants objected very strongly to this requirement.
Although there was a great deal of controversy for and against the helmets, the general feeling was that the choice of using the helmet or not should be left up to the contestant (see Special Report-HELMETS).
Saturday morning was glassy and the west wind reached 13 miles per hour in the afternoon.
This chopped up the waves and added to the difficulty in riding.
Sunday the waves were bigger, but very glassy until late in the morning.
By the finals a 28- mile-per-hour westerly was howling through the pier.
Needless to say, it was all the contestants could do to stay on their boards in the large lumpy waves.
Page 31
It was a spectator's contest from beginning to end.
Most of the contestants would have preferred different conditions.
Several top competitors were eliminated by unlucky events.
L. J. Richards (last year's winner) took off on a big wall and received a bad cut on his chin in the wipe-out.
Gordon Duane ("Gordie") helped L. J. for a few minutes and was disqualified for not riding enough waves.
The rules of the Huntington Beach Contest were not the standard United States Surfing Association rules.
Although the methods of judging and running a contest cannot please everyone, the sport of surfing will have better contests when the standard U.S.S.A. program is used in all major contests.
Page 32
RESULTS:
Men's Open
1st Jim Craig, 18, Hermosa Beach
2nd Dewey Weber, 25, Venice
3rd Mickey Munoz, 26, Dana Point
4th Mike Doyle, 23, Los Angeles
5th Rich Chew, 19, Seal Beach

Women's Open
1st Linda Benson, 20, Encinitas
2nd Joey Hamasaki, 17, Torrance
3rd Joyce Hoffman, 17, Capistrano Beach
4th Gail Yarbrough, 18, Manhattan Beach
5th Linda Skinner, 19, Santa Ana

Boys
1st Rodney Sumpter, 17, Australia
2nd Johnny Boozer, 17, Huntington Beach
3rd Dale Struble (sic, Sturble), 15, Palos Verdes
4th Roy Seaman, 16, Malibu
5th John Kobzev, 16, Seal Beach

Senior Men
1st George "Bo" Boeck, 37, San Clemente
2nd Ken Kesson, 35, Ventura
3rd Donald Anderson, 36, Redondo Beach
4th Lorrin Harrison, 51, Capistrano Beach
5th Ted Sizemore, 54, South Laguna

Novice Mixed Tandem
1st Don Hansen and Linda Benson
2nd Corky Carroll and Betty Carhart
3rd Bill Silzle and Nancy Duesler

Novice Mixed Tandem
1st Don Hansen and Linda Benson
2nd Corky Carroll and Betty Carhart
3rd Bill Silzle and Nancy Duesler

Open Mixed Tandem
1st Preston Peterson and Sharon Barker
2nd Mike Doyle and Linda Merrill
3rd Hobie Alter and Dina Bolton
4th Jim Robb and Danny Sue
5th Ilima Kalama and Leola Kanalani

Dory Race
1st Carpinteria with Jeff White and Paul Hodgert
2nd Zuma Beach
3rd Newport Beach
4th L.A. City
5th L.A. County

Pier Paddling
1st Corky Carroll, 16, Surfside
2nd Bob Moore, 19, Redondo Beach
3rd Rodney Sumpter, 17, Australia

Huntington Beach Girls
1st Anne Harrington, 19
2nd Melody Rogers, 15

Huntington Beach Boys
1st Robert Kooken, 17
2nd John Boozer, 17
Surf Club Relay
1st Windansea of La Jolla
2nd Long Beach
3rd Malibu
4th San Clemente
All teams disqualified for one or more rules infractions.
Race declared four-way tie and a trophy presented to each club.
Paddling Team Relay
Hobie competition team defeated Harbour by one foot in a close finish.
Members of winning team were Corky Carroll, Rodney Sumpter, Hobie Alter, Phil Edwards, and Bing Boka.
For Harbour were Rich Chew, Pete Kobzev, Tim Dorsey, Neil Grider, and Mark Martinson.
Page 33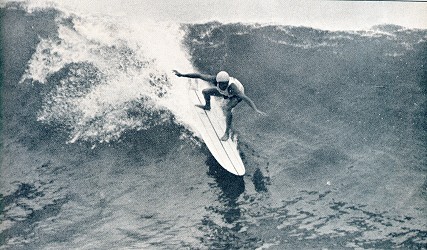 [Unidentified competitor in safety helmet, Huntington Beach, 1964]
Photo by Brower
Page 35
JIM CRAIG - FIRST PLACE
Jim Craig has been surfing about six years.
Just 18, this is his first year in the Open Men's competition at Huntington Beach.
In the last two years he was in the Junior competition at Huntington, but did not make the finals in either year.
He started surfing near Longfellow Street in Hermosa Beach and calls the South Bay his home.
He rides a short (nine foot), light (18 pound) Jacobs surfboard.
The South Bay beach break is an ideal surf for a short board (his last board was eight foot seven inches).
The surf at Huntington was big and treacherous, but Craig proved himself the equal of it.
We asked Craig what he felt about the contest and what he thought when he was announced winner.
"I couldn't even get on my feet when I heard I had won it.
I just sat there.
Yeah, it was all unbelievable.''
...
[incomplete]
---
Page 42
Explosive Sunset Beach
Fred van Dyke:
Photographs by John Severson.
Page 49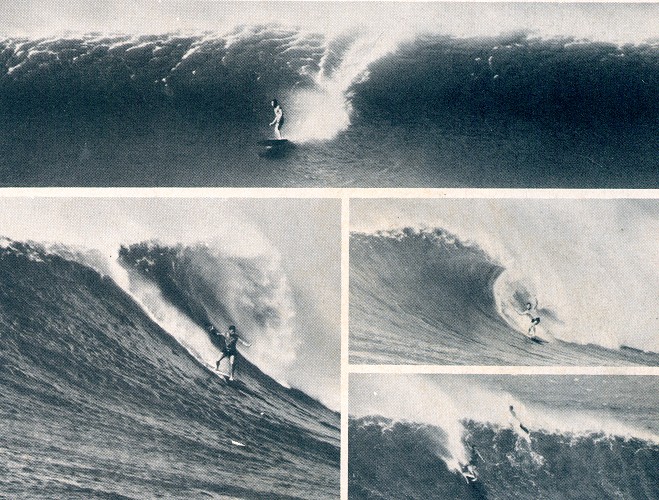 \
The master at work.
Paul Gebauer is shown in various positions at Sunset.
Gebauer drives hard and surfs the place to the fullest.
[Four of nine]
---
Page 56
North With Cabell
By Ron Perrott
Photographs by Ron Perrott and Alby Falzon.
Page 57.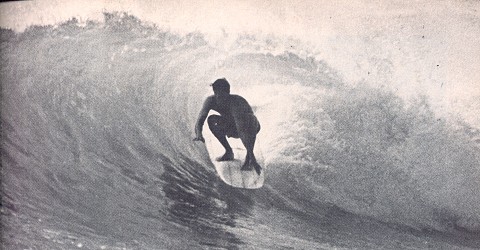 Cabell squats in in hollowness in one of his better Angourie waves.
Page 59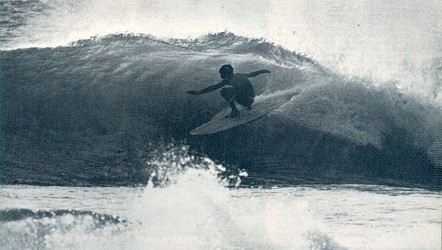 In outstanding form is Australia's Bobby Brown surfing at Angourie.
Page 61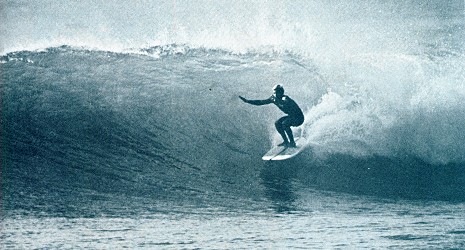 Ron Perrott shot the bottom photo featuring John Witzig, also along for the trip.
---
Page 63
The Hazards of Surfing
Special report by Doug Walton
...
Page 65
...
The protective headgear that had no place in surfing ten years ago may now be necessary.
There is such headgear on the market to-day - lightweight helmets made with fiberglass shells and polystyrene liners offer remarkable impact protection, yet weigh about 16 ounces.
The primary purpose of these helmets is to offer protection to novice surfers and to those who surf in heavily congested areas.
In conclusion, I wish to state my sincere belief that protective headgear has a definite and undisputed place in the sport of surfing and that this safety device is here to stay.
Editor's Note:
A helmet of this type was selected as the required protective headgear for all contestants in the 1964 National Surfing Championships at Huntington Beach and proved somewhat unpopular.
Surfers resented forced helmet wear and felt it affected their surfing.
A few, who had practiced with helmets, offered less criticism.
Several surfers, during the contest, received solid blows on the head and were thankful for a the headgear.
We believe that there's a time and place for the helmet.
Congested situations such as are frequent at Doheny, Huntington, and other popular beaches, warrant the use of a helmet.
In a contest at Huntington the helmet should be optional.
In big surf we do not yet recommend the present helmet because of its yet untested status.
There are foreseeable problems in the big surf with water pockets in the helmet, tightened straps, difficult swimming, problems with diving beneath waves, and other situations that may be discovered only when the helmet has been adequately tested in the surf.
It's unfortunate that the helmet's first major public use was a forced one.
This in itself may slow its acceptance.
It has a place and the present helmet is excellent and recommended for immediate use in small surf and congested situations.

---
Page 68
Reader Photos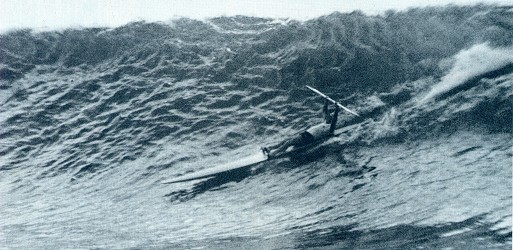 "Snowy" McAlister rides his 16-foot "long board" [surf-ski] on a good sized wall at the Fairy Bower.
Photo by Chris Peel.
---
Page 79
Contests.
WORLD CONTEST IN PERU / February 19-27, 1965.
Final dates have been announced for the Second Annual World Contest, this year to be held in South America at Peru's fine beaches.
The contest promises to be an extremely successful event.
Already Peru's Club Waikiki has received excellent support from local newspapers and airlines in helping to bring leading surfers to Peru.
At present official invitations have been sent to leading surfers in California, Hawaii, Australia, France, and South Africa.
The trip to Peru is an unforgettable experience and any surfer capable of making the trip and interested in entering the world contest should write to Contest Chairman, Eduardo Arena, Apartado 180, Lima, Peru.
MAKAHA SURFING CHAMPIONSHIPS / Christmas
Although the official dates for the Makaha Surfing Championships have not yet been announced, it is assumed that they will again run over the Christmas holidays - between the 19th of December and the 3rd of January.
Interested participants can write Wally Froseith in care of the Waikiki Surf Club, Waikiki Beach, Hawaii.
The Makaha Contest has traditionallyattracted a large number of top surfers from throughout the world.
Although the organization and judging has often drawn sharp criticism, the spectacle remains a leading contest.
FRENCH NATIONAL SURFING CHAMPIONSHIPS / August 30 [1965]
Philippe Gerard emerged victorious in the French National Championships held in late August.
The finals featured outstanding six-foot surf with offshore winds blowing at La Barre.
Philippe edged out SURFER's representative, Joel de Rosnay, both of the Surf Club de France.
The Junior contest, held in very hot five to seven foot surf, brought no surprises as the outstanding Jean- Marie Lartigau captured first place.
RESULTS:
Senior Men
1st Philippe Gerard
2nd Joel de Rosnay
3rd Eddy Ladd
4th Andre Plugcoq
Junior Men
1st Jean-Marie Lanigau
2nd Michel Clos
3rd Pierre Roumagnac
Girls
1st M. C. Delanne
2nd F. Cazayous
3rd C. Tardrew
SAN CLEMENTE SURF CAPADES / September 10-11 [1964]
Running like a well-oiled machine, the U.S.S.A.-operated San Clemente contest ran like clockwork.
With an amazing 500-plus entries the initial heats on Saturday were through by three o'clock in the afternoon.
The surf was medium in size with the usual early-morning glassy water and windy, choppy afternoons.
It was the first major contest win for Richard Chew.
Taking note of his ability and consistency, we think he will be placing high in future contests.
CONTEST RESULTS:

Men's Open
1st Richard Chew
2nd Joey Cabell
3rd Phil Edwards
4th Donald Takayama
5th Mike Doyle

Junior Men's
1st Rod Sumpter
2nd Herb Torrens
3rd Corky Carroll

Senior Men
1st John McFarland
2nd "Bo" Boeck
3rd Wayne Schafer

Boys (14 or under)
1st JoJo Perrin
2nd Drew Harrison
3rd Ricky Ryan

Women's Open
1st Joyce Hoffman
2nd Joey Hamasaki
3rd Judy Dibble

Novice Tandem
1st Mickey Munoz-Tina Trunich
2nd Don Hansen-Linda Benson
3rd Jim Graham-Pauline Luton

Open Tandem
1st Pete Peterson-Sharon Barker
2nd Mike Doyle-Linda Merrill
3rd Hobie Alter-Diana Bolton

Pier Paddle
1st George Rotgans
2nd Corky Carroll
3rd Rod Sumpter

U.S.S.A. Man Team Paddle
1st Windansea (A team)
2nd Windansea (B team)
3rd Long Beach (A team)
---
Advertisements
Hobie Surfboards: introducing the Phil Edwards Model Surfboard, page 1.
Dewey Weber Surboards: New factory floor-plan, pages 8-9.
Jacobs Surfboards: Winners at Huntington ... Jim Craig - First, Men; Mike Doyle - Duke Kahanamoku, Most Outstanding Surfer; Joey Hamaski - Second, Women, Dale Sturble - Third, Jr. Men; page 4.
White Stag Wetsuits: featuring Mike Hynson, page 17.
Hansen Surfboards: solid fibreglass tailbock, Linda Benson first at Huntington, Benson and Don Hansen first in Novice Tandem, page 20.
Gordon and Smith Surboards: iron clad strength, page 40.
Waikiki Club of Lima: Visit Peru - World Surfing Tournament, February 18 to 28, 1965, page 53.
Hobie Skateboards: six models, page 58.
Pan-Am: See [or enter] the Peru World Surfing Contest, page 63.
Con Surfboards: new transparent plexiglass fins, page 64.
TopTex Surfing Helments, page72.
Dave Sweet Surfboards: First With Foam Surfboards, Less than 9ft $113.50, 9ft 1''-9ft 6'' $116.50, 9ft 7'' to 10ft $119.50, color 45.00 to 49.oo extra, page 75.
Surf Wax, PO Box 483 Rendondo Beach, California, page 77.
Model Products Corporation: Hot Curl- The Surfer's Idol, $1.00, page 88.
Hang-Ten: The Phil Edwards Look, page 98.

---
Page 1
PHIL EDWARDS. OUR NEW DESIGNER

The Hobie Surfboard Shop again has gone all out to bring to its customers the best in surfing equipment.
The riding ability of the Hobie Surfboard has proven itself in surfing championships in the past few years but we wish to even improve upon that.
To do this, we have hired Phil Edwards, not only to shape his own Phil Edwards Model Surfboard, but to work on improving the shape and design of the custom Hobie Board.
Doing this, we feel we have taken a step in the right direction as there is no one in the world more qualified for designing surfboards than Phil.
Phil is not only known as being the world's greatest surfer but has devoted a lifetime to the study and design of surfboards.
As of yet, Phil has made no major changes in the shape of the Hobie Surfboard.
He has made a few minor ones, which would go unnoticed by the average surfer.
His future changes may also go unnoticed although being an improvement as Phil does not go for gimmicks or sensationalism but actual, practical, functional qualities in a surfboard.
This is the same policy as the Hobie Surfboard Shop has to continue to improve upon the riding qualities of our surfboards.

---
Surfer
Volume 5 Number 6
January 1965.

Cover:
Steve Bigler, Sunset Beach, 1964.
[Photograph by John Severson]

Copy courtesy of the Graham Sorensen Collection.
---

surfresearch.com.au
---
---
Geoff Cater (2012) : Bev Morgan : U.S. Championships, Huntington, 1964.
http://www.surfresearch.com.au/1964_US_Championships_Surfer_v5n5_Jan_1965.html
---