pods for primates: a catatogue of surfboards in australia since 1900
---
---
surfresearch.com.au
victorian surfer vol 1 #3, 1963
Extracts : The Victorian Surfer, Volume 1 Number 3, 1963

---
ARTICLES
---

KNOW YOUR STATE CENTRE NUMBER 2 : ARNOLD GOTEZ (State Secretary)
He is the proud owner of a Looma-Roo board and actually owned a full sized board for one season.
Page 33.

PT. LEO CARNIVAL, SUNDAY DECEMBER 30 1963.
BOARD RACE
Peter Troy (Torquay) took the Surf Board Race for the Dick Ellis Perpetual for the second year in succession from Geoff Watt (Torquay) and Alister Buxton (Point Leo) whilst Peter Troy led the Torquay team to victory in the Malibu Surf Board Relay Race. His team mates were Geoff. Watt and Terry Wall.
Page 9.

VICTORIA'S FIRST SURF BOAT
Pages 4 - 5.

---
ADVERTISEMENTS
---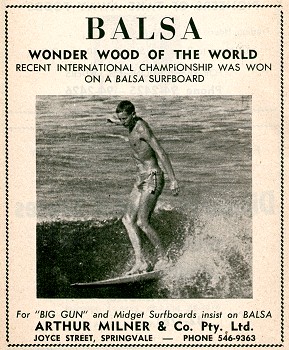 Advertisement : Arthur Milner Timber Supplier, page 76.
---
Although foam was making inroads into Australian manufacturing at this time, production difficuties encourged some builders to stay with balsa - the proven product.
For a similar example, see #24.
After 1956 Milner was the first Australian surfboard manufacturer to source balsa wood directly from South America and was the supplier to the Sydney manufacturers.
The restricted availability lead to the application of hollow board construction to the Malibu design - the Okinuee.
circa 1963

One of a bulk order of five, Wayne Lynch's first board was a solid balsa wood and fibreglass board supplied by Arthur Milner in Melbourne. It was approximately 9 ft 6''.
---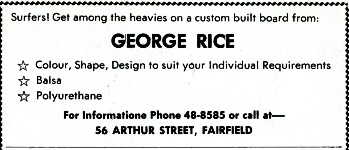 ---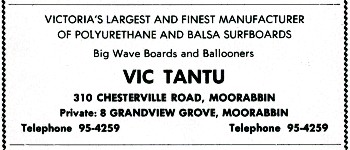 ---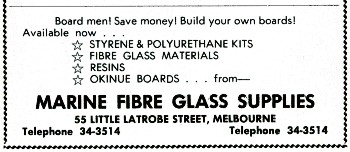 ---
LIST OF GEAR AND OTHER SUPPLIERS TO SURF CLUBS (Edited)
---
PAGE 77
ADHESIVES
(Marine), in bulk quantities. Urea Formaldehyde, Resorcinol and Epoxy (Mr. Jack Coyne)
Ciba Ltd; 22-28 Ryan St., Brunswick. 384121.
BELTS
G. Staunton, 335 Illawarra Road, Marrickville, N.S.W.
Harry West, P/L, Duke St., Balmain N.S.W. (Mr.Huffman).
BOATBUILDERS
(competent to do repair work on plank and ply boats and from whom satisfactory Service has been received).
Mouldcraft P/L, 4 Too- yal Street, Frankston. 3 3337.
Harrry Hayes, Lorne.
BUOYS
Harry West P/L, Duke St., Balmain, N.S.W. (Mr. Huffman).
COOLITE (Surfboat buoyancy compartments)
Hardie Rubber Co., cnr Lygon and Earl Streets, Carlton, 34 9411 .
PAGE 79
OARS
W. Clymer, 18 Fairport St., Dee Why, N.S.W.
Sykes, Geeiong.
REELS
K. Ring, 1285 High St., Malvern, 204944.
G. Letho, Bonbeach,
Anthony Hordern, Great Buckingham St., Redfern, N.S.W. (Mr: Granam).
REEL PARTS (metal only)
F. J. Williams, 396 New Canterbury Rd., DulwichHill, N.S.W..
Daryl Murphy, Mariner St., Williamstown.
Metal or wood : K. Ring, 1285 High St., Malvern, 204944.
G. Letno, Bonbeach.
PAGE 80
REEL REPAIRS
G. Letho or K. Ring (as above).
Reel covers: Harry West, Duke St., Balmain, N.S.W.
SURF LINES
James Miller & Co., .29 Dawson St., Brunswick (Mr. Tom Hogg).
Downs & Son, 7-9 Cassells Rd., Brunswick (Mr. Trevor Downs).
SURF LINE TESTING (free)
James Miller 8. Co., 29 Dawson St., Brunswick (Mr. Tom Hogg).
.
BOARDS AND SKIS
W. Clymer, 18 Fairport St., Dee Why, N.S.W.
Vic. Tantau, 8 Grandview Ave., Moorabbin, 95 4259.
SKI PADDLES
W. Clymer (see above)
S. H. Heaton, 119 St. James Rd., New Lambton, NSW

---
Extracts from
The Victorian Surfer
The Official Organ Victorian State Centre
Surf Life Saving Association of Australia
March 1963 Volume 1 Number 3
Minerva Publishing Co. Pty. Ltd. 17 Elizabeth Street Melbourne.
---
Notes
1.
---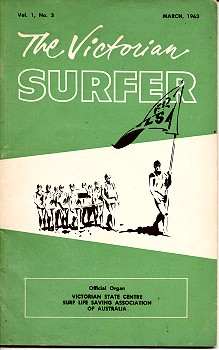 ---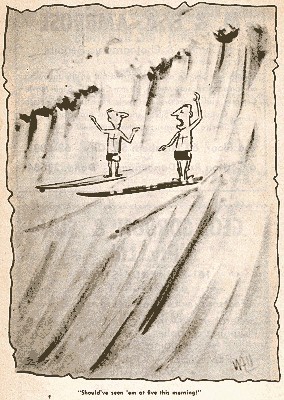 Caption : "Should've seen them at five this morning!"
Artist : Wall?
Page 7.
1963 variation on "You should have been here yesterday!"

---

surfresearch.com.au
---
---