" I've been talking to the skipper," said Mr. Dixon, as they approached the opposite shore.
"He says we can get out at Sorrento and have a swim in the surf, then take a bus to Portsea, and see that beach, and he will pick us up again there."

The afternoon went all too quickly for the boys, and after an uneventful return trip across the water, they got into the car again and drove back to Geelong for dinner.

" I could eat a horse," said Johnny, as they drew up in front of a big hotel.
"I don't think that will be on the menu," laughed his father, " but I am quite hungry myself.
The sea water and sea air gives one an appetite."
"I could do with a few weeks of this life," sighed Johnny, as they sped back to the city.
"Do we really have to go home on Sunday, Dad ? "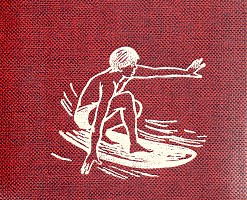 Embosed hard cover.