pods for primates : a catatogue of surfboards in australia since 1900
---
---
surfresearch.com.au
slsaa : surf in australia, 1940
Surf Life Saving Association of Australia : Surf in Australia, 1940.

---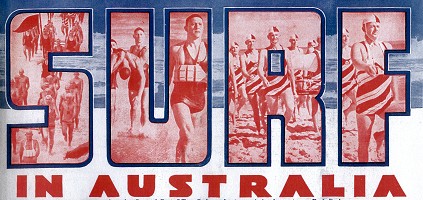 ---
Extracts from
Surf Life Saving Association of Australia: Surf in Australia.
Official Organ of the Surf Life Saving Association of Australia
(Head Centre), 119 Phillip, Street Sydney.
Editor: W.G. Simmonds Esq.
Published by Alexander Leo Finn, 149 Dover Road, Rose Bay.
Printed by Lake and Ashes Pty Ltd., 389-391 Sussex Street, Sydney.
1940

---
Introduction.
Although a very brief description, it does indicate the drop-knee stance and that surfriding at Waikiki was still probably common in the 1850s.
---
March 1, 1940, page 7.
SURFING PARLANCE.
"Who's coming in for a 'session'?
Just look at those 'boomers'."
To appreciate the significance of these words a knowledge of surfing parlance is necessary. "Session" is generally used to denote a swim or a dip; "boomers" are big, rolling waves.
"Greenies" describes the unbroken swells which are the delight of surf boat crews, surf-board and surf-ski experts.
"Dumpers" are the waves which rise quickly and fall heavily, oftentimes on a sandbank.
They are avoided by the experienced surfer, who soon learns to distinguish the "dumpers" from the "shoots" (waves which break evenly and carry him some distance).
"Howler" is a synonym of "boomer."
The "front line" has no war-like significance (unless the battle with the waves is taken into account). It describes the position of those surfers who are farthest out.
To "crack" a wave means to swim onto it and then to ride it.
A "beacher" is a wave which takes the surfer right to the shore.
To go "down the mine" means to be hurled down to the bottom and there swirled about.
This usually happens when one attempts to ride a "dumper" or an unmanageable wave.
"They're on" is the cry which sets the heart of every keen surfer beating fast.
Someone has spied a succession of big waves.
His ambition is now to "crack" a "beacher."
"Out the back" is the shout when someone sees an extra big wave rising from behind.
-S.M.H.
---
April 1, 1940, page 25.
ORIGIN OF "CRAWL" SWIMMING STROKE
(By courtesy of Station 2CH)
The "Crawl" stroke was originally learned from an Australian aboriginal boy by some Sydney Grammar School boys, in the old "Figtree" baths, at the Domain, Sydney.
My late grandfather and granduncle, W. M. Wallis and J. H. Wallis, who were attending the Grammar School, used to swim in these baths, after school hours, and, using the breast stroke, they challenged an aboriginal boy to a race and were badly beaten, as he used a strange over-arm stroke. The aboriginal boy (who was encamped in the Domain bush with his father) taught these boys the new stroke, and they gave him tobacco for his trouble.
The boys became so proficient in this stroke, which they called the "overarm side stroke," that they could beat the aboriginal boy in a race.
In 1854 these two boys were taken by their father, Mr. William Wallis, of Pott's Point, to England, to complete their education.
While attending St. John's College, Cambridge, they used to swim in the Greenwich Municipal Baths. The proprietor of the baths, Mr. Beckwith, was so intrigued with this new stroke that he learned it from the boys, and later taught his swimming classes.
After returning to Sydney in 1863, Mr. J. H. Wallis learned that Beckwith had claimed to be the originator of this stroke.
He wrote to England contradicting this, and after much controversy, and finally producing
declarations from men who had witnessed the aboriginal boy's use of the stroke, he succeeded in establishing his claim for the native boy.
For many years we had an old album with the newspaper clippings from Sydney newspapers, "The Referee" and "Evening News" or "Evening Star," written by J.H. Wallis, of Enmore Sydney, giving the history of this interesting news.
Unfortunately, this album has been destroyed by the bush-fire which burnt my home in January, 1939.
Mr. J. H. Wallis wrote on sporting matters under the pen-name of "Cantab."
As my late great-uncle, who introduced the stroke to England, was not known to the public at all, I thought it may be of interest for you to mention the public postion his father occupied in the colony at the time.
He, Mr. William Wallis, was the first railway contractor in New South Wales, and built the first section of the Sydney-Parramatta line, entering into the contract on March 12th, 1851.
He only completed the line from Ashfield to Haslem's Creek, for, owing to the rush of men to the goldfields, it was so difficult to obtain workmen that he was released from his contract and then retired from business and paid a visit to England with his two sons to complete their education.
(Sgd.) IVY C. DE MEYRICK.
---
May 1, 1940, page 18.
Fred Williams, reputed to be the first Australian to perfect the art of body shooting, died in Manly last month, mourned by all old surfing identities.

---
July 1, 1940, page 13.
WAILS AND TALES.
...
New Life-Saving Belt
Reports had been received from most State Centres and Branches regarding the light type of canvas swimming belt, a sample of which had been forwarded to all concerned for testing purposes.
In view of the favourable nature of the reports, it was decided that the new type of belt (corkless) be adopted as standard life-saving gear.
This will mean that this type of belt can be used in any inter-club competitions held in the future.
* * * *
Trophy From Honolulu
A trophy which had been presented by Mr. G. Benny, of Honolulu, during the visit of the S.L.S.A. team last year for surfboard race, and which was for perpetual competition between teams from Australia and Honolulu, was delivered to the Association by Mr. W. Hibberd, of the R.M.S. " Aorangi."
---
Surf Life Saving Association of Australia:
Surf in Australia.
Official Organ of the Surf Life Saving Association of Australia
(Head Centre), 119 Phillip, Street Sydney.
Published by Alexander Leo Finn,
149 Dover Road, Rose Bay.
Printed by Lake and Ashes Pty Ltd.,
389-391 Sussex Street Sydney.
1940.
---

surfresearch.com.au
---
---
Geoff Cater (2009) : SLSAA : Surf in Australia, 1940.
http://www.surfresearch.com.au/1940_SLSA_Surf_Australia.html
---