pods for primates : a catatogue of surfboards in australia since 1900
---
---
surfresearch.com.au
slsaa : surf in australia, 1939
Surf Life Saving Association of Australia : Surf in Australia, 1939.

---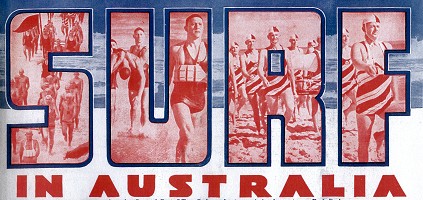 ---
Extracts from
Surf Life Saving Association of Australia: Surf in Australia.
Official Organ of the Surf Life Saving Association of Australia
(Head Centre), 119 Phillip, Street Sydney.
Editor: W.G. Simmonds Esq.
Published by Alexander Leo Finn, 149 Dover Road, Rose Bay.
Printed by Lake and Ashes Pty Ltd., 389-391 Sussex Street, Sydney.
1939

---
Introduction.
A
---
Volume 3 Number 7.
March 1, 1939, page 1.
The Australian Championships
ON Saturday afternoon, 18th March, the big event of the year, viz., the Australian Surf Life-Saving Championships, will be held on Manly Beach.
For some five or six years past the championships have been held at Bondi, but a change of venue this year should assure added interest.
The majority of metropolitan clubs are situated north of the Harbour, and outlying clubs will find Manly more accessible for the transport of boats and gear.
A fresh circle of patrons will also be relied upon to give the financial support necessary to conduct this large undertaking.
The Manly Council, Pt. Jackson Company, and the Association's local organisers are leaving nothing undone to arouse the interest of the general public.
Films of surf work and play will be shown prior to the carnival date, and, the thrills of the boat races, etc., included in these films, can be seen as actualities at the carnival.
To win through the preliminary heats to the championship events requires months of training and perseverance.
All those partaking are genuine stars in their own particular sphere, but the element of chance gives any competitor an opportunity to win.
Almost overshadowing the championship carnival in current interest is the proposed visit of swimmers, surf board riders and a boat crew to Honolulu in July.
Perhaps the San Francisco Exposition thereafter.
Those winners of our championships this month might, therefore, be in line for a bigger trophy- by way of a visit abroad- than ever offered before.
This alone should urge them to greater efforts, if possible, on 18th March.
It is very rare for these events to be won more than once, so that old champions may fall and new champions arise.
Juniors of last year become seniors of this year, and we have often before seen youth victorious over experience.
Whilst New Zealand, South Australian, West Australian and Tasmanian teams will be absent this year, there is no reason why this month's carnival should not be one of the greatest ever.
Many of the surfing public give nothing to the surf life-saving movement, but here is an opportunity to contrIbute a modest florin by supporting the national service wIth their presence at the carnival.

---
Volume 3 Number 8.
April 1, 1939, page 2.
AUSTRALIAN CHAMPIONSHIP RESULTS
Held at Manly Beach, 18th March
March Past Championship.- Maroubra, 1; North Bondi, 2; Queenscliff, 3;
Port Macquarie, Country Champions.
Junior Surf Race Championship.- Final:
R. Newbiggin (Cook's Hill), 1; L. Iredale (Stockton), 2; D. Thomas (Queenscliff) , 3.
Rescue and Resuscitation Championship.-
North Steyne, 74.44, 1; Bondi, 71.84, 2; Wollongong, 68.14, 3; North Bondi, 67.68, 4.
Beach Relay Championship.- North Curl Curl, 1; South Narrabeen, 2; Dee Why, 3.
Junior Belt Cbampionship.-
R. Newbiggin (Cook's Hill), 1; C. Hendy (North Bondi), 2; N. Emmett (Kemblawarra) , 3.
Senior Surf Race Championship.-
R. Bassingthwaighte (Bondi), 1; A. Hart (Bondi), 2; W. Furey (North Steyne), 3.
Senior Belt Championship.-
A. Fitzgerald (North Wollongong) , 1; A. Imrie (Burleigh Heads-Mowbray Park), 2; F. J. Bennett (Manly), 3.
Unrestricted Surf Race Cbampionship.-
D. Thompson (Palm Beach), 1; S. Worrall (Bronte) , 2; R. Hancock (Newcastle), 3.
Junior Surf Boat Championship.- Final: Cronulla, 1; North Steyne, 2; North Narrabeen, 3.
Chariot Race.- Maroubra, 1; Port Macquarie, 2; Palm Beach, 3.
Senior Boat Race Championship.- Final: Mona Vale, 1; Manly, 2; North Bondi, 3.
Surf Board Race.- G. Connor (Bondi), 1; R. Russell (Palm Beach), 2; J. Mayes (North Bondi), 3.
Canoe and Surf Ski Race.-
A. Lloyd (North Narrabeen), 1; Langford and Morris (Maroubra) , 2; G. Dennins (Far North Coast), 3.
Pillow Fight.-L. Chowne (Dee Why), 1; F. Wilkes (Dee Why), 2.
ALOHA
Kamaaina Beach Combers' Hui
Honolulu, Hawaii,
6th March, 1939.
Mr. Adrian Curlewis,
The Surf Life-Saving Association, Sydney, Australia.
Dear Mr. Curlewis,
On behalf of the Hawaii Pacific Aquatic Carnival Committee, which is a merger of the outstanding Hawaii athletic and swimming interests to take care of the Australian team's visit here in July, I wish to place on record that Hawaii's deep gratitude for your invitation for Hawaii to send a swim team to Sydney in March, 1940.
We gladly accept this invitation and right now we anticipate sending a minimum of ten men, but, of course, we will increase this number if you are willing and circumstances permit.
You can rest assured that we will do our utmost to make a success of your team's visit here in July. So far Australia has done everything for Hawaii's boys, but your visit will enable Hawaii to in part repay an old sports debt.
Our Committee has instructed its Secretary, John WilIiams, to keep in touch with you via his cable contacts with Mr. Frank Packer.
Please thank Mr. Packer for his generous interest and enthusiasm.
With aloha to all my Aussie friends, and all Aussie swimmers and sportsmen in general,
Yours very sincerely,
(Sgd.) DUKE KAHANAMOKU.
---
Volume 3 Number 8.
April 1, 1939, page 14.

HOLCOMBE NOMINATED FOR HAWAII

Easily one of the most widely known surfmen in New South Wales, Bob Holcombe, of the Cronulla club, has nominated for the S.L.S.A. surf team which will tour Honolulu in June.

Holcombe is acknowledged by all familiar with surf carnivals to be the greatest exponent of the surfoplane seen since the inception of this sport, and over a period of years has strung together an almost unbelievable sequence of victories.

In presenting himself for selection, Holcombe has more than one avenue to exploit in his favour, for he can undisputedly lay claim to being one of the finest all-rounders of present-day surfing.
Only twenty-two years of age, Holcombe weighs 11st. 8Ib. and is 5ft. 11in. in height.
-A,J,P.

Image right:
BOB HOLCOMBE.
---
Volume 3 Number 9.
May 1, 1939, page 1.
Proposed Programnle by Hawaiiall Pacific Aquatic, Carnival Committee
JULY 6-24, 1939
Featuring Australia's Swimmers and Life-Savers Against Hawaii's Best in Honolulu
July 5 (Wednesday).- Australian team arrives in Honolulu.
Committee intends to have a parade through town, finishing at the Governor's Office, where the
Australian team will be presented to our Governor.
From Governor's Office team will go to Pali, then to Waimanalo, around Koko Head, and back to Army and Navy Y, where team will make their headquarters.
July 6 (Thursday).- K.G.M.B. broadcast, evening, at Station.
July 7 (Friday).- Australian team will be guests at representatives' club luncheon.
July 8 (Saturday).- Australian team will visit pineapple cannery and sugar mill.
July 9 (Sunday).- Australian team will give life-saving exhibition at Koko Head Beach, 3 p.m.
Public cordially invited.
July 10 (Monday).- Parade through town by Australian team, with lifeboats and life-saving apparatus. Local teams will also co-operate.
July 11 (Tuesday).- Australian team will be guests of Al Karasick Wrestling Show at Civic Auditorium.
July 12 (Wednesday).- First night swimming meet at Natatorium, Waikiki, featuring Australia's champion swimmer, Biddulph, against Hawaii's best, Nakama and Hirose.
Programme of events as follows:-
1. Diving.- Men, Open.
2, 50 Yards Freestyle.- Boys under 13 years of age.
3. 50 Yards Freestyle.- Girls under 13 years of age.
4. 100 Yards Freestyle.- Men, Novice.
5. 880 Yards Freestyle.- Men, Open.
6. 100 Yards Freestyle.- Women, Open.
7. 50 Yards Backstroke.- Boys under 13 yrs. of age.
8. 50 Yards Backstroke.- Girls under 13 yrs. of age.
9. 150 Yards Backstroke.- Men, Open.
10. 330 Yards Medley Relay.- Men, Novice.
11. 100 Yards Freestyle.- Men, Open.
12. 440 Yards RelaY.- Women, Novice.
13, 440 Yards Relay.- Men, Novice.
14. 100 Yards Surfboard Race.-Men, Open.
15. 330 Yards Medley Relay.- Men, Open.
July 13 (ThursdaY).- Free morning for Australian team to do shopping.
KGMB Broadcast in evening at Station.
July 14 (Friday).-Second night swimming meet, Natatorium, Waikiki.
Programme of events as follows:-
1. Diving Tower.- Men, Open.
2. 50 Yards Breaststroke.- Boys under 13 yrs. of age.
3. 50 Yards Breaststroke.- Girls under 13 yrs, of age.
4. 100 Yards Freestyle.- Women, Novice.
5. 220 Yards Freestyle.- Men, Open.
6. 100 Yards Breaststroke.- Women, Open.
7. 220 Yards Freestyle.- Men, Novice.
8. 330 Yards Medley Relay.- Women, Novice.
9. 220 Yards Breaststroke.- Men, Open. iJ 10. 100 Yards Backstroke.-Men, Novice.
11. 440 Yards Freestyle.- Men, Open.
12. 100 Yards Breaststroke.- Men, Novice.
13. 440 Yards Relay.- Women, Open. E 14. 440 Yards Relay.-Men, Open. b
July 15 (Saturday).- Free to Australian team.
July 16 (Sunday).- Lifeboat, canoe, surf board, ski and outboard motor regatta at Ala Moana Canal in front of a Moana Park, 8.30 a.m.
Programme of events as follows:-
1. Outboard speed boat race- course to be laid out.
2. 9 a.m.- Canoe 6 paddle Jr. Men - 1 mile.
3. Inter-Island lifeboat race- 1 mile (sailor only).
4. Hawaiian surf board race, 1 mile (board must be 12 ft., at least 60 lbs., 12 inches width at stern).
5. Junior 6 oar sliding seat barge race- 1 mile.
6. Canoe 6 paddle senior race- 1 mile.
7. Freshman 6 oar sliding seat barge race- 1 mile.
8. Australian ski paddling race- 1 mile- Hawaii v. Australia.
9. Surf board relay-women (8 to team)-1 mile straight course.
10. Senior 6 oar sliding seat barge race- 1 mile.
11. Australian lifeboat race- Hawaii v. Australia.
12. Canoe 6 paddle, boys under 16 years- 1 mile.
13. Surf board relay (8 men to team)- 1 mile straight course.
14. Finish of Pearl Harbour Yacht Club star boat races in front of Ala Moana Yacht Club.
Finish 12.30 noon.
July 17 (Monday).- Free to Australian team.
July 18 (Tuesday).- Australian team guests of Al Irasick Wrestling Show at Civic Auditorium.
July 19 (Wednesday).- Swimming meet at Punahou Tank.
Programme of events as follows:-
1. 150 Yards Backstroke.- Men, Open.
2. 220 Yards Freestyle.- Men, Open.
3. Diving 3 Metre.- Men, Open.
4. 300 Yards Medley, Individual.- Men, Open.
5. 100 Yards Freestyle.- Men, Open.
6. 220 Yards Breaststroke.- Men, Open.
7. 440 Yards Relay.- Men, Novice.
8. 400 Yards Relay.- Men, Open.
9. 400 Yards Relay.- Women, Open.
10. 500 Yards Freestyle.- Men, Open.
11. 300 Yards Medley Relay.- Men, Open.
July 20 (Thursday),- Morning free to Australian team.
KGMB broadcast at station, evening.
July 21 (Friday).- Australian team visit to Pearl Harbour and Schofield.
July 22 (Saturday).- Life-saving exhibition and sport pogramme in front of Ala Moana Hotel, 3 p.m. Free to public.
Programme of events as follows:-
1. Life-Saving Rescue Race- Australia v. Hawaii.
2. Australian Lifeboat Race through Surf.
3. 100 Yards Footrace on Sand Beach.
4. Surf Board Race through Surf.
5. 400 Yards Relay Race on Sand Beach.
July 23 (Sunday).-Trip around the islands and wind-up with a luau.
July 24 (Monday).-Team returns to Australia.
Note.-The Associated Students of the University of Hawaii will see that all visiting Australian athletes will given instructions in the fundamentals of basketball played in American colleges.

---
Volume 3 Number 9.
May 1, 1939, page 7.
Trials for Australian Surf Tour of Hawaii
---
Nominees for the Pacific Surf Games at Honolulu in July at Narrabeen Lakes with the latest types of hollow surfboards.

From left:
A. Major and R.K. Russell (Palm Beach),
H.H. Wicke, R. Duck,
F.C. Davis, L. Morath,
and R. Lumsdaine (Manly),
with varying types of surfboards.

- Block courtesy of
"Daily Telegraph".
---
Volume 3 Number 9.
May 1, 1939, page 8.

Newcastle
All members are confident that Club Champion Alan Fidler will secure a berth on the Honolulu trip.
AI. is unsurpassed as an all-rounder in surf, baths, boards and ski departments in northern circles, and is the only junior surfer with a victory in the north of the harbour trials conducted recently, so we are told.
Good work, Alan.

Image right:
Alan Fidler
---
Volume 3 Number 10.
June 1, 1939, page 14.
WAILS AND TALES
...
The team selected for Hawaii is as follows.
All have been medically examined:- J. R. Cameron (Captain- Instructor), H. R. Biddulph (Manly), C. R. Chapple (N. Bondi), R. Russell (Palm Beach), W. Furey (N. Steyne), L. McKay (N. Cronulla) , H. Doerner (Bondi), A. Imrie (Queensland), H. Scott (Newcastle), R. Dickson, W. Mackney and J. Harkness (Mona Vale), F. Braund (Palm Beach), F. Davis (Manly), A. Fitzgerald (N. Wollongong), L. Moreth (Manly).
...
The Federal Minister for Health, Sir Frederick Stewart, promised Mr. Jennings, M.H.R., that Commonwealth representatives in the United States would see that proper publicity would be given to our team's visit to Honolulu.
* * * *
They say the R. and R. team for Hawaii is to be provided with military boots to race over the coral sea beds.
* * * *
Noel Ryan will give a short address at the next Head Centre Council meeting on surf life-saving in South Africa.
* * * *
It is rumoured that the Hon. Eric Spooner may be an applicant for the Costume Steward's position with the team for Hawaii.
...
Harold Spry, well-known Manly identity and ex-member of the Queenscliff club, will be visiting Hawaii at the same time as the surf team.
Harold is an expert amateur movie photographer, and we hope he will be afforded all facilities to record the team's activities in film.
---
Volume 3 Number 10.
June 1, 1939, page 19.
EVEN THEIR MOTHERS DIDN'T MISS THEM!
Mr. Jack Cameron, Chief Superintendent, and Mr. Moran, member of the Hawaiian Trip Selection Committee, left Sydney on Saturday, 29th April, and returned on Monday, 1st May.
In this brief span of time they-
Travelled over 1,000 miles by air.
Travelled over 150 miles by car.
Visited sundry surf clubs on the South Coast of Queensland.
Attended the Palm Beach Club's Annual Dinner.
Sampled some Queensland beverages, speeches, and moving pictures.
Slept a night at the Palm Beach Hotel.
Had a "surf" (?).
Conducted tests at Burleigh Heads for the Hawaiian trip.
Conducted these tests at Tweed Heads.
Said "Good-bye" to the South Coast of Queensland,
and
Slept a night in Brisbane.
Not bad for a couple of "homeless lads," eh!
---
Volume 3 Number 11.
July 1, 1939, page 2.
FIRST OVERSEAS TEAM
THE first Australian team of surf life-savers to leave these shores for a foreign country left Sydney per the s.s. "Monterey" on the 23rd June, bound for the Hawaiian Islands.
Carrying an illuminated address from our Association, and a letter from the Premier of N.S.W. to the Governor of Hawaii, our team is expected to arouse great interest in the country to be visited.
Never since Duke Kahanamoku visited Sydney, way back in 1915, has there been seen local interest in surfboard riding as during the past few months.
The surf ski, invented by one of our own members, had come into prominence and had threatened to practically extinguish the board until the visit to Honolulu was first mooted.
If annual visits between Hawaii and Australia can be sustained, the popularity of the board might again become paramount.
It is pleasing to see rescue and resuscitation competitions and surf boat races included in the programme of events, for these open up avenues for others than board riders to travel and compete, providing greater interest for all.
We anticipate that the photographer with the team will procure for the Association moving films in colour which those left behind may ultimately see and envy.
In the not so far disant future we hope to be able to send a team to South Africa, which would be another tep towards spreading our work around the globe.
Such visits, however, are limited by the financial position of the Association, unless outside enterprise comes to our assistance, as it has done for the present tour.
The success or otherwise of the visit now in progress will no doubt largely influence any future journeys overseas.
It was pleasing at the official send-off to the members of the chosen band to see so many members of the early days present, whose pioneering work has been chiefly responsible for the building up of such an impressive and extensive organisation as surf life-saving is to-day.
Equally pleasing it was to have representatives of the Amateur Swimming Association present, to cement the bond that must exist for the two bodies of swimmers to amicably continue to administrate the laws of swimming competitions in their respective spheres.
Apart from the competitive side of the trip, there exists in the minds of most of us a romantic vision of hula girls, guitars, ukuleles, moonlight nights and summer breezes.
These things will appeal to our sons of the surf.
May they be as real as they appear, and that our boys will not return disappointed with the reputed charm of the Islands.

---
Volume 3 Number 11.
July 1, 1939, page 16.
WAILS AND TALES
Harold Spry, well-known Manly identity, has been appointed Hon. Photographer with the Australian team in Honolulu.
...
It was surprising to see so many old surfers at the send-off, including Freddie Williams (the father of surf shooters in Australia), Neville Cayley, Les Duff, Roy Doyle, George Millar, Stan Windon, Geoff Cohen and others.
* * * *
Noel Ryan, at last Head Centre monthly meeting, re- lated his impressions on surfing in South Africa. Thanking Noel Ryan, our President (Adrian Curlewis) spoke of the necessity of sending a team to that country.
He foreshadowed that such a team would include members from our Western Australian Centre. Cheer up, W.A., all is not lost.
...
"Sons of the Surf" record has been acquired by radio stations 2KY, 2GZ, 2UW (N.S.W.), 7HT (Tasmania), and 6AM (W.A.).
A copy has also been taken with the team to Honolulu.
All clubs with amplifying sets will oblige by taking a copy.
Head Centre is financing a 14 minute recording for march pasts.
Copies 35/- each.
...
The Australian team for Hawaii left by the "Monterey" on the 23rd June, and were given a wonderful send-off.
Most clubs made handsome presentations to their members.
* * * *
The joke over "Blue" Russell's pork-pie hat, which was thrown from the boat by another member of the team, fell flat when it was recovered by an unsuspecting steward.
* * .*
Cec. Mack said two things would be taken off the boat before it left the Heads- the pilot and "Blue" Russell's moustachio.
...
Mr. Westcourt, Wakefield Oil Co., kindly sent a cheque for £10 to cover the loss on the Honolulu Ball.
---
September 1,1939, page 14
Advertisment for Dick Chapple Surfboards, 1939.

Note that the distributors,
E.E. Smithers Ltd.,
were also the Sydney distributors
of the Surfoplane.

Image adjusted
for screen presentation.
---
September 1, 1939, page 16
PACIFIC SURF GAMES
To be held in Sydney Next Year
* Club secretaries will appreciate the announcement that E.E. Smithers Ltd., whose advertisement appears herein, are fully equipped to meet all their requirements - surf boards, rubber or wooden, surf caps, flags, buoys, general carnival equipment, and any of the many smaller items that Surf Clubs
are constantly seeking.
Of particular interest is the fact that this firm has concluded arrangements with Dick Chapple, Australia's foremost surfboard exponent and representative at the recent Pacific Surf Games at Honolulu, to supply hollow and solid surfboards for the coming season.
Whilst in Honolulu, Dick Chapple made an intensive study of Hawaiian surf-board construction.
The surfboards he is producing for the coming 1939-40 season include many new features and designs incorporating the latest Hawaiian and American ideas.
Chapple has already proved the excellence of his surfboards by his sterling performances against the world's leading exponents of surfboard riding, and the additional knowledge he has acquired will make his surf- boards outstanding on Australian beaches.
Mr. Jack Cameron. Manager-Instructor of the Australian Surf Teams and Chief Superintendent of Examiners and Instructor of the S.L.S.A., says: "... As a craftsman in the manufacture of surfboards, I consider Dick Chapple capable of producing the finest boards in Australia, and indeed equal in performance to any I have seen overseas."

---
September 1, 1939, page 21.
WELCOME HOME TO OUR SURFMEN!
SYDNEY welcomes home the Australian surf team, back from the inaugural Pacific Surf Games at
Honolulu.
The team was notably successful in the official games- and even more successful in its unofficial mission of promoting Australo-American goodwill.
Our surfmen bring back with them memories of a sincere and spontaneous American friendship. They leave behind a fine reputation for sportsmanship and skill.
The publicity value of the tour is incalculable.
It has introduced Americans to a unique and spectacular branch of Australian athletics.
Made Them A ware of Australia
It has flashed the word "Australia" across thousands of American movie screens, written it on the pages of thousands of American newspapers.
American tourists who never thought of going beyond Honolulu have become aware of a great English-speaking continent not so very far away.
Aware, too, that it breeds not only kangaroos and koalas, but fine sportsmen with a unique system of life-saving.
Early next year there will be a "return visit" of American surfmen.
It all means a strengthening of the bonds between the two Pacific democracies at a time when there is urgent need of a united democratic front.
Our Destiny in the Pacific
We will be brought geographically closer to the United States when the Tasman air service opens in October.
And when Pan-American Airways extend their airline from Honolulu to New Zealand, Sydney will be no more than five days' flight from San Francisco.
America will be as close to us as Western Australia was a few years ago.
The shrinking of the Pacific is a matter of the first importance to Australia.
Our destiny lies in this ocean, as America's does.
That is why we acclaim the first Pacific Surf Games so enthusiastically.
That is why the "Daily Telegraph" - with the Australian National Travel Association- sponsored these games and financed them.
It cost us £2,000 to send the surfmen to Honolulu.
We think the money was very well spent.
Government Should Have Done It
But it should not have been left to private enterprise to organise and sponsor such an important event.
The Government should recognise the publicity value of such a tour, and it should be aware of the necessity for publicising Australia more in the United States.
Let us have many more contacts with our good friends the Americans, many more contests at which the finest qualities of our people and theirs are displayed.
And let us make the touring American realise that we have a wealth of holiday attractions to offer him- snow sports, big-game fishing, and yachting as good as any in the world.
Meanwhile, welcome home to our surfmen.
And the best of luck to the Americans when they visit us next year.
-"DAILY TELEGRAPH."
---
October 3, 1939, page 2.
Extracts from Captain's Report of Pacific Surf Games,
Honolulu, 1939.
By J. Cameron
The team was given a rousing send-off by relatives, officers and supporters of the Association when the "Monterey" sailed from Darling Harbour on 23rd June at 11 a.m.
On Monday morning we berthed at Auckland at 7 a.m., being met by press and Auckland Association officials in the persons of Dr. Pettit, President; A. Gardiner, Chairman of Committees; Miss Usmar, Hon. Secretary; and Mr. Miller, Secretary of the New Zealand A.S.A.
We were conducted to the tepid baths, where all the team had a good workout.
Biddulph gave an exhibition swim to promising members of the N.Z.A.S.A.
The boat crew were able to secure the loan of a four from the Auckland Rowing Club, enabling them to spend the morning rowing, while the board men had their boards lowered over the side into the harbour and had considerable paddling practice, in spite of the very low temperature.
Later followed a civic reception and lunch by Sir Ernest Davis, Lord Mayor of Auckland.
After lunch we were taken on a scenic tour of Auckland and surrounding districts.
On leaving Auckland we met Lotte Lehman and Bernice Clare and became acquainted with Larry Adler, who joined our physical exercise class before breakfast and walks round the deck, and accompanied the team on the piano in our team songs.
On 30th June we arrived at Suva at 7 a.m., to receive a hearty reception from officials of the Royal Life Saving Society, Mr. S. Baker (Secretary), F. Midson (Hon. Secretary Hockey Umpires Association), Mr. C. Stanton (President, Athletic Club), and Mr. A. Barker (President of R.L.S.S.).
The Fiji Association had arranged for a fleet of cars to convey us to beautiful scenic spots.
I lunched with the President at the Grand Pacific Hotel, and at 2.30 all the school children were assembled at the local baths for an exhibition swim by Biddulph and other members of the team.
At the conclusion a water polo match was played against the schools, resulting in a win for our representatives by 7 goals to 2. We departed from Suva at 5 p.m.
Crossing the international date line we had two Thursdays.
Arrived Pago Pago on 31st at 8 a.m.
On reaching the wharf, the team was met by naval officers who arranged dressing accommodation and the use of the swimming bath.
We were warned not to use the bath steps and turning boards owing to the presence of the fungus growth, and advised to swim in the open water.
This is the accepted practice here, and in a short time the men were swimming around the ship.
The passengers took great interest and began tossing coins in the water to them.
Our boys soon demonstrated their ability to re- trieve same, and the total monies collected were
donated to the Seamen's Fund.
On 1st July the Matson Co. tendered a dinner on board in honour of the team, and prepared special menus in which the whole of the team's names appeared.
On the run from Pago to Honolulu we had five days of ship life without interruption, and excellent training was carried out.
On arrival off Diamond Head on Wednesday, 5th July, we were first met by the two Australian surf boats, manned by Hawaiians and Americans.
Then came Duke Kahanamoku in a Customs cutter, accompanied by John Williams, Secretary of the Executive Committee, and Don Watson, Committeeman.
After immigration formalities, these gentlemen boarded and presented leis to every member of the team.
We were greeted at the dock by a Committee headed by Theodore Searle (Secretary, A.A.U.), Dad Center, Al Karasic, and a group of girls from the University of Hawaii, who presented each member with a lei and a lauhala hat.
After landing, we were escorted by the police in a parade through the business section of the city, headed by the Royal Hawaiian Band of 60 performers.
Then to the capital, where we were received by the Acting Governor, Chas. M. Hite.
From there to the City Hall and welcomed by the Mayor, Chas. S. Crane, and other executives.
Their welcomes were a splendid tribute to our Association, for the Governor and Mayor fraternised with our men for a considerable time and gave high praise for our work.
Hawaiian music and dancing entertained us at the City Hall.
From there we journeyed to the Pali to see the magnificent view of the island, and receiving bunches of bananas, cocoanuts and pawpaw, later returning to the city, where we were quartered at the Army and Navy Y.M.C.A.
The team dined at the Y.M.C.A., while Messrs. Wynter, Hay and myself were guests of representatives of the three sponsors of the Pacific Aquatic Carnival, the Kamaaina Beach Combers, Hui, the Star Bulletin, and ...
Page 3
... the associated students of the University, at the Cahu Country Club.
The complete programme for the carnivals was submitted to us for discussion and approval.
After meeting we returned to Army and Navy Y.M.C.A. to attend a meeting of Australian residents of Honolulu, who gave us an enthusiastic welcome and issued many invitations to functions.
In the evening many members of the team were the guests of Mr. and Mrs. Jim Gandry, Australian residents, at their home, and a most enjoyable night was spent.
At 8 a.m. the next day the team was picked up at our hostel by Hawaiian Pineapple Company officials and conveyed to the pineapple plantation for an inspection of Hawaii's second industry, employing 6,000 workers.
The plantation was in full swing, and in 24 hours 3,000 tins of pineapple are removed to the cannery by 25 large motor trucks.
At the entrance to the plantation, which is approximately 25 miles square, drivers report to the office and are directed to the part requiring their services.
The pickers, who are mostly Japanese men and women, wear glasses and gloves for protection against spikes and toil for 10 hours daily.
The pickers cut the ripe fruit and lay it on the bushes, where it is picked up by an automatic loader and packed in cases.
After inspection we were entertained at luncheon at Kemos, afterwards passing through Schofield Barracks and Wheeler Field aerodrome on our way to inspect the pineapple cannery, recognised as the largest in the world.
The store-rooms contain 100 million cans, the cafeteria accommodates 2,000 employees at one sitting, machines peel and core 90 pines a minute, machines label 1,400 tins per minute, and one day's work is 3 1/2 million tins.
There is absolutely no wastage- bran is obtained from the skins and fuel from the cores.
The team had the pleasure of being made honorary members of the famous Outrigger Canoe Club. Water conditions were pleasant, because water temperatures here range from 66 degrees to 82, and the weather is never colder than 56 nor warmer than 88.
The team had a free evening, and Wynter, Hay and self gave broadcasts from Station KGMB.
Friday, 7th July.-The morning was spent training at the beach, and at mid-day we were guests of the Representatives Club at the Alexander Young Hotel.
The team was introduced individually, and I addressed the luncheon on the Association's doings and surfing in general.
Later the team visited the children's play-grounds, under the direction of Arthur Powlison (Superintendent of Recreation Commission).
These play-grounds number 78 in all, controlled by a Commission appointed by the Territorial Government.
The idea is to protect Hawaiian children, and the grounds have beautifully-kept lawns, gardens, swings and gymnasiums, and in many cases swimming pools.
At 8 p.m. a curfew is sounded, and children under the age of 15 years unattended must be indoors. While team was inspecting playgrounds, Theodore Searle and myself inspected the Makapun Beach to see if it was suitable for a demonstration, which was to be held on the Sunday.
Saturday, 8th July.-Official visit to the University of Hawaii, and we were greatly impressed with layout; each subject has own building in spacious grounds.
In the afternoon assisted in broadcast to the mainland carried out by Station KGMB from the Lanai of the Moana Hotel and later from in the surf.
Entertained that evening at Hawaiian Rowing Club dance at Dreier Manor.
Sunday, 9th July.-The team made its first public appearance at 3 p.m. at Makapun, giving demonstration of R. and R. with details, followed by exhibitions of belt and surf racing, surf board riding and surf boat work.
This exhibition amazed a crowd of 15,000 with the precision of the R. and R. drill, and much favourable comment was heard on all sides.
Later, when the boat cracked a wave, the crowd went wild with excitement and kept asking the crew to give further exhibitions, which they did, and were roundly applauded by thousands lining the highway to Makapun.
Many cars were parked over a mile from the beach.
Monday, 10th July, found us guests of the Waimanalo sugar plantation in the morning.
Sugar is the chief industry of the island, the annual yield being 1 1/4 million tons.
The combined value of the sugar and pineapple industry is estimated at 100 million dollars.
Tuesday, 11th July.-This day was free from official functions, and the morning and afternoon was spent training at Waikiki beach until six o'clock.
In the evening we were the guests of Mr. A. Karasic at the Stadium, where we received a very hearty welcome from the wrestling fans.

Photograph

Betty Hashimoto
10-year-old champion swimmer of Hawaii
Wednesday, 12th July.-After acknowledging the welcome at the Natatorium, the team sang "Sons of the Surf," which was broadcast by Station KGMB.
The carnival was well conducted, and in addition to a full swimming programme 5,000 spectators were entertained by a string orchestra, two brass bands and many exhibitions of the Hula.
Robin Biddulph swam third in the 800 metrs race, won by Nakama in Hawaiian record time, and in the only other event we contested, the 400 metres relay, our team, consisting of McKay, Doerner, Fitzgerald and Furey, was successful.
In the heats of the 100 yards board race Morath and Chapple qualified for the final by getting 1st and 3rd respectively in the 1st heat and Russell qualified in the second heat, gaining 3rd place.
Thursday, 13th July, was free from official functions, and all possible time was spent at Waikiki training.
The team had the pleasure of meeting Ginger Rogers and Ruby Keeler, and induced Ginger to ride in the surf boat, which she enjoyed immensely.
Friday, 14th July.-In order to aid the Chief of Police, Mr. W. A. Gabrielson, in developing an Al police life-saving squad, the six most powerful swimmers in the force were given demonstrations in R. and R. work and later were drilled and coached in medallion work for several hours.
At the night carnival Biddulph secured 3rd place in the 200 and 400 metres.
The relay team secured second place in the 400 yards relay in opposition to the crack Maui team, including Nakama and Hirose.
In the final of the 100 yards board race Russell secured 3rd place and Boorman 4th place.
Page 4
Saturday, 15th July.-Team met by police officers and driven in Black Maria to police headquarters for an inspection, and also to screen our special surf film to them.
The force was greatly impressed with our work, and further demonstrations in R. and R. were given in the City Armoury to the selected policemen and also to officers of the army forces, who were also impressed.
After demonstration several army officers spoke of happy associations with Anzacs in the Great War.
After lunch we journeyed to Waialua Beach, situated some 30 miles from Honolulu, on the other side of the island, to demonstrate to officers and men of the Hawaiian Army Recreation Office, the Waialua Agricultural Company and Community Association.
The beach was well attended by civilians and service men, and so well were our methods received that there is every possibility of their adoption by the army.
After being entertained at dinner at the Haliewa Hotel, the team returned to Honolulu.
Sunday, 16th July.-Competed at Aquatic Carnival held Ala Moana Canal, starting at 8.30 a.m.
A crowd of about 3,000 watched the most complete and diversified regatta ever presented in Honolulu.
On the programme were canoe races, barge races, surf boat races, surf board competitions, outboard motor races and swimming events.
Our crew triumphed over the Territorial Beach patrol oarsman representing the island in the 3/4 mile surf boat race, which was the feature event of the regatta, in the good time of 6 min. 57.7 sec. Australia won the surf board relay over a mile in 10 min. 49.5 sec., thanks to the magnificent effort of Lou Morath, who reduced a leeway of 40 yards to enable R. Russell to commence the last lap with a lead of 5 yards.
Russell continued the good work and won by 30 yards.
In the 3/4 mile board race, J. May, of Honolulu, who had started under protest, won from R. Russell and Dick Chapple, but was disqualified owing to irregularities in his entry, and the race was awarded to R. Russell.
In the 1/2 mile swimming race Biddup suceeded in gaining second place to K. Nakama after swimming a very erratic course.
After the regatta the team was entertained by the Rowing Association at Dreier Manor.
Monday, 17th July.-After training at Waikiki the team visited the aquarium and later visited the Bishop
museum, where surprising interest was displayed in several early native surf boards, native canoes, paddles, hollow log drums, and feather capes and helmets.
In the afternoon we were guests of the Pistol Club at their indoor shooting gallery.
This club is composed almost entirely of Customs Officers, and from their exhibitions of target shooting there is no doubt of their ability as marksmen.
That evening the team attended Punahou Tank for heats of championships and competed against their combined water polo team.
The game resulted in a drawn game, each scoring 4 goals, but the Hawaliians changed men as soon as they became tired, and in all twelve men took to the water against us.
Tuesday, 18th July.-Free day.
Wednesday, 19th July.-At Punahou, Biddulph secured second place in the 500 yards open championship and fourth place in the 200 yards open.
The polo match held at the conclusion of the carnival resulted in a victory for Australia by 3 goals to 2.
Thursday, 20th July, was spent at Waikiki having final preparations in march past and rescue work for the final surf carnival on the Saturday.
By this time the rescue team had been moulded into a magnificent combination, and it was disappointing for them to receive no actual competition from the Hawaiians.
Friday, 21st JuIy.-The morning was free from training and official functions, and in the afternoon a visit was made to Pearl Harbour Naval Base.
The most in- ...
Page 5
... teresting feature was to inspect the rescue diving bell, the like of which was used in the Squalas disaster, and to witness an ascent by a diver in the 100 ft. diving tower, which is claimed to be the only one of its kind in the world.
Saturday, 22nd July.-Our team concluded its Honolulu Pacific Games visit with a surf carnival at Waikiki Beach in the afternoon, commencing at 3 p.m.
The Australian style programme had to be curtailed, as it was impossible to hessian the area and thousands of spectators overflowed on to the narrow beach, crowding out the competitors. However, the team was greatly applauded when they gave a characteristic march past display, a unique spectacle at Waikiki.
Then our rescue and resuscitation squad, in giving a rescue display, which was explained to the vast crowd through a megaphone by myself, drilled with machine-like precision as the huge crowd fought for better vantage points.
After this exhibition it became utterly impossible to clear the people from the beach, and the only other beach event contested was a beach relay race, in which our men were successful by a big margin.
The boat crew succeeded in winning their race by the narrowest of margins after one of the most exciting races I have ever witnessed.
With the exception of the last 50 yards the Hawaiians were always in front, and only a super-human effort on the part of the crew enabled them to win.
There were two board races conducted, one an unrestricted race, in which Russell came second, and a restricted race in which boards were drawn for, and Chapple secured third position.
That evening the team were the guests of the University of Hawaii at a dance held at the University.
On Sunday, 23rd, we were assembled early at our headquarters and driven to Hanula, situated on the other side of the island, for games and other sports, winding up with a Luau, in other words an Hawaiian feast.
On arrival all were tossed, fully clothed, into a small pond in front of the residence and then given liquid refreshments.
After spending the morning playing baseball, volley ball and Ameriann football, all had to disrobe and enter the sea.
Those not adhering to the custom were forcefully disrobed and flung into the sea.
Then followed the feast, at which pig, chicken, Havlaiian Poi, raw fish and island fruits were eaten with our fingers.
The function concluded after very many speakers had paid tribute to the magnificent record of the team and gifts commemorating their affiliation with our Association had been presented to me.
Monday, 24th July.-Mr. Wynter and myself dined with the Executive at lunch and the Australian flag was presented to the Committee for thc President of their Association.
When the hour for departure arrived on Monday our hearts were sad at leaving sincere and spontaneous American and Hawaiian friends.
Our final farewell speeches were broadcast from the deck of the Monterey by station KGl\IIB. Probably the most touching fare- well was when Paul Wolf and Bob Pirie, swilnming champions, stripped on the wharf and, diving into the water; swam a quarter of a mile to wave good-bye as
speeches were broadcast from the deck of the Monterey by station KGMB.
Probably the most touching farewell was when Paul Wolf and Bob Pirie, swimming champions, stripped on the wharf and, diving into the water, swam a quarter of a mile to wave good-bye as the ship swung into the stream.
The ship's sports competitions commenced on Wednesday, 26th, and most of our men entered the various events.
After making splendid showings in all contests, Herman Doerner succeeded in winning the table tennis singles and the plate diving competition.
In the latter event he succeeded in bringing to the surface 32 plates.
This figure is four better than the ship's record.
On returning to Suva, demonstrations of release and rescue drill were given in the local baths to the school children and practically all passengers of the Monterey. Biddulph was successful in winning a special 100 metres scratch race from the local champion, Miller, and the polo team succeeded in defeating Suva by 4 goals to 2 after being down 2-nil.
At Auckland we again received a hearty welcome from officers of the New Zealand Association.
Impressions
Future meetings between Hawaii and Australia will be marked by a keen spirit of competition in surf board and boat work and swimming, but I cannot see much competition in rescue and resuscitation work.
Waikiki Beach is totally unsuitable for reel line and belt work, owing to the fact that the surf finishes so far out from the edge of the beach, and also the presence of coral.
Further, there is practically no body shooting indulged in at all.
From a surf board point of view it is undoubtedly a paradise, there being many hundreds of boards of all shapes and sizes.
Further, most of the traditions of the island have been built around the surf board.
| | |
| --- | --- |
| Photograph | Royal Hawaiian Hotel, Waikiki Beach |
Recommendations
Owing to the vast difference in size and design of all surf boards in Honolulu, the surf board races were most unsatisfactory.
For your information I attach letter& containing suggestions from L. Morth and R. Chapple regarding standard boards, and I suggest that a Committee be formed to investigate and report on the
advisability of having standard boards for our contests next year.
Further, I suggest that the Hawaiians be invited to send here two outrigger canoes several months in advance of the team in order that canoe races could be held, I am sure great interest will be taken in their appearance here by the surfing public.
They are certainly superior to our surf boat for shooting the breakers in Honolulu, and it would be interesting to see how they would make out here.
Another suggestion is that our own clubs consider the introduction of volley ball to their clubs.
Our team was presented with a volley ball, which I propose to show to various clubs during my visits to them during the season and explain how the game is played.
This game is immensely popular and would undoubtedly take on well here.
In conclusion, I feel that words cannot express my heartfelt thanks and appreciation for the wonderful hospitality and generosity bestowed on our Australian team by the Hawaiians and their Association's officials and friends.
I also take this opportunity to again thank the "Daily Telegraph" for having the foresight and generosity to sponsor the inauguration of the first Pacific Aquatic Games at Honolulu.
---
October 3, 1939, page 6.
APPRECIATION OF HONOLULU TEAM
Mr. Adrian Curlewis, President,
Surf Life-Saving Association of Australia,
Sydney, Australia.
August 16, 1939.
Dear Mr. Curlewis,
As Mayor of the city of Honolulu, may I take this opportunity of expressing my deep appreciation,
personally and on behalf of our city, for the excellent co-operation and splendid display of good sportsmanship shown by your team on its recent visit to the Islands.
Great impetus was given to life saving during the Pacific Aquatic Carnival, and it was my privilege and a distinct pleasure to have witnessed this marvelloul feat, and I hope, in the not too distant future, we may be able to send a similar team to promote a better understanding and closer contact between the youth of Hawaii and those of Australia.
With my sincerest aloha to yourself and the boys, I am-
Cordially yours,
C. S. CRANE,
Mayor of Honolulu.
July 25, 1939.
The President,
Surf Life-Saving Association of Australia,
Phillip Street, Sydney.
Dear Sir,
The group of Australian athletes who left on the "Monterey" yesterday created a very fine impression during the 19 days of their visit.
Seldom, if ever, has Honolulu been privileged to meet and entertain men of their class or equal.
They are sportsmen, everyone, clean-living gentlemen.
Australia may well be proud of its representation at the Pacific Aquatic Carnival.
Their friendly, co- operative spirit has been outstanding, and we were sorry that their visit here was so short.
Sincerely,
JARED G. SMITH,
Financial Editor,
"The Honolulu Advertiser."
July 24, 1939.
Mr. Adrian Curlewis, President,
Surf Life-Saving Association of Australia,
Sydney, Australia.
Dear Mr. Curlewis,
As Chairman of the Pacific Aquatic Carnival Committee, I wish at this time to express to you our sincere appreciation for the privilege of having your life-saving team with us.
They have demonsrated to our country that system of life-saving that Hawaii has never seen before, and as we are now affiliated with your organisation and as we have adopted your handbook as our guide, I can assure you that on the next visit of the Australian team in 1941 Hawaii will be well fortified to compete against your team.
Again may I express, on behalf of our Committee, our sincere Aloha and goodwill that your team has brought to Hawaii.
Yours very truly,
THEODORE SEARLE, President,
Kamaaina Beach Combers' Hui,
Honolulu, Hawaii.
---
October 3, 1939, page 23.
FIRST SURF BATHING
Mr. E. O. Hanson, a Vice-President of the Avalon club, claims that his father was the pioneer of surf bathing in Australia.
Writing to the Editor of the "Herald" he states:-
Sir,- Referring to your letters on early surfing in Australia, my father, Albert G. Hanson, of Concord, always claimed that he was the pioneer of surf-bathing in Australia, when George Thornton (one-time Mayor of Sydney), he, myself, a brother and young sister surfed off the ocean beach in Manly in 1876. We wore webbing bathing trunks.
The following year we went to England, returning in 1885, when we again lived in Manly, and immediately started surf-bathing.
Others followed suit, when protests were made to the Council about people bathing in a state of semi-nudity.
The police informed my father that they had been instructed to prosecute anyone bathing between six in the morning and six at night.
As we always bathed between five and six this did not affect us, but aroused public indignation, and as a result of meetings the Council later approved of surf-bathing in a neck-to-knee costume.
Yours faithfully,
E. O. HANSON.
Avalon Beach, Sept. 14.
---
November 1, 1939, page 2
Hawaii
Duke Kahanamoku embraces a couple of visiting Australians.
(Tom Meager, Bondi, and Clem Morath, Freshwater)
...
Waikiki is in every reality a surf-board paradise, and a playground for American pleasure seekers, and although people of every nation mix freely, we Australians felt rather queer regarding this aspect. The surf at certain times is as good as anywhere in the world, but not comparable to the surf in Australia, as they are of different types.
In Hawaii the surf breaks approximately seven hundred yards from the shore and ceases about
five hundred yards from the water's edge.
...
-W. Fury
---
Advertisement:
Penguin Surf Skis
Chapman Engineering
54 Walker Street redfern.
Phones: MX 1500 MX 1509.

SLSAA: Surf in Australia
November 1,1939, page 11.
---
November 1,1939, page 19.
WAILS AND TALES
...
A new type of boat belt to replace kapok has been adopted by Head Centre.
...
The meshing of Sydney's metropolitan beaches is to be continued for another year.
A very wise Government decision.
* * * *
The Honolulu return visit has been postponed.
---
November 1,1939, page 16.
SONS OF THE SURF
(1)
Sons of the Surf, we stand together,
Proud of our pennants and our name;
While life-saving is our duty,
Shooting breakers is our game!
Strong and steady we are marching,
Drilling, patrolling ev'ry day;
Where our service reaches
There's safety on the beaches-
Boys of the S.L.S.A.!
Chorus:
Then it's swim, boys, swim,
With belt and board and vim,
For "Vigilance and Service" is our motto and our song!
Then it's row, boys, row,
And we'll let the chorus go
'Till our voices ring a hundred thousand strong.
(2)
Up, boys, up! the reels are spinning!
Down! now the line is paying out!
Battling onward speeds the beltman,
Courage conq'ring ev'ry doubt!
Sons of the Surf, the boats are launching,
Belts on, we watch you pull away. ...
Safety now you're nearing!
Hear the people cheering
The boys of the S.L.S.A.!
Chorus:
Then it's swim, boys, swim,
With belt and board and vim, etc., etc.
______________
[Listen for the music at the Bondi Carnival on Dec. 16.
Song and marching records 7/6 each from Hon. Editor, "Surf in Australia."]
---
December 1,1939, page 16.
Get your Surf Ski for Xmas
from
HERB. ROBSON
(Late of Sporting Boats)
47 ROSEBERY STREET, BALMAIN.
'Phone: W 1383.
RECONDITIONED SKIS
SURF SKI PADDLES, 11/-
SURF BOAT OARS, 2/9 FT.
SURF SKI REPAIRS - MODERATE CHARGES
---
December 1,1939, page 17.

---
Surf Life Saving Association of Australia:
Surf in Australia.
Official Organ of the Surf Life Saving Association of Australia
(Head Centre), 119 Phillip, Street Sydney.
Published by Alexander Leo Finn,
149 Dover Road, Rose Bay.
Printed by Lake and Ashes Pty Ltd.,
389-391 Sussex Street Sydney.
1939.
---

surfresearch.com.au
---
---
Geoff Cater (2009) : S.L.S.A. : Surf in Australia, 1939.
http://www.surfresearch.com.au/1939_SLSA_Surf_Australia.html
---