surfresearch.com.au
---
---
surfresearch.com.au
mcspadden : hawaiian surfing , 1939

---
J. Walker McSpadden : Surfriding in Hawaii, 1939.

---
Extracts from


McSpadden

,

J. Walker

:


Beautiful Hawaii




T. Y. Crowell,

New York, 1939.

Hathitrust


http://hdl.handle.net/2027/wu.89073029548
---
Introduction.
Joseph Walker
McSpadden (
1874-1960

)
---
Page 40

But, back from ethnology to surfboarding.
It looks easy to do as we watch those boys.
Why not try it?
A good many fair swimmers of both sexes from the States do, with indifferent results.
We suspect that the bunch of girls laughing out there in the water, as they climb aboard their planks, only to fall off again, are more interested in the "bronze gods" who are their mentors than in the sport itself.
Surf-riding is, in fact, a dangerous pastime for the unin-

Page 41

itiated.
The boards are long and heavy - ten or twelve feet long - built of three-ply koa wood.
The best of them cost as much as $150.
It was somewhat of a shock to me to learn thatmost of them are made in California.
But I was to get other shocks regarding "native" products as I went along.
"Surf-riding?" asked my friend - the same who had piloted me over Pali.
"Don't do it, unless you are heavily insured - and then, don't do it.
When that board gets away from you, jump as far as you can the other way.
For if it hits you, it can brain you.
I went in for the sport for a while - got a crack on the head one time, and nearly caved-in a rib at another.
I decided that my job was more valuable to me than a

surfboard

."

The other pastime that lures the malihinis is canoeing.
This is not as perilous as it looks.
The canoes are of outrigger type, with long, protecting arms on each side.
It requires an unusually boisterous wave to upset one, though I witnessed onesuch happening.
The canoes seat four, six, or eight, and are incharge of stalwart beach-boys at each end - perhaps another near the center.
They paddle out to where the combers are smashing across the reef.
"Huki! Huki! Pull! Pull!" yells the boy at the stern.
Everybody works - even that fat Chicagoan and his wife who have paid a dollar apiece for the privilege.
It is amusing to see such passengers put their backs in it and look about wildly as the waves swoop down upon them.
But the grasshopper-like craft stays miraculously upright, and the helmsman points it directly seaward.
Then, "Pau! Stop!" he cries, and all poise their paddles.
Down goes the craft broad-side to the wave, down into a trough until it is apparently

Page 42

swamped.
But see! - up it comes again like a chip, and in toward the shore, a plaything of the waves, dancing in un-harmed.
Beyond the surfboards and canoes, there is little to remind one that this beach is two thousand miles out in the Pacific.
The scene is similar to that of many other resorts.
The same gaudy umbrellas, tired business men, fat dowagers, and shapely girls.
The latter are not the languorous native lassies that our travel circulars have pictured; they are from Denver, Cleveland, and way stations.
In summertime they are school-marms.
Where, then, is the grass-skirted hula girl stroking her ukulele?
You may find her on the hotel grounds or lanais with her troupe, in the evening; or out at Kapiolani Park, some sunny day, "doing her stuff" for the cameras.
For she is strictly professional and as likely as not is a high-school girl.
The "uke" that you hear not far away on the beach is being strummed by a girl you met on shipboard, and she doesn't wear a grass skirt - her back is toward you and, at first glance, she doesn't appear to be bothered with any clothes at all!

Page 60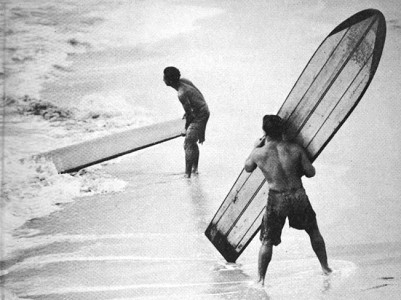 Surfboard riding at Waikiki
---
---

surfresearch.com.au
---
---
Geoff Cater (2016) : J. W. McSpadden : Beautiful Hawaii, 1939.
http://www.surfresearch.com.au/1939_McSpadden_Beautiful_Hawaii.html
---