pods for primates : a catatogue of surfboards in australia since 1900
---
---
1935 Laminated Balsa Surfboard
---

Balsa wood Surfboard re-enforced with laminated Redwood and Spruce.
11 ft x 23 3/4 inches, 16 inch pod.
Commonly known as a Swastika Model as manufactured by Pacific Homes, circa 1938.

---
---

Hi Sibley : Better Way to Build Surfboards

in Popular Science August 1935 Vol 127 No. 2 page 56
---
Notes
1. Template and rail design essentially reproduces classic Alaia design.
2. Significant bottom rocker.
3. Re-enforcement strips adapted by foam boards as the stringer, also nose and tail blocks.
---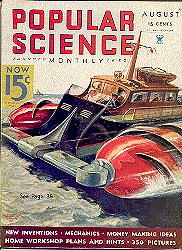 ---

surfresearch.com.au
---
---