Introduction

Basic account of surf-riding at Waikiki with an illustration by the author.
---
Page 116

Four miles from the centre of the town, along the coast toward Diamond Head, is Waikiki Beach, immortalized in our contemporary jazz songs.
It is here that the thrilling pastime of surf-board riding is seen at its best.
The long rollers of the Pacific are particularly suitable for the sport, which the natives had brought to a high art long before white men had ever heard of it.
Lying or standing on a board six feet long by two feet wide, a skilled surf-rider will slide down the front of a big wave and race half a mile toward the beach at a breathless speed.
Success at the sport requires judgment in seizing just the right moment to begin the swift glide shoreward.
A half-second too late or too soon means failure, and possibly a stunning blow on the head or body from the surf-board.
The

Page 117

swimmer, pushing his board in front of him, swims outthrough the breakers until he is some distance from the
shore, when he turns his back to the incoming seas, and, lying partly on the board, gently paddles in the trough of the rollers until one comes along which he chooses to ride in on.
He then paddles forward as hard as he can, and if the time has been judged nicely the big roller will carry him along, he slipping, as it were, down its front slope without ever reaching the bottom.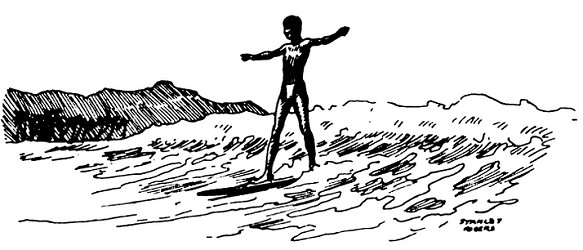 SURF-RIDING

A really skilful
surf-rider will draw himself forward along the racing
board, then carefully get his bent knees under him, and from a kneeling position raise his body until he is standing erect.
Only the experts can do this.

---
---