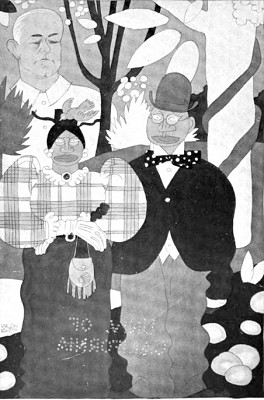 Facing Page 83

FREDERICK O'BRIEN FINDS THE SOUTH SEAS
PURIFIED AND BEAUTIFIED BY THE MISSIONARIES
(Illustration by Ralph Barton)
Page 83

THE WOWZER IN THE SOUTH SEAS
Fredekick O'Brien


All over the South Seas the censor has had his day.
From New Guinea to Easter Island, he has made his rules and enforced them.
Often he wrote glowing pages of prose and poetry about his accomplishments,
for reading in Europe and America.
He was usually sincere, and determined.
He felt that it was up to him to make over the native races to suit his own ideas
of what pleased God and himself.
When he had the lower hand, he prayed and strove in agony to change the
wicked hearts of his flock to Clapham or Andover standards; he suffered the
contumelies of heathen jibes, and now and again—often enough to make a cartoon popular—he was hotpotted or baked on hot stones as a "long pig."