surfresearch.com.au
---
---
surfresearch.com.au
lewis edwin capps : the surf rider, hawaii, 1920
---
Lewis Edwin Capps : The Surf Rider, Hawaii, 1920.

---
Poems and photographs from:
Capps, Lewis Edwin
A Song of Hawaii
Illustrations by the author.
Paradise of the Pacific, Honolulu,1920
---
Introduction.
A collection of poems, often about Hawaii or its residents, with some religious works.
The "illustrations" (photographs) are said to be by Capps.
---
Page 35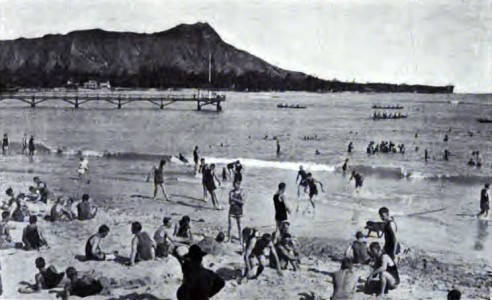 [Waikiki Beach]
Page 62
THE DIVER.
A flash of gold
A boiling surge of silver spray,
A glint of sunlight on a nymph
From Neptune's own abode beneath the sea.
A fearless plunge
From oflf an age old tow'ring rock
Into the breaker's heaving crest
And Neptune's daughter is at home again.
The wind may rise.
And with the rising tide.
Bring flooding seas that roll and break
Like Jove's great thunder on the mountain top.
But thundering seas and dashing spray.
To this fair bather on Hawaii's shore
Are but a welcome greeting and a magic call
To romp and play in Neptune's crystal pool.
Page 89
THE SURF RIDER
(To H. R. H. the Prince of Wales, 1920.)

With body bronzed in the tropic sun.
Slowly the surf rider slips from the shore
Gliding face down on his slender board
Straight for the reef where the breakers roar.
And now in the tumbling tide he waits
While the smaller waves roll by.
Scorning to challenge the lesser surf
Choosing with only the great to vie.
But the water is swift and high and strong
And his board is tossed like a chip in the air
While the rider, quick as a lightning flash.
Dives for his life, nor a moment to spare.
And again he is up, and again in his place.
With the breakers rolling by
For a sportsman true is this son of Neptune,
With a heart that will do or die.
Page 90
Like a sea-bird he rests in the far away

Then suddenly rises with arms outspread

While the spray at his feet in a silver shower

Curves like the wings of the gull overhead.
And out from the smother and out from the foam
Straight as an arrow he speeds away
Chased by the breaker's rolling crest,
A statue bathed in a whirl of spray.
Comes with the speed of an aeroplane
'Til the breaker sinks in a quiet tide, -
The surfer drops near the sandy shore -
Then back to the reef for another ride.
Page 91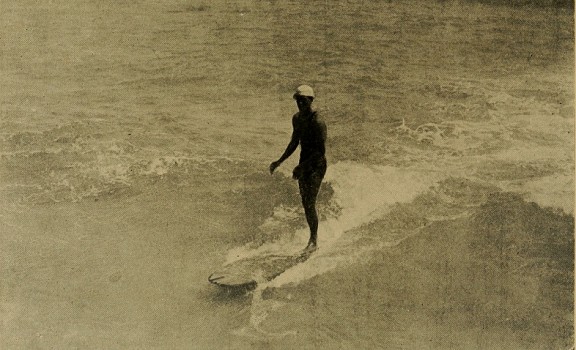 Page 120

WAIMEA.
As I dream of Oahu's windward shore,
I can hear the crash and the sullen roar
Of the towering waves, as they roll, wind-blown,
To drive and pound on her walls of stone.
Like a myriad horse in a battle wide,
As to war's wild hell they gallop and ride,
And race and fall in a seething tide,
Forever and ever and evermore.
Page 121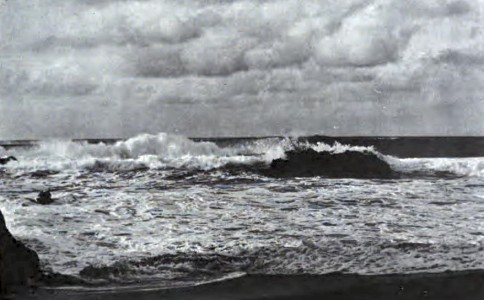 ---
---

surfresearch.com.au
---
---
Geoff Cater (2013-2017) : Lewis Edwin Capps : The Surf Rider, Hawaii, 1920.
http://www.surfresearch.com.au/1920_Capps_Song_Hawaii.html
---