Page 13

little kiddies taking their first lessons in surf-board riding.
While learning how to balance and paddle the boards their assistants laugh with joyous derision, as the would-be surfers helplessly wabble about on their boards; until at last they have learned how.
It is fun to watch a fat, elderly man with a big "opu" struggling helplessly on his wet, slippery and unruly board, "learning how."
After a little practice on the small Cornucopia Surf, near the raft, these novices soon venture out into the big Canoe Surf; proudly confident, they are usually in everybody's way until they have learned to look out for themselves and others.

Many women and girls among the tourists get the Hawaiian boys to drag
them on their boards, out through the surf, give them a shove and they joyously ride in on the small surf near shore, receiving many a thrill while their proud friends and relatives watch excitedly from the Moana pier and snap pictures of these surfing belles.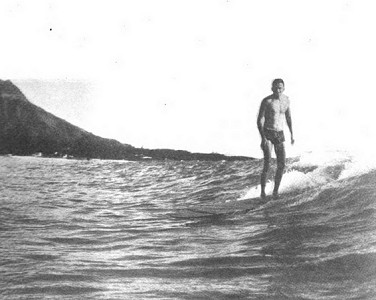 "The most exhilarating and exciting sport
in the world"