Page
24
THE
SURF
AT WAIKIKI
By GEORGE MARVIN
Illustrated with Photographs

EVERY country has its own customs in sport as in other things.
It has remained for Hawaii to reign preeminent in the manly sport of surf-riding.
The conformation of the beach and the bottom along the island shores brings the waves in in long, carrying swells that shoot the expert rider toward shore with the speed of an express train.
None but a strong swimmer dare venture out, but for those who can do the trick there is nothing can beat the sensation.
The article which follows is a narrative of a typical experience at Waikiki, where the conditions are perhaps the best in all the islands, as recounted by a newcomer.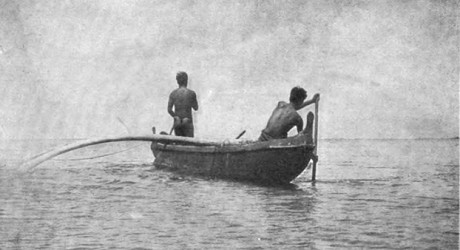 ONE OF THOSE OUTRIGGER CANOES, WITH TWO HUSKY
KANAKAS PADDLING IT, BELONGS TO LINDA, THE
DILATORY, WHO IS KEEPING US WAITING RIDING THE
SURF AT WAIKIKI