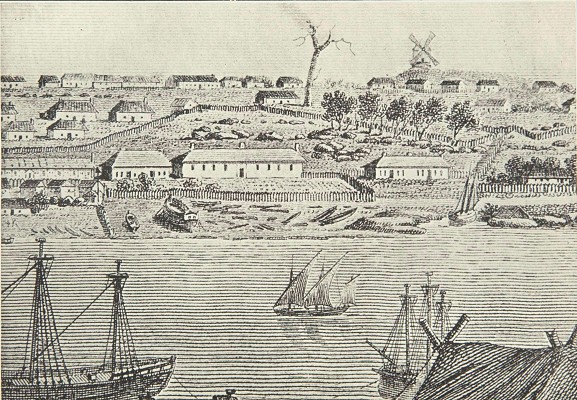 GEORGE BASS'S WHALEBOAT.
[From an engraving by Lesueur, in the Atlas to Peron and Freycinet's "
Voyage de decouvertes aux Terres Australes."
- the boat is represented stayed up on the foreshore in front of the line of fencing.]

of the line of his profession." (2)
Flinders called him "the penetrat­ing Bass." (3)
We read also, in a description of him by a relative, of his "very penetrating countenance."
The mystery surround­ing his end will perhaps never be entirely removed; but mean­while we may recognise what he did, with the means available, to have been brave work, worthy of his dauntless character.

It may be well at this point to correct an error which has been unfortunately promulgated in the best known modem history of the British Navy.
In volume IV. of The Royal Navy: a History," edited by Sir William Laird Clowes, it is stated that Bass' whale-boat voyage was undertaken "with a crew of five convicts.''(4)
Reference to Governor Hunter's despatches shows that such was not the case.
"I inquired of him," says Hunter, " in what way he was desirous of exerting himself, and he informed me that nothing could satisfy him more effectually than my allowing him the use of a good boat and permitting him to man her from the King's ships." Accordingly Hunter " furnished him with an excellent whale-boat, well fitted, victualled, and manned to his wish."(5)
The crew were, therefore, honest British sailors.
The convict story is a fabrication.
One of his six picked seamen, John Thistle, afterwards rose to the rank of master, in which position he served in the Investigator. Flinders was "much attached" to him, and Thistle Island, in Spencer's Gulf, was named after him.

Bass carried provisions for six weeks.
His little craft doubled Cape Howe on 20th December.
On the last day of the year, he confesses in his journal to have pursued his voyage "in anxious expectation, being now come upon an hitherto unknown part of the coast."
On the last night of 1797,(6) at 10 o'clock, there was a bright moon in a cloudless sky, and the adventurers could dis­tinctly see the low, level land on their starboard side.
Cramped and uncomfortable as they must have been, they can hardly have failed to feel, at this moment, that their privations were worth enduring.
A new year was dawning, and they- these seven hardy Englishmen in their rocking craft, so small a thing that a man could hardly stretch his legs in it without kicking the shins of another- were adding a wide stretch of entirely fresh territory to the map of the world.
Bass himself was a man of thought and knowledge, and it must, surely, have stimulated his imagination as he scanned the bush-backed coastline of the


Page 157

Ninety-Mile Beach, washed by its long fringe of white foam, breaking in crisp phosphorescent curls under the moonlight, and wondered what generations to come would make of this country, and what they would think, if they spared a thought at all, of him, the hazardous discoverer.
If a subject were wanted by a sculptor that should symbolize the moving story of Australian exploration, there could hardly be a better than a picture in marble or bronze of George Bass, with his strong intellectual features, standing erect in his whaleboat, searching the line of the shore, on that voyage when he was winning enduring renown.

The chart drawn by Bass to show his course was embodied in a drawing of Bass Strait afterwards published by Flinders.
Copies of the original are extremely rare; but there is one in the British Museum and another in the Petherick Collection, Federal Parliamentary Library.
On 2nd January Wilson's Pro­montory was discovered; but the name it bears was given, not at the instance of Bass alone, but of himself and Flinders.
The latter wrote that "at our recommendation Governor Hunter called it Wilson's Promontory in compliment to my friend Thomas Wilson, Esq., of London."(7)
Mr. E. A. Petherick informs me that he has seen letters written by this Thomas Wilson, who was a London merchant partly engaged in Australian trade ; but I have been unable to gather anything more definite about him.
The author of a book about Australia, published in England a few years ago (8) writing of Wilson's Promontory, falls into an error of the kind that is committed by taking statements at second hand, instead of depending upon original authorities.
It is alleged that one of the crew of the whaleboat, named William Wilson, "jumped ashore first, and the point was henceforth called Wilson's Pro­montory."
Nobody "
jumped ashore first," because, as Bass twice mentions in his journal, "we could not land."(9)
He at first called the promontory "Furneaux's Land," believing it to be the country sighted by the captain of the
Adventure
in 1770; but as Flinders states that Hunter gave the name Wilson's Pro­montory "at our recommendation," it may be inferred that Bass did not convince Flinders of the correctness of his hypothesis, and changed his own opinion before a name was affixed by authority.(10)


On 5th January Bass discovered Westernport, which he so named "from its relative situation to every other known harbor on the coast."
There is no need to dwell upon his observations
Page 158
about the pleasing appearance of the surrounding country, upon the incidents of his ten days' sojourn in the port, or upon the return journey to Sydney, where he arrived on Sunday, 25th February.

The important point in the development of our subject is that by this voyage of Bass, in 1798, the whole of the eastern coastline of Victoria, from Cook's Point Hicks to Westernport, was made known and its general contours were mapped.
Bass Strait Demonstrated.

Bass did not actually demonstrate that the strait which bears his name was a passage between Tasmania and the mainland; but, as he informed Governor Hunter, the sea "rose to so moun­tainous a height "that there was
much reason to conclude "the absence of land blocking egress westward.
Indeed he "con­stantly asserted"(11) that the westerly swell rolling in upon Western-port indicated exposure at that situation to the Southern Indian Ocean.


In October, 1798, Bass and Flinders together, in the
Norfolk

,
25 tons, proved that there was a strait by sailing through it.
This piece of investigation was the principal object of their voyage.
Their sloop was a tiny craft for a stiff bit of navigation, but she was a fine sea-boat, whose qualities elicited the admiration of Flinders.
"Seas that were apparently determined to swallow her up," he wrote,
"she rode with all the ease and majesty of an old experienced petrel."

On 9th December, after rounding Hunter's Islands and Albatross Island, the problem was solved, for "the direction of the coast, the set of the tides, and the great swell from the south-west, did now completely satisfy us that a very wide strait did really exist between Van Diemen's Land and New South Wales, and also now that we had certainly passed it."(12)
Footnotes (Endnotes)
1.The new (11th) edition of the

Encyclopaedia Britannica

does not find room for an article on George Bass, the discoverer, but devotes a fair amount of space to one on some other persons named Bass, who, it appears, are "a family of English brewers'! "
It would be odd if this represented the relative importance, in the minds of the editors, of history and beer!


2. Hunter to the Duke of Portland,
Historical Records of New South Wales

,
III., 363 ; and to Secretary Nepean,
Ibid.,
474.

3. "Narrative of the Voyage of the Norfolk,"
Ibid..
111.,
816.
4.The chapter in
which
the statement
appears
was written by Sir Clements Markham.

5.

Historical Records,

III., 363 and 474.
6. It was January, 1789, by nautical reckoning.