pods for primates : a catatogue of surfboards in australia since 1900
---
---
surfresearch.com.au
inglis : sport & pastimes in australia 1912
gordon inglis : sport & pastimes in australia 1912
pages 248 - 252

---
THE JOYS OF THE SURF
An old-established rowing club in Sydney, disbanded a little while back, and a friend communicating the intelligence, wrote, "The main cause was the depletion in the ranks - they all surf."
At one time it looked as if enclosed swimming was also to suffer, for the song of the surf threatened to lure many away from the attractions of speed swimming.
Happily it has been decided that one need not abandon an old pastime because a new and delightful branch of it has been made available.
To-day the standard of our swimming is as high as ever.
Many people have been attracted to the surf who seldom bothered about the enclosed area.
I can imagine no more pleasant way of beginning the working day than to visit one of the ocean beaches in which New South Wales is so rich, either near Sydney or preferably one of those glorious stretches of sand which are to be found all the way along South Coast.
Wherever it be you will find a crowd of happy sun-worshippers, revelling in the delights of shooting the breakers, to be followed by the healthy and invigorating sun bath.
The South Coast now boasts of many golf clubs.
To laze away the holiday hours with surfing and golf in plenty, both in ideal surroundings - he a selfish fellow who asks for more.
The surf bather is divided into three classes : the timidly venturous who go out breast high, the more expert who dive under the first "roller," and the practised surfer who moves slowly seaward to return at express speed on the crest of a great wave.
For sheer exhilaration as a past- time it would be hard to surpass.
But-be sure of yourself before exhibiting your prowess.
He is a foolhardy person who gives all the trouble on our beaches and makes it necessary for brave men to risk their lives to rescue him from difficulties of his own creation.
Provided a reasonable degree of precaution be observed there is no chance of mishap.
No recreation has taken such a hold upon the community, nor could progress have been more rapid. At the beginning of the twentieth century surf bathing in Australia was practically unknown.
Even in 1903 the number of devotees was very small, and there were many annoying restrictions governing the pastime.
It proved a difficult matter to convince some municipal potentates that the ardent supporters of surfing were not animated by unworthy intent, but, happily, good sense prevailed.
With a freer understanding the delights of the surf were acclaimed, fresh converts were made, and each morning and evening in summer there are now thousands on the beaches.
Moreover, it has become recognized that the value of land in the vicinity of the most attractive bathing spots has ben enormously increased.
Allotments, that a dozen years ago would not have aroused a vestige of interest, have changed hands at a high figure.
The attitude of the Iocal authority is refreshingly altered, and the leading beaches are now properly equipped with dressing-room accommodation, etc.
Thus has one of the healthiest pastimes come to its own.
LIFE-SAVING CLUBS
I have alluded before to the recklessness of some participants.
The best surfers decided that it was their duty to look after all those who had got into difficulties, accidentally or otherwise.
There is no better judge of life-saving methods - nor it may be added a better friend to Australian swimmers when they come to England - than Mr. William Henry, Secretary of the Royal Life Saving Society.
Therefore his opinion on the subject counts for a great deal.
"The formation of Surf Bathers' Life Saving Clubs in New South Wales," says Mr. Henry, "was indeed a sublime idea, and, perhaps, a perfect ideal for everyone interested in swimming and life-saving to follow.
The idea is that which in all times has united people in the cause of humanity; it draws forth the highest perfection by encouraging unselfish and noble acts.
I heard of these clubs years ago, and thought them similar to the usual swimming club, with a change of title to indicate that the members are surf bathers; but I find that I was wrong, as their chief object is to save life and guard the surf bathers against possible accidents, accidents which undoubtedly would be only too frequent were it not for the vigilance of ? members.
It is the proud boast of many of these clubs that not a single life has been lost on their particular beach since their formation.
These clubs are generally known the name of the beach on which they work, such as Manly, Bondi, Coogee, Cronulla, North Steyne, Newcastle. etc.
Most of them have charming club-houses built above the high-water level, in which the appliances for saving of life are kept.
Most of the best swimmers in the district, such Healy, Hardwick, Solomon, Baker, as well as others, belong to them, and these swimmers are formed into squads, who take it in turn to stand on guard on the beach watching the bathers in the surf.
By their side stands the life-saving reel.
This reel consists of a revolving drum, on which between 200 to 300 yards of rope is wound, to one of which a life-belt is attached. The reel is a portable and can be moved up and down the beach where required.
Immediately a bather is observed in trouble, either by being dumped by a wave or carried out in a gulley, and in danger of losing his life, an alarm is given; same moment the swimmer standing on the beach rushes into the water and swims to the drowning person.
In the meantime another swimmer attaches the life-belt to himself and goes after him, whilst others assist by easing and guiding the rope behind him.
The first one to go out naturally arrives to the drowning person first, and takes and supports him according to the methods of the Life Saving Society.
Soon afterwards the second man arrives and takes hold of the drowning person and relieves the first swimmer, who takes hold of the rope, and all three on a given signal are drawn to shore by those on land.
Sometimes they are brought in in a very exhausted condition, and if the drowning person is landed apparently dead, he is at once resuscitated and cared for until able to leave.
" I witnessed two of these rescues in one day, and one of the rescued was in the club-room for several hours before regaining consciousness, and I was told that on one day at Manly as many as thirty-six people were taken out of the water, and although many thousands bathed, not a life was lost.
This is the kind of work these clubs are doing; when generally known it will receive the highest commendation from everyone, especially as it is done without hope of reward, and often at great personal risk.
I tried to find out with whom the idea originated, and it seems to me I shall not be far out if I give the credit to Mr. Walter H. Biddell, who by many is considered the father of surfing inSydney.
He is also the inventor of a lifebuoy in the form of a cigar, and formed the first life saving club or brigade at Bronte Beach.
Mr. Biddell is a staunch supporter of the Royal Life Saving Society, and has been connected with the New South Wales Head Centre for many years.
The life-saving reel, I believe, was devised by Warrant Officer Bond, who is still busily engaged in connection with swimming at Bondi."
---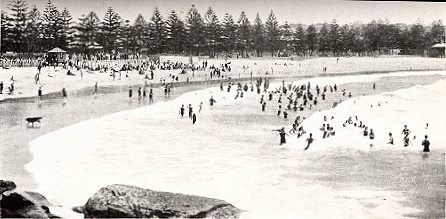 SURF BATHING AT MANLY BEACH, SYDNEY
Image cropped from Inglis: Sport and Pastimes in Australia page 250
---
Notes
1. The early enthusiasm for surf riding and its association with "speed swimming"..
2. The spread of surfing from Manly and Bondi to other metropolitan beaches and the South Coast.
3. The developement of surf skills and the need for safety.
4. Rise in beach side property values.
5. The efficiency and community support of the Surf Life Saving Club movement.
6. A committed and enthusiastic surfing culture was well developed by 1912, ripe for the impact of master surfer, Duke Kahanamoku in 1914.
---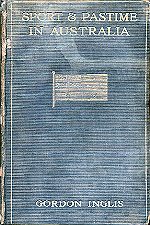 ---

surfresearch.com.au
---
---