Against our Newport, England pits her exclusive Isle of Wight, where the late Queen Victoria spent her summer months at Osborn
Palace and the nobility of England in surrounding country villas lead the quiet social life of the Englishman at home, for it is the summer house. out of town that is "home" to the Britisher, and not the city mansion where the social functions of the gay season are held.
Brighton, just across the channel from the Isle of Wight, is the Atlantic City of the English populace, while Blackpool, in the north, near Liverpool, is its Coney Island.
There are no boardwalks it is true, for on the other side they build solid granite sea walls and concrete drives that will last as long as the old Roman roads that still exist.
But, perhaps, after all, Scarborough, on the North Sea, near York, is the typical British seaside resort, where men and women in stately dignity bathe in separate waters, for the English husband of the upper middle class. may not look upon his own wife in her bathing suit.
We have nothing in America like Scarborough.
It is English, thoroughly and exclusively English.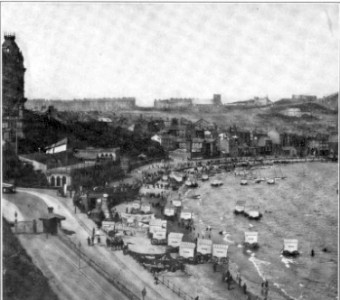 SCARBOROUGH, A FASHIONABLE
ENGLISH RESORT.