surfresearch.com.au
---
---
surfresearch.com.au
mabel loomis todd : surfriding in canoes and boats, hawaii, 1896

---
Mabel Loomis Tood: Waikiki, 1896.

---
Todd, Mabel Loomis, Rogers, Bruce:
.
Houghton, Mifflin and Co.,
Boston,
Riverside Press
Cambridge, Mass., 1898.
Internet Archive
https://archive.org/details/coronacoronetbei00todd_0
---
Introduction
Todd, Mabel Loomis, 1856-1932;
Rogers, Bruce, 1870-1957
---
CHAPTER VI
LIFE IN HONOLULU
...
Page 48
Surf-riding is an exciting amusement ; native boatmen, each with a happy passenger in his canoe, paddle out beyond the breaking waves, only to ride beachward on a rushing, foamy crest.
Bathing-suits are necessary for the pas-
P
age
49
senger (the islander does not trouble himself with one) because overturns are not infrequent.
If the foreigner can swim until the native comes to his aid, all is well.
Most persons can do so, and are generally rescued alive, though not invariably.
Still, the perilous pastime continues in unabated popularity.
Page 64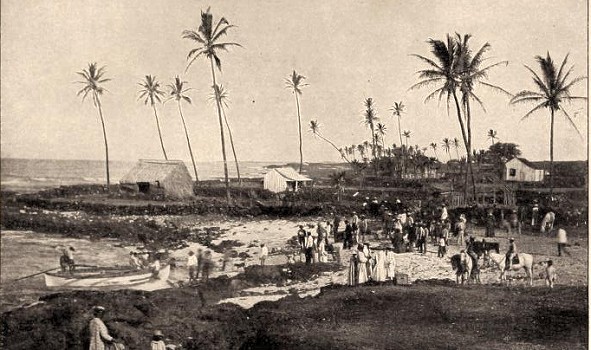 Hawaiian Village Landing Place.

Note whaleboat at the landing and the grass-hut on the point, possibly
Punaluu, see below.
CHAPTER VII
HAWAIIAN VOLCANOES
...
Page 66

Toward evening the Hall anchored off Punaluu, two hundred and seventy miles from Honolulu, where landing appeared an uncertain performance, through pounding surf, still encircling the coast in walls of swaying whiteness.
About nine o'clock two small boats shot through from the little town, to bring our company ashore.
They were propelled by natives ready to dash back with us into lines of breakers at the most favorable instant.
Great rollers chased us madly, raised the boats like egg-shells in a wild rush forward, then broke over the lava reefs with resounding din on either side, now and then enveloping us in heavy showers.
Still the native oarsmen kept peacefully onward, guiding their craft with much skill through the narrow passage among rocks, taking each sea just right until both boats were brought up safely beside a little wharf in partial shelter of a small bay, where one assisted jump

Page 67

landed the voyagers among a variegated crowd watching our arrival with interest.
It was called an unusually calm landing for that port.
---
---

surfresearch.com.au
---
---
Geoff Cater (2014) : Mabel Loomis Tood : Surfriding in Canoes and Boats, Hawaii, 1896.
http://www.surfresearch.com.au/1898_Todd_Corona_Coronet_1896.html