SURF-RIDING.


ONE day all the little Kittredges, who lived at the Sandwich Islands, went down to the beach to bathe in the surf.
Maurice took his surf-board with him.
He had spent a long time in the morning getting the board ready
It was nothing, after all, but a long, narrow board rounded at one end.

Maurice had never tried to ride on a surf-board, but he had seen the natives do it many times, and he felt sure it was great
fun.
He tried to get Maude and Rose to ask him to make them some boards ; but they said they did not want any.

"What are you afraid of ?" asked Maurice.
"It is just as easy as anything."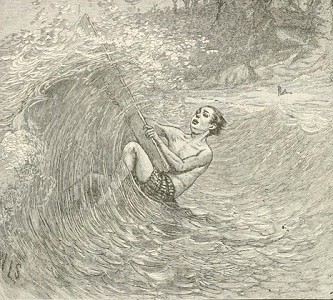 Holding his surf-board in both hands.