surfresearch.com.au
---
---
surfresearch.com.au


mark twain : roughing it, 1872

---
Mark Twain : Roughing It, 1872.

---
Extracts from
Twain, Mark (Clements, Samuel): Roughing It.
American Publishing Company, Hartford, 1872.

Project Gutenberg
http://www.gutenberg.org/files/3177/3177-h/3177-h.htm#ch62

---
Introduction.
Twain visited Hawaii,then the Sandwich Islands, in 1866 as a reporter for the Sacramento Union, recounting his
Roughing It, based on his newspaper articles, was written during 1870-1871 and published, with illustrations, in 1872, as a prequel to his first book The Innocents Abroad (1869).

The majority of the illustrations are by True Williams (TW), the principal illustrator for Innocents Abroad.
Others included Edward F. Mullen (E.F.M.), Roswell Morse Shurtleff (Shurtleff), and Henry Stephens, identified by the engraver's mark Richardson.

wikipedia: Mark Twain
https://en.wikipedia.org/wiki/Mark_Twain

Mark Twain's Illustrators
http://twain.lib.virginia.edu/roughingit/illus/riillhp.html

---
Page 210

CHAPTER LXII.

I wanted another change.
The vagabond instinct was strong upon me.
Fortune favored and I got a new berth and a delightful one. It was to go down to the Sandwich Islands and write some letters for the Sacramento Union, an excellent journal and liberal with employees.

We sailed in the propeller Ajax, in the middle of winter.
The almanac called it winter, distinctly enough, but the weather was a compromise between spring and summer.
Six days out of port (San Francisco), it became summer altogether.



CHAPTER LXIII.


On a certain bright morning the Islands hove in sight, lying low on the lonely sea, and everybody climbed to the upper deck to look.
After two thousand miles of watery solitude the vision was a welcome one.
As we approached, the imposing promontory of Diamond Head rose up out of the ocean its rugged front softened by the hazy distance, and presently the details of the land began to make themselves manifest: first the line of beach; then the plumed coacoanut trees of the tropics; then cabins of the natives; then the white town of Honolulu, said to contain between twelve and fifteen thousand inhabitants spread over a dead level; with streets from twenty to thirty feet wide, solid and level as a floor, most of them straight as a line and few as crooked as a corkscrew.
...
I saw on the one side a frame-work of tall, precipitous mountains close at hand, clad in refreshing green, and cleft by deep, cool, chasm-like valleys—and in front the grand sweep of the ocean; a brilliant, transparent green near the shore, bound and bordered by a long white line of foamy spray dashing against the reef, and further out the dead blue water of the deep sea, flecked with "white caps," and in the far horizon a single, lonely sail—a mere accent-mark to emphasize a slumberous calm and a solitude that were without sound or limit. When the sun sunk down—the one intruder from other realms and persistent in suggestions of them—it was tranced luxury to sit in the perfumed air and forget that there was any world but these enchanted islands.


CHAPTER LXIV.


An excursion to Diamond Head and the King's Coacoanut Grove was planned to-day—time, 4:30 P.M.—the party to consist of half a dozen gentlemen and three ladies.
...
A mile and a half from town, I came to a grove of tall cocoanut trees, with clean, branchless stems reaching straight up sixty or seventy feet and topped with a spray of green foliage sheltering clusters of cocoa- nuts—not more picturesque than a forest of collossal ragged parasols, with bunches of magnified grapes under them, would be.
...
About a dozen cottages, some frame and the others of native grass, nestled sleepily in the shade here and there.
The grass cabins are of a grayish color, are shaped much like our own cottages, only with higher and steeper roofs usually, and are made of some kind of weed strongly bound together in bundles.
The roofs are very thick, and so are the walls; the latter have square holes in them for windows.
At a little distance these cabins have a furry appearance, as if they might be made of bear skins.
They are very cool and pleasant inside.
The King's flag was flying from the roof of one of the cottages, and His Majesty was probably within.
He owns the whole concern thereabouts, and passes his time there frequently, on sultry days "laying off."
The spot is called "The King's Grove."


CHAPTER LXIX.


Bound for Hawaii (a hundred and fifty miles distant,) to visit the great volcano and behold the other notable things which distinguish that island above the remainder of the group, we sailed from Honolulu on a certain Saturday afternoon, in the good schooner Boomerang.
...
By and by we took boat and went ashore at Kailua, designing to ride horseback through the pleasant orange and coffee region of Kona, and rejoin the vessel at a point some leagues distant.



CHAPTER LXXI.


At four o'clock in the afternoon we were winding down a mountain of dreary and desolate lava to the sea, and closing our pleasant land journey.
This lava is the accumulation of ages; one torrent of fire after another has rolled down here in old times, and built up the island structure higher and higher.
Underneath, it is honey-combed with caves; it would be of no use to dig wells in such a place; they would not hold water—you would not find any for them to hold, for that matter.
Consequently, the planters depend upon cisterns.
...
Toward midnight a fine breeze sprang up and the schooner soon worked herself into the bay and cast anchor. The boat came ashore for us, and in a little while the clouds and the rain were all gone. The moon was beaming tranquilly down on land and sea, and we two were stretched upon the deck sleeping the refreshing sleep and dreaming the happy dreams that are only vouchsafed to the weary and the innocent.


CHAPTER LXXII.
---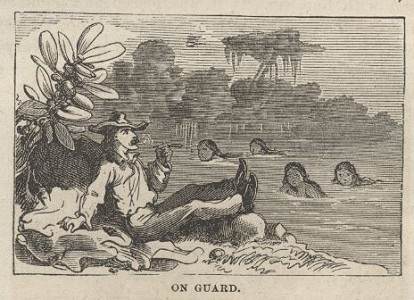 True Williams: On Guard.
---
At noon I observed a bevy of nude native young ladies bathing in the sea, and went and sat down on their clothes to keep them from being stolen.
I begged them to come out, for the sea was rising and I was satisfied that they were running some risk.
But they were not afraid, and presently went on with their sport. T
They were finished swimmers and divers, and enjoyed themselves to the last degree.

They swam races, splashed and ducked and tumbled each other about, and filled the air with their laughter.
It is said that the first thing an Islander learns is how to swim; learning to walk being a matter of smaller consequence, comes afterward.
One hears tales of native men and women swimming ashore from vessels many miles at sea—more miles, indeed, than I dare vouch for or even mention.
And they tell of a native diver who went down in thirty or forty-foot waters and brought up an anvil!
I think he swallowed the anvil afterward, if my memory serves me.
However I will not urge this point.
CHAPTER LXXIII.
At noon, we hired a Kanaka to take us down to the ancient ruins at Honaunan in his canoe—price two dollars—reasonable enough, for a sea voyage of eight miles, counting both ways.

The native canoe is an irresponsible looking contrivance. I cannot think of anything to liken it to but a boy's sled runner hollowed out, and that does not quite convey the correct idea.
It is about fifteen feet long, high and pointed at both ends, is a foot and a half or two feet deep, and so narrow that if you wedged a fat man into it you might not get him out again. It sits on top of the water like a duck, but it has an outrigger and does not upset easily, if you keep still.
This outrigger is formed of two long bent sticks like plow handles, which project from one side, and to their outer ends is bound a curved beam composed of an extremely light wood, which skims along the surface of the water and thus saves you from an upset on that side, while the outrigger's weight is not so easily lifted as to make an upset on the other side a thing to be greatly feared. Still, until one gets used to sitting perched upon this knifeblade, he is apt to reason within himself that it would be more comfortable if there were just an outrigger or so on the other side also.
I had the bow seat, and Billings sat amidships and faced the Kanaka, who occupied the stern of the craft and did the paddling. With the first stroke the trim shell of a thing shot out from the shore like an arrow.
There was not much to see.
While we were on the shallow water of the reef, it was pastime to look down into the limpid depths at the large bunches of branching coral—the unique shrubbery of the sea.
We lost that, though, when we got out into the dead blue water of the deep.
But we had the picture of the surf, then, dashing angrily against the crag- bound shore and sending a foaming spray high into the air.
There was interest in this beetling border, too, for it was honey-combed with quaint caves and arches and tunnels, and had a rude semblance of the dilapidated architecture of ruined keeps and castles rising out of the restless sea.
When this novelty ceased to be a novelty, we turned our eyes shoreward and gazed at the long mountain with its rich green forests stretching up into the curtaining clouds, and at the specks of houses in the rearward distance and the diminished schooner riding sleepily at anchor.
And when these grew tiresome we dashed boldly into the midst of a school of huge, beastly porpoises engaged at their eternal game of arching over a wave and disappearing, and then doing it over again and keeping it up—always circling over, in that way, like so many well- submerged wheels.
But the porpoises wheeled themselves away, and then we were thrown upon our own resources.
It did not take many minutes to discover that the sun was blazing like a bonfire, and that the weather was of a melting temperature.
It had a drowsing effect, too.
---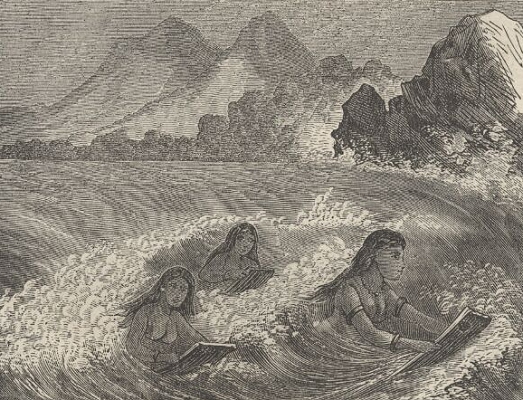 Edward F. Mullen: [Surf-Bathing- Success]
---
[Honauna, Hawaii, July 1866]
In one place we came upon a large company of naked natives, of both sexes and all ages, amusing themselves with the national pastime of surf-bathing.
Each heathen would paddle three or four hundred yards out to sea, (taking a short board with him), then face the shore and wait for a particularly prodigious billow to come along; at the right moment he would fling his board upon its foamy crest and himself upon the board, and here he would come whizzing by like a bombshell!
It did not seem that a lightning express train could shoot along at a more hair-lifting speed.
I tried surf-bathing once, subsequently, but made a failure of it.
I got the board placed right, and at the right moment, too; but missed the connection myself.—The board struck the shore in three quarters of a second, without any cargo, and I struck the bottom about the same time, with a couple of barrels of water in me.
None but natives ever master the art of surf-bathing thoroughly.
---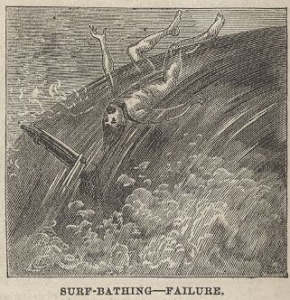 Edward F. Mullen: Surf-Bathing- Failure
---
CHAPTER LXXV.
Kilauea never overflows its vast crater, but bursts a passage for its lava through the mountain side when relief is necessary, and then the destruction is fearful. About 1840 it rent its overburdened stomach and sent a broad river of fire careering down to the sea, which swept away forests, huts, plantations and every thing else that lay in its path.
...
Fishes were killed for twenty miles along the shore, where the lava entered the sea.
The earthquakes caused some loss of human life, and a prodigious tidal wave swept inland, carrying every thing before it and drowning a number of natives.
The devastation consummated along the route traversed by the river of lava was complete and incalculable.
Only a Pompeii and a Herculaneum were needed at the foot of Kilauea to make the story of the irruption immortal.
---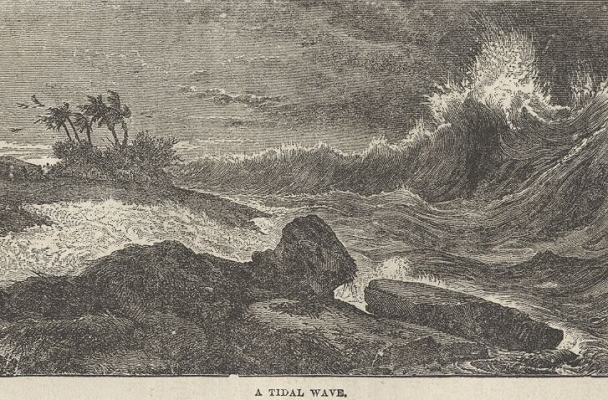 Edward F. Mullen: A Tidal Wave
---
CHAPTER LXXIII.
After half a year's luxurious vagrancy in the islands, I took shipping in a sailing vessel, and regretfully returned to San Francisco—a voyage in every way delightful, but without an incident: unless lying two long weeks in a dead calm, eighteen hundred miles from the nearest land, may rank as an incident.
Schools of whales grew so tame that day after day they played about the ship among the porpoises and the sharks without the least apparent fear of us, and we pelted them with empty bottles for lack of better sport.
---
Twain, Mark:
Roughing It.
American Publishing Company, Hartford, 1872.

Project Gutenberg
http://www.gutenberg.org/files/3177/3177-h/3177-h.htm#ch62

Excepts from Roughing It, including the account of surfing at
Waikiki and the illustrations, were reprinted in The Fireside Monthly
Volume 1 Number August 1878.



---

surfresearch.com.au
---
---
Geoff Cater (2012-2017) : Mark Twain : Roughing It, 1872.
http://www.surfresearch.com.au/1872_Twain_Roughing_It.html
---