1. Nat Young and Sam, first surf.
The Kick, Collaroy.
---
NOTES
All dimensions taken from Nat's Nat Pages 124 - 145
n/a denotes dimensions or feature details not available.
Board images were digitally constructed from #36.
BOARD HISTORY
Manufactured at Gordon Woods Surfboards,
December-January 1966.
Shaped by Nat Young,
Clear with ½" redwood stringer.
Length 9ft 4", Width 22", Wide point –ve 6", Thickness 2 ½"
Thin egg rails, flat nose with rounded bottom deepest in front of the fin.
Volan glassed with wide rail lap by Darryl Holmes.
Thirty six layer Greenough Stage III fin.
First ridden at The Kick, Collaroy. See photograph above.
The fin was further tuned by George Greenough in Santa Barbara during Nat's pre-contest practise sessions.
1966 World Championship (San Diego, California) winning board..
Competition Day One saw Corky Carroll place first. However by the end of the second round, Nat Young not only placed first for the day, but had accumulated enough points to be outright champion without competing further.


2. Nat and Sam depart Sydney
Airport for San Diego,
18 September, 1966
An emphatic performance, probably unequalled in contest surfing history, ermphasised by victory in foreign waters and the early elimination of the American favourite, David Nuiihwa.
To maintain interest in the contest,Young offered to disregard the previous results, but this was unacceptable to the officials.
Competition was continued with Nat Young again topping the score sheets.
Other finalists were, in order, Jock Sutherland (Hawaii), Corky Carroll (USA), Midget Farrelly (Australia), Rodney Sumpter (UK) and Steve Bigler (USA).
Despite competing for the U.K (his place of birth), Rodney Sumpter learnt his surfing skills on the northern Sydney beaches in the early 1960's. This was not the frst, or last, time he competed against Nat Young and Midget Farrelly.
Duke Kahanamoku officiated at the awards ceremony, 4th October 1966
Sam disappeared during the post contest celebrations.
---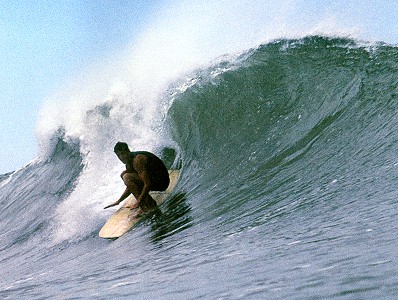 3. Nat and Sam Pre-contest training, Santa Barbara
---
DESIGN HISTORY
From Bob McTavish : Pods for Primates, Tracks Magazine, 1972....
Cabell really impressed some with his opposite approach.
His thing was to stuff himself into (the) curl at every opportunity, foresaking almost anything to do it, then dress up the situation with a noseride if possible.
This meant the wave became everything, every nuance and change in the rate of peel had to
be answered.
He rode high, swooping out of the top to accelerate, trimming it through, then stepping
up to hold i.t back in there as long as he could.
This approach captured the imagination of those that had the nice waves to work on, so up at Noosa it got going, with (Bob) Cooper, Russell Hughes, Algie Grud, myself, Kevin Platt, making the boards to suit at Hayden's (Surfboards).
Shorter, 9'- 9' 6" fuller throughout, thin rails, finer. Cabell's model made at McDonagh's was the
forerunner. The Hayden boards soon took on in Sydney, Brian Morris and Bondi guys took to them.
So that was the thing that was going in Aussieland in 1966. Shortish, 9'-9'6", 221/2 wide, hot dog
shapes, Greenough fins,very very deep, 12" at least. Top shops were Haydens, Cords where the
Hayden gang went, Keyo's, who'd always done well since the Farrelly days, Farrelly's small business
at Palm Beach,Woodseys, Bennetts, who'd always made nice boards, Wayne Burton and Ron Grant
shaping, and over the southside Peter Clarke had Keith Paul (sic, Paull) doing nicely, and Jacko's
(Brian Jackson) always in there, shaping. Queensland and Sydney were the real centres, the other
states often bought or thought their boards from there.
Initially derived from a Joey Cabell design, it developed at the Noosa sessions late 1965 with George Greenough, Bob McTavish, Russell Hughes and Bob Cooper, based at Hayden Surfboards, and subsequently Cord Surfboards, Alexandria Headlands.
Many Australian designers were producing similar designs – all of those mentioned above and Midget Farrelly (see Stringerless model), Keith Paull, Bobby Brown, Peter Drouyn, and others; but Nat Young's win saw the design exposed internationally as well as becoming the accepted common design in Australia.
Since the design directly preceded the sub 9ft Vee-bottom design, it is now considered the last of the original Malibus/Longboards.
Design known in New Zealand as a Thin Rail.
Not to be confused with a mid-1980's Modern Malibu design by Nat Young featured a Sam - an old friend decal, manufactured by Mike Davis Surfboards, Kiama and others.See below.
COMMENTS: Typical example of this design, vitrually the Last of the Malibu's (for the 1960's).
REFERENCES
Books
Dixon ... Mountains Chapter 8 The Aussies, pages 107 - 127
Includes commentary on Nat Young's performance at the Makhaha Championships,1966. Pages 126 - 127.
Nat's History, pages 100 - 101
Nat's Nat Pages 110 - 145 Text and photographs.
Image 1 : Perrott, page 123
Image 2 : Sydney Telegraph,
18 th September 1966, re-printed page 105
George : Best of Surfer , , Pages 24 - 25
Edited version of John Witzig's We're Tops Now article from Volume 8 Number 2.
Image 5 : Ron Stoner, page 24.
Grissim, Chapter 6. The Animal, pages 76 -83
Corky Carroll, page 61.and 74
Magazines
Bob McTavish : Pods for Primates Part 1 : a personal history of surfboard design
Tracks magazine March 1973
Reprinted in The Best of Tracks ,1973
Paul Holmes : In Trim - Nat Young,
Longboard Magazine
Volume 4 Number 1, April - May 1966, pages 26 - 35.
Image 4 : Photograph byTom Keck, page 27
Drew Kampion : Animal Tracks,
Australian Surfer's Journal
Volume 1 Number 4, Spring 1998, pages 76 -121
Paul Gross (ed) : Moving Forward - A Greenough Scrapbook 1960 -1970
Australian Surfer's Journal
Volume 2 Number 2, Autumn 1999, pages 68 - 121.
Photographs and detailed captions by George Greenough
Image 3 Photograph by George Greenough, Page 95.
John Brasen : Greenough's Scrapbook
Pacific Longboarder
Volume 6 Number 1, 2002, pages 34 - 43,
Three photographs, Nat and Sam Pre-contest training, Santa Barbara, page 37
Film
Paul Wizig : Hot Generation, 1967.
Although the film does not contain footage of Nat Young and Sam, a photograph by Ron Stoner (Image 5, below) was used on the poster.
It also was a cover shot for Surfer magazine (Volume 8 Number 1?).
McGillray and Freeman : Free and Easy, 1967
World Contest footage.
Dale Davis : The Golden Breed, 1968
World Contest footage.and Makaha Contest, 1966
Boards
Keyo #36
CONDITION: Not Applicable
Original image rating : 7, two extensive stains, Q-cells in deck