surfresearch.com.au
---
---
surfresearch.com.au
the catalogue #335
---
| | |
| --- | --- |
| 1930 Risby Bros. Solid Wood Belly Board 3ft 6" | #335 |
---

---
MANUFACTURE
MANUFACTURER: Risby Bros., Elizabeth Street, Hobart.
SHAPER: Unknown
DESIGN: Belly Board - Empire Board
DESIGNER: Unknown
---

SPECIFICATIONS
CONSTRUCTION
Huon pine board, steamed nose rocker, 1'' rounded timber cross cleats fixed with nails, tail hole and bronze plate.
Possibly originally stained or varnished.
---
DIMENSIONS
| | | | | | | |
| --- | --- | --- | --- | --- | --- | --- |
| Length : | 3 | ft | 6 | inches | L2 | 3ft 5 1/4'' |
| Width : | 13 1/2 | inches | | | | |
| Thickness : | 5/8 | inches | | Pod : | 9 | inches |
| Nose Lift : | 3 | inches | | Tail Lift : | | inches |
| Weight : | | kilos | | Volume : | | litres |
| Other, Flyer/s : | | inches | | | | |
---
FEATURES
Nose: round
Tail: rounded square with hole for hanging storage.
Deck: flat
Bottom: flat with two cross cleats.
Rails: rounded square
Rocker: flat with nose lift.
Image right : Tail cleat and hole.
---
FIN: none

---
DECOR
DECALS:
Deck: Risby Bros.Ltd., Elizabeth Street, Hobart - bronze plate at sweet spot. Image right.
Bottom:
MARKINGS
Deck: none
Bottom:
COLOUR
Deck: natural timber. Possibly originally stained or varnished.
Bottom:
---
| | |
| --- | --- |
| | |
| Image above: Nose lift. | Image above: Nose cleat |
---
NOTES
This design was popular in the first half of the 20th century in the southern states of Australia and in New Zealand, South Africa and UK.
Hence the descriptive name, (British) Empire boards.

BOARD HISTORY
Dimensions and photographs Australian Surf Museum, Manly Suf Life Saving Club, 23 November 2007.
Thanks to Ray Moran, Ray Petersen and and Manly Suf Life Saving Club.
Australian Surf Museum Catalogue (2006) No. 55 .

The board is on-loan from Dave Montgomery, Balgowlah, NSW.
Dave reports:
"The board was purchased from an elderly resident of Belrieve, Tasmania circa 1997.
Built of huon pine, the nose lift was set by steaming the timber ande bending it over a metal pole.
The hole in the tail is original and allowed the board to be hung flat against a wall after use for drying and to decrease the possibility of the timber warping.
The owner purchased the board new and had several black and white photographs illustrating the boards in use.
This was in signficantly sized waves, large and powerful enough for some riders to ride in a standing position."
- Dave Montgomery in phone conversation, November 2007.
Many thanks to Dave for his assistance.

---
MANUFACTURER HISTORY
Risby Bros. was a timber milling company established in 1844 in Tasmania who expanded into a range of associated industries including hardware supplies, furniture manufacture and ship building.
State Library of Tasmania: Images
http://images.statelibrary.tas.gov.au/Search/Search.asp?Letter=R&Subject=Risby+Brothers+(Hobart%2C+Tas.)

Between 1848-1894, they built Spy (a cargo schooner), Nellie (a cargo ketch) and a number of whaleboats.

Builders from the Register of Australian and New Zealand Vessels by Mori Flapan
http://www.boatregister.net/TasmanianBuilders.htm

At the end of the 1920s, they offered their prone "surfing boards" in a range of sizes:
SOLVE THE GIFT PROBLEM!
BUY A SURFING BOARD
All sizes now available.
'Phone or Call.
RISBY BROS. Ltd.
16 Elizabeth Street, Hobart,
"For Everything to Build Anything".


- The Mercury (Hobart), Saturday 21 December 1929, page 3.
In early 1938, they moved premises from their Elizabeth Street store to a new location in Collins Street, Hobart.
The clearance sale of a diverse range of products included a stock of 20 boards:
GREAT SALE OF TIMBER AT RISBY'S
Owing to Removal from Present Site, Our Entire Stock MUST Be Cleared!
...
SURF BOARDS
20 SURFING BOARDS, in Huon Pine, shaped and cleated, with curved ends, at .... 12/6 each.
...
RISBY BROS. LTD., cnr. Elizabeth & Davey Streets, Hobart
- The Mercury (Hobart), Saturday 8 January 1938, page 9.
At the Collins Street store the range of board sizes were specified from 4 to 5ft 6'', with an addition fee for varnishing.
The previuous "surfing boards" was now shortened to "surf boards".

RISBY'S SAY:
To complete the joy of holiday time, secure one of our
Special Surf Boards. They can be obtained in the fol-
lowing sizes at prices shown:

4ft. long .. .. .. .. at 12/ each
4ft. 6in. long .. .. at 14/ each
5ft. long .. .. .. .. at 15/ each
5ft. 6in. long .. .. at 16/6 each
Varnishing, 3/ extra.

RlSBY BROS. LTD.
Timber Merchants, Sawmillers, and Joinery
Manufacturers,
175 COLLINS STREET, HOBART.
(Just across Harrington St. intersection.)
Telephone 6545 (3 Lines).
"FOR EVERYTHING TO BUILD ANYTHING."
- The Mercury (Hobart), Saturday 14 January 1939, page 22.

---
DESIGN HISTORY
Circa 400, the Paipo developed as small wooden prone board, used thoughout the Pacific Islands primarily as juvenile sport.
In Tahiti and Hawaii the boards were ridden prone, kneeling and, occassionally, standing.
Other Pacific Islands were restricted to prone riding only.

The origin of these boards is speculative, but broken sections from discarded canoes, outrigger floats or paddles (the blades) are possible sources.
Dimensions ranged from 3 feet x 12 inches (the smallest example in the Bishop Museum, Honolulu Catalogue Number :C.5966) to 6 feet x 9 inch boards in Aotearoa (New Zealand).
Image left: Paipo and Surfer, Wakiki circa 1900
Lueras, page 55(Bishop Museum)

---

---
The earliest record of these boards in Australia is by swimming champion, Charles Steedman in 1867:
"A small deal (1) board, about five feet long, one foot broad, and an inch thick, termed a 'surf board,' is
of considerable help to a swimmer who is crossing water on which the foam is deep -for by its aid he
can raise his head to breathe above the surface of the foam."
Steedman: Manual of Swimming (1867), page 268.
Solid timber handboards/bellyboards were in use on Sydney's beaches before the visit of Duke Kahanamoku in 1914.
Sydney surfer and swimming champion, Harold Baker noted in 1910:
"The surf-board is used to a great ,advantage on flat, shallow beaches.
It is a piece of board, cedar for preference, about 18in. long, 10in, wide, and about half-an-inch in
thickness.
It is square at one end, and half-round at the other.
The rounded end is to the front when shooting."
Baker: General Physical Culture (1910) pages 58-59.
Also see History/Duke/Detailed Analysis.
The enthusiasm generated by Kahanamoku's visit saw Sydney surfers persue the developement of the standing board and prone craft were dominated by the Surf-o-plane, circa 1933.
These prone boards were in Victorian use as early as 1915, by a Mr. Jackson and Mr. Goldie at Point Lonsdale, after a visit to Hawaii.
They were either imported or homemade adaptations and in 1915 they encouraged a local girl, Grace Smith Wootton, to take up the sport.
In Tasmania:
"Surfing arrived in Tasmania in the second half of the 1920s, although no clubs were formed until after the Second World War.
The man credited with bringing surfing to Tasmania is Harvie Thompson, who came to Hobart in 1926, having grown up and learned to surf at Manley (sic), NSW. Thompson soon befriended a local, Cedric Cane, and the two men became central to a project that subdivided and sold land behind Clifton Beach, near Cremorne.
Only eighteen blocks were sold before the Second World War, but by then a small, tight-knit community of shack dwellers had developed.
Their summer activities included swimming, fishing, flounder spearing and surfing.
Men, women and children surfed.
Their boards were entirely homemade from the pine sides of kerosene boxes, sawn up second-hand tables or any planks of suitable size.
During the 1930s they obtained more sophisticated commercially produced plywood boards with upraised forward ends.
Harvie Thompson's much-prized board was fashioned from cedar.
Most, if not all, boards were hand-painted with marine motifs."
Young, David: Sporting Island - A History of Sport and Recreation in Tasmania., pages 205 and 206.

Image right:
"Female surfers on Clifton beach in the 1920s.
Courtesy: Diana Gee."

Young, David:
Sporting Island - A History of Sport and Recreation in Tasmania.
Tasmanian Government - Sport and Recreation Tasmania
Artemis Publishing Consultants
106 Hampden Road, Hobart, Tasmania, 7000, 2005.
page 206.

Note the holes and ropes at the tail of these boards to allow the boards to be hung to dry after use as described in the account by Dave Montgomery, above.
Furthermore, the board on the left is wide enough to conceivably be ridden in a standing position.

Plans of solid timber prone boards were pulished in Popular Mechanics magazine July 1934 and Popular Science magazine August 1935.
These illustrated that such boards were already in use in the USA and publication in such magazines probably saw these plans distrubuted world wide.

The design was popular in the southern states of Australia and in New Zealand, South Africa and UK.
Hence the descriptive name, Empire boards.
Although many were probably home made, this and several New Zealand examples were probably factory made - note regular shape, nose lift and paint decor.

With the development of an adult surfing culture, prone boards became essential in acquiring basic surf skills. In the 20th century, the Paipo has been re-invented several times...


The most successful (in sales, performance and safety) is Tom Morey's Booggie Board, 1971.

---
REFERENCES
Other Boards
Surfworld Museum, Torquay Victoria. : Lamaroo # 26
ANMN #00005796 1934-1940 Bellyboard 3'9" x 26" See Notes on ANMM Collection

Also see Paipo Catalogue

Huon Pine Prone Board, Tasmania.
Photograph and information thanks to Bob Green,
March 2020.
On display at the Long Point Surf Shop, Bicheno,Tasmania.
Bicheno is an interesting place as lots of whalers visited there.
The board has cleats on the bottom,
but is still very warped.

The date of 1800s is probably inaccurate.



Books
Wells pages 157 - 159
Edmunson pages157 - 167, note Figures 51 and 52.
Websites
Maritime Museum of Tasmania: Homemade- Surfing in Tasmania
http://www.maritimetas.org/collection/displays/home-made-surfing-tasmania
CONDITION: 8.5
---


---
OTHER PRONE BOARDS

---

---

---
Prout brand solid wood belly board, New Zealand 1940's 5ft
Longboard Surfshop (NZ) On-line Auction catalogue, 1999.
---

Boy with bellyboard, UK circa 1960
Edmunson ; page 162
Text reports dimensions as 4 ft x 12'' x 3/8''
Waterproof resin-bonded or marine plywood.
Commercially available,
cost up to 30 shillings ($3.00)


Grace Smith Wooton and Win Harrison
Point Lonsdale Victoria, circa 1916.
Wells page 157
The board was made by a local carpenter,
cost 12 shillings ($1.20),
with her initials carved in one end.
---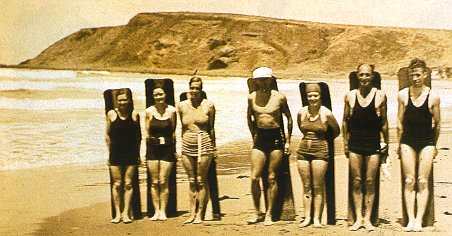 Lamaroos at Phillip Island, Victoria 1935.
Note that two boards to the left appear to be laminated sections.
from Two Hundred Years, No. 47 page 1124
---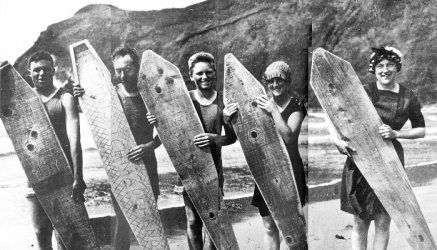 Prone Timber Boards and Surfers,
West Coast, USA circa 1905
Photograph : Mike Jipp / Lincon City Surf Shop Collection
Kampion : The Way of the Surfer, 2003
pages 18 - 19.
---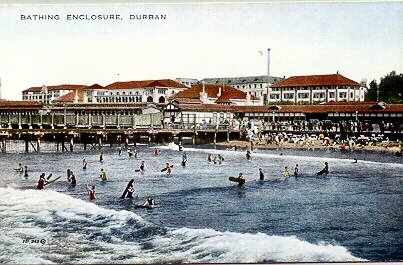 Timber prone boards, Durban, South Africa circa 1950.
Postcard

---

---

surfresearch.com.au
---
---
Geoff Cater (2007-2020) : Catalogue : Risby Empire Board , #335.
http://www.surfresearch.com.au/00000335.html
---
Builders from the Register of Australian and New Zealand Vessels by Mori Flapan
http://www.boatregister.net/TasmanianBuilders.htm

Risby Bros
Years Active: 1848-1894
Where Built: Hobart, Tas
Number of Vessels: 2
Material: Wood
Type of vessels: Cargo schooner, cargo ketch
Names of vessels: Spy, Nellie

---
People of Hobart: Mid to late 1860s
http://members.tadaust.org.au/bobcutter/hobartres.html#R
RISBY Joseph E. timber merchant¸ 2 Elizabeth Street
---
Glenorchy History Group
http://www.tco.asn.au/oac/community_groups.cgi/community_groups.cgi?groupID=5364&oacID=68
Sawmills, whaleboat building and racing.
Contact
The Glenorchy History Group Inc
Garry John Fisher (Secretary or Public Officer)
134 Howard Road Goodwood Tasmania 7010
Postal Address:
134 Howard Road Goodwood Tasmania 7010
Municipality:
Glenorchy City Council
Ph: (03) 6272-1998

Email:
p.butler@internode.on.net
---
Maritime Museum of Tasmania
http://www.maritimetas.org/
---
Sporting Island -- A History of Sport and Recreation in Tasmania
http://www.bicentenary.tas.gov.au/events/event.php?id=237
The book, Sporting Island, by David Young highlights important events, activities and people who have influenced and contributed to the development of sport and recreation and helped shape the Tasmanian community in which we live. The book will provide a background to Tasmania's sporting and recreation heritage and enable Tasmanians to understand their sporting and recreational cultural.

---
---