surfresearch.com.au
---
---
surfresearch.com.au


the catalogue #326

---
| | |
| --- | --- |
| 1970 Wilderness Diamond tail Hull. Shaped by Chris Brock 6 ft 8'' | #326 |
---

---
MANUFACTURE
MANUFACTURER: Wilderness Surfboards Palmer Island - Yamba - Angourie NSW
SHAPER: Chis Brock
DESIGN: Diamond tail Hull.
DESIGNERS: George Greenough and Chis Brock
---
SPECIFICATIONS
CONSTRUCTION
Foam blank, 1/4 inch redwood stringer, Volan glassed with 1 1/2 inch rail lap. Deck patch?
DIMENSIONS
| | | | | | | |
| --- | --- | --- | --- | --- | --- | --- |
| Length : | 6 | ft | 8 | inches | | |
| Width : | 21.5 | inches | | Wide Point : | +3 | inches* |
| Nose : | 13.5 | inches | | Tail : | 15 | inches |
| Thickness : | +3 | inches | | Pod : | 9.5 | inches |
| Nose Lift : | | inches | | Tail Lift : | | inches |
| Weight : | | kilos | | Volume : | | litres |
| Other, Flyer/s : | | inches | | | | |
*Approximation
---
FEATURES
Nose: Pin
Tail: Diamond.
Deck: Rolled S deck, possile slight concave section at the nose.?
Bottom: Rounded hull in the nose flattening out to the tail. Light Vee around fin to tail.?
Rails: High at the nose, 50/50 pinched at the centre and low at tail.
Rocker: Substantial nose lift.
---
FIN
Laminated and foiled black fibreglass Greenough fin.
Foiled fin patch.
10'' x 9'' base x 11'' span @ 7'' ?

See images right and below.
---
DECOR
DECALS
Deck
Wilderness Surfboards
George Greenough Design
Palmers Channel.
Black text and graphic at sweet spot.
Some details appear to be hand drawn.
Bottom
MARKINGS
Deck
C. B.
Pencil on tail, image right.
Bottom:
COLOUR
Deck
Clear with volan rail lap, possible deck patch.
Bottom
Clear with volan rail lap and fin patch.

---
---
NOTES
BOARD HISTORY
Images and correspondence forwarded by Henry Marfleet, Ashford, Kent, UK. April 2007.
Henry reported over several emails:
Board was purchased Sydney northern beaches, now resides in Ashford, Kent, UK

Length:6'8"
Width: 21.5"
Thickness: 3"+ in middle, but close to rails gets quite thin.
Nose: 13.5"
Tail: 15"
Pod: 9.5"
Fin: 10"(H) x 9" (L)

Unfortunately it's got really bad delam on the deck as you can see in the
pics, a few people advised fixing it, but I like to keep all my boards
original.

---

Chris Brock and Wilderness Surfboard, Lennox Head, circa 1969.
Photographs by Alby Falzon.


The images are from Falzon's 1972 film, The Morning of the Earth and have been extensively reprinted, mostly by Tracks and in promotional material.





The duo-tone image was printed in Falzon's excellent book of the film,

Morning of the Earth

(2003), page 45.




Surfing World

Volume

15 Number 5, 1971.
---
DESIGN HISTORY
Following the heavily forward foiled templates of the Tracker and Pin/Round tails of 1968, some Australian designers returned to a wide planning tail, continuing a Greenough influence first seen in the Vee bottoms of 1967.

On the North coast of NSW, Greenough proteges Bob McTavish, Garry Keyes and Chris Brock produced wide tailed fin drivers at Wilderness Surfboards, first at Byron Bay and later adjacent to Angourie.
See Surfing World, Volume 12, Number 5, 1969.
---
Chris Brock, George Greenough, Dog, Garry Keyes and
Bob McTavish.
Wilderness factory,
Angourie, 1969.
Surfing World Magazine,
Volume 12, Number 5,1969.
---
McTavish compared the performance differences between the longer/narrower Hawwaiian designs (Streaks) and the short/wide boards (Slugs) in Streaks and Slugs, a Surfer Magazine article published in May, 1970.

The North coast squad was occasionally accompanied by Ted Spencer and Robert Coneely, among others.
Ted Spencer shaped and designed his White Kite model for Shane Surfboards, Brookvale.
Coneely produced similar designs for Queensland's Hayden Surfboards which retailed through his Bondi surf shop.
---
Image left:
Robert Conneeley and his Expression Model
Hayden Surfboards advertisement circa 1970.
Photograph: Unaccredited.

Tracks magazine circa 1970.
---

Generally, the nose section was bowled with a high rail, commonly called a Hull, but some later models featured a chine rail with a defined breakaway edge.
An early example of the chine rail featured on a McTavisn design circa 1966 (see #224), appeared on some of Greenough's later Spoons and is commonly found on modern Boogie boards (#30).

McTavish recalled the Hull in the second of his 1973 design retrospectives for Tracks Magazine, Pods for Primates Part 2:
"(circa 1969) Meanwhile in Australia we were going the opposite direction, the boards were getting short, the rails softer and softer, this is when the Greenough hulls took on with very high rails in the front turning down at the tail.
This is when Ted Spencer was making white kites (White Kites) at Shanes (Shane Surfboards) with a
soft rail all the way thru.
David Treloar was making soft rail foils at Nippers (Nipper Williams Surfboards).
These boards you could really bank them over on the rail but when you got them over they did nothing."

---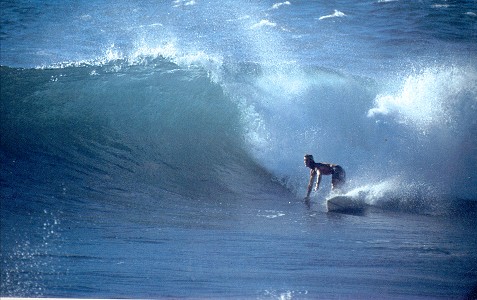 "Rob (Conneely) on one of the few George Greenough shaped stand-up boards. Angourie, 1970."
Photograph: John Witzig
Image and caption...
The Australian Surfer's Journal, Volume 3 Number One , Summer 2000. Page 33.

First printed in Tracks magazine,circa 1971, reprinted in Nat:History, page 107.

---
MANUFACTURER HISTORY
Originally the Wilderness name was used in Santa Barbara, California, USA (image right)
and subsequently imported via George Greenough and Chis Brock to northern NSW.
circa 1968:
Byron Bay NSW
Chis Brock, Garry Keyes, George Greenough, Bob McTavish.
circa 1969
Palmer Island - Yamba - Angourie NSW
Chis Brock, Garry Keyes, George Greenough.
circa 1971
Angourie NSW
David Treloar, Brad Mayes
1973
Wayne Williams
See Manufacturers Index: Wilderness

REFERENCES
Books
Falzon: Morning of the Earth (2003), pages 44 to 47.

Magazines
Surfing World Magazine, Volume 12, Number 5, 1969.

Bob McTavish : Streaks and Slugs
Surfer Tips : Number Forty Five SurferMagazine Volume 11 Number 2 May 1970, pages 27 and 29.

Film
George Greenough: Innermost Limits of Pure Fun (1971)
Alby Falzon: The Morning of the Earth (1972)

COMMENTS
---
| | |
| --- | --- |
| The nose image, below, attempts to show the deeply bowled forward rail, charateristic of Greenough/Brock designs of the period. | |
---

---

---

---

surfresearch.com.au
---
---
Geoff Cater (2007-2018) : Catalogue : Wilderness Hull, 6ft 8", 1970.
http://www.surfresearch.com.au/00000326.html


.