surfresearch.com.au
---
---
surfresearch.com.au


the catalogue #320

---
| | |
| --- | --- |
| 1973 Ron Wade Spoon Knee Board 4 ft 8" | #320 |
---

---
MANUFACTURE
MANUFACTURER: Ron Wade Surfboards, Mona Vale NSW
SHAPER: Probably Ron Wade (see Correspondence, below)
DESIGN: Greenough Flex Spoon
DESIGNER: George Greenough
---
SPECIFICATIONS
CONSTRUCTION
Stringerless blank, Volan glassed with pigment laminate on bottom, black resin pinlines.
---
DIMENSIONS
| | | | | | | |
| --- | --- | --- | --- | --- | --- | --- |
| Length : | 4 | ft | 8 | inches | L2: | |
| Width : | 20 1/2 | inches | | Wide Point : | +5 | inches |
| Nose : | 18 | inches | | Tail : | 13 1/2 | inches |
| Thickness : | 3 1/2 | inches | | Pod : | 10 | inches |
| Nose Lift : | | inches | | Tail Lift : | | inches |
| Weight : | | kilos | | Volume : | | litres |
| Spoon : | 2 1/2 | inches | | | | |
---
FEATURES
Nose: rounded
Tail: rounded square
Deck: flat with spooned rail
Bottom: flat, with chine rail
Rails:
Rocker:
---
FIN
9 1/4" x 5 " base x 9'' span @ 8 1/2''
Greenough Stage II
Black laminate,
---
DECOR
DECALS
Deck: RON WADE script with decoration, black on nose.
Bottom:
MARKINGS
Deck: Post production Ron Wade signature in black ink.
Bottom:
COLOUR
Deck: clear
Bottom: orange pigment/tint
---
NOTES
BOARD HISTORY
Dimensions and photographs Sydney Surf Auction, Mona Vale Hotel, Sydney, 30 October 2005
Catalogue No. 73.
Notes by Mick Mock ...
RON WADE SPOON KNEEBOARD early 70's, 8/10 all original classic, very hard to find in this condition.
Thanks to Mick Mock.
Thanks to temporary surfresearch assistant for board holding. See below.

MANUFACTURER HISTORY
Ron Wade shaped for several Brookvale surfboard companies before staring his own label around 1968 at Mona Vale.
Other Ron Wade Surfboards




DESIGN HISTORY
Originally based on a spooned deck balsa wood kneeboard, the Greenough Flex Spoon (Velo 1) was molded off the bottom and then had foam block rails added.
This construction method was not followed by other manufacturers - a full blank was shaped with a thin foam base that was removed after laminating the bottom.
First used in Australia in 1965, George Greenough's performance had a huge impact on many Australian designers.
The design was given exposure in the surf media as was George Greenough's surfing and surf photography.
Many manufacturers made copies of the design and the intensive glassing requirements required a premium price.
The most recognised models were produced by at Hayden Surfboards Caloundra Queensland, featuring Greenough's dramatic Fighter Plane decal, see below.
The design peaked in popularity around 1970 with the release of George Greenough's The Innermost Limits of Pure Fun - featuring some his surfing on Spoon and inflatable mat (see #66) but most famously included on-board footage of radical performance surfing and serious tube rides.
Because the high performance capabilities of the design were only achievable in quality waves and the low floatation meant that only the most fit riders were able to catch waves, by 1973 the design was largely supplanted by Peter Crawford's Slab design, circa 1969, see #83.
Initially Peter Crawford simply filled in the spooned deck to greatly increase floatation and expand the wave range, but over a long life the Slab was apadpted with a range of rail shapes and fin configerations, see #58.
In the USA the Fish was a notable alternative in kneeboard design.
Greenough's extreme design was attempted to be recreated in stand up boards, most infamously by Nat Young at Gordon Woods Surfboards in 1965, see

The Nautilas.
Although this board was a failure, George Greenough's fin design was to have a huge impact on Australian surfboards and by 1968 almost every fin bore some relationship to Greenough's high apsect template.
In 1967 Midget Farrelly, Bob McTavish and other shapers in Sydney developed a short deep vee bottomed board that had strong elements of George Greenough's influence, see # 26.
COMMENTS:
REFERENCES
See Paipo Catalogue for other Kneeboards
For more on spoons see www.flexspoon.com
Magazines
Popular Science magazine
"Far Out Flexible Surfboard... the wave of the future" by Eric Blum as told to Al Lees
August 1969 pages 92 to 95.
The Australian Surfer's Journal
''Moving Forward - A Greenough Scrapbook 1960 - 1970''
Vol.2 No.2 1999 Pages 76-77, 84, 86-87
Film
1. The Innermost Limits of Pure Fun George Greenough 1970
2.Crystal Voyager David Elfick 1973.
CONDITION: 9
CORRESPONDENCE
Josh Dytor wrote in December, 2005...
re : #320..."Possibly shaped by Ron Wade".
I confirmed this with Ron as I had a suspicion Ted Spencer may have shaped the spoons.
Ron told me he made nearly all the spoons.
That board is of the Velo type early spoons, Ron Romanosky made "Mellow Velos" with less depth in the hull.
Velo's were made exclusively until Greenough produced "edge boards" that featured Chines (Crystal Voyager) and Runners (Fantasea).
For more on spoons see www.flexspoon.com
I've attached a few pictures of my 1967 Ron Wade Spoon. ... I really enjoy riding my spoon.
Thanks to Josh for his contribution.
The shaping credit has been adjusted to "Probably shaped by Ron Wade."
---
Ron Wade Spoon, circa 1973.
Image contributed, with thanks,
by Josh Dytor, 2005.
---





Image right :
Thanks to the temporary surfresearch assistant for holding the board.
Apologies for the lack of a personal credit.
---

---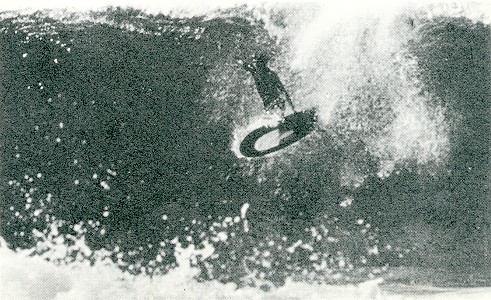 ---

George Greenough - North coast freefall 1965.
Photograph by Tanya Binning
First published Surfing World Vol ? No? 196?
This cropped version from Margan and Finney, page 310
The most outstanding photograph of committed high performance surfing up to this date, this level of performance was probably not achieved by stand up surfers for another ten years..
---
Image, right
George Greenough and Spoon Caloundra, Queensland 1966
Photo by Hayden Kenny

"Far Out Flexible Surfboard...
the wave of the future"
by Eric Blum as told to Al Lees
Popular Science
August 1969, page 92.
---
| | |
| --- | --- |
| Early 1970s' Mc Grigor 5'6" Spoon, single fin, swallow tail. | |
---

surfresearch.com.au
---
---
Geoff Cater (2005-2022) : Ron Wade Spoon, 4ft 8''

http://www.surfresearch.com.au/00000350.html