NOTES
BOARD HISTORY
Purchased Nowra Tip, 2000?
Cleaned and photographed.
Sanding to remove poor quality repairs and the Plasti-bond filled tail.

MANUFACTURER HISTORY
Odin Surfboards which I started up in Ballina around 1969 , after leaving Maroubra. -Rick Purnell, July 2005.
Rick offered more information on Odin Surfboards and I emailed that I would complete this entry and contact him for further details.
Unfortunately I have lost the email address, apologies to Rick.

Brian Cronshaw forwarded the following details in December 2017:
Manager: Rick Purnell
Shaper: Peter Dutton (Queensland)
Glasser: Barry Pussell (Maroubra)
And From memory Peter was the driving force behind the Odin name and graphics.




DESIGN HISTORY
The Side Slip (Fin Drop Out Stall) was first identified in 1967 by Bob McTavish in an article titled...
bob mctavish is in this wave. he probably had a plan to get out of it,
(Surfing World Magazine January 1967 Pages 15 to 21).

A compendium of (long board) manouvres , it includes...

FIN DROP-OUT STALL
is by far the most efficient, most difficult.
If performed correctly, it can eliminate a cutback.
Everyone has experienced a fin drop-out and its main effect - loss of forward motion.
When emerging from a hot hollow section it's possible to remove the fin from the wave intentionally, and establish a sideways drift towards the beach.
Perfect stall.
No forward motion.
As the wave recovers and starts to wall, drop the fin in by back-peddling, recover some sort of trim, and move out.
Nat Young and I spent two days at Noosa working on this, succeeded about four times each.
The big problem is knowing just when the fin is going to break out.
We are working on special nose and fin shapes for this purpose."

IMPORTANT : Not to be confused with "slipping the board " - a nose riding manoeuvre that does not disengage the fin.
As demonstrated by Miki Dora in Bruce Brown's The Endless Summer, 1964.
This was described by Bob McTavish in the above article as...

SIDE SLIPS can be performed anywhere on the front half of the board.
They throw the board out of an inside rail stall, and set up a highly efficient trim for half a second while the board is banked outwards.
This half second or so allows the board to leap forward.
The acceleration is noticed as soon as the sideslip is checked, and the momentum gained from the small drop is redirected.

Side slipping became an recognised manourve in 1969, as demontrated in John Severson's Pacific Vibrations, 1970.
Particually well executed by Jock Sutherland, the film also featured extreme spinning 360's..
---
Left : Dick Brewer, Reno Abellira, Oahu, 1969
Inter-Island Surfboards, Hawaii.
Photograph by (David?) Darling
Kampion page 51

Below : Inter-Island Surf Shop decal,
Collection : Cary B. Weiss
Schiffer, page 39


Image left :(Wide tail) Inter-Island Flip Tip.
What Reno rode in '69!
www.oneworldsurf.com/restorations
16 December 2000
---
The specific design was first noted at Huntington Beach Contest, 1969 - design by Reno Abellia for Inter-Island Surfboards, Hawaii.
---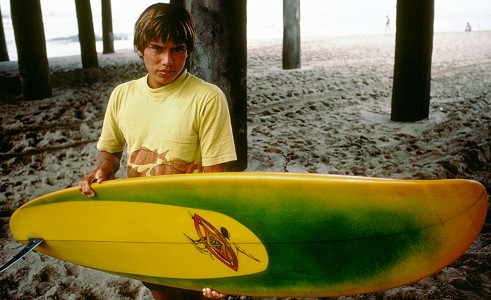 Reno Abellira and Inter-Island Side Slipper with hyper-kicked nose,
Huntington Pier, California, 1969.
Photograph Art Brewer
Nat Young : History, Page 104
---
To initiate the side slip the fin had to be dis-engaged, so the design critically relied of using smaller and inter-changable fins. Fin boxes were virtually a required addition.
This demand encouraged research into fin boxes and by 1972 the Bahne system became an industry standard.

A flat bottom with a down soft rail that reduced the possiblility of catching edges was used to control the side-slip and re-engage the fin
Subesquent to this design down soft rails became an industry standard.

A hyperkicked nose reduced the chance of burying the nose and helped in recovery.
Nose lift and bottom rocker variations would be extensively explored by designers for the next 30 years.

In Australia the down soft rail, with a release edge, was developed through the experiments of Gordon Merchant. (Find relevant articles)

In Australia the design was taken up by Midget Farrelly (Farrelly Surfboards) and Terry Fitzgerald at Shane Surfboards.
---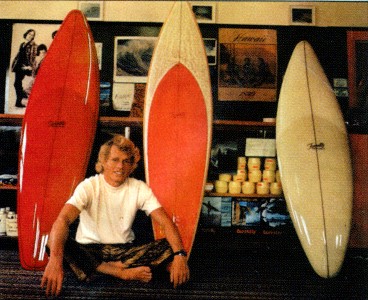 ---

---
The only board that allows the surfer to ride sideways, backwards or in a spinning circle.
The slipper has advantages a conventional board lacks
Speed comes easy, control is super positive through the flat bottom and low, soft rails.
Basically, the board is longer, thinner and a diamond shape in outline.
The fin is smaller to facilitate release only when desired.
The rails amd bottom allow a shallow draft fin in any case, and the fin used is both adjustable and removable.
Midget has ridden this shape in most every kind of wave.
Reef surf was where the speed from the bottom and the rails was best put to use.
In beach break the board responded to all manouvres and created new freedoms with side slips to hold curl position and 360's to fill the gap between peaks of sections.
Fantastic sensations can be had riding whole sections backwards.
The most average surfer is going to find this surfboard easy to ride.
Thje side slipper can't be compared to any other board that has gone before it.
The only limitation this surfboard has is the surfer who rides it.
Farrelly Surfboards, 230 Harbord Road, Brookvale 2018 Phone : 939-1724.
---
Above quoted text and images and text from...
Farrelly Surfboards Advertisment, circa 1969.
Re-printed in Walding, page 76.
Note : - The red board on the left has a much wider tail than the two to the right.
- Volan deck patches.
---
The validity of slide slipping as a manourve was hotly debated and at the 1970 World Contest it appears that the the judges were not impressed.
Although Reno Abellira and Midget Farrelly rode Side Slipper designs, there are no contest photographs of them (or others) side slipping.
The situation is similar in Paul Witzig's Sea of Joy, 1971.

Due to the lack of suitable wave conditions, the required high skill level, the potential for confusion in crowed conditions and/or the rejection by contest officials: side slipping receeded dramatically.

While the Side Slipper appeared to be a minor deviation, it did have major design influence...
- down soft rails became an industry standard.
- encouraged research into fin boxes ( by 1972 the Bahne system became an industry standard).

The manouvre, despite all predictions, would re-appear in the late 1980's initially as the Floater, credited to Mark Sainsbury.
In an extended re-entry the ridder dis-engages the fin and slides the board across the back of the crest.
Such a manouvre was unthinkable in 1969 without the performance, particually the recovery control, provided by Simon Anderson's Thruster.
Along with the development or "getting - air " , modern surfing (circa 2004) commonly incorporates variations of the side slip.

Due to the ten year gap, the connection between side slipping in the 1969 and the 1980's was, understandably, largely ignored by commentators.

REFERENCES:
Film
John Severson : Pacific Vibrations, 1970.
Paul Witzig : Sea of Joy, 1971
Rodney Sumpter : Freeform, 1971
Bruce Brown : The Endless Summer, 1964
Books
Nat Young : History, Page 104
Walding, page 76.


CONDITION: 5