surfresearch.com.au

---
---
---
| | |
| --- | --- |
| 1972 Lightning Bolt Pintail Shaped by Gerry Lopez 8 ft 1/2" | #181 |
---
---
MANUFACTURE
MANUFACTURER: Unknown / Lightning Bolt Surfboards? Hawaii
SHAPER: Gerry Lopez
DESIGN: Pintail
DESIGNERS: Gerry Lopez

---
SPECIFICATIONS
CONSTRUCTION
Fibre-glassed foam blank, 1/4" redwood stringer, spray, resin pin-lines.

---
DIMENSIONS
| | | | | | | |
| --- | --- | --- | --- | --- | --- | --- |
| Length: | 8 | feet | 1/2 | inch | | |
| Width: | 18 1/2 | inches | | Wide Point: | +6 | inches |
| Nose : | 12 | inches | | Tail: | 9 | inches |
| Thickness: | 2 7/8 | inches | | Pod: | 0 | inches |
| Weight: | | kilos | | Volume: | | litres |
| Nose/L: | | inches | | Tail/L: | | inches |
| Other: | | inches | | | | |
---
FEATURES
Nose: pin
Tail: gun pintail
Deck: flat
Bottom: flat with very sight vee in tail
Rails: down, soft
Rocker: medium
---
FIN:
8" x 5 1/2'' base @ 5 1/2''
Four colour laminate
Red - blue- red - black


---
DECOR
DECAL/S:
Deck: none
Bottom :
MARKINGS:
Deck: LOPEZ - pencil on stringer, rear sweet .spot.
Image right is not from this board, but #181 does have the same markings. I neglected to take a suitable photograph.
Bottom:
COLOUR:
Deck
Sprayed orange deck panel , yellow rails and thin black resin pin-lines.
Hand painted/sprayed, off-set black and red lightning bolts
Bottom: yellow spray
---
NOTES
BOARD HISTORY
Shaped by Gerry Lopez circa 1972, apparently for his own use. See below.
Subsequently purchased by Terry Richardson and surfed in Hawaii, circa 1976. See below.
Board sold to Wollongong surfer, circa 1980.
Collected by Ralph Riddell , circa 2001.
On display at Ralph Riddell Surfboards
34 Flinders Street Wollongong NSW 2500
Phone 02 4228 - 0988
Dimensions and photographs, 12.03.20002
Thanks, Ralph.
Special Note : The off-set lighting bolt graphic is not a decal.
It has been applied in paint by hand (brush or sprayed?) and the board dates from (and could even pre-date) the earliest days of Lightning Bolt Surfboards.

DESIGN HISTORY
A classic example of the Hawaiian Gun, that traces it's origin back to Fran Heath and John Kelly's Hot Curl design of the mid - 1930's.
Established as the preferred big wave design in the 1950's by master shapers George Downing and Pat Curren, the pintail gun was the favoured design of Richard "Dick" Brewer:
The Pipeliner, for Bing Surfboards,1966,
The Mini-gun, for Lahaina Surfing Design, 1967, and the
Pocket Rocket, for Plastic Fantastic Surfboards and Inter-Island Surfboards (image below),1968.

Brewer's designs were a major shaping influence on his understudies - Jock Sutherland, Jeff Hakman, Reno Abelliro and Gerry Lopez.

THE SHAPER
Gerry Lopez had been a Brewer team rider at several companies before shaping with Dick Brewer at Surfline Surfboards, Honolulu: and at Dick Brewer Surfboards, Hanapepe, Kauai, circa 1970.- 1972
He started his own company, Lightning Bolt Surfboards, circa 1972.
Although an talented surfer in all conditions, no surfer has been so strongly identified at one break like Gerry Lopez is with the Pipeline, Oahu.
The longest reigning "Mr. Pipeline", he set the standard for deep tube riding 1971 to 1977.
His major contributions were the application of a fluid and relaxed style in extreme condition (see image below) and the principle that the safest place to ride large waves is inside the tube.
These are reflected in the fine lines and subtle curves of the boards.
The identification between Gerry Lopez and the Lightning Bolt logo is nearly as strong as that with Pipeline, although he left the company circa 1995.
He was at the forefront in the extension of surfing in Indonesia, circa 1975.
Gerry Lopez made further contributions in the development of Windsurfing, circa 1985, and Tow-in surfing, circa 1995.



THE RIDER



Terry Richardson from Wollongong, NSW, is a goofy-foot noted for h is performances on the South coast's many quality left-handers, in particular Wreck Bay
An Australian rider of the Bonzer design circa 1974, he competed with distinction in the initial professional surfing circuit, circa 1974 - 1978.
Early shaping for Skipp Surfboards, Wollongong, NSW.
He started his own company, Terry Richardson Surfboards at Wollongong, circa 1980.

In Richo (2018), Terry recalled the Lopez Lightning Bolt:
It's amazing that Richo came that far when he was that young.
In 1970 when I went to Australia for the World Titles at Bells I was 22, we came with a big group, George Downing was kind of our leader and he put me in charge of all the young guys in the Hawaiian team. - (Gerry Lopez)

Gerry told me that if I wanted to surf Pipe I could just come and grab a board from his house.
I didn't know where his house was.
'Oh, you won't miss it, it's right there at Pipeline'.
I walked up the track and there it was.
It felt like god was inviting me to the come to the temple.

A day or two later the swell jacked and Banzai was breaking on second reef.
I was packing it!
Here was the moment that had filled my daydreams for so long.
I'd literally waded through blood at the slaughteryards to get here, the break that had dominated my imagination since I'd first seen those movies and the endless shots in surf mags.
Gerry gave me an 8'1" and we paddled out with Rory Russell and Jacky Dunne. - page 66.

(1976) Now Australian surfers had to pay $200 Lightning Bolt boards at a time when you could buy a hand-shaped board in Australia for $50.
Head shapers were no longer available for Aussies ordering boards.
Tom Parrish was threatened: don't make boards for Aussies.

I just went about my business, trying to squeeze in as much Pipe-time as possible.
Soon after I arrived I reconnected with Lopez who seemed to be above all the threats and aggression, and he gave me a gun that he'd shaped in 1972, one of the first Lightning Bolts.
It was an 8' 1/2" pintail, orange deck with yellow bottom and rails and the classic red lightning bolt with black shadow painted on the deck, before they had brand stickers.
As a raw twenty-year-old this was a pivotal moment.
Not only was I in possession of the perfect vehicle for navigating Banzai, it had been bestowed on me by the Master.
Surely that would allow me a little bit of respect in the wrestling ring of Pipeline. - page 132.

REFERENCES
Magazines
Articles
1. Drew Kampion :The Life and Work of Richard Brewer.
The Australian Surfer's Jourrnal Volume 2 Number 3, Winter 1999, pages 72 - 95.
2. Phil Jarratt : The Last Soul Surfer - Profile of Gerry Lopez
Surfer Volume 20 Number 8, August 1979, pages 28 to 39
3. Mick Mock : Richo's Choice
Deep Number 18, Spring 2000, pages 22 to 33.

Advertising :

Film
Alby Falzon : The Morning of the Earth, 1972 - Last sequences
The cinematic performances of Gerry Lopez (surfing - not acting) are numerous and he regularly featured in surfing films throughout the 1970's.
The Morning of the Earth sequences are the earliest that I am aware of.

CONDITION: 8.
---


---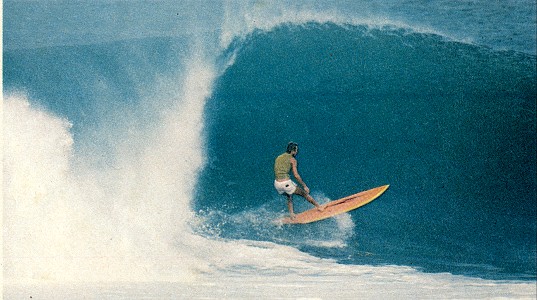 ---
Terry Richardson and #181, Pipeline, Hawaii , winter 1976 - 1977
.
Photo : Devine
'Terry Richardson, touching the breaks (sic; brakes?) for a bit of a cover up at inside Pipe.
Surfer
Volume 17 Number 6, March 1977, page 46.
The board Gerry gave me became my Pipeline gun for the next few years. Pic: Jeff Divine.

Richo
(2018) page 66.
---
Phil Abbott wrote, January 2004:
the Gerry Lopez Lightning Bolt (#181) that you have listed on your site looks exactly like the one in the attached 1975 photos of Gerry's board quiver by Steve Wilkings.
Many thanks to Phil.
The photographs show Rory Russell, Jack Shipley, Gerry Lopez with a quiver of Lightning Bolts, circa 1975.
In 2005, these images were available at

Steve Wilkins Photography
http//:www.SteveWilkings.com
Unfortunately the site appears to be unavailable as at June 2014

.



In October 2005, Ben Hams commented on the very well known, and very highly respected Jack Shipley.
Jack was the co-founder of Lighting Bolt surfboards along with Gerry in 1971, was head Hawaiian ASP judge, and is now head judge of the HASA (Hawaiian Amateur Surfing Association).
Many thanks to Benny.

Also note:
In Orange Sunshine: the Brotherhood of Eternal Love (2010) Nicholas Schou writes of the 70 foot wooden yacht the Aafie, purchased by a Brotherhood consortium in the Virgin Islands with the intention of sailing to Pakistan for a load of Afghani hash, to be purchased with the funds from first smuggling a boat-load of marijuana (colitas) from Mexico to Hawaii.
The yacht unloaded her cargo at Hana on Maui in early 1970, but failed to complete the voyage to Pakistan.
The Mexican weed unloaded from the Aafie quickly became famous throughout Maui as "Lightning Bolt."- page 212.
---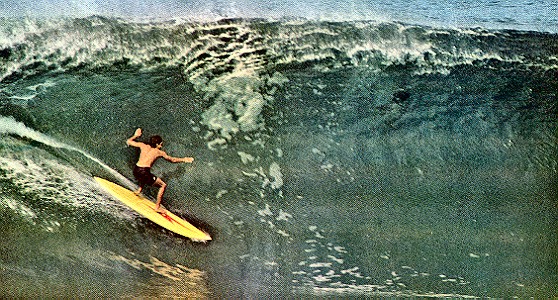 Gerry Lopez : a fluid and relaxed style in extreme conditions, Pipeline circa 1973.
Photograph by Lerner.
Surfer Volume 14 Number 3, September 1973, page 48.
---



Richard Brewer, Gerry Lopez, Reno Abelliro
and Pocket Rockets , Maui circa 1972.

Photograph : David Darling
Australian Surfer's Journal
Volume 2 Number 3 Winter 1999, page 76.
---
---
---
Geoff Cater (2003 - 2019) : #181 Lopez Lightning Bolt Pintail, 8ft 11in, 1972.

http://www.surfresearch.com.au/00000181.html