surfresearch.com.au
---
---
surfresearch.com.au


the catalogue #101

---
| | |
| --- | --- |
| 1949 Kelvin-Quigg Malibu (also incorrectly catalogued as Simmons' Spoon) 9ft 10" | #101 |
---

---
MANUFACTURE
MANUFACTURER: Unknown
SHAPER: Possibly Joe Quigg or Matt Kivlin or Dale Velzy
DESIGN: Kilvin-Quigg Malibu
DESIGNER:
---
DIMENSIONS
| | | | | | | |
| --- | --- | --- | --- | --- | --- | --- |
| Length: | 9 | feet | 9 3/4 | inches | | |
| Width: | 24" | inches | | Wide Point: | + | inches |
| Nose : | | inches | | Tail: | | inches |
| Thickness: | 3 | inches | | Pod: | 13 | inches |
| Nose/L: | | inches | | Tail/L: | | inches |
| Weight | 16.3 | kilograms | | Volume | | litres |
| Other | | | | | | |
---
FEATURES
Nose: Pointed
Tail: Square
Deck:
Bottom:
Rails: Rounded
Rocker: Definite nose lift
---
FIN
Rounded keel, Glassed timber, 5 1/2" x 10" base
Image right,''1949 -Simmons Radius Fin 3 1/2'' deep x 13 1/2'' long Koa Wood" from SurferMagazine Volume 17 No 2 July 1976
The Malibu Fin Appendix, page 69
---
DECOR
DECALS
Deck: Nil
MARKINGS
Deck: Nil
COLOUR
Deck: clear
---
BOARD HISTORY
Purchased in Hawaii, 6 Nov 1992, by
Australian National Maritime Museum 2 Murray Street Darling Harbor, Sydney NSW 2001, Australia
Catalogue # 00015142
Catalogue description...
C1949 #00015142 06/11/92
Manufacturer unknown. Surfboard, Hawaii c1949.
Small pieces of balsa wood glued together to form longer pieces, much of the balsa wood used has come from WW II lifeboats.
Small fin near the tails regions, rails are rounded off, 10 foot.
L 2992 mm W 610 mm Tk 200 mm (includes fin) Wt 16.30 kg
See Notes on ANMM.

Exhibited : Surf! Enviroment Politics and Life 1960 - 1985.
Laperouse Museum, The Cable Station, Botany Bay National Park, Sydney.
12 December 1997 - 13 June 1998.
Curator : Stephen Thompson/NSW National Parks and Wildlife Service
Photographs by Bob Gumley.
---

---
DESIGN PLANS AND SPECIFICATIONS : Fibreglassed Balsa Surfboard, 1954
---

---
Matt uses Weldwood glue
and long clamps to fasten
the planks.
Design is drawn on the
surface and is rough-hewn
with saw.
Following design drawn
on sides, surface is shaped
with drawblade.
---

---
Entire surface is now
shaped with rough
sand paper, then fine.
Plastic resin is applied.
Fiberglas is set into it
and trimmed.
Now fill the cloth with
several coats of resin,
sanding between.
---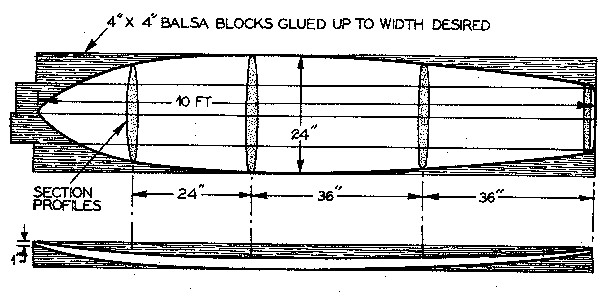 ---
Matt Kivlin, Jr., designer and builder
of the surfboard
with Miss Jean Moorehead.

A Fiberglas-covered surfboard is
easy to make and thrilling to ride.
By Edna Wood

MATT KIVLIN, JR., of Brentwood, Calif., is not only a top-notch "surfer," but he also designs and builds surfboards in his home workshop. According to him, both safety and skill in surfing depend, to some extent, on using the right sized board - determined by the rider's height and weight.
Standard length is about ten feet. If you weigh around 125 lbs., 3 in. of thickness is about right, 3 1/2 in. if you're 140 to 180 lbs., etc.
Glued balsa timbers are left clamped together overnight, then lines are drawn, board is rough-hewn, shaped, smoothed, rough-sanded, coated with plastic resin which glues on Fiberglas. Top coat of resin is applied and allowed to harden dry before sanding. A coat of thick-gloss paint gives the board a perfect finish.
---
From : Mechanix Illustrated Magazine
September 1954 Volume 50 Number 9
Surfboards
Edna Wood/Matt Kivlin
pages 72 - 73
.
---
NOTES
1. Matt Kivlin was an understudy of Bob Simmons.
2. Substantial rocker.
3. No fin is shown or specified - probably an oversight.
4. Initial shaping with a draw-blade - preceeds use of planners and the surform blade.
5. Finished balsa blank is impregnated with resin before applying the cloth.
6. All resin work with brushes - preceeds use of rollers and squeegees.
7. The classic backyard board - shaped in jeans and thongs. Old sneakers worn for glassing.
8. A surfing photograph, Waikiki circa 1940, accompanies the article - not reproduced here.
---
This is all wrong and needs to be re-written! -Geoff
A wonderful example of a Bob Simmons' (1919-1954) 'Spoon' (USA), first constructed in ply covered styrofoam in 1947 (see image below) but quickly developed into the more common hand shaped balsa blank covered in fibreglass and resin. The rounded keel fin was standard for this model, although twin fin versions were also used.

As noted the blank is made up of laminated short balsa lengths, recycled from WW11 lifeboats where it was used as buoyancy. The quality of the finish of the board suggests that it has a least been re-glossed and polished, if not completely reglassed. It is unlikely that this finish was technically feasible in 1950 let alone maintain it. If the board has been re-glassed then the original shape may have been modified.

Lack of markings and/or decal is standard. Attribution 'made in Hawaii' is open to question, the majority of these boards where probably manufactured and used on the US mainland. See Notes on Fiberglass.

This design was probably not used in Australia, but Australian surfers were aware of the design as early as 1953 on visits to Hawaii. It was the precursor to the Malibu board, introduced by the visiting US / Hawaii teams to the 1956 International Surf Carnival Torquay Vic., held in conjunction with the Melbourne Olympic Games. Team members subsequently visited Sydney. Historically this is a remarkably significant item.

The construction pioneered by Bob Simmons of a hand shaped blank covered in fibreglass and resin and an attached fin is still the current preferred manufacturing method of surfboards today (1999). As Duke Kahanamoku is considered 'the father of modern surfing', Bob Simmons is considered by many as 'the father of the modern surfboard'.
---

Bob Simmons' Spoon circa 1953
Image : Longboard Magazine Volume 2 Number 5 December 1995 page 77
---
REFERENCES:
Web Page
http://www.migrationheritage.nsw.gov.au/exhibitions/objectsthroughtime/objects/surfboard/
LEGENDARY SURFERS by Malcom Gault-Williams, Chapter 16
Books
Young, Nat with McGregor, Craig : The History 0f Surfing page 61.
CONDITION: 10, if original glass.
---
John Ewell with a Bob Simmons' early model timber/styro-foam laminate board, circa 1947.
The two boards in the foreground are later glassed balsa boards, similar to # 101.
The shorter board (sub 8 ft?) is particually interesting.
In the left background, the tail of a hollow board shows leaning on the other side of the hut.
Photograph: Uncredited, circa 1951.
Probably John Ewell Collection
Reprinted in
Surfing Vol 25 No. 2 February 1989, page 71 .

John Ewell was said to be preparing a biography of Bob Simmons.
---
Bob Simmons' Laminated Spoon circa 1948
Image :
Schiffer
, page 54
---


Bob Simmons Malibu Point, 1947
Photograph in Curse of the Chumash, by Carlos Izan.
Surfer Volume 17 No 2 July 1976 page 46 Les Williams collection
---
John Ewell's Comments on #101
This surfboard is not even close to a Simmons. The fin is not a Simmons either.
It is certainly made of pieces of balsa with the assumption it is made from an old balsa Navy life raft.
If it was a Simmons' spoon there would be a perfect semi circle on the bottom from the wedge. On top it would a straight glue joint.
What happened during this time was that the Malibu board became a modified Simmons' with no wedge and a pointed nose. I have seen one board that had a pointed nose that had a wedge. A lot of people tried wedges, but never got it right. Simmons did not like pointed noses.
This board does not have the strict parallellism that all Simmons have. Near the tail they of course pulled in somewhat.
I don't think Simmons would even bother to shape such a board because of all the glue joints that dull tools and catch when it is shaped. My guess it is a Quigg board or Kivlin. They started to fare in the tails a little more later. The first modified copies of Simmons' were identical in shape except there was no wedge and pointed. Velzy said they did this because it was too hard to jig the nose and make the wedge. Morgan said they did want to appear they had copied a Simmons.
I still have a 9 foot Simmons that I rode in 1950 with dual fins in mint condition. The clue to an authenic Simmons spoon are the circular glue joint behing the nose and a straight glue joint behind the nose from the wedge. The nose on top is dished out.
Someone should straighten this out. There are plenty of misrepresented surfboards for sale.
Thanks to John Ewell and Paul D. Gross
---
Image right,
Dale Velzy 's Shaping Bay, circa 1947
Dale Velzy /C.R. Stecyk Collection

Note the upright multi-laminated balsa blank, left.

Image printed in
Nat's History, page 73
Kampion - Stoked, page 57
Schiffer, page 56
Thoms, page 57
---

surfresearch.com.au
---
---