pods for primates: a catalogue of surfboards in australia since 1900
---
surfresearch.com.au

surf : asia
the pioneers of surfing
- credited with first riding a surf break
---
JAPAN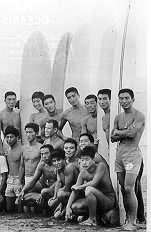 Japanese surfers circa 1960. Photogragh provided by Tsugumitsu Saga
From Nula magazine, 1995 Number 1 page 66

---
INDONESIA
BALI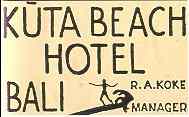 Robert Koke (US) visited Bali in the 1936 where he set up the Kuta Beach Hotel, with his wife Louise.
Having surfed in Hawaii, Koke recognised the value of Bali's surf and was probably Indonesia's first surfer, on a ''big Honolulu board"* - one of two Hawaiian redwoods imported in 1938. His enthusiasm for the sport encouraged others, including his wife, Balinese employees and hotel guests.
Australian surfers began exploring the island in the sixties, notably future Australian champion, Russell Hughes, in 1967. Bali's surf was first shown on film in Bob Evans' Family Free (?), 1971; but the full potential was dramatically illustrated by footage of Rusty Miller and Steven Cooney at Uluwatu in Alby Falzon's The Morning of the Earth, 1972.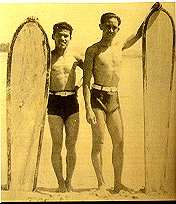 Balinese surfers, Kuta Beach Bali , 1930's
Images from
Nigel Simmonds : Bali's First Surfers in Lueras' : Surfing Indonesia, pages 50 - 53
References
Lueras' : Surfing Indonesia, pages 37 -38 and 50 - 53
Thoms : Surfmovies, page 116.
*Also note.. Koke, Louise : Our Hotel in Bali, 19??

---
PHILLIPINES
---
NEW GUINEA
---

---
---

FORMAT
Break
Named by/geographical
Date
First Surfers
Notable Days
References