pods for primates : a catatogue of surfboards in australia since 1900
---
---
surfresearch.com.au
smith : coastal migration, SMH, 2005
Judy Adamson :
Design : Moments away from inspiration
Sydney Morning Herald : Weekend Edition, August 6 - 7, 2005
Spectrum : Page 33.
Reporting on three Australian Design Developments -
The Dophin torch - The pedestrian button - The surfboard fin
---
When some of Australia's top surfers were asked to trial a new surfboard fin, they happily went for a surf - but they weren't allowed to look under their boards.
"We had fin shapes which would be quite confrontational for a surfer," says Wylie Fowler, the manager of marketing and product development for fin specialists Surf Hardware International.
"They'd say; ' I'm not putting that on a board,' so what we had to do, in effect, was blind testing."
In 2001, Surf Hardware International had a Fin Control System (FCS) range of removable fins, but wanted to create the next generation of fin technology.
The company took some fins to naval architect and yacht designer Andy Dovell, asking whether he could suggest improvements.
Dovell regarded the conventional dolphin fin shape as "very inefficient" (1.) and thought he could make smaller fins to increase a surfer's speed. (2.)
Standard fins have a flat inside face, which makes them easier to align in a board, but Dovell wanted to create fins with curved sides.
These worked well in testing tanks, but it was a different story when surfers tried them at the beach.
"The guys were kind of ambivalent about them," he says.
"The results in the water tunnel had proved that I was right and we were getting a lot more efficiency... and then at the beach, watching the surfers grade these fins, time after time they preferred the fins that were less efficient.
And I'm just thinking, what's going on?
Then the penny dropped : while efficiency was important, they wanted a fin that had control. (3.)
I needed to achieve their manoeuvrability characteristics and then work the problem from inside that limitation.
That was a huge moment."
Dovell's next realisation was that the fins should not necessarily stick up at right angles from the surfboard. (4.)
"When they're turning on their boards, they lean the board onto its side, onto its edge," he says.
"I wanted the fin to be pointing to the bottom of the ocean when they're turning, and that was only going to be achieved if we made the fins point out from the board.
We could only do so much of that before it threw the performance of the fins off in other places.
But it certainly stands out that we achieved a lot."
So much, in fact, that the fin design - known as FCS H-2 - won design of the year at the 2005 Australian Design Awards and has been sold all over the world.
"The proofs in the pudding," Dovell says. "If it ends up in their board, they obviously like it, and it ended up in a lot of boards."
---
Tom Carroll with the FCS - H2 fin.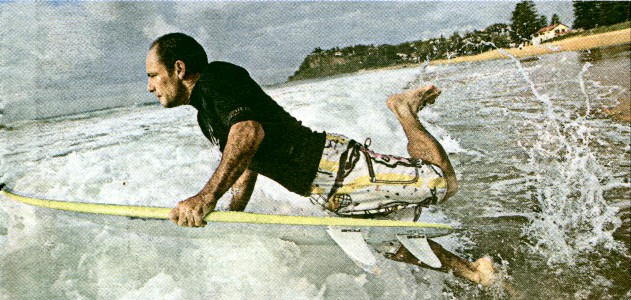 SMH 6.8.05 PHOTOGRAPH : MARCO DE GRANDE
---

Notes
make smaller fins to increase a surfer's speed.
1. A basic principle of surfboard design - no matter how efficient (faster?) the board, speed wihout control is detrimental to performance.
2. stick up at right angles - journalistic simplification, rail fins invariably are tipped out, certainly since 1974.
3. only do so much


---

surfresearch.com.au
---
---