surfresearch.com.au
---
---
surfresearch.com.au
the catalogue #237
---
| | |
| --- | --- |
| 1963 Skim Board 2 ft (diameter) | #237 |
---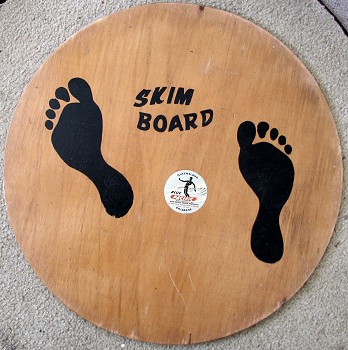 ---
MANUFACTURE
MANUFACTURER: Blue Pacific Aquatic Products
86 Rode Road, Wavell Heights, Brisbane, Queensland. Phone 66 6425
SHAPER:
DESIGN: Skim board
DESIGNER: Unknown
---
SPECIFICATIONS
CONSTRUCTION
Five-ply laminated timber. Varnished with painted text and grahics. Adhesive decal.
---
DIMENSIONS
Diameter (Length & Width) : 24 inches.
Thickness : 3/8 inches.

---
FEATURES
Nose: round
Tail: round
Deck: flat
Bottom: flat
Rails: rounded square
Rocker: flat
---
FINS: none.

---
DECOR
DECALS:
Deck: Round adhesive with surfboardrider and wave graphic with integrated manufacture's details.
Blue Pacific Aquatic Products
86 Rode Road, Wavell Heights, Brisbane, Queensland.
Phone 66 6425
Bottom:
MARKINGS
Deck:
Bottom:
COLOUR
Deck: clear/natural
Skim Board text and two footprint graphics in black paint,
Probably applied by stencil.
Bottom:
---
NOTES
BOARD HISTORY
Added to surfresearch collection 11 August 2008.
DESIGN HISTORY
Not a wave riding board, these craft were used as a seaside dirversion in the mid-sixties.
The rider would carry the board and run at full speed before lauching the it in the shallows and jumping onboard for a fast but brief ride.
See image right.
Note this skimboard is decorated with a draughtboard graphic, similar to example #37 on page 224 of Walding: Surforama (2008).

In 1964, Petersen's Surfing magazine (US) published instructions for "How to Build a Skimboard". (1964 September, Volume 1, Number 7, page 16).
The design was reactivated in the late 1980s with a streamlined template which was intended, only when conditions were suitable, to be launched seaward and then turned hard off the incoming wave face.

Margan and Finney:
Illustrated History
(1970), page 141.
MANUFACTURER HISTORY
Blue Pacific Aquatic Products probably built a variety of surfcraft, waterskis, canoes and recreational boats in plywood up until the early 1970s, whereafter these products tended to be manufactured in fibreglass, plastic and aliminimum.
For example, see the manufacturing details of the Prot surfski, circa 1948, #328.
COMMENTS:
REFERENCES
Books
Margan and Finney:Illustrated History (1970) Photograph, page 141.
Warshaw: Encyclopedia (2004) page 544.
Walding: Surforama (2008) Photographs and text, page 224.
Makapuu Mooks: I Can Make You a Skimboard Champion.
Surfer Magazine, Volume 6 Number 3 July 1965 pages 35-37.
Photographs by John Fowler.
Image right: "Don't be discouraged if things don't go right at first", page 36.
CONDITION: 8


RARE 60s/70s BLUE PACIFIC PLASTIC SKIMBOARD~WHIZ SKID~VINTAGE SURF/SURFBOARD
plastic, with raised graphics on the deck and a lip around the edge.

---
Partial cover (by J.B.L.):
Dean and Son:
A Supreme Book for Children.
Dean and Son Ltd.,
41/43 Ludgate Hill London EC4, 1973.
---


In the early 1970s, Blue Pacific Aquatic produced a line of plastic skim-boards called the Whiz Skid.



The bottom was dished with a raised lip on the deck.
The barefoot graphics were raised on the textured deck.






---
---
Vel-Aqua Skid Board decal, 1966.


Skid Board by Farfor Products, 1968.
Jamie Farfor previously manufactured Paipo boards in the early 1960s.

Images updated in April 2019, thanks to Ant:
after all the old wax was removed and a few new coats of bees wax applied.
See #193.



---
| | | |
| --- | --- | --- |
| Vel-Aqua Skid Board, 1976. | | |
---

surfresearch.com.au
---
---
Geoff Cater (2008-2021) : Catalogue : Skim Board #237
http://www.surfresearch.com.au/00000237