surfresearch.com.au
---
---
surfresearch.com.au
the catalogue #226
| | |
| --- | --- |
| 1976 Toyline Hand Board 16'' | #226 |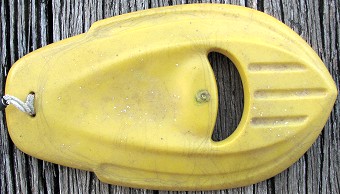 MANUFACTURE
MANUFACTURER: Hunters Toyline
SHAPER: Unknown/moulded
DESIGN: Hand board
DESIGNER: Unknown
SPECIFICATIONS
CONSTRUCTION
Hollow Moulded PVC
DIMENSIONS
| | | | | | | |
| --- | --- | --- | --- | --- | --- | --- |
| Length : | 16 | ft | | inches | | |
| Width : | 11 | inches | | Wide Point : | 0 | inches |
| Nose : | 11 | inches | | Tail : | 11 | inches |
| Thickness : | 2 .25 | inches | | Pod : | 11 | inches |
| Nose Lift : | 1 .5 | inches | | Tail Lift : | | inches |
| Weight : | | kilos | | Volume : | | litres |
| Other, Flyer/s : | | inches | | | | |
FEATURES
Nose: round
Tail: rounded square
Deck: Flat with moulded handles
Bottom: flat
Rails: rounded square
Rocker: minimal nose lift
FIN/S: none
DECOR
DECALS
Deck:
Hunters Toyline - Reg Design 72018 - Warning Not A Life Saving Device moulded at sweet spot
Use Only Under Adult Supervision moulded at tail
Bottom:
MARKINGS
Deck:
Bottom:
COLOUR
Deck: Yellow
Bottom:
NOTES
BOARD HISTORY
Donated by John Mandyberg, with thanks, September 2006.
DESIGN HISTORY
Hand-boards are some of the earliest documented surfboards in Australia.
The flyers in the template and the hand rope/leash are mid-1970s adaptations.
COMMENTS:
Also see Handsurfa below.
REFERNCES

CONDITION: 6.5
---


---

Image from Carter Page 83

Handsurfa, #376
Designed by Form Ride Plastics Pty. Ltd., Brookvale.
Moulded plastic hand-board with velcro hand straps.







surfresearch.com.au
---
---
Geoff Cater (2006 - 2019) : Toyline Hand-board, 1976.
http://www.surfresearch.com.au/00000226.html